How To Press Flowers And Ways To Use Them For Decor
Pressing flowers is a great way to preserve the blooms. They will last indefinitely, only fading if left in the sun and becoming more fragile as the years go by. Additionally, there are multiple ways to press flowers that all work best with fresh blossoms. 
The book method is the simplest. Take your flowers and place them between a folded sheet of paper, a facial tissue, or a coffee filter. Then put this in the middle of a book and put that book under something heavy, like more books, a brick, or under your mattress. Every day change out the paper that you put the flowers between because you are trying to dry out the flowers while flattening them. After two to three weeks your flowers will be ready, per Better Homes & Gardens.
These next two steps speed up the drying process. For the iron method, you need to repeat the book method for two days. Then remove the flowers and replace the paper or tissue that they were in. Using your iron on a low setting with no water, place the iron on your flowers for 15 second intervals without pressing down.
The microwave method is the quickest. Using microwave-safe materials, put the flowers sandwiched in paper into a notebook or between pieces of cardboard and place them into the microwave with a heavy plate on top. Microwave it for 15 second intervals, being careful not to burn the flowers (via Shmoxd). There! You've successfully pressed flowers.
1. Keep it simple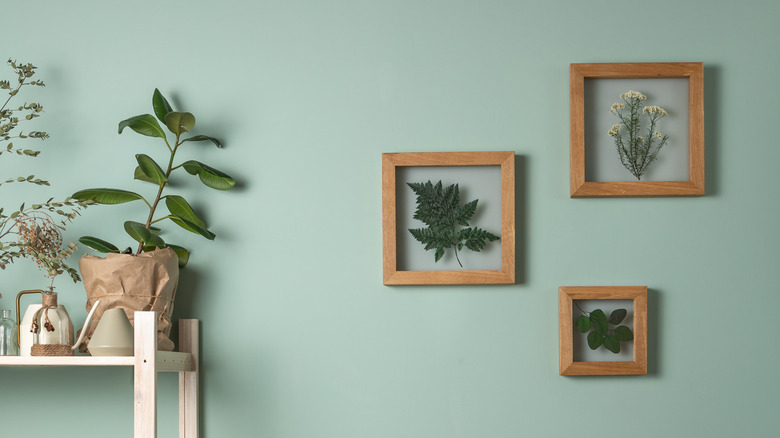 Alas_spb/Shutterstock
Placing pressed flowers and foliage between two pieces of glass is a great way to display them. The simplicity of the wood frame and glass with no mat or background makes your pressings stand out against the color of your walls. It will also preserve them longer as they're in an enclosed frame, per Garden Therapy. 
2. Add to your dinner table setting
Using pressed leaves and foliage adds a natural element to any table setting. Pressed leaves can even be used as name cards. Adding the dried foliage to each place setting helps to tie in centerpieces and create a theme. 
3. Create eco-friendly confetti
Pressed plants and flowers can be delicate, so turning all the broken pieces into confetti is a great option to make use of accidents.
4. Layer frames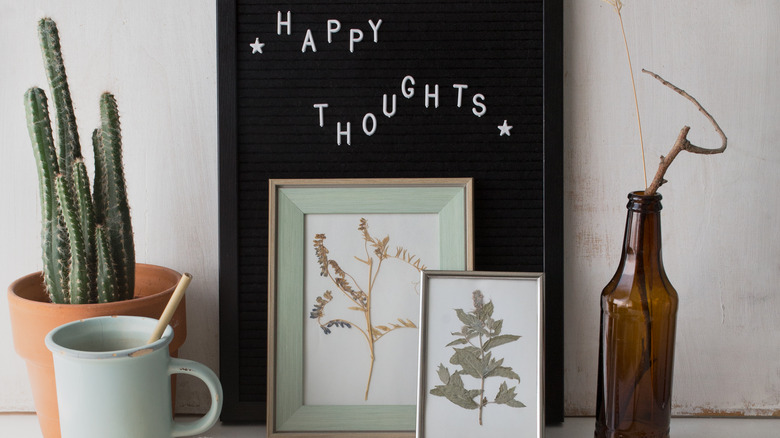 Andra Bararu/Shutterstock
Pressed flowers pop when place on a white background and framed. Here the frames are styled on a table, adding more dimension to the flat flowers by layering multiple frames. 
5. Make it rustic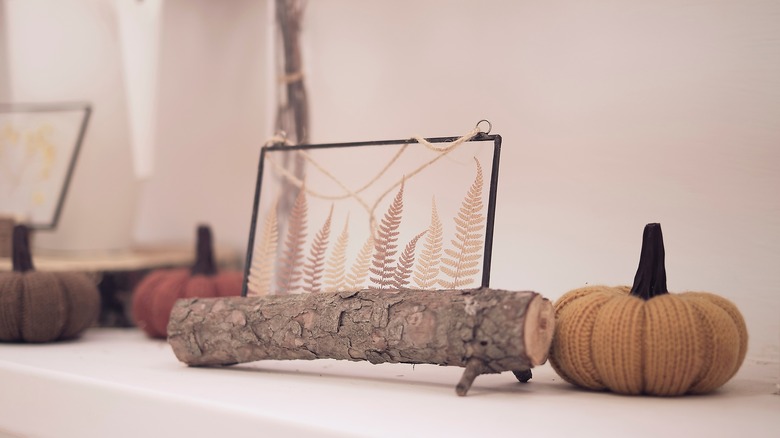 Yavdat/Shutterstock
Placing your framed pressings onto a log stand adds a natural, rustic quality to your décor. It's different from just placing the frame on your wall or shelves and is perfect for decorating in the fall. 
6. Style them on a chalkboard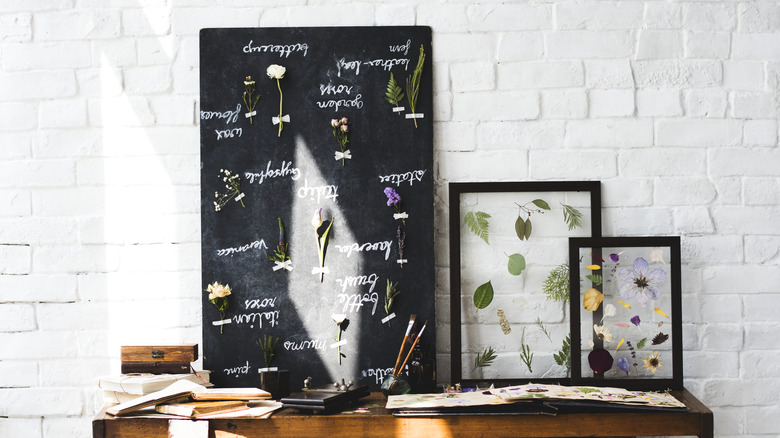 Rawpixel.com/Shutterstock
Putting your pressed flowers onto a chalkboard is a good way to display them with names for each flower. You can tape them like shown above and switch out which flowers you display or decoupage them as a border and use the chalkboard.
7. Decorate cookies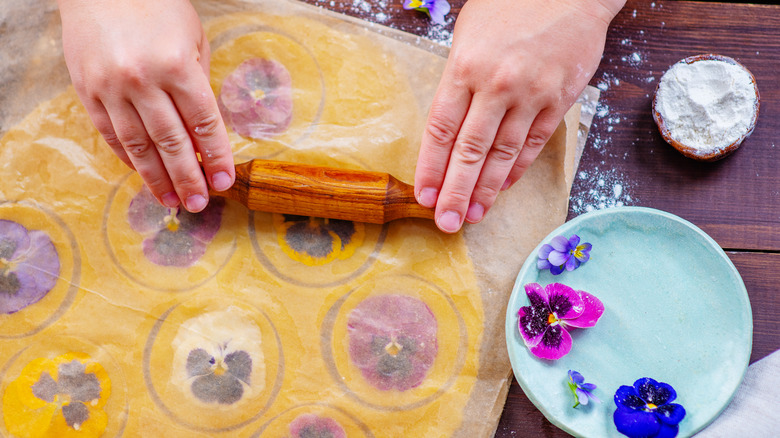 Ermolaeva Olga 84/Shutterstock
Baking pressed flower cookies is another way to show off the beauty of pressed flowers, and they will look great waiting to be eaten on your countertop. Tasty has a delicious recipe, and always be sure to press edible flowers. 
8. Use different backgrounds
Using different backgrounds will change the look of your framed pressed flowers or foliage. In this case, the tan background was a good choice to bring together the paint on the walls and other décor in the room for one cohesive look. 
9. Make coasters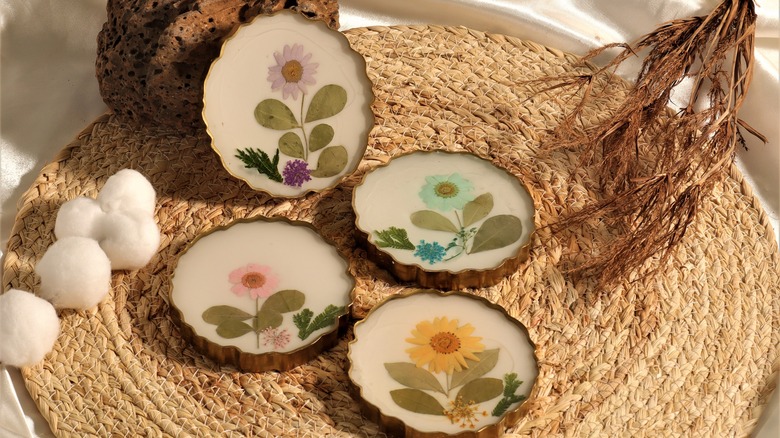 Maryeta Devinda/Shutterstock
Coasters are a great way to add pressed flowers to your home. They are not only cute décor, but will be useful. Using resin and a mold you can create these as a DIY project.
10. Use all white
Putting your pressed flowers in a white frame with a white mat will make the colors look even more vibrant. It looks simple and modern. 
11. Display in a vase
If your pressed foliage has a thicker stem, styling it in a vase is a good option. If you want to incorporate pressed flowers with a vase, you could decoupage them to the vase.
12. Personalize stationary
Adding your pressed flowers to cards and letters is a great way to add a personal touch. Pressed flowers also look beautiful when added to journals, scrapbooks, and other types of stationery. 
13. Up the look of candles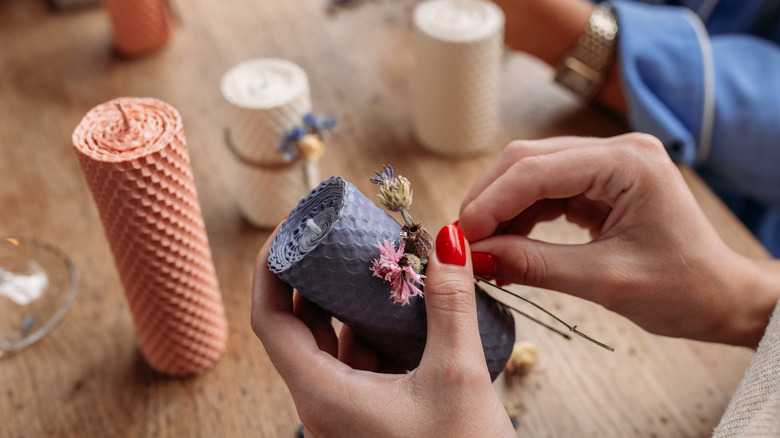 Kisseleva Katya/Shutterstock
There are multiple ways to add your pressed flowers to candles. You can wrap or press them to an already made candle or you can make your own candle and add your flowers to the wax.
14. Create a collage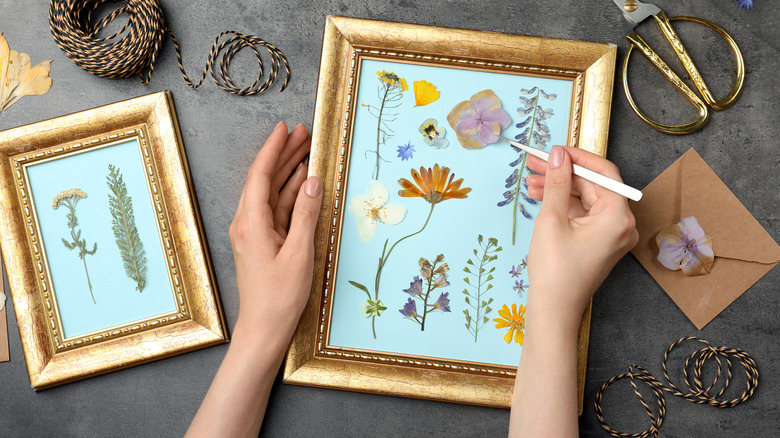 New Africa/Shutterstock
If you have a lot of little flowers you can create a collage in one frame. Picking flowers with colors that fit in a color scheme is how you can make your finished product look cohesive and professionally done. 
15. Decorate gifts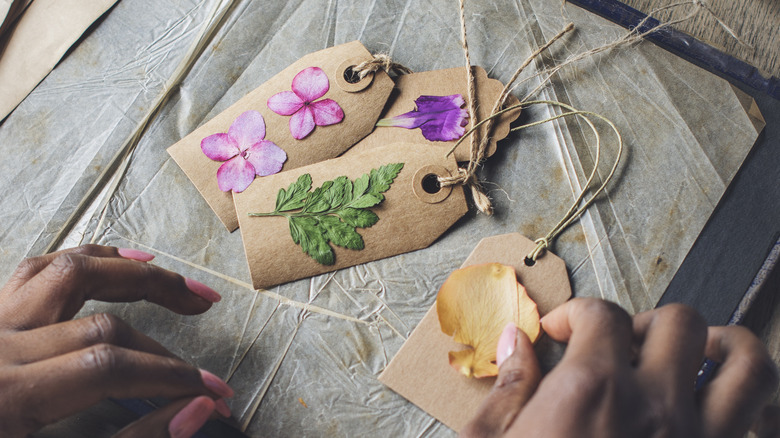 Rawpixel.com/Shutterstock
Using pressed flowers to decorate gift tags and wrapped gifts adds a personal touch. Decoupaging flowers is fairly easy to do, but will stand out to your recipients and look beautiful under a tree during the holidays.