15 Yellow Paint Colors That Will Brighten Up Your Home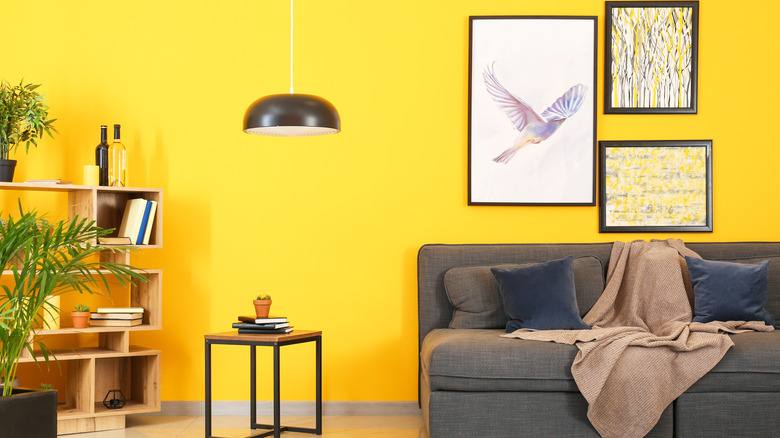 Pixel-Shot/Shutterstock
You may be interested in paint colors that are inspiring or shades of paint that are rather creative. You might also be curious when it comes to which colors will increase the value of your home. At the same time, there's a very good chance that you're intrigued by hues that are lively, uplifting, and will brighten up any space. In that case, you should consider opting for yellow paint.
A color that can be matched with a wide variety of others — think along the lines of beautiful blues and engaging greens, not to mention rusty reds or lively oranges — that works in pretty much any room, VerywellMind notes that yellow can be both attention-grabbing and one that can actually give you a boost of energy while also being warm and cheerful.
Of course, choosing a yellow color might not be as straightforward as you expect. That's because there are plenty of stunning shades of yellow that range from darker tones to lighter hints that are all simply wonderful, including these 15 paint colors that will definitely brighten up your home.
1. Soft yellow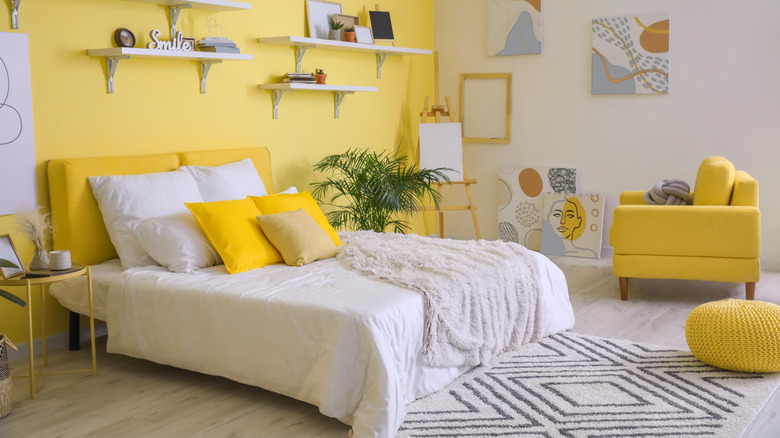 Pixel-Shot/Shutterstock
Opting for yellow paint doesn't mean that you'll end up with a room that's too bright to bear. If you want something a little more toned down, then consider a stunning soft yellow that can be livened up with other soft shades, as well as ones that are slightly more intense.
2. Pale banana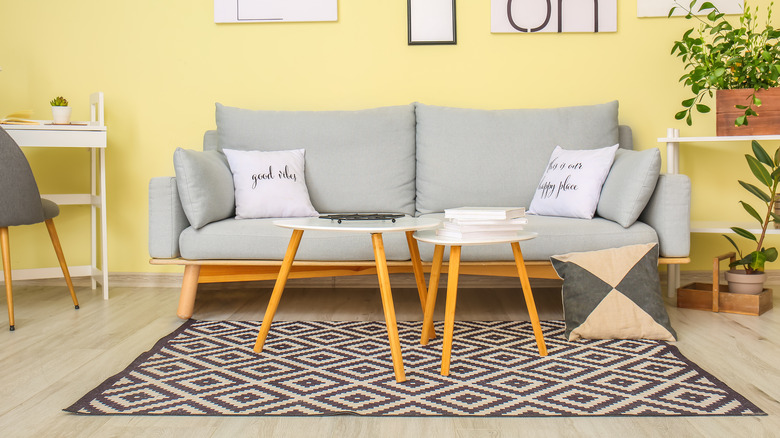 Pixel-Shot/Shutterstock
We call this shade of yellow soothing, uplifting, and absolutely lovely! The color experts over at Pantone, on the other hand, call it "Pale Banana," which we suppose works just as well. Although, honestly, whatever you want to call it, it will always be perfectly pretty.
3. Golden ochre yellow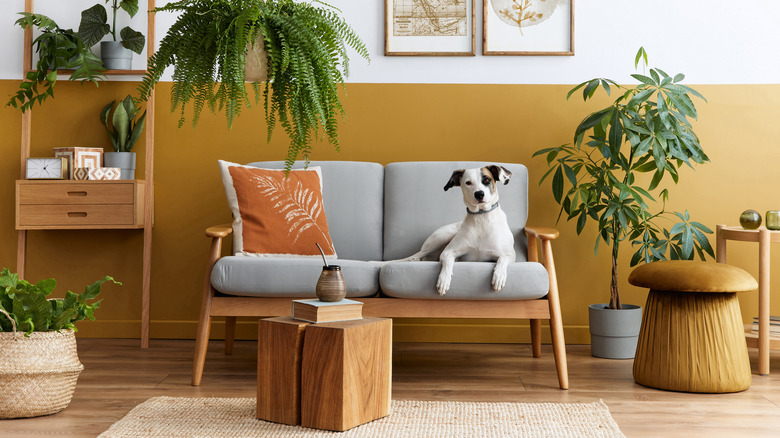 Followtheflow/Shutterstock
If you're looking for a darker yellow paint color, then this could be the option that catches your eye. A golden yellow shade with hints of yellow ochre, it embraces a natural tone that's more earthy than sunny.
4. Dark yellow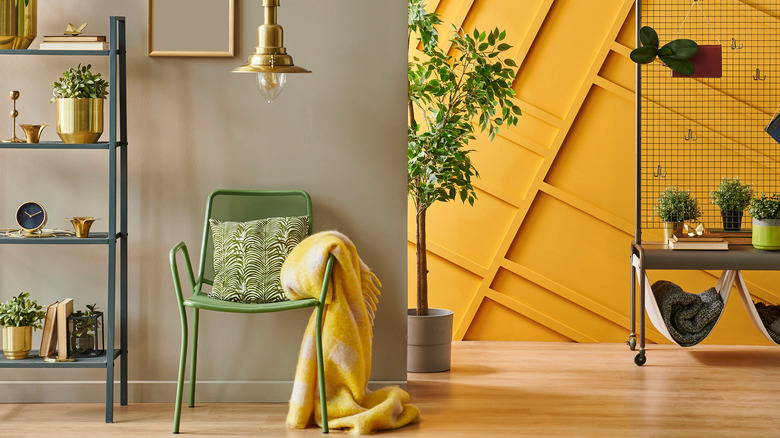 united photo studio/Shutterstock
Balancing both a rich tone and a deep golden hue, this shade is known as dark yellow (or 7408 C if you need a little more reference). However, it's still bright enough to offer any room a powerful pop of color.
5. Sandy yellow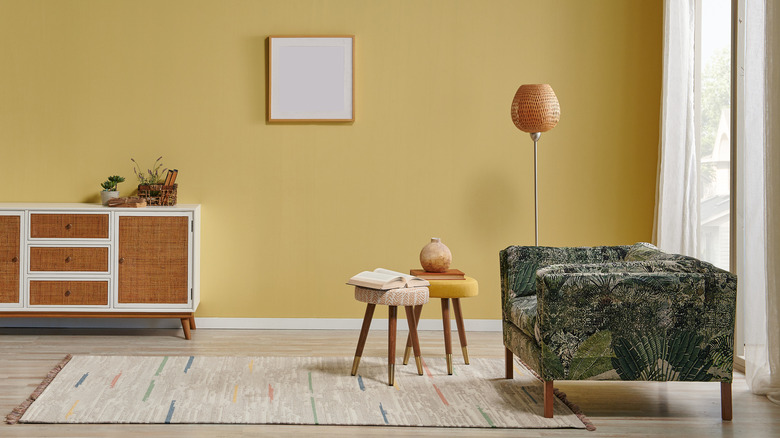 united photo studio/Shutterstock
Another shade that seems to lean on ochre, this yellow is a fabulously sandy option. With this color on the walls, you can add brighter varieties of yellow to the décor if you'd like a more playful space, or keep it natural with earthy accents for a calmer vibe.
6. Rich yellow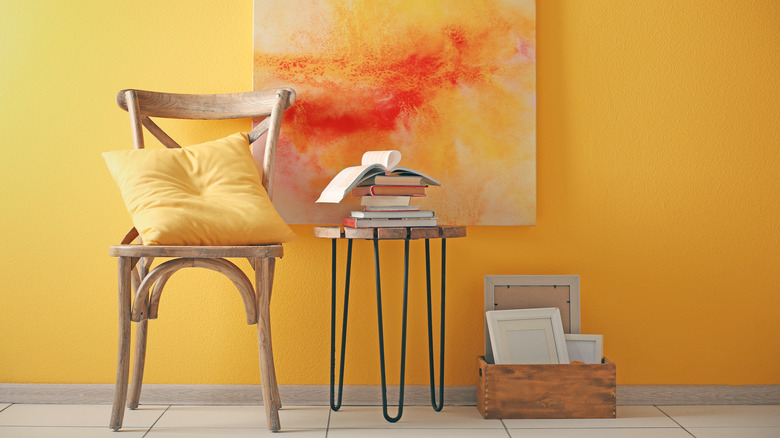 Africa Studio/Shutterstock
Yellow is a color that's not always as simple as it seems. For instance, this rich shade appears to have a white undertone when hit by the light, yet seems to have golden hues when not directly in the brighter spots of a room.
7. Clover-lime yellow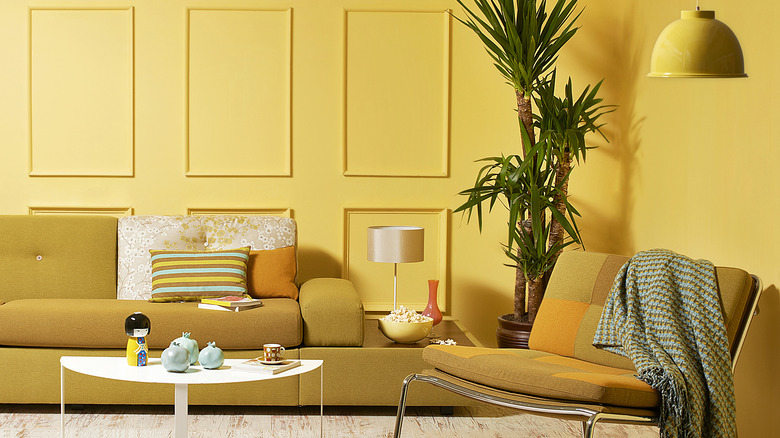 united photo studio/Shutterstock
You might understandably assume that a color deemed "clover-lime" would be, well, green. However, it happens to be a sweet yellow shade that will charm anyone who loves the lighter color and can work in a wide range of stylish spaces.
8. Light sunny yellow
Pixel-Shot/Shutterstock
An option that's just as sunny as many of the other yellow paint colors that you could choose, this shade has all of the brightness that you would want. However, with its slightly paler tone, it will have just as much impact as you desire without being in any way overpowering.
9. Lemon yellow
Pixel-Shot/Shutterstock
You can't decide to paint a room yellow without at least considering a delicious lemon shade. Granted, this option is so bright that it almost tips toward a neon yellow. Bright white details and dark green plants are the perfect way to match this color with something that's just as strong yet lively.
10. Burnt yellow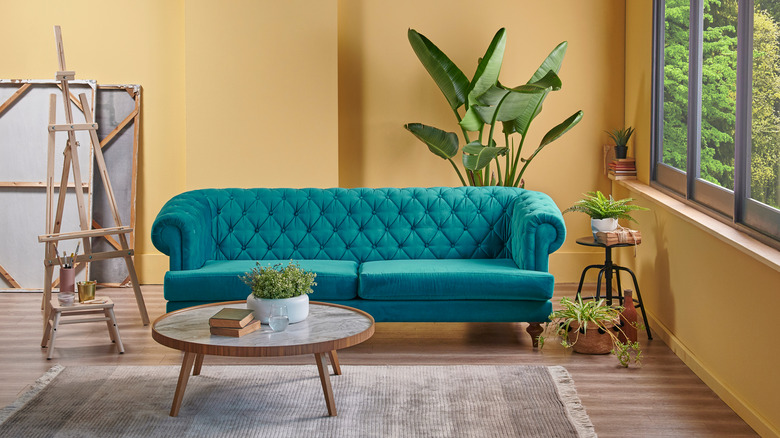 united photo studio/Shutterstock
Step away from the lemon yellows and sunnier shades to instead opt for this equally gorgeous burnt yellow. Utterly luscious yet incredibly subtle at the same time, it will make its mark in the background while creating a perfect canvas for the rest of the room's décor.
11. Lemon chiffon yellow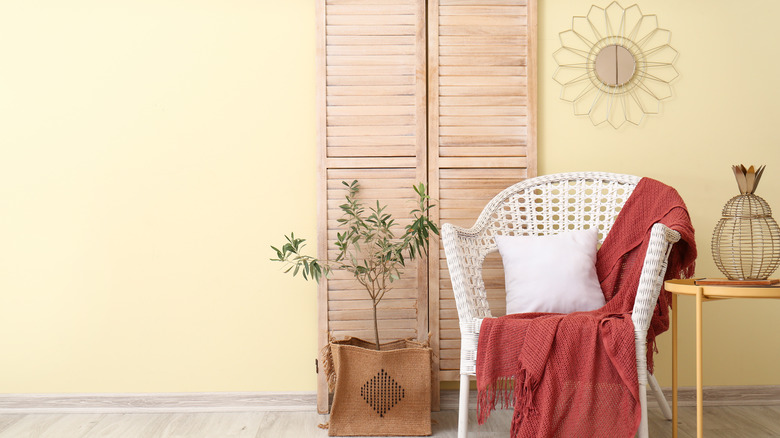 Pixel-Shot/Shutterstock
Light with a deliciously creamy tone, you'll likely love that this shade is called lemon chiffon yellow. That definitely suits the color, as there's no doubt that it looks as good as the dessert-related name seems to suggest.
12. Laffy Taffy yellow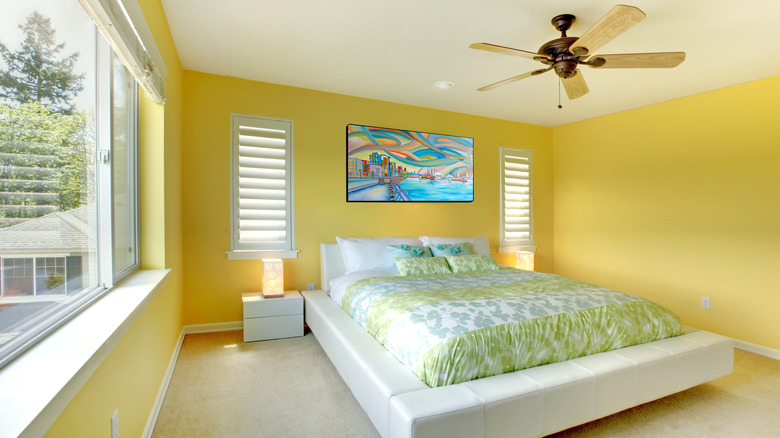 Artazum/Shutterstock
Not quite as pale as light sunny yellow yet darker than a pale banana and slightly sunnier than a soft yellow shade, this is more of a Laffy Taffy yellow, which happens to make a perfectly lovely and bright paint color. Mmm, candy!
13. Ashy yellow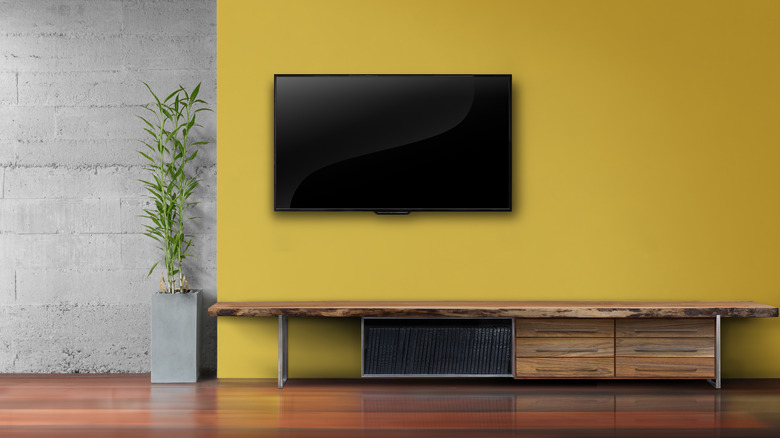 noreefly/Shutterstock
It might seem strange to think of an ashy color as one that's also bright. However, this ashy yellow is a perfect example of how a shade can embrace a sunnier golden tone while also having what could almost be grey undertones, which is why it works so well with both a concrete wall and wood details.
14. Orangey yellow
Baloncici/Shutterstock
This deep yellow shade, which is brighter wherever the light brings out its sunnier tones, gives off orange hints in the areas of the room that are slightly darker. The wood furniture as well as the orange and brown accents in the art, pillows, and linen also make the yellow walls appear to be a little more orange.
15. Sunny yellow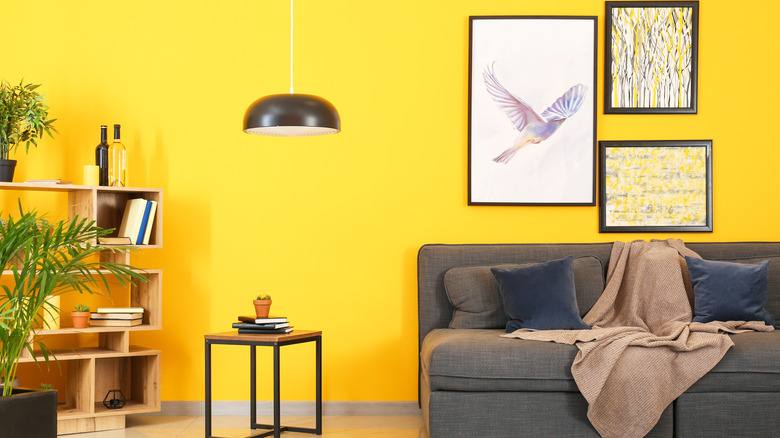 Pixel-Shot/Shutterstock
If you're the kind of person who adores the color yellow and want something that will bring a burst of cheerfulness to your heart every time you see it, then what better choice could there be than a classic sunny yellow shade? Anchor it with darker pieces as well as stylish art and you're all set.