15 Best Shades Of Purple To Paint A Bedroom
When choosing a color for your bedroom, you may want to go with a shade of paint that will give you a boost of inspiration. On the other hand, you might want a neutral color that gives off a relaxing vibe. At the same time, you could also simply choose a hue that makes you happy, like purple.
Purple can be paired with lively greens or sunny yellows, as well as accented with anything from black to white, per Apartment Therapy. Additionally, it's important to not only keep your own preferences in mind when it comes to the overall color scheme that you'd like to achieve, but you should also keep your specific space in mind. That's because deeper purples may be too dark for rooms without a lot of light while lighter purples can help to open up a smaller area.
Purple can also be used to create a wide range of vibes from modern and playful to classic and chic. If that intrigues you, then be sure to check out these shades of purple which are perfect for a super-stylish bedroom.
1. Light violet purple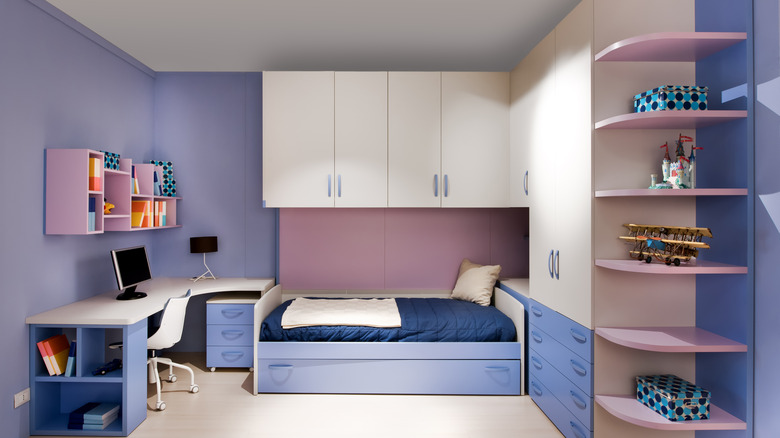 Photology1971/Shutterstock
This pretty purple is light enough to brighten up a bedroom of any size. At the same time, the soft violet shade is also cool enough and versatile enough to please any purple-loving taste.
2. Blue-ish purple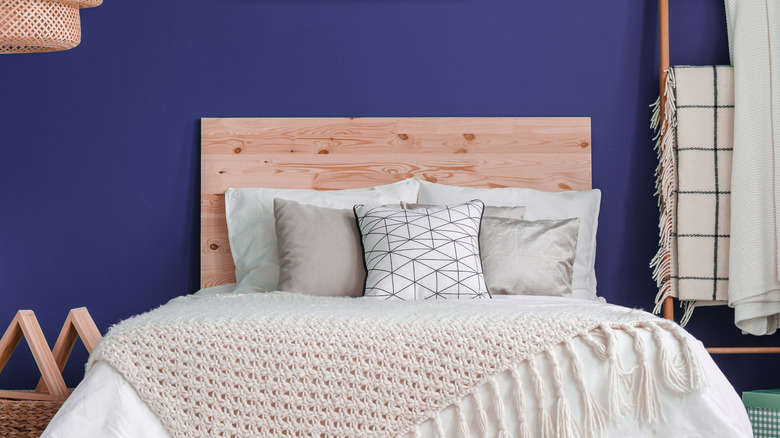 Photographee.eu/Shutterstock
If you have a bedroom that is light enough to handle a darker purple, then this might be the shade that helps to create your stylish space. A beautifully rich color that is a hint or two away from blue, it also happens to be an incredibly chic option.
3. Deep purple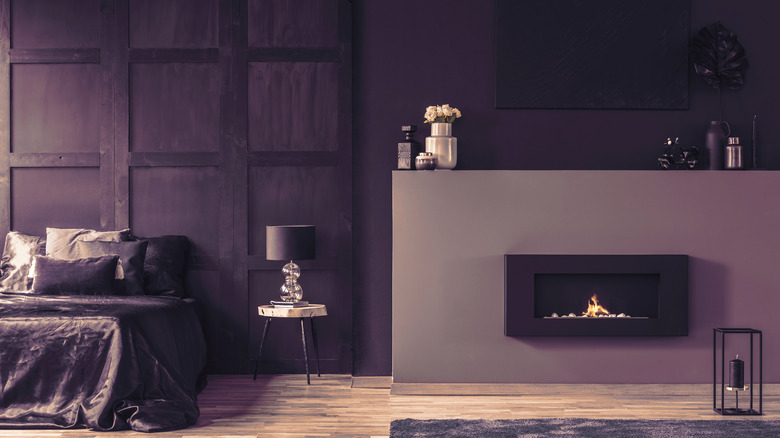 Photographee.eu/Shutterstock
Purple has been a royal color that's adorned kings, queens, and emperors throughout the ages, according to History. That's easy to understand when you see this deep purple that's definitely regal.
4. Lavender purple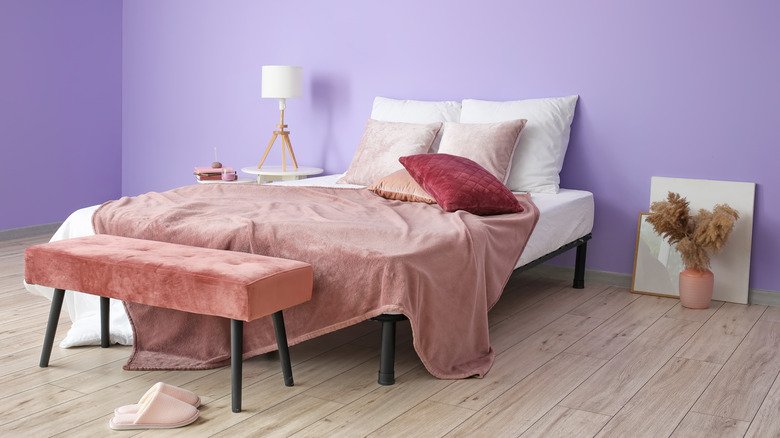 Pixel-Shot/Shutterstock
If you love lavender in any shape or form that it comes in — from the lavender plant to lavender-scented products — then you might also adore the color. You certainly wouldn't be alone as it's a shade that's both calming and comforting as well as pleasing to the eye.
5. Ashy purple
Photographee.eu/Shutterstock
Not all purples are vibrant and bright, which is sometimes a very good thing, especially if you want to put together a bedroom where you can wind down and relax. For instance, this ashy purple almost has hints of grey and is certainly soothing while being just as lovely as the more intense options.
6. Tyrian purple
If you want to use a purple paint in your bedroom that's both bold and rich, then consider this dark shade. For anyone whose interest is piqued, just ask for Tyrian purple, per Eggradients. According to Mom.com, Tyrian is actually a purple dye that goes all the way back to the ancient Phoenicians.
7. Light thistle purple
You may recognize thistle as the national flower of Scotland, as Visit Scotland points out. While the plant is famous for its bright purple color, what HTML Color Codes notes is light thistle purple paint is somewhat softer and cooler, but is just as lovely and is a fantastic choice for an elegant bedroom.
8. Midnight purple
Embrace all of the comforts that nighttime has to offer with what Color Hexa calls "midnight purple." Not as dark as you might expect from a color that's named after the darkest time of night, it's light enough to capture the light and show off how radiant it can be.
9. Raisin purple
Find the sweetest little raisin in the bunch and it may be the same shade as this gorgeous purple that's named after the tiny treat, according to Color Hexa. On the darker end of the spectrum, "raisin purple" looks incredible with lighter décor and details.
10. Lilac purple
Just like lavender, lilac is both a fragrant flower and a stunning shade of purple. With a slightly pink hint, this hue will bring the same beautiful look to your bedroom that it brings to a beloved garden.
11. Burgundy purple
Make a bold choice when it comes to the kind of purple you use in your bedroom by opting for burgundy. A shade of reddish-purple that can be the ideal wall color for a classy aesthetic, it can also be an excellent choice if you're aiming for some stylish bohemian flair.
12. Posh purple
If you're envisioning a bedroom that's pleasantly posh, then this purple is the kind of dashing shade that will help you achieve a wonderfully dreamy space. A lighter hue with darker undertones, the more you admire it the more you realize how much depth it contains and displays.
13. Pale purple
Imagine a classic purple color and lighten it a touch or two — and then maybe a little bit more — and you end up with delightfully pale purple. Perfect for a child's bedroom, it would also be a fabulous choice for any adults who appreciate softer shades.
14. Wisteria purple
15. Rosy purple
Alyona Molchanova/Shutterstock
If you like the idea of opting for a burgundy shade but aren't sure that you're up for something that deep, then a rosy purple might work better for you. The same kind of wine-colored lusciousness, it's a few touches lighter and not quite as dramatic although it is just as stunning.