20 Cozy Fall Window Box Ideas For Your Home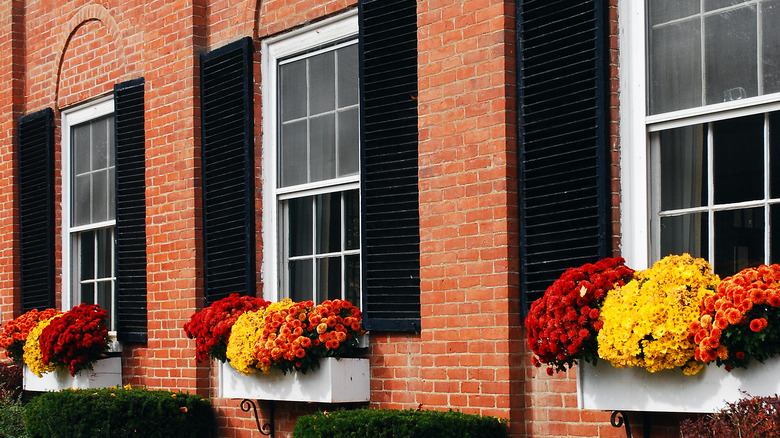 James Kirkikis/Shutterstock
Window boxes are an easy way to add to the design of your abode without having to make any major changes; they add texture and dimension to the façade of your home. Window boxes are also a great way for apartment or townhouse owners to grow herb and vegetable gardens without needing access to a yard or community garden. 
When choosing what plants to put in your window box, it's best to choose ones that have small root systems and that won't grow high enough to obstruct your view out the window, per Gardenista. It's also important to choose plants that thrive in the season you are planting for. Additionally, just because the weather gets cold doesn't mean you can't fill your window boxes with beautiful flowers. Chrysanthemums, pansies, cabbage, and pumpkins are frequently used in the fall because of how hearty they are. They all come in a handful of colors that you can play around with to best fit your style and home. 
1. All you need are mums
Chrysanthemums, or mums, are a staple when planting flowers in the fall. This is because they are tolerant of cold weather, although they need lots of sunlight. Mums come in so many different colors, so when you're putting together your window box, pick out a few colors that look good together and you'll be set.
2. Use more than flowers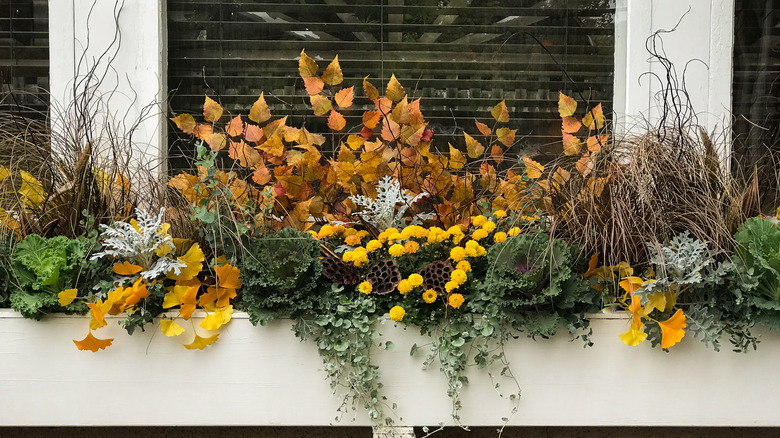 TammiMild/Shutterstock
This window box uses not only chrysanthemums and lettuce, but also other natural features like the honeycombs in the middle and the dried grass framing the sides. 
3. Use pansies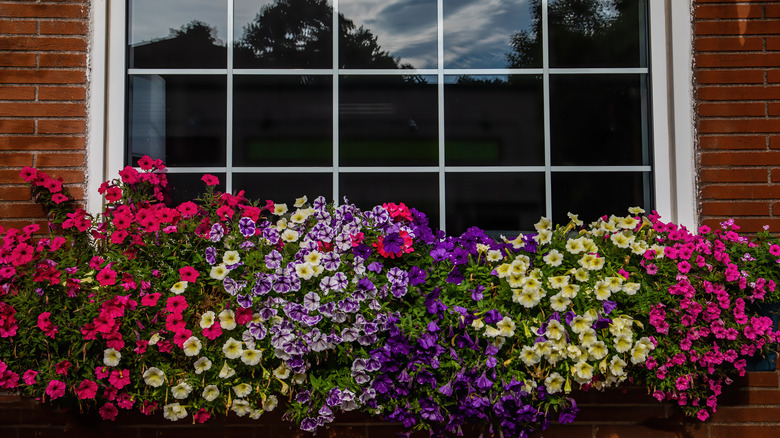 Linda McKusick/Shutterstock
Pansies are a great choice for fall window boxes. They can withstand colder weather and will bloom again in the spring. This window box uses bright pinks and purples. 
4. Be colorful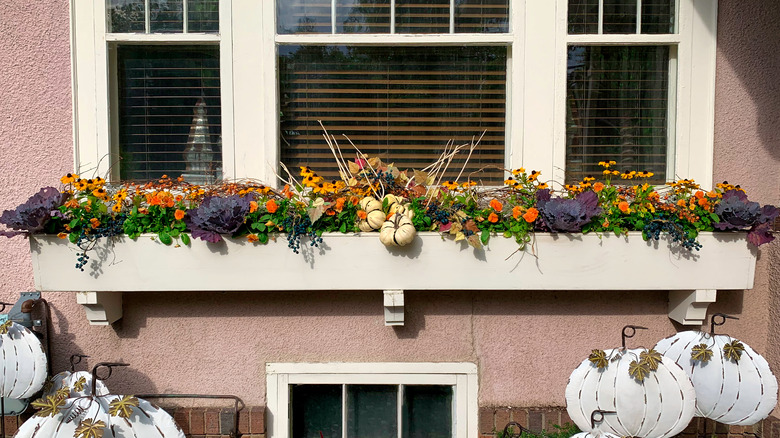 TammiMild/Shutterstock
It wouldn't be fall without pumpkins. This window box uses white pumpkins in and around the window to stand out against the bright orange and yellow flowers and dark purple cabbage. 
5. Add other fall décor
Pumpkins and colored corn are a staple when decorating in the fall. Here, the window box is filled with dried hay and uses two small mum plants. Everything is tied together by sharing shades of orange and yellow. 
6. Add pumpkins
Brandt Bolding/Shutterstock
You can keep it simple and easy by decorating your window box without actually planting anything. Here pumpkins and gourds are pilled together with decorative green and purple cabbage as the centerpiece. 
7. If you don't have a window box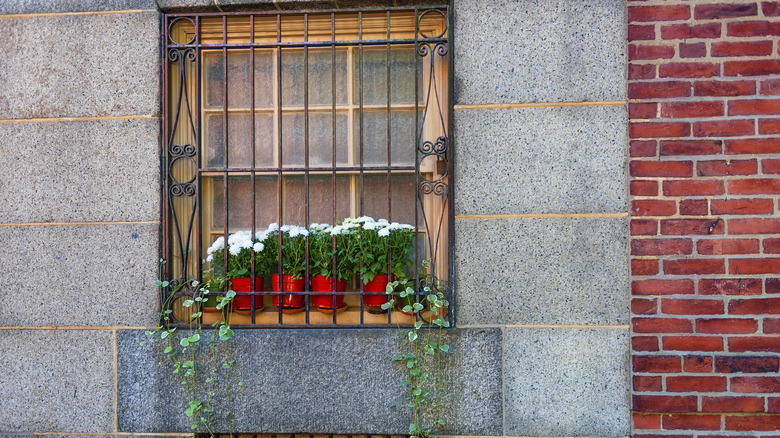 Dee Browning/Shutterstock
You can decorate your window even without an actual window box. Because of the frame over this window, it isn't possible to add a window box, so you need to be creative. In this case, white mums are potted in four red pots, which makes the red pop out beautifully. 
8. Use winter foliage
Using only foliage is another way to create a window box that can last from fall to winter. Some hearty plants to choose from are dusty miller, flowering cabbage, sweet potato vines, and ornamental grasses. 
9. You don't need a window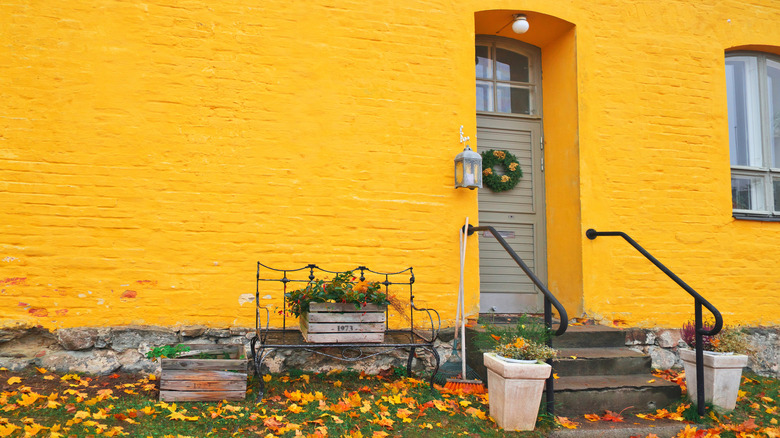 sun ok/Shutterstock
You can still have a window box without a window. In this arrangement, a wood crate on a bench is used in place of a window box.
10. Add cascading chrysanthemums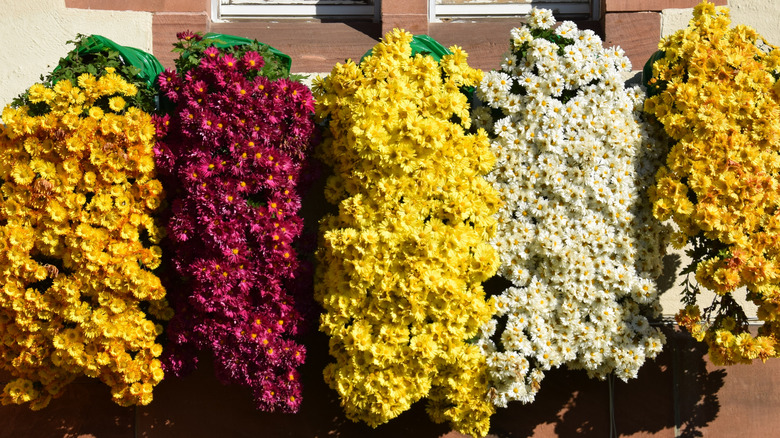 SF photo/Shutterstock
Cascading chrysanthemums are an easy way to create a large arrangement. This window box uses white, mustard yellow, and plum-colored mums for a fall color scheme. 
11. Make it big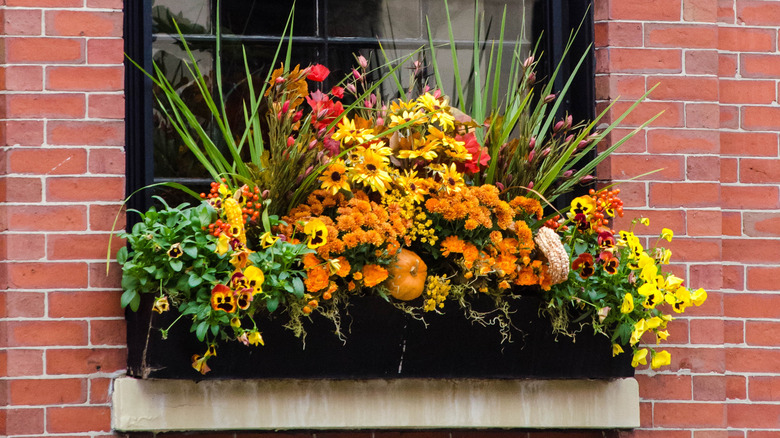 Danica Chang/Shutterstock
Adding flowers with different heights is the best way to make your window box look full. In this window box, mums and pansies cover the bottom part of the arrangement, while the yellow black-eyed Susan and decorative grass stand up tall behind them. 
12. You don't need flowers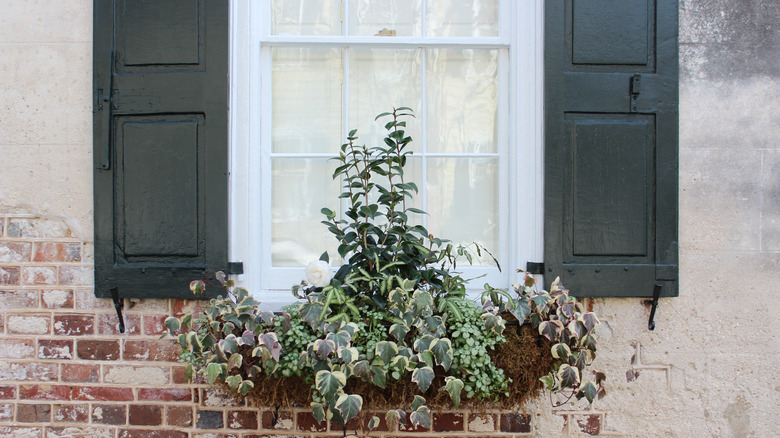 Elizabeth Foley/Shutterstock
Flowers aren't necessary for a fall-styled window box. In this case, vining plants are used in a variety of shades of green with hints of yellow and purple. 
13. Add dusty miller
This planter is another idea if you don't have a window box. It is arranged with orange, red, and purple mums and a dusty miller plant that always looks like it has just snowed. 
14. Keep it festive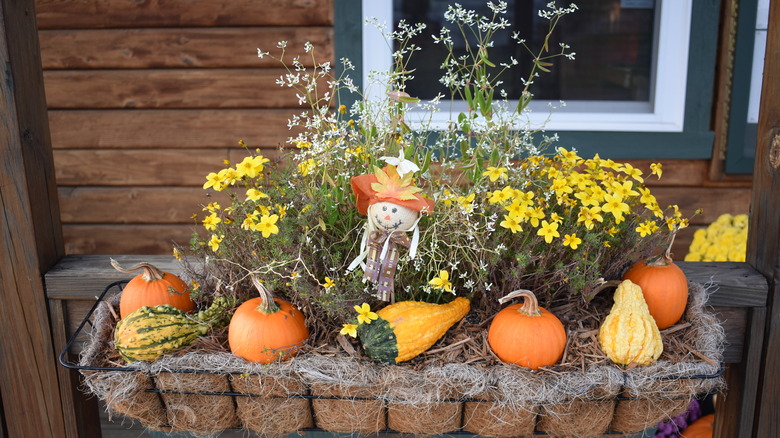 Arabel Mortimer/Shutterstock
Adding extra fall décor is a fun way to create a festive window box. Pumpkins, gourds, and the cute scarecrow add to the simple flowers in the background of the arrangement. 
15. Make it colorful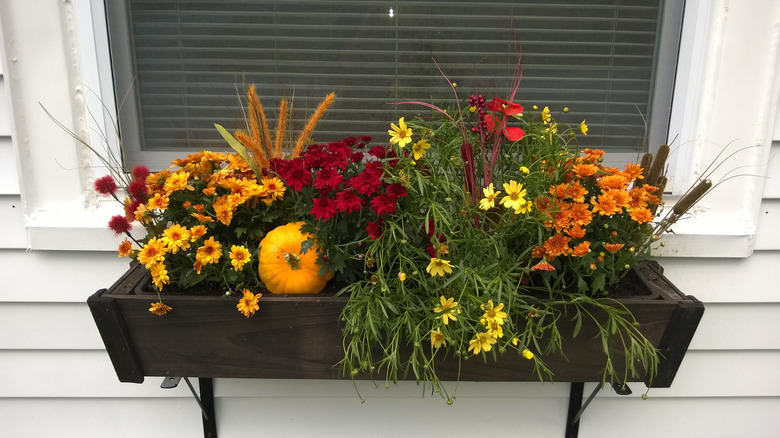 Hoopla/Shutterstock
This window box uses fall colors and a variety of flowers and decorative grasses. There are mums, tickweed, and aster flowers. 
16. Keep it simple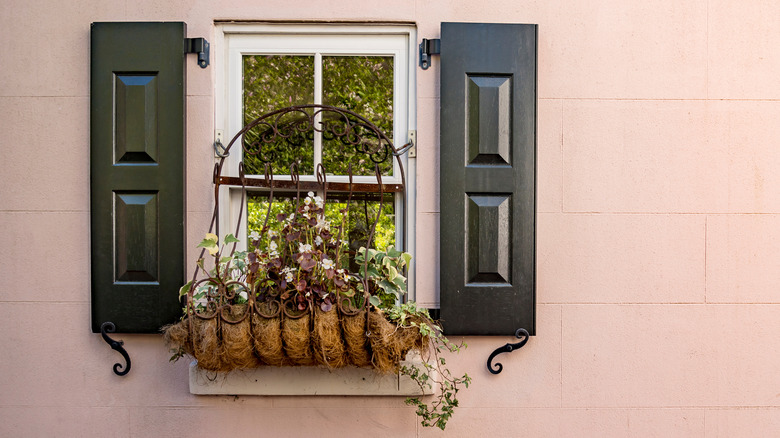 Enrico Della Pietra/Shutterstock
Sometimes simple is better. Here only two types of plants are used. Begonias are in the center, framed by two vining plants.
17. Use different types of flowers
Mums are the iconic fall flower, but there are so many other cold-tolerant flowers to add to your window box. Zinnias, dahlias, violas, marigolds, and sweet alyssums are just a few to choose from for a fall window box. 
18. Add two types of mums
Window boxes can be styled in many different ways. There are two different types of mums used in this window box. The yellow cascading mums are the focal point of the arrangement and are framed by small orange mums to complete the color fall look. 
19. Don't forget about Halloween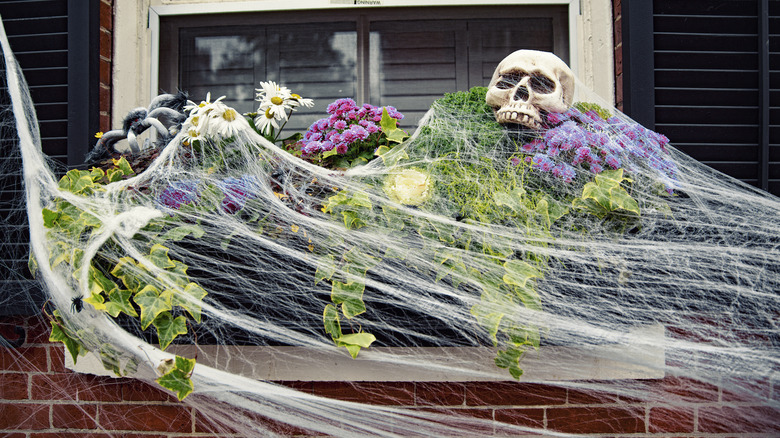 EvgeniiAnd/Shutterstock
When you're arranging your window boxes for the fall you can't forget about Halloween decorations. This window box uses decorative cabbage, shasta daisies, and ivy, which will look pretty during and after Halloween.
20. Smaller is better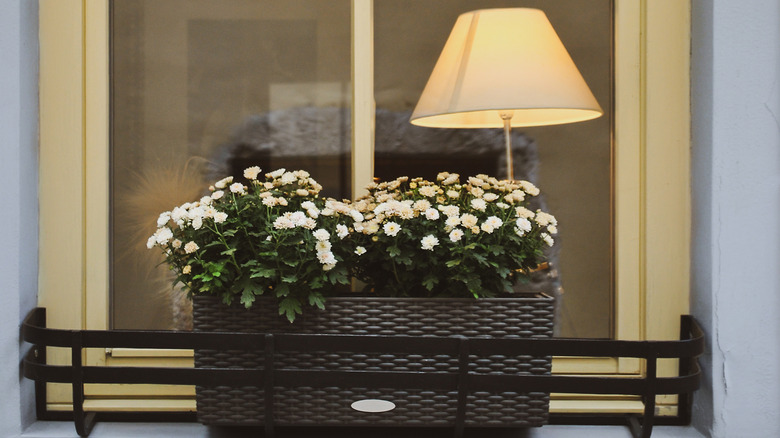 TinaSova20/Shutterstock
Even small window boxes look beautiful. This window box is kept simple with white mums, making the woven pattern of the window box stand out. This is unlike the other wooden window boxes where only the flowers are the focal point.