This Is The Best Way To Clean Your Kitchen Backsplash
Sentelia/Shutterstock
Kitchens are a place of community. They bring people together, whether through sharing a meal with friends or cooking dinner as a family. That being said, the kitchen is an important part of a household that needs to stay clean. Routinely, household chores consist of cleaning the kitchen counters, stove, oven, etc. The kitchen backsplash is also important to remember for routine cleaning. 
Although a kitchen backsplash may seem to contribute more to the style and design of a kitchen, it plays an important and functional role in the kitchen environment as well. Kitchen backsplashes protect the walls from the activities that occur within the kitchen, like water damage and grease, per The Spruce. From marble to ceramic tile, there are a verity of materials that can be used as a backsplash to keep your kitchen safe. Considering the multiple types of kitchen backsplashes, House Digest is here to give you the best way to clean your kitchen backsplash.
Types of cleaners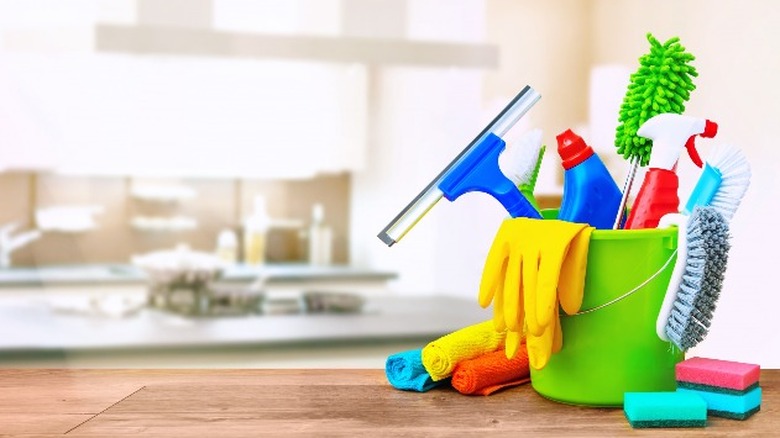 Alexander Raths/Shutterstock
Stubborn stains and grease are inevitable within the kitchen environment, but touching up your backsplash with a little bit of baking soda can easily make your kitchen sparkle again. All Kleen mentions that making a paste out of baking soda and water can gently scrub away stubborn grease spots and stains. Add baking soda to a bowl and slowly add water until it forms into a paste. This paste should be thick enough to adhere to the backsplash. Smother the surface of the backsplash with the paste and let it sit for approximately 10 minutes before scrubbing it off with a sponge or damp towel.
When it comes to the kitchen, there also a variety of cleaners you can also use to make the clean-up process a snap. Proline shares a wide range of kitchen cleaners that easily cut grease and making cleaning up the kitchen much easier. To use these cleaners, just spray onto the surface of the backsplash, and let sit for five to 10 minutes before scrubbing with a sponge or damp towel.
The best way to clean your backsplash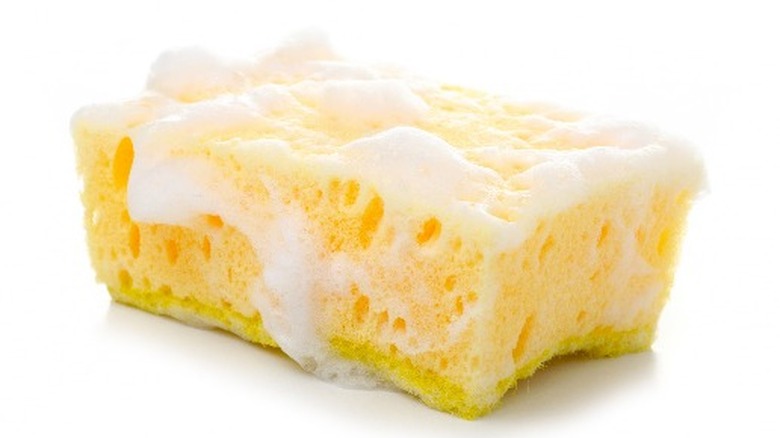 Kabardins photo/Shutterstock
Although a little bit of soap and water may seem too simple for the rough task of cutting grease and making your kitchen sparkle, it is a quick and easy way to clean your backsplash on a regular basis. According to Kitchn, soap is a natural grease cutter, making it an easy option for routine kitchen cleaning. Depending on the amount of grease present on the surface, dab the grease away with a paper towel, then let the soapy water sit on the surface for a few minutes before scrubbing the grime away. 
As mentioned before, this process works best on a routine basis; therefore, it is recommended for use closely after the mess is made. On a routine basis, an easy soap and water technique can be the best way to clean your kitchen backsplash. Preventing stains and the build-up of grease and grime is ultimately the best cleaning strategy, making your kitchen sparkle and shine.