How To Successfully Clean Rubber Floor Tiles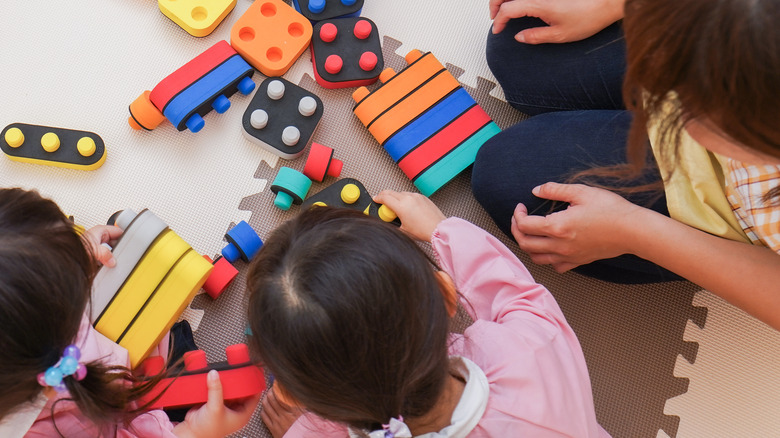 maroke/Shutterstock
Rubber tiles are a popular flooring option for a variety of reasons. According to The Spruce, rubber flooring is resistant to mold and mildew, doesn't stain as much as other flooring, and dirt is more visible and easily swept up. Rubber tiles are often found in both home and commercial gyms, as well as kid's playrooms, due to its easy cleaning and maintenance routine in the face of spilled drinks, sweat, etc.
That being said, it is necessary to maintain a cleaning routine for rubber tiles, as with any flooring. Rubber can be installed in two ways — either assembled in interlocking squares and laid on top of flooring or permanently installed via adhesive. Both installation types have their own benefits and drawbacks, but when it comes to cleaning, make sure you are tending to the needs of your floor. Read on to learn a variety of ways to maintain and clean rubber floor tiles.
Individually wash tiles with detergent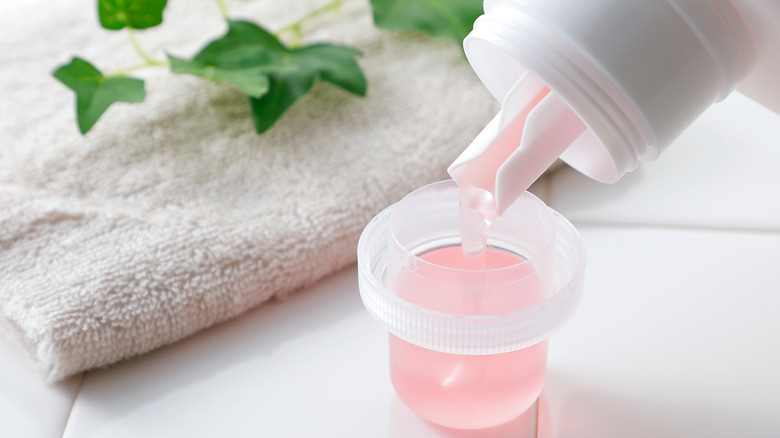 Nishihama/Shutterstock
Removable rubber tiles should be cleaned individually by hand since mopping may damage the floor underneath from standing water — causing stains, mildew, mold, etc. Instead of regular mopping, Build Direct recommends using a gentle detergent or mild soap and warm water for handwashing purposes. They recommend washing tiles daily to weekly, depending on how heavily trafficked the floor is. For example, rubber tiles used in a home gym or kid's playroom should only need weekly washing, but commercial venues and high trafficked areas in your home should be washed daily or as needed.
Using a non-abrasive sponge or cleaning cloth, clean the rubber tile with the soap of your choice and warm water, specifically focusing on any spots or stains. Make sure the tiles smell clean, if maybe a little rubbery, and the water runs clear. Let the tiles air dry before placing them back. Do not machine wash.
Vacuum and sweep regularly
Build Direct also recommends sweeping and dry vacuuming often to reduce dirt build-up and maintain the integrity of the rubber flooring. Daily sweeping is ideal, especially considering rubber flooring is usually installed in areas that tend to accumulate dirt quickly. Vacuuming once a week is adequate for most home gyms or playrooms. Use discretion based on your circumstances and specific use for your rubber flooring.
Consider vacuuming between interlocking tiles with the hose attachment, as it will help maintain the integrity of the floor underneath, prevent dirt build-up that can attract bugs, and more. Both sweeping and dry vacuuming are recommended for interlocking tiles and permanently installed rubber flooring. Permanent rubber flooring can also benefit from daily or weekly wet mopping with a mild detergent and mopping pad. Remember not to mop removable interlocking rubber tiles, as leftover water and soap can damage the floor underneath — instead, hand wash the tiles regularly.
Wet vacuum periodically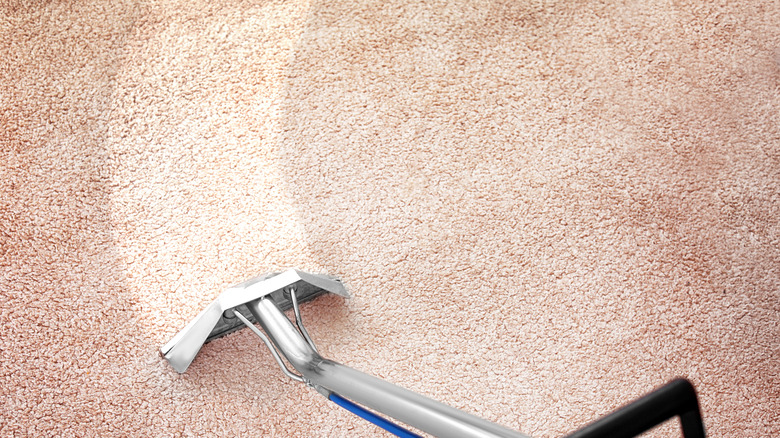 New Africa/Shutterstock
According to Restoration Master, permanently installed rubber tiles can benefit from occasionally being wet vacuumed — once a month should be fine for a home gym or playroom, though you may need less or more frequent deep cleaning depending on your circumstance. They recommend sweeping and mopping the floor first to remove any surface dirt. Again, ensure you're using a mild detergent.
Add a store-bought or homemade cleaning solution to the floor, and let sit for 10 minutes. Make sure you are not using any harsh, acidic chemicals on the rubber flooring. Run the wet vacuum over the floors on the softest brush setting, and let dry completely before utilizing the room again. You should also use a mild detergent in the wet vacuum and change the water as needed if cleaning a large or particularly dirty area. Spot treat any visible stains with a homemade cleaner or store-bought treatment.
Use floor conditioner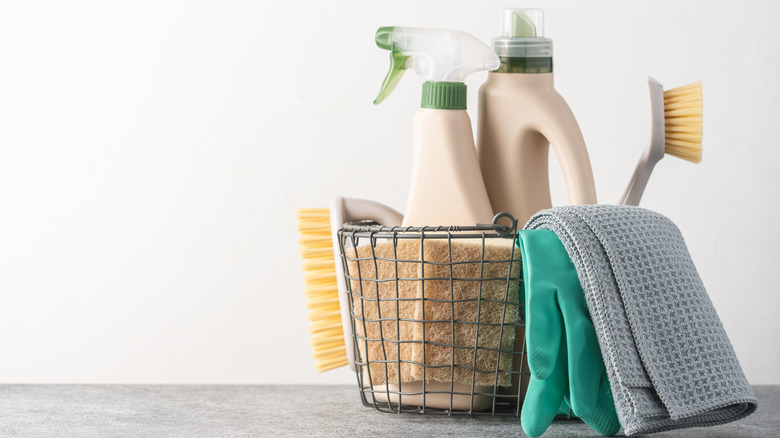 Anna Puzatykh/Shutterstock
Floor Critics says you can also use a floor conditioner specifically made for rubber flooring when cleaning rubber tiles. Rubber floor conditioner can be used for interlocking tiles or permanently installed flooring. This can be purchased at most grocery stores, hardware stores, gym supply stores, and online.
For individual tiles, remove the tiles and use them to spot clean or give them a general refresh. Do this with a soft sponge, brush, or cleaning rag, and only do it by hand. Permanent rubber flooring can benefit from rubber floor conditioner regularly to freshen up the overall shine and appearance, especially after wet vacuuming. Use a machine with a soft brush, or apply by hand. It can also be used to buff out and freshen up the flooring giving it a shinier finish. This will improve the look of the flooring and help maintain the integrity and quality of the rubber.
Make your own cleaning solution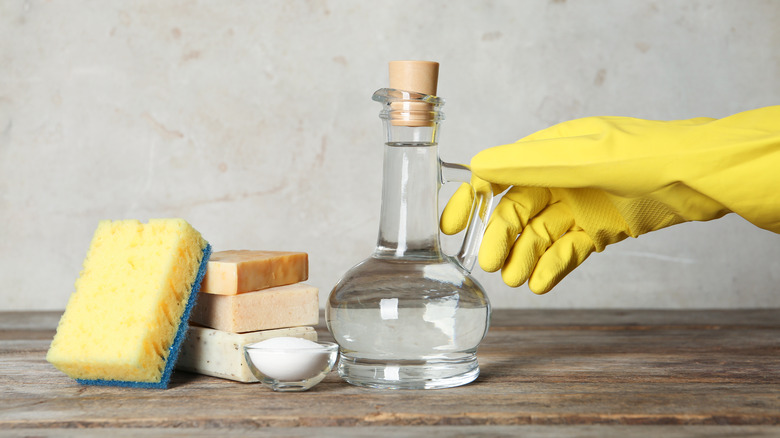 New Africa/Shutterstock
Another easy way to clean rubber tiles and flooring is by making your own cleaning solution. This option is great for people sensitive to the fumes from commercial cleaning products. It is also a gentler and more economical way to ensure your rubber flooring tiles are clean without eroding the rubber.
According to The Spruce, you will need water, soap, and distilled white vinegar for this method. Optionally, you can also use a scented oil or the juice of a lemon. The ideal ratio is 1 cup of white vinegar to a gallon of hot water. You can swap the vinegar for dish soap if the smell bothers you or you don't have any on hand, or combine both to create an optimal cleaning solution. Add a few drops of your favorite essential oil or lemon juice to add fragrance to the rubber and help cut the vinegar smell. Use this mixture to hand clean removable interlocking tiles or wet vacuum permanent flooring.
Use a neutral pH cleanser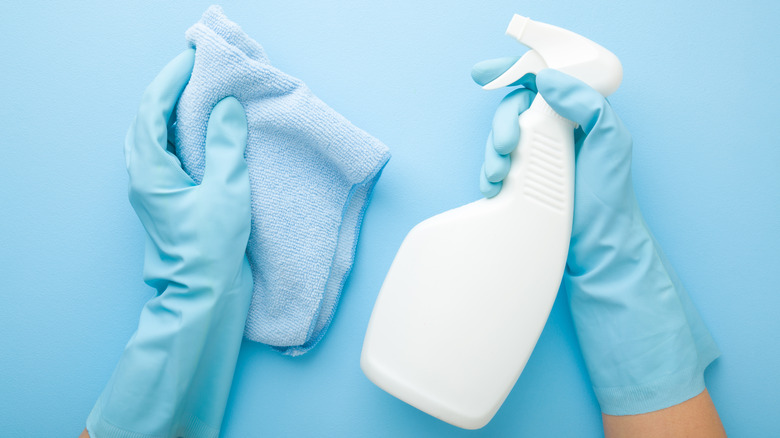 FotoDuets/Shutterstock
Over time, rubber flooring may need a more vigorous deep cleaning. Per Great Mats, you should avoid heavy chemicals such as bleach or other acidic solutions and instead opt for a neutral pH cleaning solution. They recommend NC-900, which is popular for cleaning commercial gyms, but there are a variety of other options which can be found online, at hardware stores, and at gym supply stores.
The solution will deep clean the flooring and remove any film or grime. Clean permanent flooring with a mop or cleaning machine set to the softest brush setting. Removable interlocking tiles should be washed by hand with a soft sponge, brush, or cleaning towel. This should be done regularly, every month or so for residential flooring. It should also be used when you notice significant dirt and grime build-up. You can also spot clean permanent and temporary flooring with a sponge, but consider removing temporary tiles beforehand, as extra product could damage the flooring underneath.
Treat oil stains with turpentine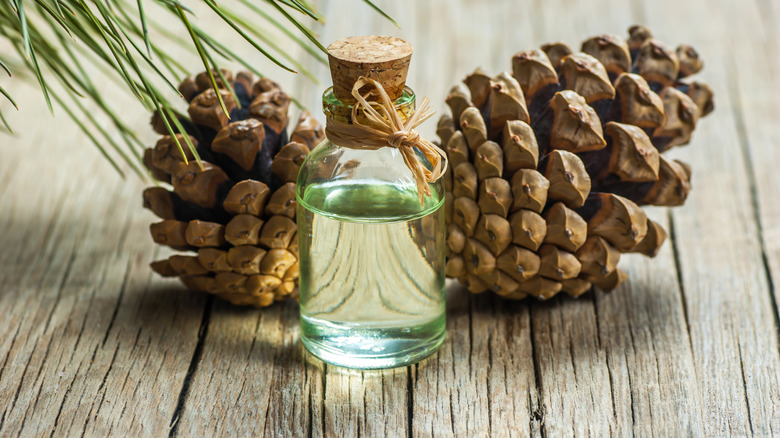 Halil ibrahim mescioglu/Shutterstock
In the case of oil-based stains and spills, Hunker recommends spot treating with turpentine. They recommend using 3 teaspoons of turpentine to gently blot out the stain. While this is simple enough, there are some safety concerns to keep in mind.
When handling turpentine, be sure to wear gloves and open a window to increase ventilation. Per WebMD, there are a variety of potentially harmful side effects to turpentine inhalation, consumption, or contact. These side effects can include headache, fatigue, vomiting, internal bleeding, kidney or brain damage, skin irritation, becoming comatose, or, if consumed heavily, death. Call a poison control hotline or go to the emergency room if you accidentally consume any. Always wash your hands after handling this chemical. Rags soaked in turpentine can also potentially catch fire if exposed to heat, so take care to not leave soaked rags outside and immediately soak rags in water after use (via Brewers).
Clean up urine with toothpaste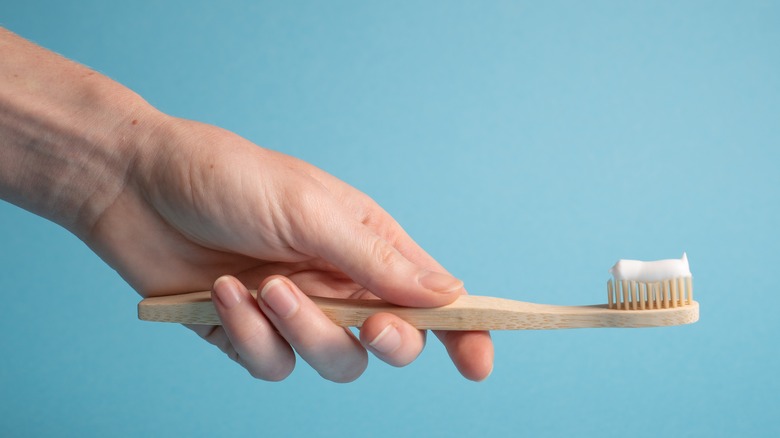 Nataliia Karabin/Shutterstock
While there are a variety of commercial products for removing urine from carpets and other materials, they may not prove effective on rubber flooring and could damage the appearance and integrity of the rubber.
In case of urine stains, The Spruce recommends combatting the spot with toothpaste. Begin by soaking up as much of the urine you can with a towel. If the tile is removable, remove it and make sure there is no urine damage to the floor underneath. Using white toothpaste, which will help prevent color staining your tiles, generously apply it to the stain sight. Leave it on for 15 minutes, then wash or rinse with warm water and a sponge, brush, or cloth. Repeat the process, if needed, until the stain is gone. Consider cleaning with the previously mentioned vinegar, dish soap, essential oil, and lemon juice solution to combat any residual urine odors that stuck around.
Buff out with fabric softener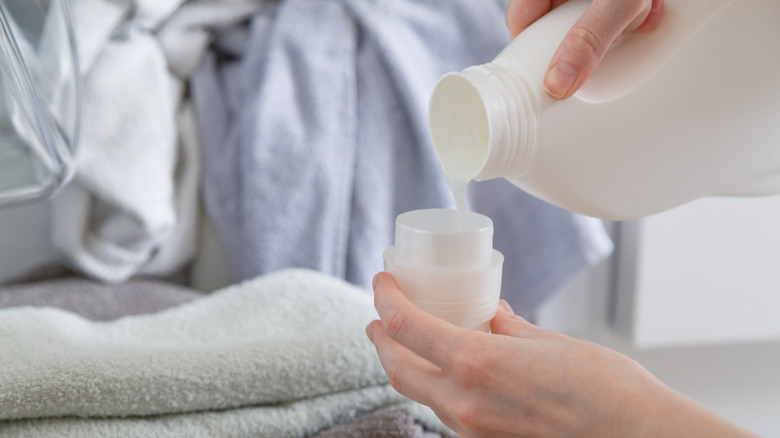 Vladeep/Shutterstock
Over time, and with consistent wear and cleaning, you may notice your rubber tile flooring losing its original shine. Rubber floor conditioners can be used to combat this. However, a budget-friendly, more convenient method is to use some fabric softener.
Per The Spruce, this method will require a gentle fabric softener, water, a mop or buffing machine, or gentle brush or cloth. Make sure the fabric softener you use is a scent you will enjoy, as the rubber will take on the fragrance. Begin by sweeping and cleaning the floor. Next, mix 1 cup of fabric softener with a gallon of hot water to create the buffing solution. You can apply the softener with a mop, as well as a buffing machine set on the gentlest brush setting. For interlocking removable tiles, gently buff out the rubber with a cloth or brush, being careful not to damage the integrity of the rubber.