Why John Legend And Chrissy Teigen Decided To Leave New York For Good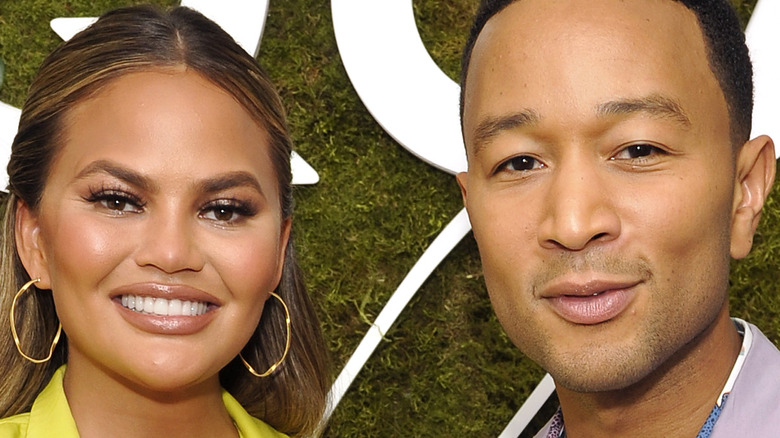 John Sciulli/Getty Images
John Legend and Chrissy Teigan recently put their two combined New York City penthouses up for sale, currently listed with Douglas Elliman for $18 million. Located in Nolita, the penthouses were built in 1900, and offer 6,100 square feet of livable space, with an additional 3,300-square-foot private rooftop. The apartment has six bedrooms, six bathrooms (plus an additional half bath), a wine cellar, wet bar, multiple fireplaces, and a killer view of the city. The apartment is accessed via a private elevator, and the floorplan shows the rooftop terrace being accessed by two separate staircases from each apartment.
The New York Post reports that the apartments were purchased for just over $16 million combined three years ago. However, for all the great features and selling points, the couple has said they are more concerned about permanently relocating to Los Angeles as opposed to turning over a profit. Legend told The Wall Street Journal that they're "going to focus our home-building energy and renovation energy on what we're doing in L.A. ... We're just not [in New York] enough to justify putting in the time and energy to combine apartments."
John Legend and Chrissy Teigen's Nolita luxury penthouse
John Legend and Chrissy Teigen's penthouse apartments stun with high ceilings, wood floors, plenty of windows and natural light, dark wood accents, glass fireplaces, multiple exposed brick walls, and a prime location. Nolita, the penthouse's neighborhood, is right across the street from Little Italy, and is a very trendy area of Lower Manhattan. It is just three blocks from Chinatown, too, and has an array of shopping, dining, and nightlife options.
Legend and Teigan will be permanently calling L.A. home, where the couple spends most of their time. It's not surprising, given that Legend recently wrapped production for the popular competition show "The Voice" at Universal Studios. Additionally, Hello! reports that the couple's current L.A. residence is located in Beverly Hills — a six-bedroom, nine-bathroom mansion with the Nolita penthouse's features, and then some. It also has a wine cellar and private balcony, as well as a 100-foot swimming pool and additional pool house and media room.