Marilyn Monroe's Idaho Estate Hit The Market For A Staggering Amount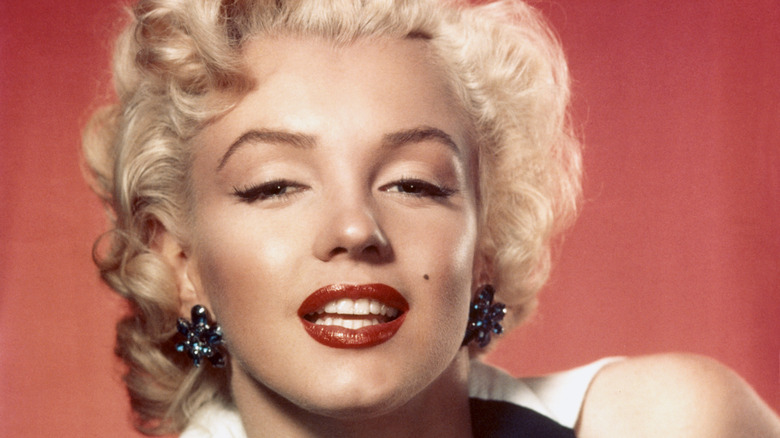 Michael Ochs Archives/Getty Images
Marilyn Monroe's prestigious Sun Valley, Idaho estate is up for sale for $15.99 million, according to the New York Post. The home is famous for being featured in Joshua Logans' film "Bus Stop," which Monroe starred in. While most film locations are in massive buildings where sets are tailor-made for a scene, the entire guest house served as Grace's Diner in the film. 
Monroe's home was moved from Sun Valley to Ketchum on a flatbed truck via Highway 75; this factoid is similar to the ending of the film when Monroe's character, Cherie, gets on a bus and cruises down Highway 75, as noted by Idaho Mountain Express. Although it only moved down a few miles away from its original location, the residence has a different look to it from when it was used in "Bus Stop." It now sits on a pond with a breathtaking view of the surrounding mountains and multicolored trees.
How Marilyn Monroe's home is set up
Marilyn Monroe's 12-acre residence includes a main house, a guest house, and a barn. With over 2,000 square feet in each building, and a total of seven bedrooms and 10 bathrooms, the home is spacious and perfect for a family. The main house has five bedrooms and 5.5 bathrooms, a study, and a spacious open floor plan that connects the living room to the dining room, according to Top Ten Real Estate Deals. The home also features luxurious, warm mahogany wood accents and multiple stone fireplaces for a cozy feel. There's even a three car garage, a firepit on the terrace, an outdoor hot tub, and an artificial lake that surrounds the house. 
The 3,000-square-foot "party" barn holds a full-size kitchen, 1.5 bathrooms, a living room, a terrace, a conservatory, and a plethora of heated garages. Additionally, the guest house holds two bedrooms and 2.5 baths. The Balder Mountains can be seen from the property's many windows and terraces along with Dollar Mountain.
Sun Valley is known as a resort location
Marilyn Monroe's established estate in the alpine environment of Sun Valley creates a serene and calming feel perfect for the future homeowners. They'll be able to enjoy watching the beginning and end of every new season from the windows, especially winter. 
Idaho is known for being one of the best places to go skiing. After all, it's where the American ski vacation began, according to Forbes. Additionally, Monroe's estate lies near the most gentle and rockiest mountains in the area. It's also no stranger to celebrities who travel to Sun Valley for a getaway ski resort vacation. 
A-List celebrities during Hollywood's Golden Age who vacationed in ski resorts (other than Monroe) include Ernest Hemingway, Lucille Ball, and Clark Gable just to name a few. The sites still capture the hearts of many celebrities nowadays, such as Tom Hanks, Oprah Winfrey, and Justin Timberlake. Engel & Völkers at Sun Valley In Ketchum, Idaho, holds the listing.