Why It's Harder To Buy A House Than Ever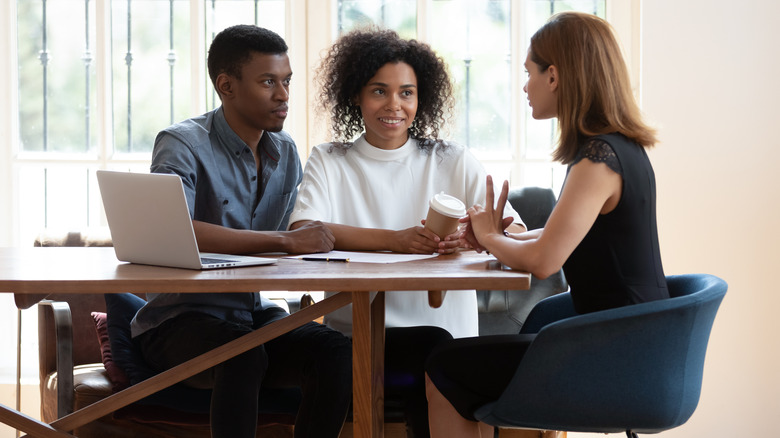 fizkes/Shutterstock
Ever since the beginning of the COVID-19 pandemic in 2020, things have never been the same, especially in the housing sector. At the outset, while typical Americans were hoarding toilet paper, wolves of wall streets were busy devouring the inventories of every metropolitan real estate market and building their personal housing portfolios. According to Business Insider, this massive "buy" wave was triggered by both the increase in remote work and low mortgage rates.
And the result? Inflation. Today, housing inventory is down by 40% from what was recorded pre-COVID. But as expected, the law of supply and demand played out to increase the median home sale price by 16.2% between 2020 and 2021 (via The Ascent). As there are now fewer options left for would-be homeowners, it appears that the only ray of hope right now is to build a house from scratch.
But should you really start a housing project now? Or is there a possibility that things will get better if you hold on to your money just a little longer? Let's take a look at what was, what is, and what will be for the U.S. housing market.
What happened between 2020 and 2021?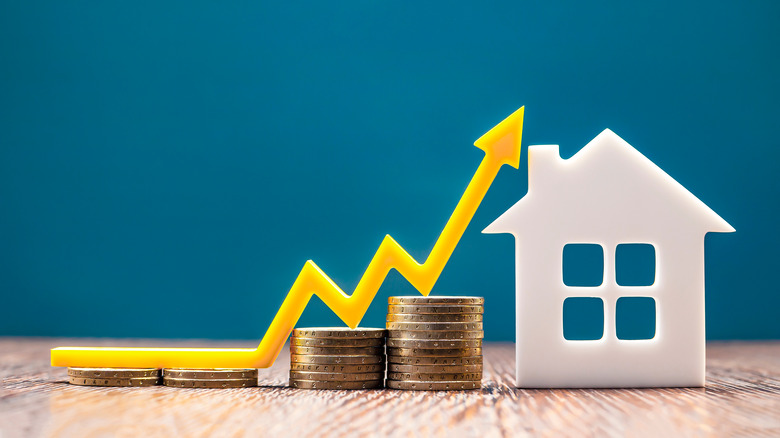 Sersoll/Shutterstock
According to Statista, out of the 140.8 million housing units that were available in the U.S. housing market between 1975 and 2020, 43 million were occupied by renters while 82.51 million were owner-occupied. Pro-level statisticians and hawk-eyed real estate investors came together to conclude that part of this expansion (which was the longest the U.S. economy has experienced) was due to the aftermath of the Great Recession which started in 2007 and ended in 2009.
However, Yopa explains that with the ongoing expansion at that time, house price growth was increasing at a stable rate of 2% per year, until 2020 when the release from lockdown amplified housing property value growth by 7.4%. Additionally, around the early period of the pandemic, people who held on to their properties in Miami saw them appreciate by 31.6%.
Fast-forward to May 2021, when home buying skyrocketed by 13.2% with cities like Salt Lake City, Texas, Atlanta, Nashville, and Austin experiencing the biggest growth (via CNBC). As a result, according to Zillow, for-sale inventory plunged by 40.5% towards the end of 2021 compared to 2019. This left most homebuyers with fewer options than ever, many of them holding on to their money and hoping that things would change come 2022. To that end, let's see if 2022 is playing in the favor of homebuyers or not.
Why it's harder to buy house in early 2022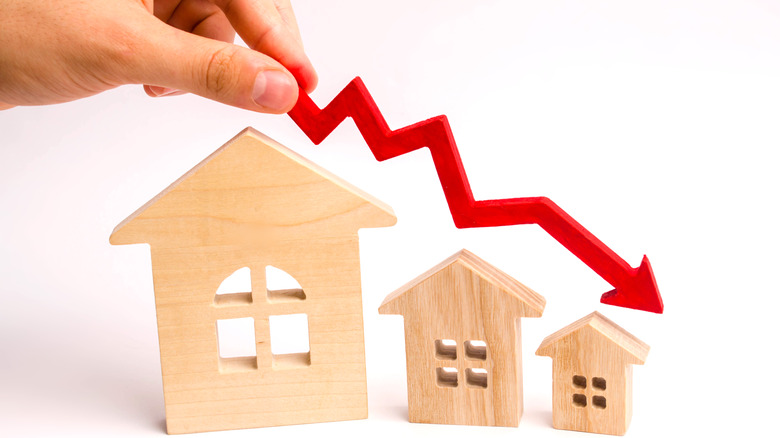 Andrii Yalanskyi/Shutterstock
Towards the end of 2021, CNBC predicted what the housing market would be like in 2022. These predictions highlighted that inventory will keep plunging down, house prices will skyrocket more, and mortgage interest rates will explode. Additionally, Redfin reports that U.S. housing inventory is now further down by 29%, median home prices increased by over 12.0%, and listing of homes is now at -12.1%. So, what are the predictions for the rest of 2022? Looking ahead, Redfin highlights that bidding will become an even tougher prospect, supplies will get tighter than ever, home prices will increase further by another 14.3%, and more homes will be sold. 
A quick recap on the reasons it's even harder to buy a house than ever now.
The low mortgage rates of 2020 gave hoarders the affordability to stockpile.

The COVID-19 pandemic and omicron pose risks to pending U.S. home sales (via Reuters).

Inventory is crashing as fewer new homes are getting listed.

Prices on houses are skyrocketing at a crazy speed.

Mortgage rates will likely increase.

As more buyers are pushing the demand scale up, sellers are stepping out.

Housing prices will continue to escalate.

Income inequality caused by remote work is a factor.