How People In Tiny Apartments Are Redecorating Their Spaces Due To COVID-19 This Winter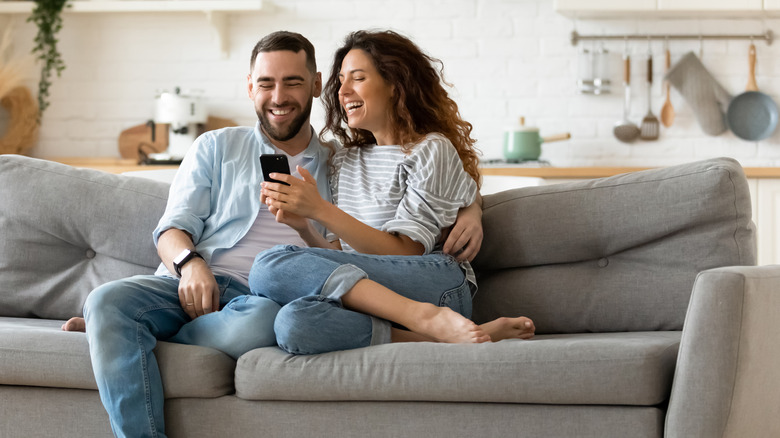 fizkes/Shutterstock
Your home, no matter what its size, should be your private space for relaxing and recharging. Above all, your rooms should work for you, and never has this been more important than during the COVID-19 pandemic in winter. To that end, the New York Post describes how renters who already have comparatively small apartments are coming up with hyper-creative designs to carve out an ideal environment for living and working. Redecorating tricks include using portable screens or even sheets to delineate private spaces for meditation or work. Additionally, closets are the new goldmine of square footage -– simply empty them (try hooks or a decorative rack to store coats), add shelves, a surface, and a chair; close the door, and you're good to go. 
Another recommendation is to rearrange traditional space to fit your needs. The living room can become a bedroom, a hallway a glamorous runway, and a breakfast nook a studio space (pull the screens shut). During the pandemic, with all of us shut inside most of the time, the interior space that surrounds us has become even more important, according to mental health experts.
Inspiration sources and ideas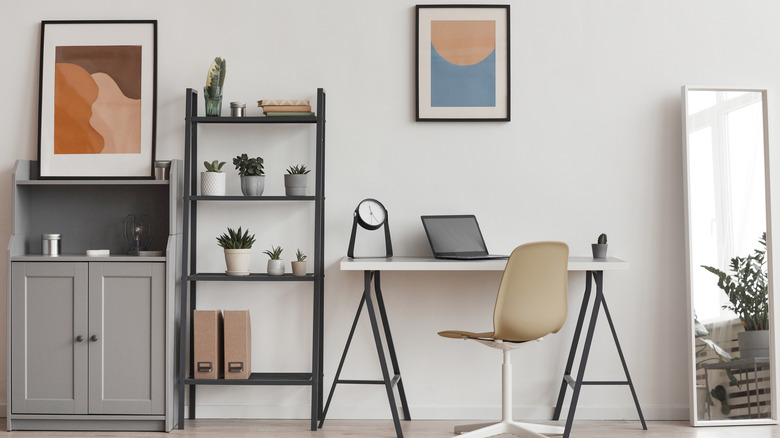 SeventyFour/Shutterstock
Inspiration for redecorating tiny apartments is plentiful and encourages thinking of your space in a new way, per Apartment Therapy. For example, embrace quirky angles and unusual placement. If the washer/dryer has to fit next to your workspace, use magnets for memos or artwork. Consider using smaller pieces of furniture and combining them in workable ways. No dining room table? Use glass or Plexiglas on top of an ottoman as a stable surface, or find a table that has an adjustable height mechanism.
Use color to define spaces, even within the same room -– maybe pastels for the reading corner, but deeper jewel tones for the sofa/gathering space. To build in some flexibility, use tone on tone for the walls and largest pieces — think gray and ivory or blues with greens, but then use splashes of color in pillows, accent pieces, and artwork and change out these colors seasonally. Oranges and bright citrus colors work well in the middle of gloomy winter weather, and for spring think about floral pinks, herby greens, and lilac accents.
Color is key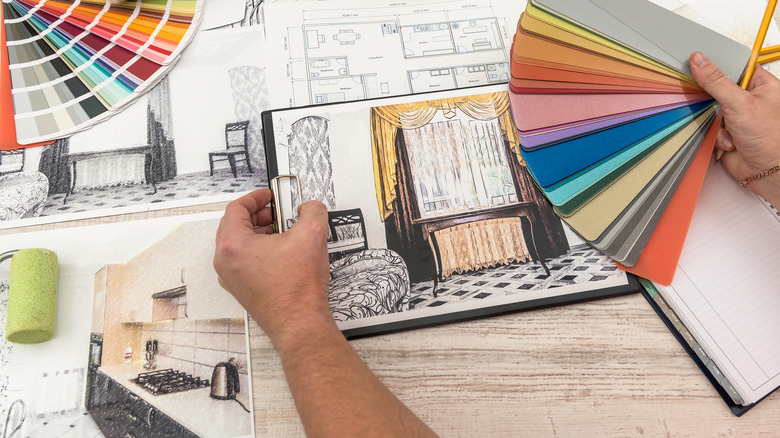 RomanR/Shutterstock
Speaking of color, pick the right one for your space. Professionals from psychologists to interior decorators have long known that color affects mood –- it's hardwired into our lizard brains and evolution hasn't done much to change our read on tones: Red is stimulating, green is calming, for example. Fortunately, paint companies have thousands of colors to lighten, brighten, warm up, or cool down an interior. 
Some hues can even make a tiny space seem larger, per The Spruce – think cool blues or off whites, and use a lighter color on the ceiling to make it seem higher. On the other hand, warmer, darker tones — caramels, dark jewel hues, or wood tones — bring the walls in and lower the ceiling, if you prefer a cozier feel.
No matter if you live in a tiny apartment or sprawling suburban house, make your rooms yours. Decorate or redecorate for yourself, and decorate with items and colors that make you happy, allowing you to live your best life inside your home.