Why You Should Be Careful When Mixing Wood Tones, Per An Interior Designer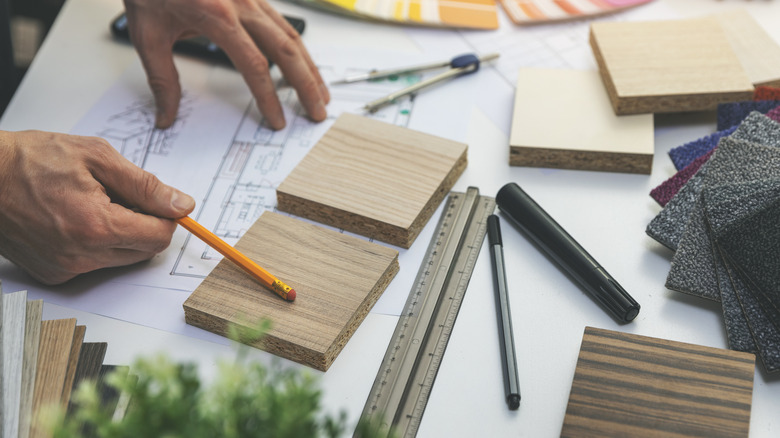 ronstik/Shutterstock
When it comes to incorporating wood into your home's overall aesthetic, it can be tough to choose exactly what tones you want to feature, as they all have their unique beauty. Some individuals favoring a light, airy aesthetic may prefer lighter tones, while others would rather go for rich cherry, espresso, or mahogany tones. Then, of course, there's everything in the middle. And, for fans of a mid-century modern design aesthetic, woods like teak with its natural tone reign supreme.
If you can't quite decide on one, though, you want to be mindful of exactly how you mix them. As designer Caitie Smithe told Lonny, what you particularly want to avoid are tones that are close to one another but not quite the same. As Smithe says, "the room will feel off" when you mix tones in that way.
However, that doesn't mean you can only feature one tone throughout your entire home — instead, you just have to move a bit further apart on the tone spectrum, according to Smithe. Rather than selecting a dark espresso tone and a chestnut tone, for example, mix that espresso tone you love with a much paler tone to provide a look that's "distinct, but complementary," as per Smithe.
A few other tips for successfully mixing wood tones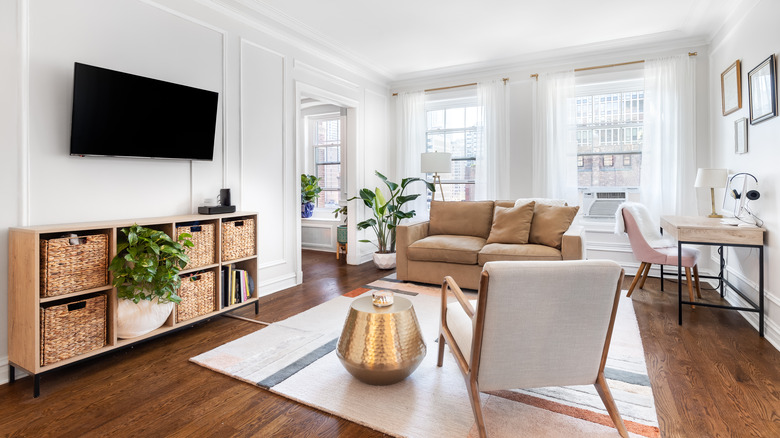 Hendrickson Photography/Shutterstock
If you're still uncertain about how exactly to mix and match wood tones and have your home still look amazing and not "off," as designer Caitie Smithe warns, there are a few easy rules you can keep in mind. One of the major ones, as Chris Loves Julia explains, is to select a dominant wood tone. This doesn't mean you have to use only that tone, but it should essentially be the base from which you select any other tones to incorporate.
Once you have that dominant wood in mind, take a look at the undertones, as My Domaine suggests. Determine whether that dominant wood tone you've selected has a warm, cool, or neutral undertone. Then, to keep things looking cohesive, any other wood tones you incorporate should match that undertone, even if they're totally different shades.
Finally, if you're trying to work with a few different tones between your hardwood flooring and wood furniture pieces, there is a quick and easy way to help out any problem areas — and you can use things you already have at home. As Yellow Brick Home instructs, you can use things like rugs or larger furniture pieces like fabric or leather-covered sofas and chairs to essentially serve as a buffer between the tones to help blend them and improve the overall look. Elements like rugs are particularly useful if you're struggling to pair wood furniture legs with wood flooring, for example.