The Superbloom That Will Accompany Queen Elizabeth's Platinum Jubilee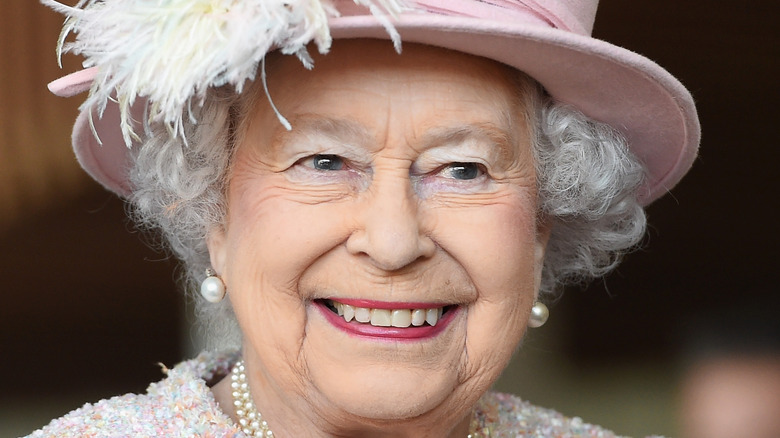 Stuart C. Wilson/Getty Images
Queen Elizabeth II will be celebrating her Platinum Jubilee (a stunning 70 years as monarch!) in style this year. To that end, a centerpiece of the celebration is what's being called the "Superbloom," in which the Tower of London's moat will be filled not with water, but with pollinator-attracting flowers, according to Better Homes & Gardens. Queen Elizabeth ascended to the throne after her father's death in 1952, and as such she's the longest-reigning British monarch. Her reign has spanned 14 U.S. Presidencies, and she's currently also the longest-serving female leader in the world — all reason enough to throw one heck of a party.
The moat around the Tower of London, which was once filled with water to serve as a defense for the tower, was filled in with soil in the 1300s. Since then, it has served as everything from grazing grounds for livestock to a site for art installations, such as in 2014 when it was filled with 800,000 red ceramic poppies to commemorate the British soldiers who died in World War II. The Superbloom will be open to the public, and tickets can be purchased from June 1 through September 18 for a variety of experiences related to the celebration, according to Historic Royal Places.
About the Superbloom
Edda Dupree/Shutterstock
While we don't know yet exactly which plants will be featured in the Superbloom, Historic Royal Places notes that there will be over 20 million seeds sown in the moat from "carefully designed seed mixes." The goal of the garden, in addition to beauty, is to attract pollinators and introduce lots of biodiversity into an area that's largely urbanized to celebrate "the value of nature for our well-being." The Superbloom isn't designed to only be a feature for this year, however; instead, it's the first step in making the area more attractive and welcoming to wildlife.
With that in mind, it's a safe bet that the garden will feature native flowers. These could very well include pasqueflower, primroses, cornflower, agrostema, forget-me-nots, and poppies, among other popular British wildflowers. With more and more pollinators suffering from the difficulties that come with habitat loss, it's a good, meaningful move by the queen and those planning her Jubilee. It's also something anyone can mimic in their own garden, even if all they have is a few window boxes or containers to plant in. By planting native flowers, you can provide your local pollinators with the food sources they need to thrive.