This City Approved The Least Amount Of New Housing In The Northeast
jumis/Shutterstock
New York City is the most populated city in America, yet it approved the least amount of new housing in 2020. More people are moving to the city than before the pandemic, making this choice to approve such a small amount of new housing add to the housing crisis. In 2020 about 2.4 new units were given permits per 1,000 New Yorkers, which is lower than in Philadelphia, Newark, and Washington, according to the New York Post.
The reason Will Thomas, executive director of Open New York, gave for such a small amount of approved housing is that the city has "uniquely strict zoning laws." There was also a temporary halt in the construction of new housing in New York City at the beginning of the pandemic. The lack of new housing in the city is causing rent to skyrocket, oftentimes past pre-pandemic prices, according to The New York Times. 
How to fix the housing issue?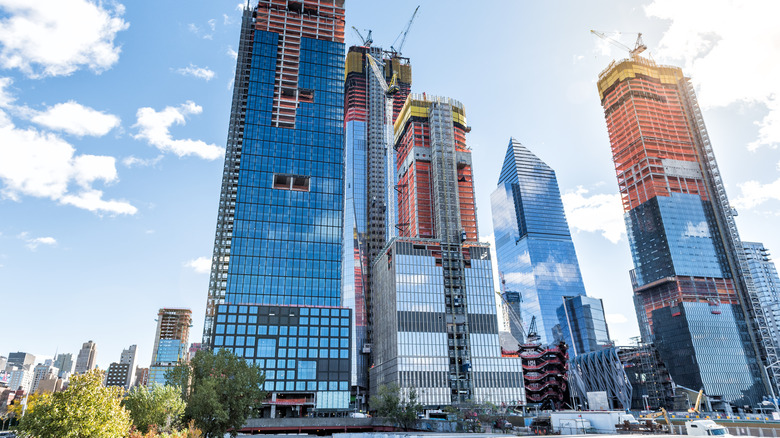 Andriy Blokhin/Shutterstock
While this decrease in new housing approval is driving rent up, James Whalen, the president of the Real Estate Board of New York, has a plan to create more affordable housing. The COVID-19 pandemic has caused many commercial properties, like hotels, to close. Whalen plans to convert these properties into residential housing, according to his interview with City & State New York. This includes reserving units for New York's affordable housing program. He believes that if new residents move to commercial areas of the city, "a more livable community" would be created. Again, the issue here would be working with New York City's strict zoning laws.
However, this doesn't help New Yorkers currently, as the eviction moratorium is about to end in mid-January 2022 (via The New York Times). This leaves many renters facing eviction as rent increases and new and old New York residents compete for housing.