HGTV Confirms What We Suspected All Along About Home Renovation Shows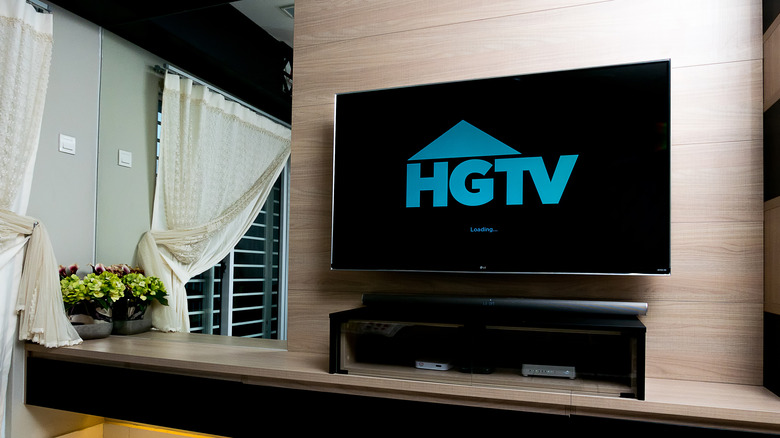 AhmadDanialZulhilmi/Shutterstock
Home renovation television shows are an extremely popular choice for many. HGTV, a television network that hosts some of the most popular home renovation shows from "Fixer Upper" to "Hometown," was listed by Variety as the ninth most-watched network of 2021, with over 1.2 million viewers. These shows are enjoyed by almost everyone, with Statista reporting an almost even divide between the age groups that watch HGTV (26% for 18-29 year olds, 24% for 30-49 year olds, and 31% for 50-64 year olds).
Despite the popularity of HGTV, it is not spared the drama and speculation that comes along with reality television. Questions around new property taxes, furnishing costs, and long-term sustainability are often raised by audience members after the final big reveal. As it turns out, these suspicions are not entirely unfounded. The Greensboro News and Record's 2020 interview with HGTV reveals truths around the logistics of how these shows really work for the homeowners.
The reality behind home renovation shows
PREMIO STOCK/Shutterstock
The News and Record interviewed an HGTV representative in 2020 who confirmed suspicions among home renovation fans. One aspect of the shows they revealed is where homeowners stay during their renovation and who foots the bill. "We do not cover the cost of the homeowners' temporary living arrangements," HGTV said, "except in the case of some unexpected circumstances such as delays due to COVID." They also do not cover the cost of renovations.
Not only do they not cover the major costs of the process, but the decor pieces are often just staging pieces. That being said, they do get the option of purchasing the furniture. "[T]hey are given the opportunity to purchase the furnishings and décor used for the staging. What they don't purchase is removed from the home." The permanent renovations, of course, are not part of the staging and therefore remain intact after filming.
While this is not entirely shocking, it is somewhat disappointing that the glamor appeal of these shows is largely falsified. It is better than the alternative, though, which was seen in the fallout of the original "Extreme Makeover: Home Edition," which left contestants destitute. When HGTV took over the reboot, they told USA Today that they wanted to make the show about "celebrating families rather than exploiting situations."