Everything You Need To Know About Grandmillennial Home Design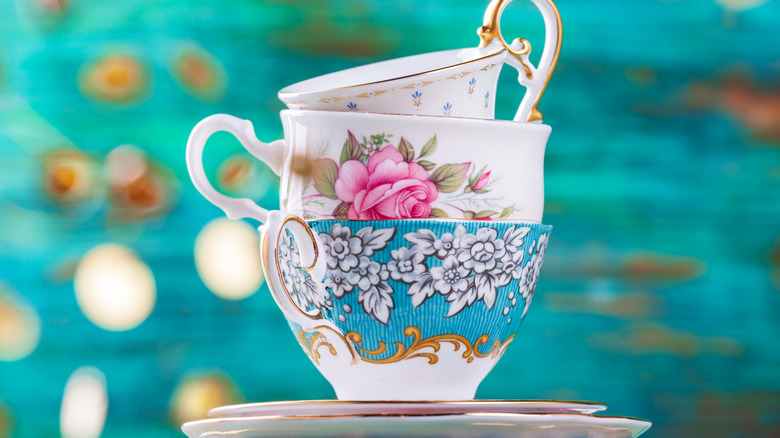 toriru/Shutterstock
These days it seems like many people are seeking out comfort and nostalgia in their interior design. While stark modern interiors may look sleek and trendy, they don't exactly provide a sense of warmth or coziness. So it stands to reason that many people began looking to the past for inspiration. The trend has skyrocketed in popularity, and there are now over 100,000 results for #grandmillennialdecor on Instagram.
House Beautiful writer Emma Bazilian is thought to have brought attention to the trend with her piece "The Rise of 'Grandmillennial' Style," which came out in June of 2021. She explains the trend, saying, "Ranging in age from mid – 20s to late – 30s, grandmillennials have an affinity for design trends considered by mainstream culture to be 'stuffy' or 'outdated' — Laura Ashley prints, ruffles, embroidered linens." According to Wayfair Professional's design manager Rebecca Breslin, "While the trend has been around for a year or two, we're seeing it spread from living rooms and bedrooms to kitchens and bathrooms" (via CNN).
In this piece, we'll define grandmillennial style, get to the bottom of its origins, and explain how you can try this trend out in your own home.
The origins of grandmillennial style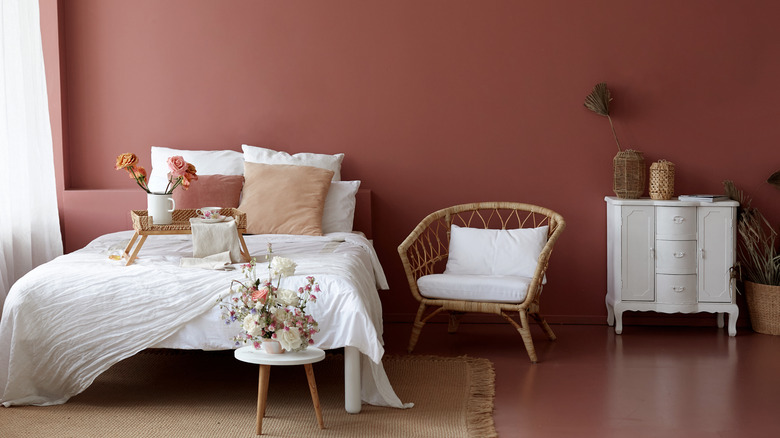 Reviaka Ina/Shutterstock
Rebecca Breslin suggested to CNN that the trend intentionally contrasts the interior styles that have been prevalent in recent years, saying, "Grandmillennial style is a generational rebellion against the sleek minimalism of midcentury modern design." Expanding on that contrast, Roxy Te Owens, founder of Society Social, said, "A grandmillennial space invites you in; it exudes a sense of comfort and warmth brought to life through the mix of natural materials such as wicker, rattan, and wood paired with the beautiful organic texture of tassels, ruffles, and pleated skirts." Speaking to Better Homes & Gardens, designer Kevin Isbell suggested that the rebellion goes back even further, with millennials seeking something different from the styles their parents enjoyed. He says, "Each generation rebels against the one previous, so the millennials who are now furnishing homes are rebelling against their parents and their style." He adds, "Raised during the mass market furniture explosion, they are rebelling against the monochromatic catalog looks that they were raised with and are looking to earlier generations for inspiration."
Designer Lilse McKenna explained to One King's Lane that it's something of an anti-trend — a response to an oversaturation of "trendy" images of interiors seen on Instagram. She said, "Those of us who are drawn to this style are trend-averse at our cores." Designer Clary Bosbyshell expressed a contrasting opinion, tapping into the nostalgic aspect, saying, ​​"My house when I was growing up was covered in Rose Tarlow chintz and needlepoint pillows."
How to incorporate grandmillennial style into your home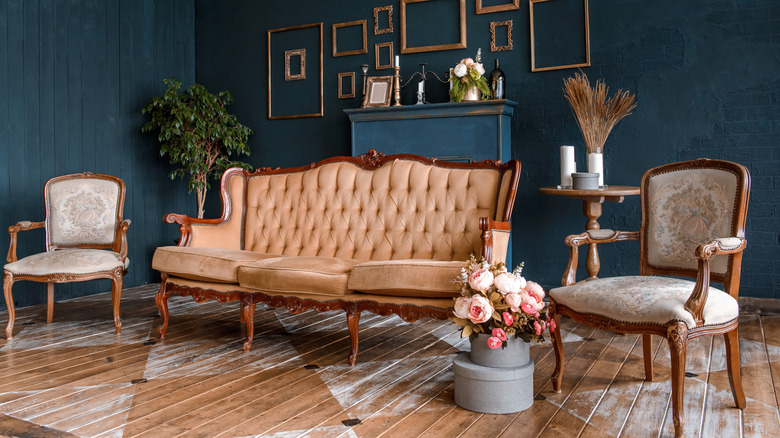 Radanasta/Shutterstock
So what does grandmillennial style actually look like? That's entirely up to you.
The key in incorporating grandmillennial style into your own space is not taking the "grandma" part too literally. Designer Eric Ross tells CNN that the trend is about mixing old and new, saying, "Grandmillennial style is about embracing tradition design elements and presenting them in a fresh way." He added, "Find the pieces from your mother or grandmother's collections that are timeless and classic, and then mix them with small prints paired with larger-scale florals and use blue and white porcelain and other touches of chinoiserie. Incorporate some upholstery or a rug that's an animal print. Yes to toile. Yes to fringe."
One of the best parts about this trend is that it's easy to achieve on a budget. Since so many elements can be found at vintage shops, estate sales, and even your own grandmother's basement, there's plenty of fun to be had in hunting for hidden treasures that can make your grandmillennial dream a reality.