15 Design Ideas For Shiplap Walls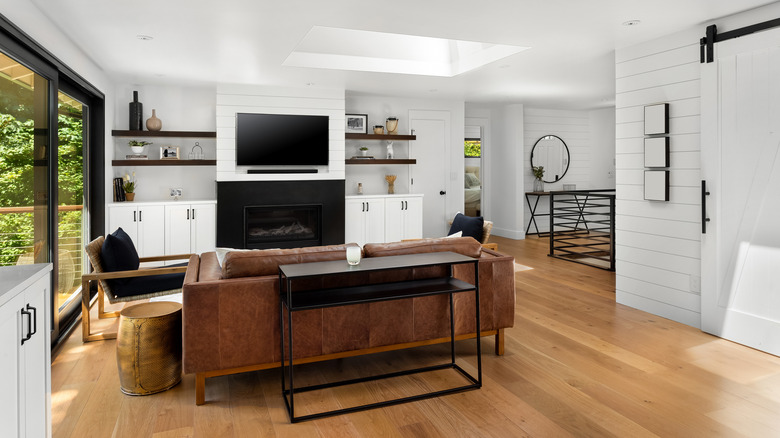 Breadmaker/Shutterstock
Shiplap is a timeless material that is easy to install and is long-lasting. It can be used as an accent wall in farmhouse, coastal, and modern-style homes. It's often painted white and installed horizontally but can be installed vertically, left as exposed wood, or painted any color.
Compared to drywall, shiplap has its pros and cons. It's more expensive by a couple of dollars per square foot than drywall, but it's more durable. On average, shiplap costs between $2.50 and $7 per square foot, according to Home Advisor. While drywall costs between $1 to $2 per square foot, according to Project Perfect Home. However, shiplap is more durable because it's made of wood, and each piece is cut to interlock seamlessly. This is why shiplap is more resistant to scratches, dents, corrosion, and bugs (via DesignRulz). It looks good when used as an accent wall in a bedroom, in the ceiling of a living room, as a statement piece above a fireplace, and in bathrooms.
1. Use in high ceilings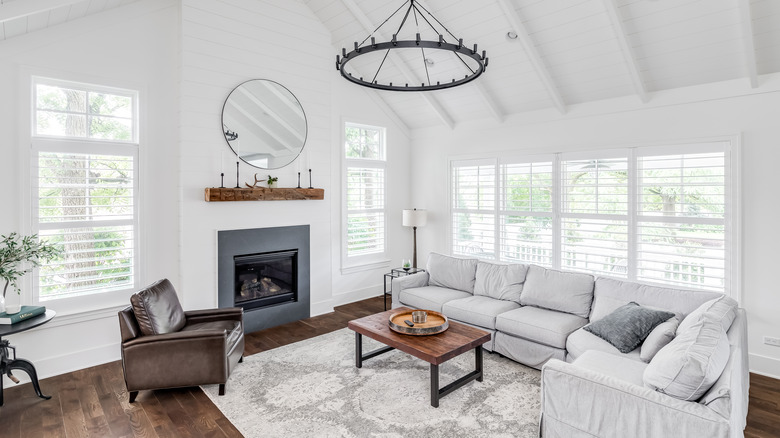 Hendrickson Photography/Shutterstock
Cathedral-style ceilings are elegant and fit into the farmhouse-style of this home with white shiplap to match the accent wall for the fireplace. 
2. Bathroom accent wall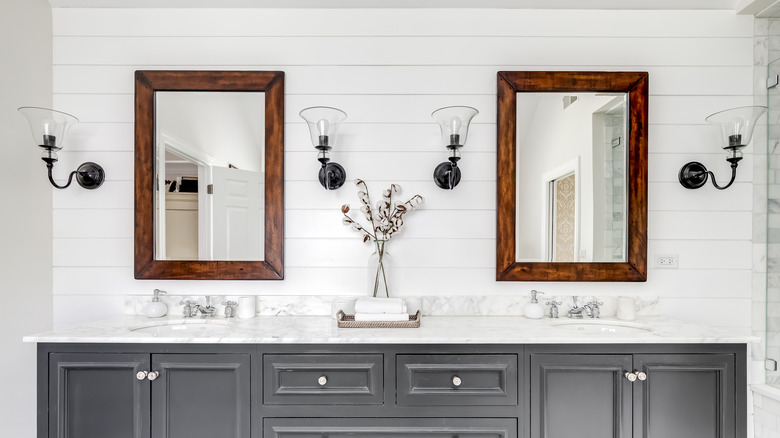 Hendrickson Photography/Shutterstock
Shiplap can also be used in bathrooms. This bathroom uses white shiplap as an accent wall with dark wood mirrors and a marble countertop. 
3. Accent nook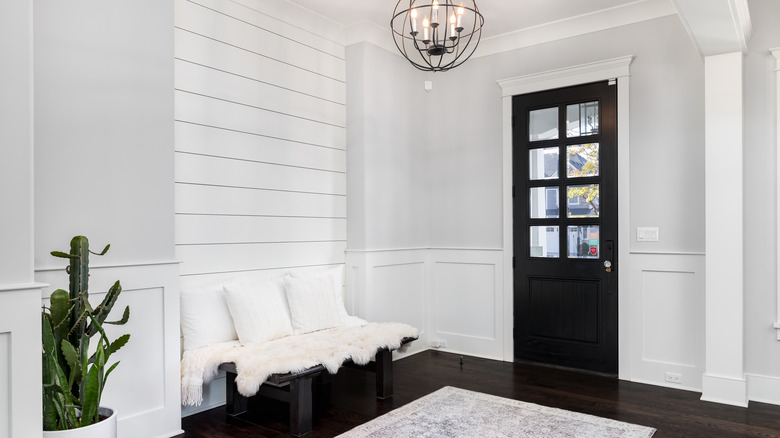 Hendrickson Photography/Shutterstock
Adding shiplap to a portion of a room accentuates that part of the room. In this case, it accents the small nook in a foyer for sitting to take off shoes. 
4. Vertical shiplap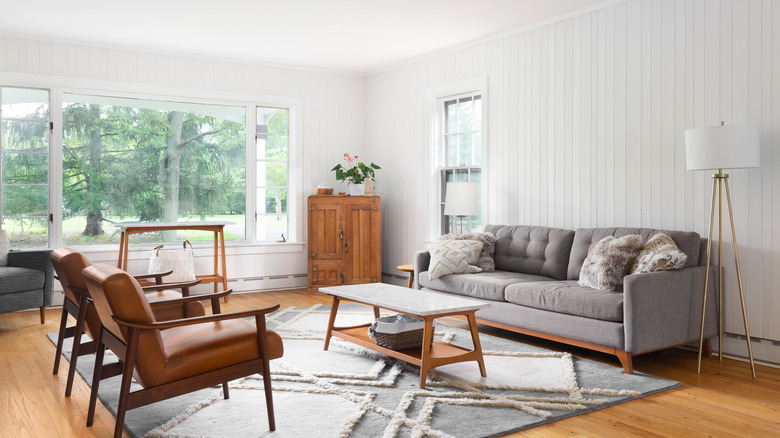 Hendrickson Photography/Shutterstock
Modern-style homes can use shiplap too. Here it is used on all the walls and was installed vertically. Each piece is thinner than the shiplap that is popular in farmhouse-style homes. 
5. Vertical shiplap backsplash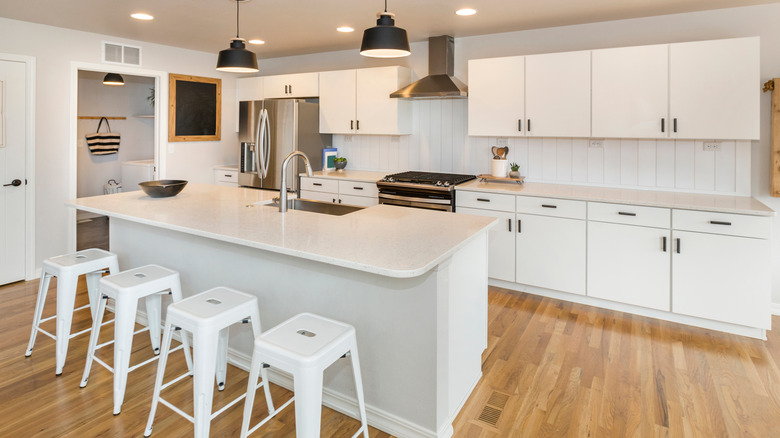 Neil Podoll/Shutterstock
This vertical shiplap fits into the kitchen as a subtle accent in the backsplash because it's painted white along with the walls and cabinets. 
6. Rustic sunroom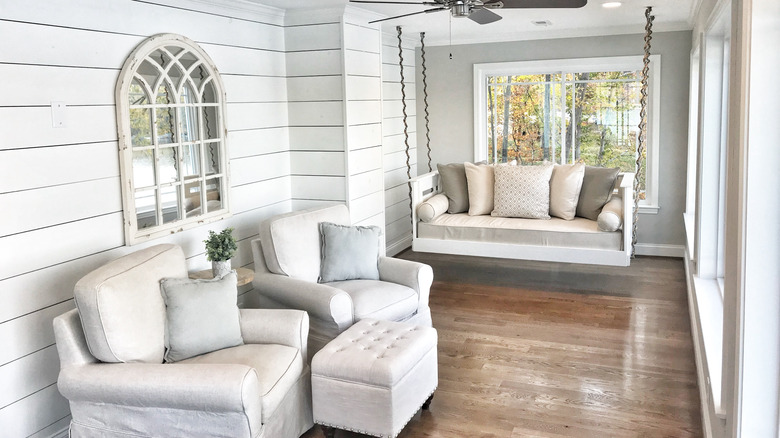 ocwarfford/Shutterstock
Shiplap fits in perfectly with rustic-style homes. This sunroom looks beautiful with the shiplap walls, gray furniture, and the distressed mirror to tie it all together. 
7. Accent fireplace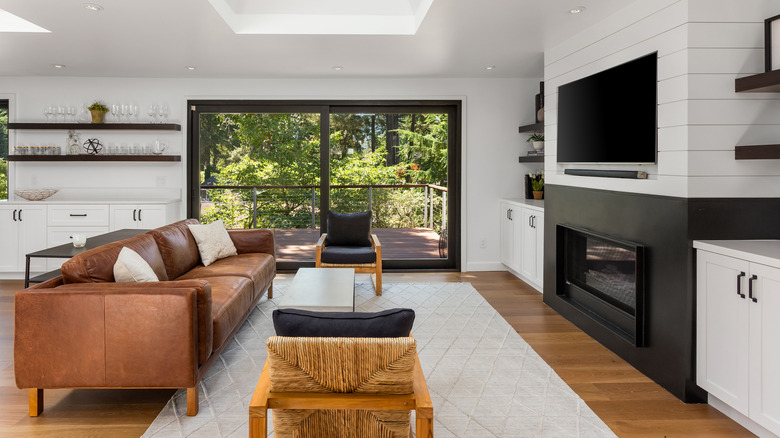 Breadmaker/Shutterstock
If you want to use shiplap as an accent wall and don't know where to put it, you should consider adding it above a fireplace like in this living room. 
8. Rustic bathroom
Shiplap is a good choice for a rustic-style bathroom if you accentuate the darkness between the joints. This can be done by distressing any perfection in the white paint.
9. Painted bedroom
Shiplap doesn't have to always be painted white. In this case, a bedroom with shiplap walls has been painted a shade of jade green. 
10. Statement wall in a bedroom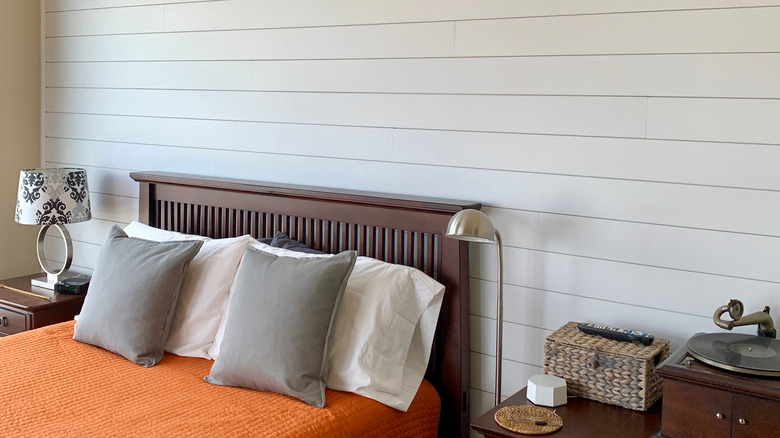 Michael Via Images/Shutterstock
A statement wall in a bedroom adds interest to the room without cluttering the space with decor.
11. Add a design
One way to add even more visual interest to shiplap is to stencil a pattern over it. 
12. Brighten a small bathroom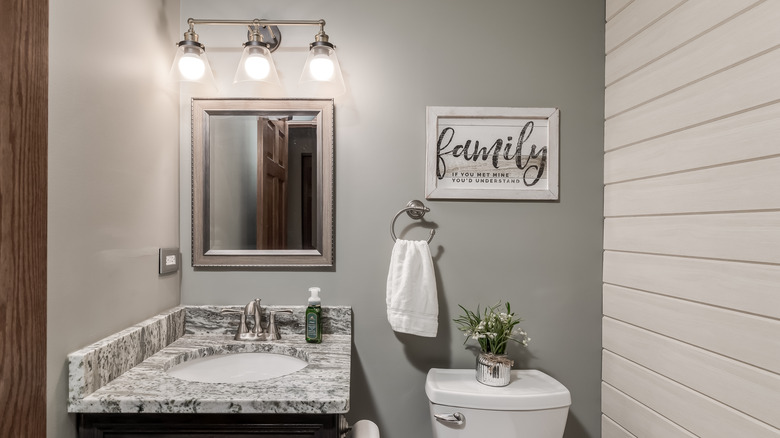 Hendrickson Photography/Shutterstock
In small bathrooms, it's important to create the illusion of a bigger space. You can do this by using lighter colors, and here the shiplap across the longest wall causes it to appear even longer.
13. Style with exposed wood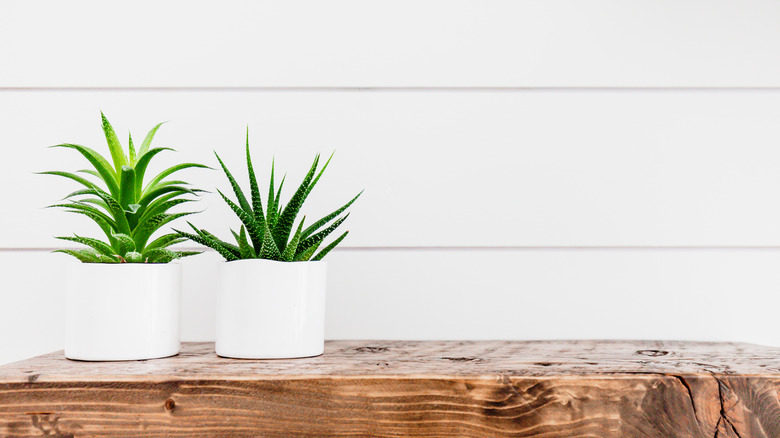 Aspects and Angles/Shutterstock
Styling shiplap isn't hard if you plan on painting it white. It can fit into many different styles. For rustic farmhouse-style homes, it looks best with exposed wood like this shelf. 
14. Reading nook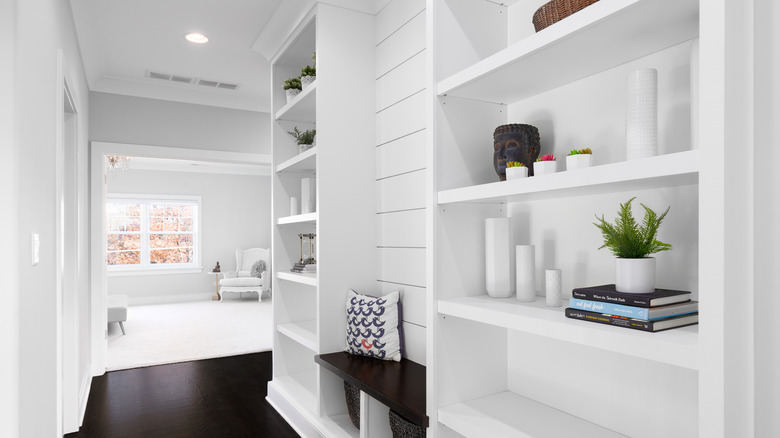 Hendrickson Photography/Shutterstock
This reading nook in between two bookcases is accented with shiplap. It adds visual interest without standing out too much.  
15. Exposed wood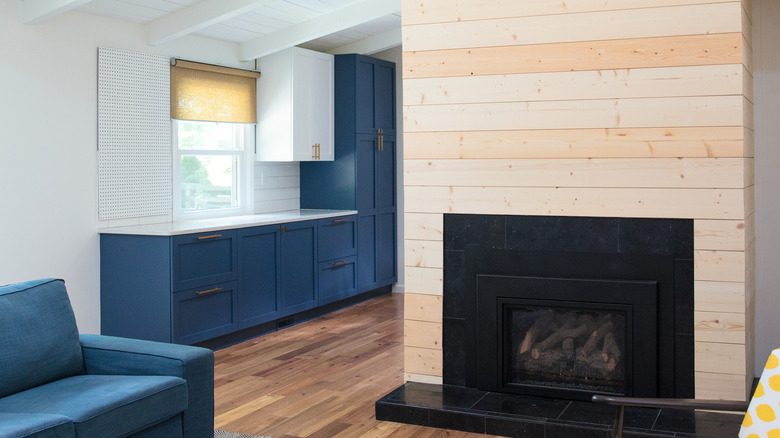 Allison Ellis/Shutterstock
Leaving shiplap unpainted is another way to change its look from the familiar white paint. This shiplap was left as exposed wood. However, you can choose to stain it as well.