Guest Stars On Home Work Claim That Andy And Candis Meredith Ignored Complaints For Over A Year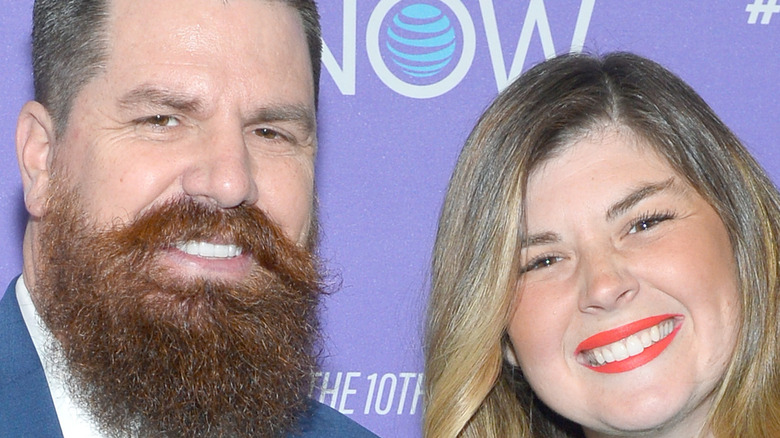 Noam Galai/Getty Images
Founded by Andy and Candis Meredith, the "Home Work" show from Magnolia turned out to be a short-lived dream that abruptly ended as a nightmare for many involved. Unlike "Mind For Design," "Restoration Road With Clint Harp," and other successful home improvement shows from the network, "Home Work" got abruptly canceled shortly after its January 5, 2022, premiere (via Mail Online).
According to The U.S Sun, Andy and Candis were co-founders of a 2015 HGTV show called "Old Home Love," which started as Candis' project in June 2003, as noted on her LinkedIn profile. Candis Meredith has been flipping homes ever since she was 16 years old. Meanwhile, her husband (Andy) was an enterprise-managed print services sales consultant of the renowned computer hardware company HP (Hewlett Packard.) He worked there for 11 years before resigning to become a part of "Old Home Love," followed by "Home Work."
While the couple has pioneered successful projects in the home improvement industry (one of which was reviewed on Mail Online), "Home Work" turned out negatively different. So far, three unsatisfied guests have taken to social media to make complaints, some of which were featured on US Weekly. The allegations range from homes being left in inhabitable conditions, delivery of substandard or unfinished renovations, increased renovation costs, and extension of delivery time.
3 guests of Home Work share sad experiences
One of the stories was that of Aubry Bennion, an engineering project manager who was charged $25,000 for a kitchen remodeling project that was scheduled to be completed in three weeks. In USA Today's narration of the story, the remodeling was executed by unlicensed workers and was remained incomplete after five months. Also, Bennion had to go out of her way to pay an extra $40,000, which was not initially in the budget.
Another report published in Insider featured the story of Teisha Satterfield Hawley. The Merediths charged Teisha $45,000 to renovate her living space which was time-lined to be completed in four weeks. But ever since then, Teisha and her husband, together with three kids, have been living in the basement where they celebrated the holiday season. Teisha was also asked to pay an additional $40,000 to make the obviously failed project work. Teisha shared an eight-part story about the situation on Instagram.
Vienna Goates, mother of five, reported her case of being scammed of $65,000 to Discovery+ attorney. Based on the 18-parts story posted on her Instagram, Vienna wired an initial deposit of $50,000 into the Merediths' bank account in February 2020 for the renovations. In her words, "To add insult to injury, even if we did recoup that deposit, due to the rising construction costs, our changed financial situation, and sheer exhaustion and wariness of contractors going forward, we would never be able to renovate our house ..."