15 Best Paint Colors For Your Laundry Room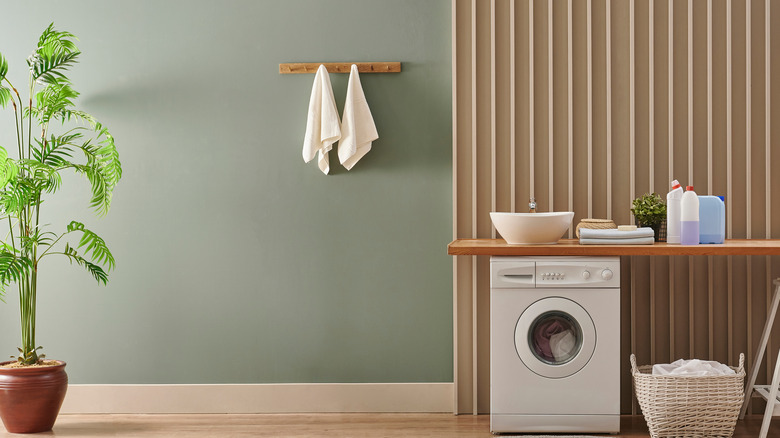 united photo studio/Shutterstock
The laundry room is often seen as purely functional and usually neglected when decorating, which makes sense. They are generally too small to add decorative pieces like flowers, accent furniture, or paintings, they may lack the light required for plants, and any extra space is often taken up with cleaning supplies, hampers, and drying racks.
This does not mean it cannot benefit from easy, cheap ways to freshen up a room. There are many reasons to decorate a space as simple and functional as the laundry room. Vogue writes about the psychological benefits of keeping a space decorated and clean, stating that notable psychiatric theorist Carl Jung argued that the way a home is decorated is a reflection of the self, and this research is still being conducted today. Aside from psychological benefits, there are emotional and spiritual benefits to decorating — the art of feng shui being entirely dedicated to this belief.
An easy, cheap way to reinvigorate the mundane experience of the laundry room is by adding a fresh coat of paint. Read on for a few ideas and inspirations to liven up your laundry room.
1. Simple white
White is an excellent, timeless option for your laundry room. Simply adding a new, fresh coat will liven up the space. Go even further and add fun tile or wood accents.
2. Clean gray
Keep your laundry room looking fresh and clean while still being put together by painting it a simple gray. The paint will pair well with any appliance and wood color.
3. Bold blue
For a bolder approach, paint your walls a vibrant, bright blue. Keep it from overwhelming the room by keeping appliances and wood details white.
4. Country chic yellow
Create a homey, country chic environment in your laundry room by painting it a warm, dandelion yellow. Pair with white cabinets and wood details for the full effect.
5. Modern light green
Match your modern appliances with an equally modern light green. Feature it as an accent wall, or carry it around the room for a contemporary, trendy feel.
6. Refreshing light blue
Laundry rooms are a great place to amplify a light, refreshing decorating style. Do this by adding a light, baby blue to the walls.
7. Zen sage green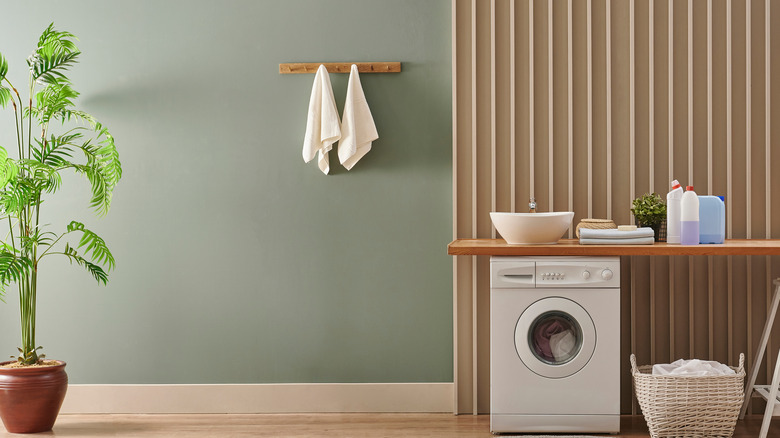 united photo studio/Shutterstock
Create a totally zen environment with a deep sage green. This color will pair best with lighter appliances and wood colors, and will result in a relaxing, refreshing laundry room.
8. Vintage blue
Add a vintage spin to your laundry room by adding a dusty blue to the walls. With white wood and appliances, the room will feel both quaint and fresh.
9. Warm taupe
Create an earthy, warm feel in your laundry room by introducing a warm taupe to the walls. Keep it more brown for a classic look, or lean into the warmth and even go slightly pink for a contemporary feel.
10. Sleek black
Don't leave your laundry room out of the mix if you lean more toward a modern, sleek style. Paint the walls a dimensional black for an interesting, modern aesthetic.
11. Industrial gray
For a more industrial feel, add a flat gray paint. For a more intense version, opt for a few shades of flat grays and blacks, even introducing brick textures.
12. Tan accents
If you're not too keen on painting the walls, opt instead for painting accents of the room — cabinets, benches, etc. A tan color will result in classic and woody final product, making the room adaptable but refreshed.
13. Yellow patterns
Vamp up a classic white wall with a fun, yellow pattern. Wall paint stencils make this process super easy, and it results in a final product that looks like it took much more time and money than it did. The yellow paint will add a joyful tone to the room.
14. Light purple
Add a twist to a classic white room by switching to a light purple shade. It will create an airy, youthful tone, and pair well with lighter woods and white appliances.
15. Farmhouse brown
If your home is built around the farmhouse aesthetic, carry the look into your laundry room with an earthy, grounded brown. It will pair well with any wood and appliance color, and keep a cohesive flow to the house.