20 Best Colonial-Style Houses That Are Incredibly Charming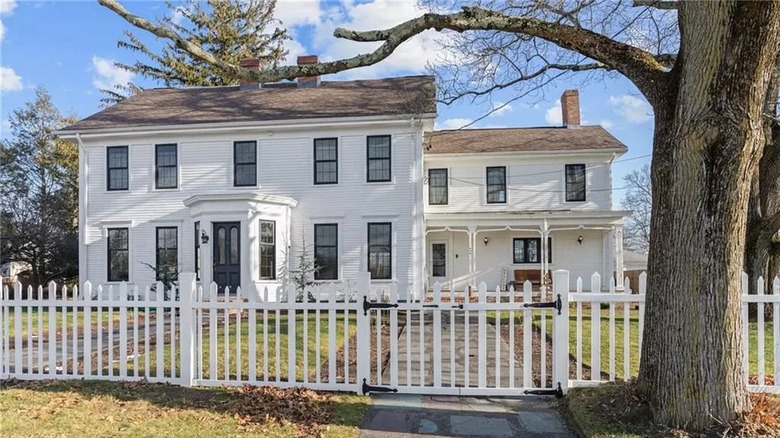 Circa Old Houses
As the name suggests, colonial architecture derives from a particular trend in exterior design during the U.S. colonial period. They are often box-shaped, simple houses, either red brick or white siding, shutters, and so on. They are most identifiable by their dedication to symmetry — the front door centered in the middle of the house, the same amount of windows on either side, mirrored architectural features, etc. According to My Domaine, there has been a resurgence in colonial-style architecture known as the colonial revival in the 19th century, which is still a popular building style today.
Colonial homes are much loved for their versatility and charm. Often found in New England and other colonial states, such as the Carolinas, Virginia, and Georgia, the houses are quaint but often luxurious. Older homes often come with original features, such as ornate original wooden floors, doors, and windows, antique fireplaces, and more. Read on for a gallery of charming colonial homes.
1. Blue colonial revival
Designed by Lois Lily Howe, one of the first female architects of the early 20th century, this colonial revival in Cambridge, Massachusetts, charms with blue siding and white trim and accents. It was built in 1900, as listed by Compass.
2. Historical white colonial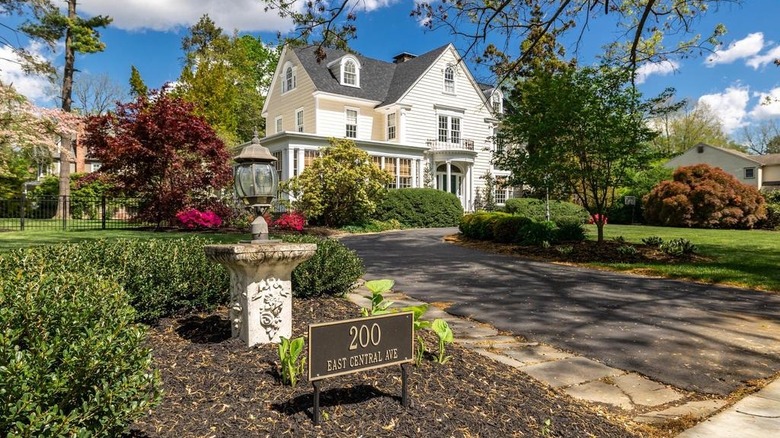 The Moriuchi Group
This house in Moorestown, New Jersey, was built in 1923 and was the inspiration for the play "Our Town," according to the listing on The Moriuchi Group. It features white siding and wood, a sunroom, and classic colonial interior and exterior look.
3. Locust Grove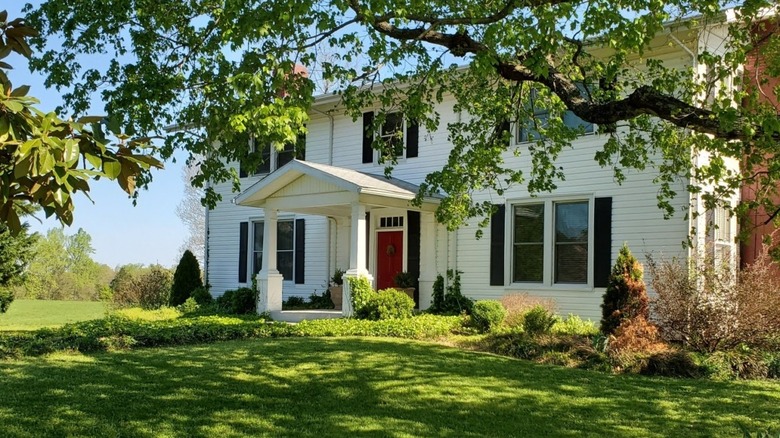 Circa Old Houses
The Locust Grove, in Charlotte County, Virginia, was built in 1751, according to Circa Old Houses, and was included in a land grant from King George II to the captain of the colonial militia, Stephen Bedford. It has the classic, original colonial look with modern touches, such as a bright red door and modern black shutters.
4. Contemporary colonial revival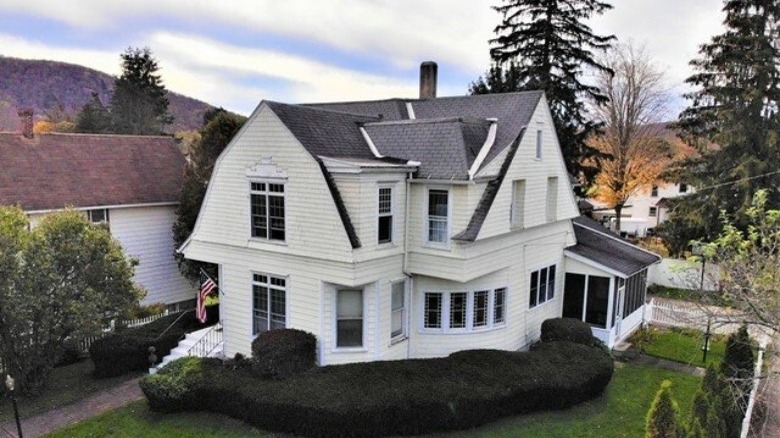 Trail's End Realty
This colonial-style house in Coudersport, Pennsylvania, was built in 1890, per the listing on Trail's End Realty. The home has a unique, antique charm with a trendy black and white exterior. It holds true to its rustic colonial revival roots with the original roofing style, windows and trims, and front porch.
5. Merrywood
Merrywood was built in Tryon, North Carolina, in 1904 as a boy's boarding school by Dr. Benno Von Kahlden, notes Re/max, and now sits as an elegant but down-to-earth house. This colonial revival is a picturesque home with white siding, blue shutters, a reddish-brown roof, and the original chimney.
6. The Worth Homestead and Mill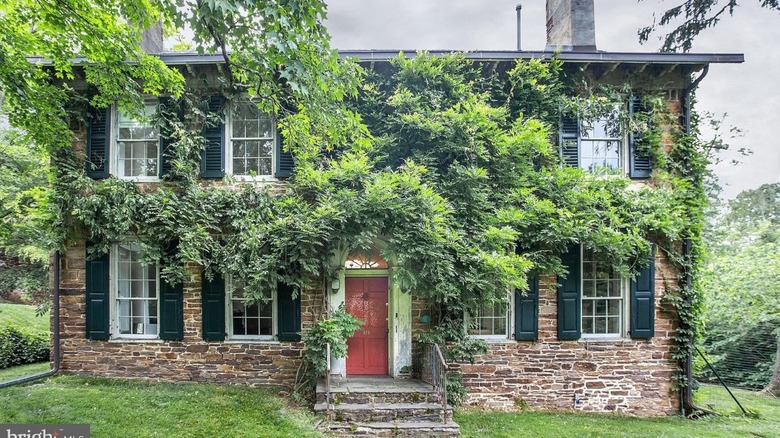 Circa Old Houses
This former mill in Mercer County, New Jersey, then farm, then gentlemen's home, was built in 1700, per Circa Old Houses. This true colonial has a quaint, inviting cottage feel, with stone walls and a matching stone staircase, black shutters, an original chimney, and lush landscaping.
7. Curry-Derr House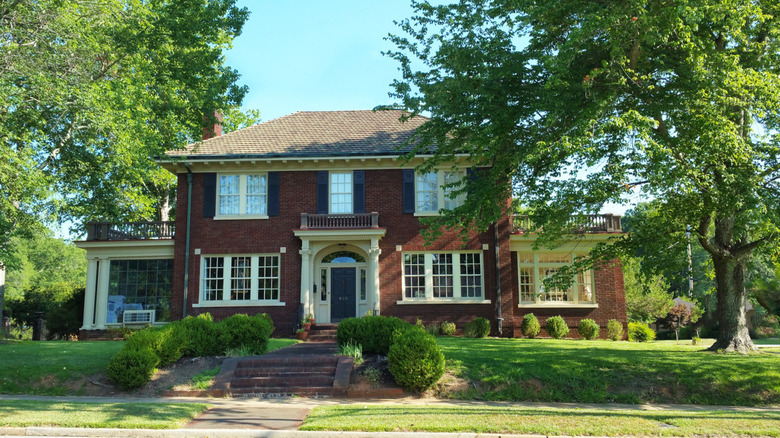 Circa Old Houses
Built by George Stepp in 1936, according to Circa Old Houses, this colonial revival in Greenwood, South Carolina, charms with a dark red brick exterior, dark blue shutters, sunroom, wrought iron fencing, creamy white window details, and mirrored balconies.
8. The Chafee Homestead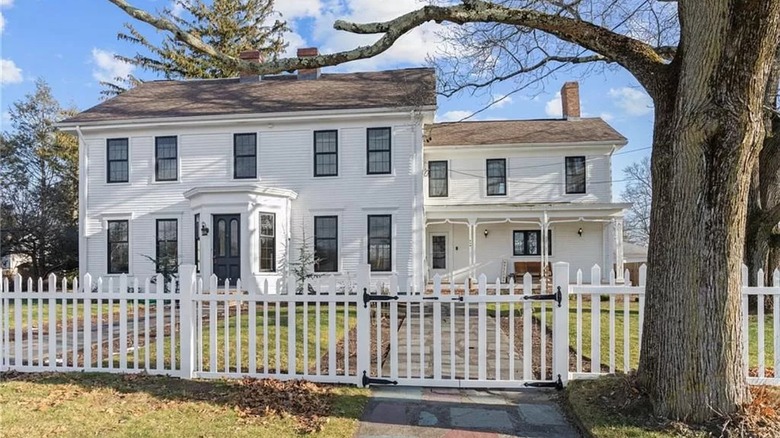 Circa Old Houses
The Chaffee Homestead was built in 1812, according to the former listing on Circa Old Houses. It looks as though it's straight from a movie set, with white siding, minimal black trim, a quaint porch, brick chimneys, a stony brick pathway, and a white picket fence. This picturesque house is equal parts colonial revival and contemporary chic.
9. Owen Evans Homestead
Built in 1710, this colonial home in Lower Gwynedd, Pennsylvania, has a deeply historical feel with tan stone walls, a classic symmetrical feel, dormers, and stone chimneys. It's set back in a clearing of trees, giving it a charming, fantastical appearance.
10. Amity Parsonage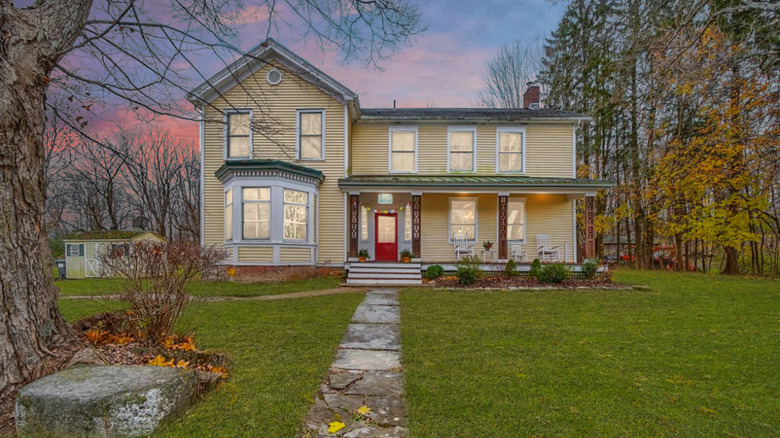 Kimberly Starks/Rand Realty
A picturesque colonial revival built in 1870, the Amity Parsonage in Warwick, New York, holds true to much of its original historical appeal with contemporary updates. With yellow siding, a gorgeous white trimmed bay window, a red door, and stone pathways, this house is a perfect blend of old and new.
11. G. E. Keeney House
A Spanish colonial revival, the G.E. Keeney House in Phoenix, Arizona, was built in the 1940s, per Twins and Co. Realty, and features the original tile roof, entryway, and windows.
12. Halstead House
This colonial mansion in Wyckoff, New Jersey, was originally built in 1779 and stuns with wide, sweeping landscapes, stone detailing, blue siding, and plenty of windows, according to Compass.
13. Street front colonial revival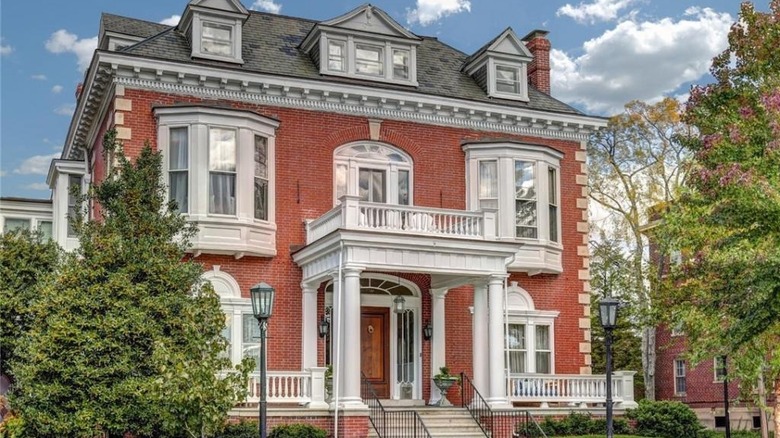 Colleen Rodriguez/Joyner Fine Properties
Built in 1908 by William C. West, according to Joyner Fine Properties, this gorgeous street front colonial revival in Richmond City, Virginia, appeals with its red brick exterior, stunning columns and balcony, multiple white bow windows, and spacious front porch.
14. White and gray colonial revival
Designed by Winston-Salem in 1929, this colonial revival in Mocksville, North Carolina, presents a beautiful scene. White siding, updated gray shutters, a sunroom, and original brick chimneys make this scenic colonial charming, modern, and classic.
15. Modern and classic colonial revival
This colonial revival in Clifton City, New Jersey, was built in 1930 and has a classic, contemporary curbside appeal. White siding, modern black shutters, original style columns and a balcony above the front door, patterned iron fencing around the balcony, and charming landscaping offer a gorgeous ideal for the updated colonial to meet.
16. The Iven Fon Rousey Residence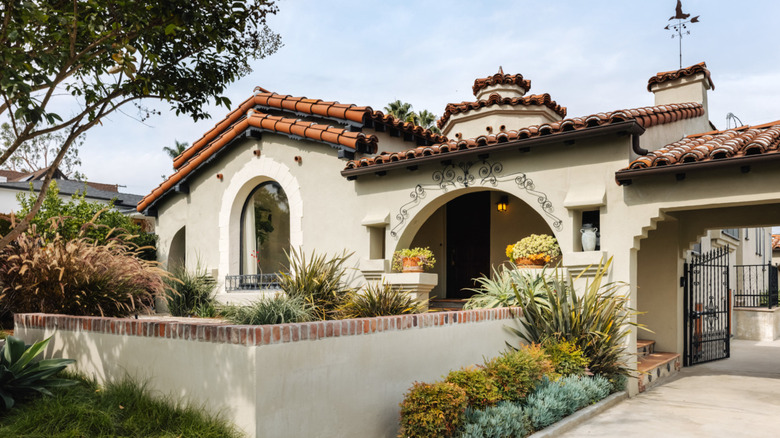 Historic Real Estate Los Angeles
This jazzy Spanish colonial revival in California was built in 1934 and features original features such as wooden window details, exposed beams, and sconces, as well as an updated but original style roof, according to Historical Real Estate Los Angeles.
17. Classic colonial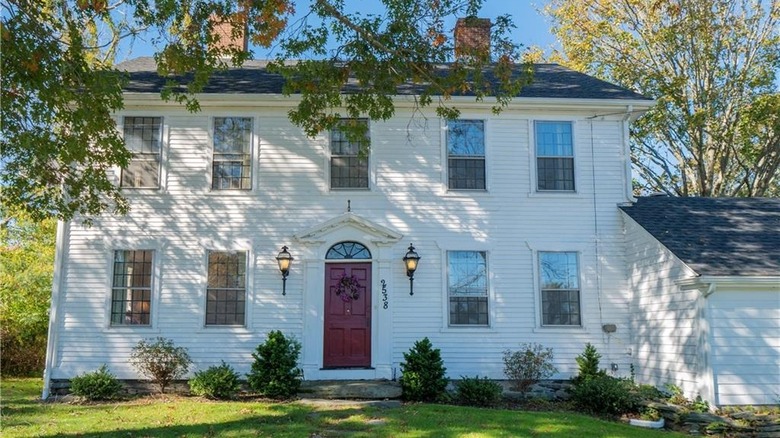 Re/max Professionals of Newport
An original colonial in Portsmouth, Rhode Island, built in the 1660s, Re/max noted that this house has been a tavern, public house, inn, and post office. Original fireplaces make their exterior appearance via red brick chimneys, which classically pair with white siding, white wood details, a gray shingled roof, and a classic red door.
18. The Brice House
Built in 1938, this expansive colonial revival is a popular luxurious venue. The Brice House in Vidalia, Georgia, was a popular party site for Hollywood stars in the 1930s. The house takes its base concept from colonial symmetry, windows, columns, and sweeping landscaping, as well as notes of French provincial styling.
19. Colonial revival farm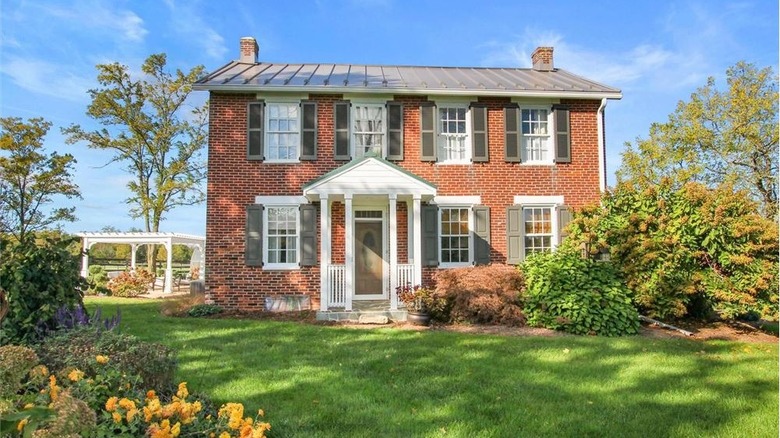 Re/max
This 1820's colonial revival sits on a historic horse farm, according to the former Re/max listing. The house offers a classically charming red brick exterior with dark gray shutters, a stunning canopy framing the door, and expansive landscaping.
20. Modern colonial revival
Built in 1920, this colonial revival in Greensboro, North Carolina, has a classic colonial structure with modern finishes, such as gray siding, black shutters, a sunroom addition, and an updated roof.