Inside The Luxurious Home Of Jalen Ramsey From The L.A. Rams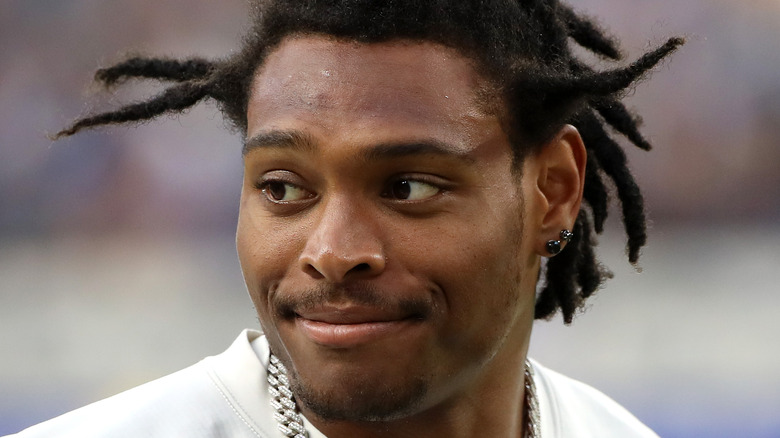 Katelyn Mulcahy/Getty Images
When you're talking about massive, multi-million dollar properties with all the bells and whistles, there's only a limited pool of real estate buyers with that kind of purchasing power. That's why celebrities often sell their homes to other celebrities, which is exactly what happened with Jalen Ramsey's home.
Ramsey, cornerback for the Los Angeles Rams, bought his home in the Hidden Hills neighborhood from television personality Howie Mandel, according to American Luxury. However, that's not quite the full story of the jaw-dropping property. Mandel actually purchased the home back in 2018, as per Variety, for just over $2.6 million — but it looked dramatically different. While the house is on over an acre of land, filled with mature trees that lend some serious natural beauty, the home itself was a relatively modest size — just over 2,200 square feet, to be specific. Mandel then essentially built an entirely new property with nearly five times the square footage. The stunning design — a blend of traditional, modern, and farmhouse — features plenty of modern steel-framed windows, as well as natural stone portions along areas of the façade. Anyone visiting is first greeted by a show stopping entry with a massive all-glass door, too. Perhaps that's what made an impression on Ramsey right off the bat.
Ramsey purchased the spruced-up abode for $9.5 million — just under a million less than Mandel's asking price — and received all the benefits of the renovation without having to do the work himself.
A breathtaking interior with high-end finishes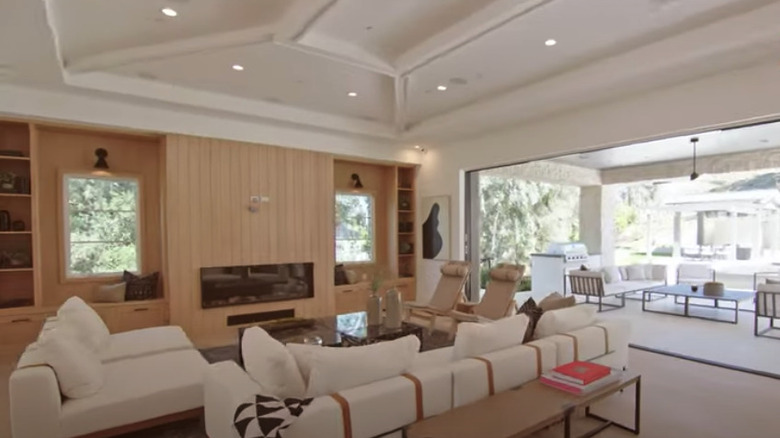 Homes on Demand/YouTube
After Howie Mandel was finished with his renovations, the home clocked in at nearly 10,000 square feet, with six bedrooms and eight bathrooms spread over the property, as American Luxury reported. One of the main features carried throughout the home is a blending of the indoors and outdoors — massive windows in various areas of the home make for seamless entertaining, and allow Jalen Ramsey to enjoy the stunning views.
Wooden beams in the main area draw attention to the high ceilings, and fireplaces dotted throughout offer some coziness, including a sleek marble and wood-paneled fireplace on the main floor. The kitchen features custom cabinetry in warm wood tones, beautifully contrasting the pale quartzite countertops and state-of-the-art appliances.
And, as if the main floor wasn't well suited enough for entertaining, the basement offers just as many opportunities. The way the home is structured means the basement likewise features large windows that fill the level with light, and there's even a second patio area for enjoying that California sunshine. In addition to the myriad seating areas, the basement has a long wet bar with waterfall countertops as well as a glass wine display case that could accommodate a sizable collection. Finally, if Ramsey needs a place to sign his next $105 million dollar contract, as per Marca, the home even has a spot for that: The basement features a home office enclosed entirely in glass, making for a modern, light-filled space.
The master suite — and a few amenities made for Jalen Ramsey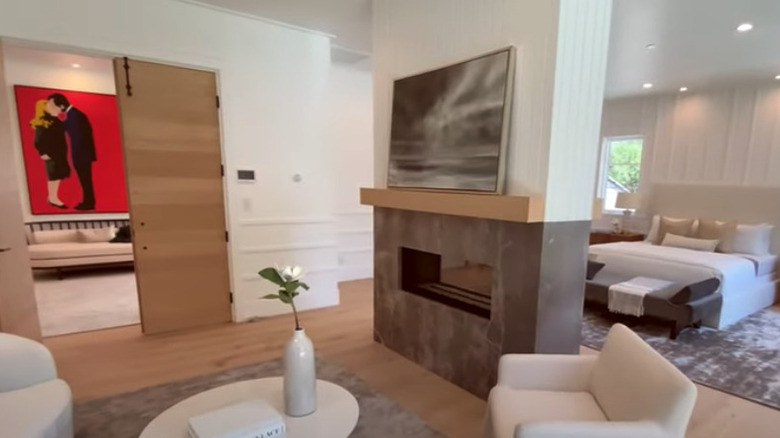 Homes on Demand/YouTube
One of the most important areas for any homeowner is the master suite. As Homes on Demand reports, Jalen Ramsey has a seriously luxurious spot to recuperate after a long day on the field or in the gym. The master suite features a sitting area when you come in, perfect for kicking off your shoes and relaxing, and a two-sided fireplace that adds style and visual interest to the space. The bedroom is filled with light, and there's even a private balcony overlooking the backyard, in case he wants to greet the day and enjoy the California weather without having to venture downstairs.
The master bathroom has floating vanities for a modern look, a soaking tub positioned in front of a window to offer a view while immersed in the bubbles, as well as a huge walk-in shower. There's also a walk-in closet with sleek, built-in white cabinetry with black fixtures. While Ramsey probably stores plenty of his gear at the Los Angeles Rams' facilities, there's definitely no shortage of storage in that master suite closet.
Finally, there are a few fitting additions for an athlete. The backyard features a half basketball court, in case Ramsey wants to take a break from football and focus on shooting some hoops to unwind. The basement also has an exercise room — given that pro athletes have to stay in peak condition, having a space at home dedicated to fitness definitely adds convenience.
A backyard perfect for entertaining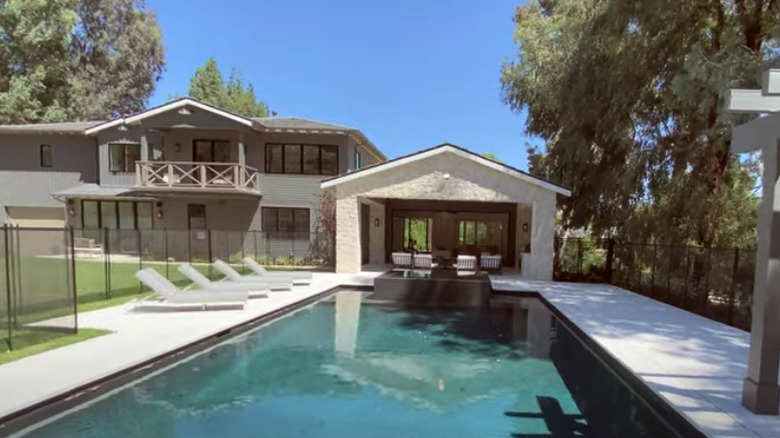 Homes on Demand/YouTube
While Jalen Ramsey likely has plenty to love about the space just for himself, it's also a property that is perfectly suited for entertaining — after all, California weather is beautiful for such a large portion of the year, so the exterior kind of becomes an extension of your main living space. The main floor has a huge sliding glass door taking up nearly an entire wall that opens to a covered patio area with BBQ, allowing guests to trickle in and out on those warm California nights, via American Luxury. The patio area overlooks a massive pool and spa, and there's also a second area tucked away under a large loggia with a fireplace — ideal for guests to enjoy some private conversations.
If you want to bring the party indoors, there's a home movie theater, and of course, that wine case and wet bar, so you can prepare beverages and bites on both levels. There's also a 4-car garage, and in case any guests want to stay over (or are visiting from out of town), they can simply relax in one of the many additional bedrooms beyond the master suite, many of which have their own ensuite bathrooms. And, with elevations towards the rear of the backyard and all the mature trees surrounding the house, the space has a ton of privacy, no matter where you are in the home.