Here's How Much Vicki Gunvalson From Real Housewives Just Sold Her O.C. Home For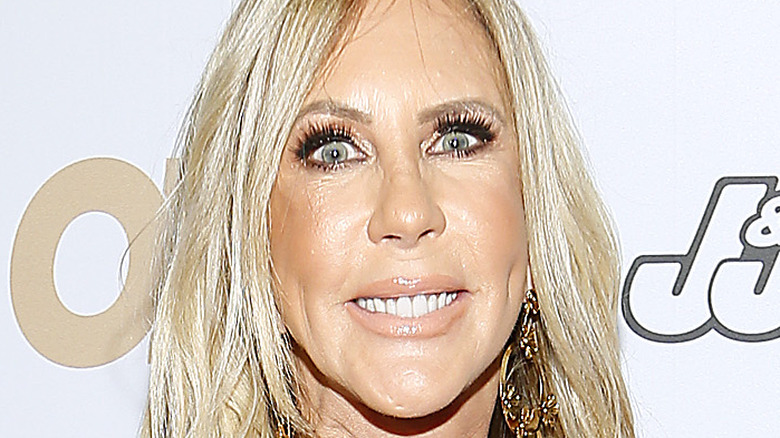 Paul Morigi/Getty Images
Former Real Housewife Vicki Gunvalson has sold her Orange County home for $1.6 million, reports realtor.com. She bought her home in April 2021 for $1,035,000 and started renovations on it shortly after. There was a whole construction team reworking the entire house in a span of four months, removing dark wood cabinets, bathroom sinks, and kitchen islands following Gunvalson's dream design, her "jewel box," as she'd mentioned on her Instagram post.
Gunvalson isn't a stranger to home renovations; she bought a home in North Carolina to be closer to her children but sold it a few months after due to her children moving, according to People. She also has a home in Puerto Vallarta that she uses as her vacation getaway and will be her retirement destination. She's kept her fans updated on her O.C. home-renovation journey on Instagram. Once the renovations were completed, she uploaded photos of her remodeled home.
Inside the O.C. home
The 2,400-square-foot home has three bedrooms, three-and-a-half bathrooms, high ceilings, an outdoor entertainment spot located in the gated community of Coto de Caza, per realtor.com. What was once dim lighting and dark wood interior has been transformed into a bright and pure white interior establishment. Every room flows together, sticking to the neutral tones and gray or gold accent decor such as various sized mirrors, floor lamps, and plant holders.
The first floor's open layout includes the kitchen, dining room with a staircase leading to the second floor, living room that has a fireplace, and a bedroom. The second floor holds the master bedroom, massive bathroom, and a balcony. All decorated with warm wood flooring and furniture, gray curtains, couches, dining chairs, and marble surfaces in the kitchen and en suite bathroom. The outdoor entertainment area has a beautiful beige sofa placed across from a built-in fireplace and barbecue grill.