Home Depot Vs Lowe's: Which Home Improvement Store Should You Shop At?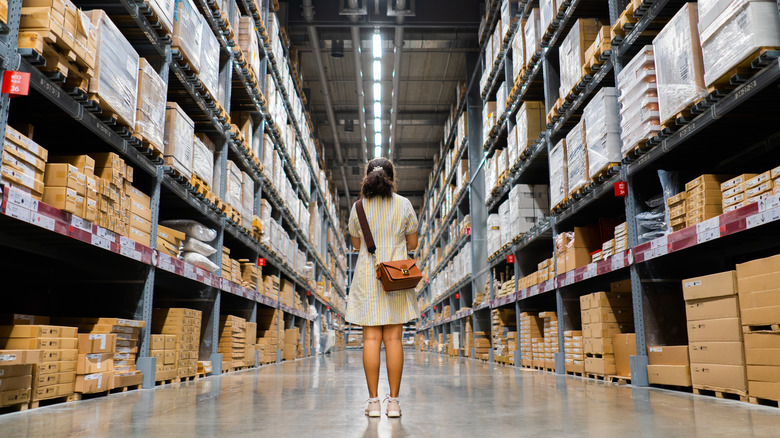 Prachana Thong-on/Shutterstock
Whether you are working on a small DIY project or a whole home renovation, you have probably found yourself staring down the seemingly never-ending aisles of a home improvement store like Lowe's or Home Depot. Maybe you realized you need a few more screws for that latest DIY project, or you need a major appliance like a washer or dryer. Either way, Lowe's or Home Depot has you covered. With their extensive selections of appliances, building supplies, hardware, and more, a trip to either home improvement store during home projects is almost inevitable.
These home improvement stores are often confused because of their similarities, or they are referred to interchangeably, but they are actually competitors. According to Combo Reviews, there are several differences between Lowe's and Home Depot, despite having remarkably similar products at very comparable prices. The question still remains, though, as to which home improvement store you should shop at.
What's the difference between Lowe's and Home Depot?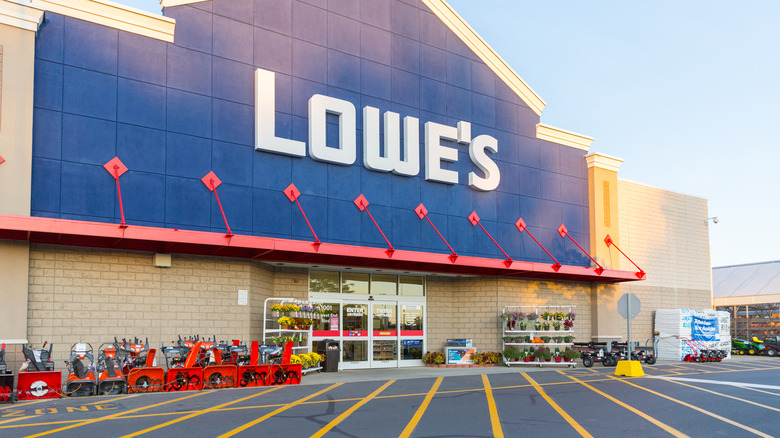 Helen89/Shutterstock
When determining whether to shop at Lowe's or Home Depot, considering the differences is helpful. Combo Reviews describes the primary differences between Lowe's and Home Depot as the stores' concept and target customers. Lowe's targets professionals such as plumbers, electricians, or carpenters. Lowe's has a wider variety of large appliances in stock and tends to give more attention to decorative pieces. Are you always looking for a good discount? You can get a 5% discount with the "Lowe's Consumer Credit Card" as well as free shipping on all orders over $45, making those big purchases easy at this store.
On the other hand, Home Depot targets those working on DIY projects, with the slogan "You can do it, we can help." Because of its do-it-yourself concept, Home Depot holds workshops for children and adults to learn about home improvement. This store also carries a wide range of items such as flooring and wall tiles, perfect for those who are renovating spaces in their homes. Don't have that tool you need to finish your renovation? Home Depot has tool rental services at many of its stores to help its DIY-minded customers.
Which home improvement store should you pick?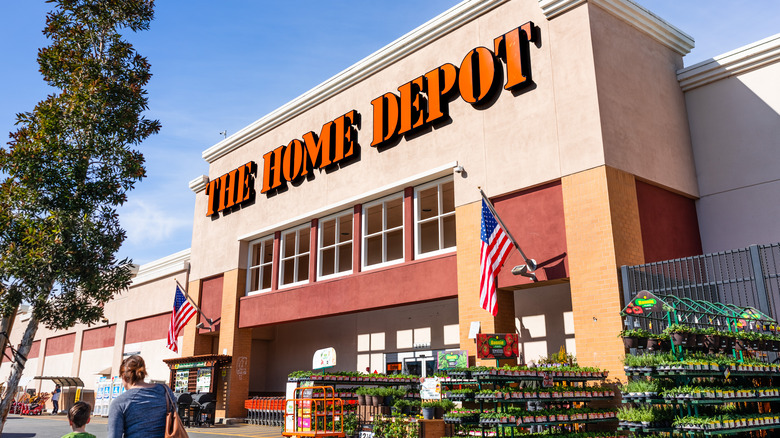 Sundry Photography/Shutterstock
There are few differences between Lowe's and Home Depot, but they are generally very similar home improvement stores. The Spruce highlights the stores' similarities, showing that both stores are likely to fit your home improvement needs. Staff at both stores are knowledgeable about home improvement and the layout of the sometimes confusing stores. In terms of purchasing merchandise, both stores offer online shopping and curbside pickup. They also both provide decent return policies.
So that brings us back to our question, which home improvement store should you shop at? The answer is simple. It depends on your needs. If you are working on a DIY project and want to take a class or need to rent some tools, head to Home Depot. If you're a professional or looking for a wide selection of large appliances, check out Lowe's. The reality is these stores are very similar; therefore, it is more a matter of preference when choosing whether to shop at Lowe's or Home Depot.