TikTok Is Obsessed With This Old Hollywood-Style Bedroom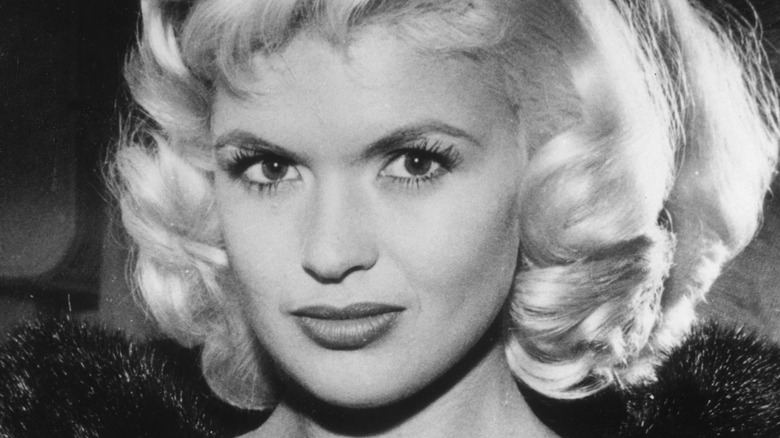 Hulton Archive/Getty Images
While some homeowners prefer a super minimalist, sleek aesthetic in their spaces, others enjoy a bit more character, coveting homes with vintage details. And if you're a vintage lover, what could be better than incorporating a bit of Old Hollywood glamour into your home? That's exactly what one TikTok user, influencer Charlie Leanna Murphy did, in her bedroom — but she took it to a whole new level.
In the bedroom of her home in San Marcos, Texas, Murphy decided to pay homage to Jayne Mansfield's legendary "Pink Palace" in Holmby Hills. As CR Fashion Book reported, Mansfield's unique property incorporated as much pink as possible, as well as romantic details and textures to transform it into her personal pink paradise. Mansfield even had shag carpeting on her bathroom walls, as well as luxurious gold fixtures — and any fan of the starlet's space will recognize that Murphy seems to be paying homage with the details incorporated in her own bedroom.
The most eye-catching element that makes a serious impact is that both the walls and ceiling are covered in pale pink shag. If you're curious about how to maintain that style decision, well, the answer is simple — as Murphy has demonstrated in several TikTok videos, she actually vacuums both the walls and the ceiling. The bed also received a textured treatment, with a vintage-inspired upholstered headboard anchoring the sleeping space, and fluffy pillows and a pink shag comforter completing the look.
It's all in the details
Charlie Leanna Murphy has been sharing plenty of content about her shag-covered bedroom on TikTok, and beyond the dusty rose shag on the walls and the pale pink shag on the ceiling, there are plenty of other vintage details throughout.
Above the bed is a brass chandelier with an exterior layer of strands dripping with crystals, giving a soft glow to the room. Rather than a bedside lamp, there are pink Italian swag lamps on either side with floral details to add to the romantic vibe of the space. Adding yet another textile to the space, the large window is covered in semi-sheer white curtains, which allow the natural light to fill the bedroom and don't compete with the statement shag cloaking the rest of the space. And, anyone entering the room will know it's something special before they even open the door, as the door itself has been covered in glitter. Even the accessories in the space pay tribute to the feminine, vintage vibe Murphy is looking to achieve.
Those who can't get enough of Murphy's Mansfield-inspired Old Hollywood aesthetic should consider following her on TikTok as she shares other elements of her home. For example, her living room has a similar feel, with tufted and upholstered furniture, pink neon lights, gold metallic details, and a climbing rose wall (atop, of course, pale pink paint).