What's Wrong With The Loft From New Girl, According To Interior Designers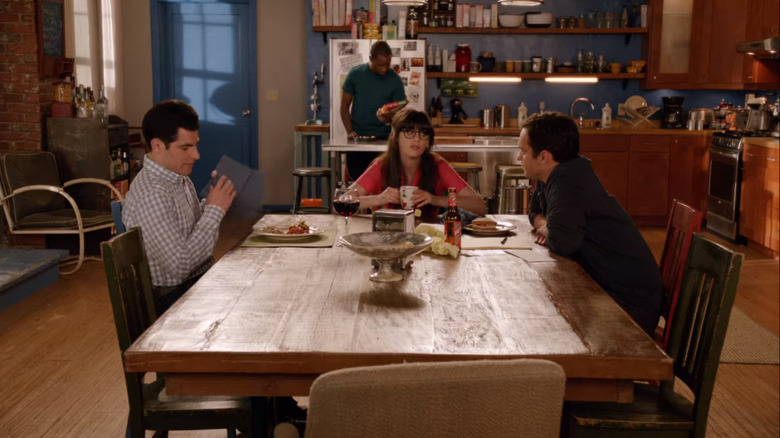 Fox/Netflix
Based in Los Angeles, the eclectic loft apartment from Fox's sitcom "New Girl" has interior designers talking. The TV series starring Zooey Deschanel, who plays a quirky teacher named Jess, is based in the Arts District of Los Angeles, where the central place of activity is the loft that Jess moves into in the first episode. Jess lives in the factory building converted into lofts with three men she meets online, Nick (Jake Johnson), Schmidt (Max Greenfield), and Winston (Lamorne Morris).
The "New Girl" loft was designed by Michael Whetstone and Jane Shirkes to look like four people in their 30s of varying incomes and interests live there, per Architectural Digest. Each character has their own personalized bedroom, but the main living space is most prominent on the TV show. There is an open concept living room, dining room, and kitchen space with exposed brick and large windows throughout. This space is full of an assortment of décor reflecting the four residents. The living room has a large dark leather sectional, bookcases, and a TV. The dining room features a large table surrounded by mismatched chairs, and the kitchen is painted blue with open shelving and a metal industrial island. Viewers of the show may dream about having a fun loft like in "New Girl," but what are interior designers saying about this TV home?
Here's what interior designers are saying about the New Girl apartment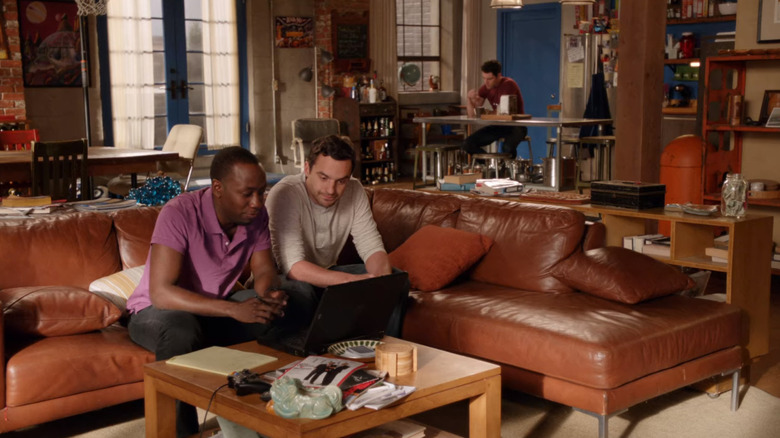 Fox/Netflix
Insider interviewed two interior designers, Lonni Paul, based in LA, and Katie Stix, based in Tennessee, about their thoughts on the loft from "New Girl." Paul explained that the large living space and small furniture pieces make the loft feel out of sync. "The sofa is too small as well as the coffee table. The chair and ottoman feel too big by contrast," Paul said. Paul explained that by swapping out the dark sofa for something lighter in color and larger, the loft would feel like a much brighter space.
On the other hand, Stix, the design director of Anderson Design Studios, enjoyed the "hip and fresh" vibe of the loft created by the assortment of collected items. "I really love everything here," Stix said, "The space itself is amazing, and I love the sectional." Stix's only advice is to bring in brighter lights in the form of floor lamps or hanging fixtures. Whether you love or hate the loft from "New Girl," there's no denying it made a great backdrop to the TV series.