The Real Reason Erika Jayne And Tom Girardi's House Isn't Selling, According To Realtors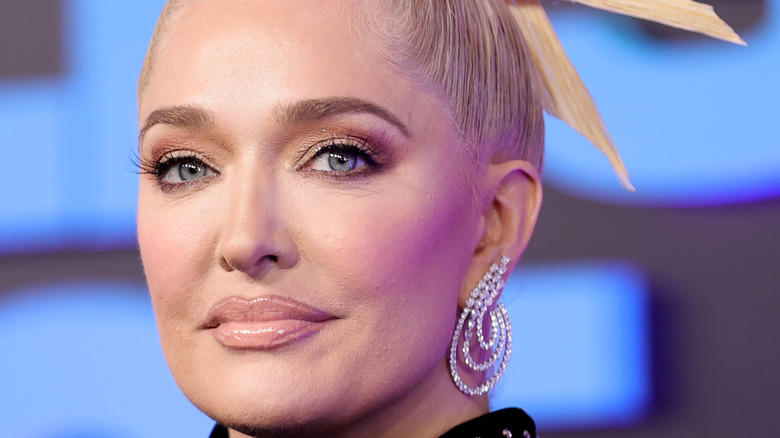 Amy Sussman/Getty Images
Erika Jayne and Tom Girardi were once a power couple, Jayne amassing a large and dedicated fanbase for her professional endeavors on Bravo's "The Real Housewives of Beverly Hills," and Girardi holding a lot of weight and merit as a wildly successful attorney, most known for his assistance in the Erin Brockovich case, which later turned into a film starring Julia Roberts.
However, in November of 2020, Erika filed for divorce. While Erika did not give a reason for the couple's split, shortly after, it came out that Tom and Erika were being investigated for embezzling. According to People, the law firm Edelson PC filed a complaint against the Girardi's on December 3, 2020, alleging they were embezzling the settlement funds granted to the families of victims on Lion Air Flight 160. "Tom has resorted to embezzling the proceeds of settlements that should have been directed to his clients," the complaint stated, "including, as the basis for this Complaint, the widows and orphans who lost loved ones in the tragic crash of Lion Air Flight 610."
As Erika and Tom have been navigating their controversial media presence, dealing with the lawsuit, and going through their divorce, they have also been trying to sell their Pasadena mansion — keyword trying. According to Realtor, the house was first listed in May 2021 for $13 million, then reduced to $11.5 million, and by August, it was down to $8.9 million. It is currently listed at $8.2 million.
Why the Girardi mansion won't sell
The lack of buyers is certainly not due to the home itself. In fact, Realtor says it was built in 1928 by the renowned architect Myron Hubbard Hunt, describing it as "the picture of lavish living." The listing states the house has four bedrooms and nine bathrooms, sitting on 1.72 acres and over 10,000 square feet. It also has a three-car garage, floor-to-ceiling windows, multiple fireplaces, silk wallpaper, walk-in closets, a chapel, a privately accessed guest suite, and a pool. The house is dripping in luxury, reflective of the wealth Tom Girardi has amassed over his now-controversial career.
What explains the house's 37% price slash and almost a year sitting on the market? For starters, it is exorbitantly more expensive than other houses in the area. The median selling price for houses in the area is just $1.1 million, and over the past 10 years, only three houses have sold for over $13 million, and only 15 homes have sold for over $8 million.
The staging may also be an issue. Realtor Shelton Wilder said that the house is staged in a very specific way, making it hard for potential buyers to imagine themselves living and decorating there. He also says the price is too high. Senior estate director Arvin Haddad echoed Wilder's sentiments. Haddad also noted the mansion is located next to the freeway, which creates lots of noise, and that there's not a lot of structural flow to the home.