Steven Seagal Just Sold His Northern California Ranch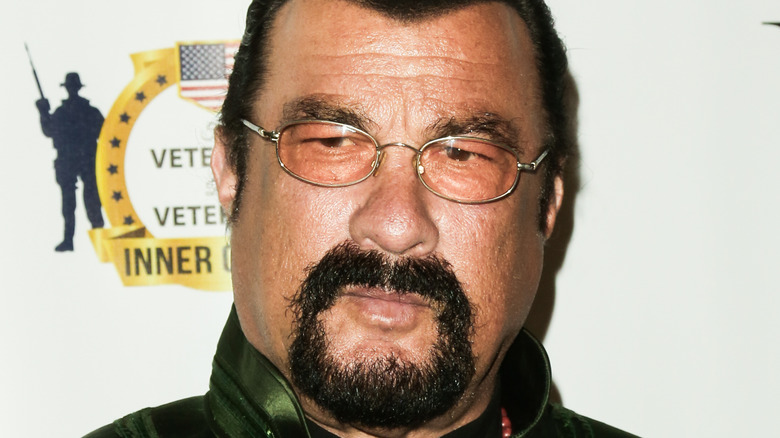 Paul Archuleta/Getty Images
Actor Steven Seagal just sold his Lava Lakes ranch in northern California. According to IMDb, the Lansing, Michigan-born Seagal spent the earliest part of his life learning martial arts in both Orange County, CA, and Japan, before moving to Los Angeles to become a full-time martial arts instructor. It was during that period as an aikido trainer that Seagal caught the attention of Michael Ovitz, the then Hollywood super-agent who saw an emerging movie star in the later-would-be Brooklyn cop of the popular movie "Out For Justice."
Having dominated the action theatre sub-planet with a new fighting style, Seagal later became old-fashioned –– though he still makes movies –– as his contract with Warner Bros ended in 1997 (via Looper). Witnessing the waning of his own glory, the close friend to Jackie Chan and a Donald Trump supporter diversified to investing in real estate. He is also keeping his public relevancy alive with the reality show "Steven Seagal Lawman," which trails Seagal's real-life experience as a law enforcer. Here's Seagal's newly sold home in California.
Steven Seagal's Northern California ranch
If you're a California-based outdoor adventurer or a spiritual seeker who often visits Mount Shasta (aka the mountain of many legends), then you've probably come across the secluded log home that happens to be the property in question. The $7.5 million property popularly known as Lava Lakes ranch sits in the shadows of the mountain that attracts 26,000 visitors every year, according to NPR, and spans 5,329 acres, according to Realtors.
As noted by Realtors, the property consists of an elegant 4,200 square foot three-bedroom residential house, additional barns, a two-bedroom guest room, plus an abundance of corrals. The home includes a Chinese-style dining room, a Buddha-themed living room with picture windows opening to the surrounding lakes, and a red-themed bedroom with a fireplace. The bedroom connects to a balcony floating over the lake where the new buyer can enjoy some fishing and even throw a BBQ party in summer. 
Steven Seagal sold another million-dollar mansion
Steven Seagal, who some Buddhists recognize as the reincarnation of a 17th century Tibetan Lama, according to The Globe And Mail, is not a newbie in the real estate world. In fact, this article on Looper briefly discussed the entrepreneurial prowess of Seagal. It mentioned he'd launched a line of canned energy drinks branded "Steven Seagal's Lightning Bolt." It further explained that Seagal also sells a series of branded blades, including Katana swords and helmet breakers that go for $499.99-$1099.99. The article concluded that the business tycoon also has an essential oil farm which Wall Street Journal reported he sold for $2.5 million to Ando Hixson in 2007.
On July 8, 2021, Arizona Family announced that Seagal sold another home for $3.55 million. This was a bulletproof mansion in the north of Scottsdale, described as having four bedrooms, a three-car garage, theatre, spa, and swimming pool. The 300-foot mansion, which still sits on 12 acres of land in Carefree Ranch Homestead, was said to have a special guestroom that features a bedroom suite, a full kitchen, and a living area.