30 DIY Bed Frames That You Can Build Right Now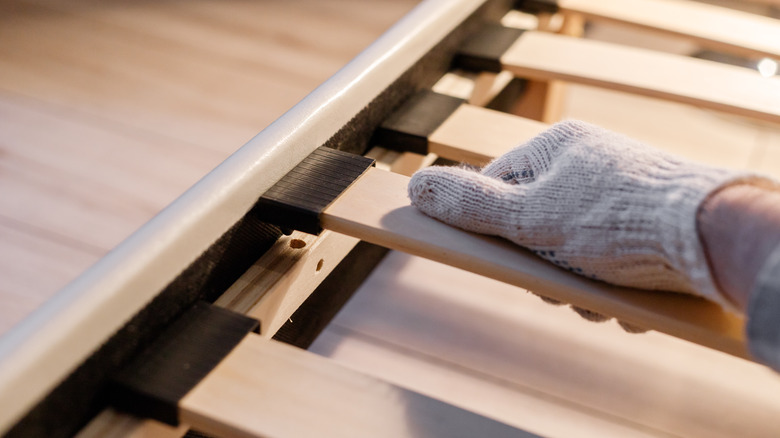 Vladeep/Shutterstock
Let's face it: The bed frame is one of the most costly and energy-intensive aspects of bed design to consider. This item is both a decorative and functional piece of furniture that you must include in the sleeping arrangements, the Hunker noted. When you have a great bed, you may claim you've simply established the room's main point; therefore, you'll want to ensure the bed's frame is modern, stylish, and stunning. Some of these bed components, however, can be pricey. If you're on a budget, there's still a terrific, less expensive solution: DIY bed frames.
There are numerous advantages to constructing a DIY bed frame. You'll be able to make it any size you want and with any materials you choose. Store-bought bed frames can be quite costly, but building one yourself is a fraction of the price of a new one. Although many professional models have intricate embellishments that take a lot of time and money to complete, you can also go for a super simple bed frame. This collection includes simple DIY projects that won't break the bank or take weeks to accomplish. Prepare for a wonderful bedroom makeover because the sleeping area will be beautifully decorated after you have these outstanding bed frames.
1. Bed frames with wood headboards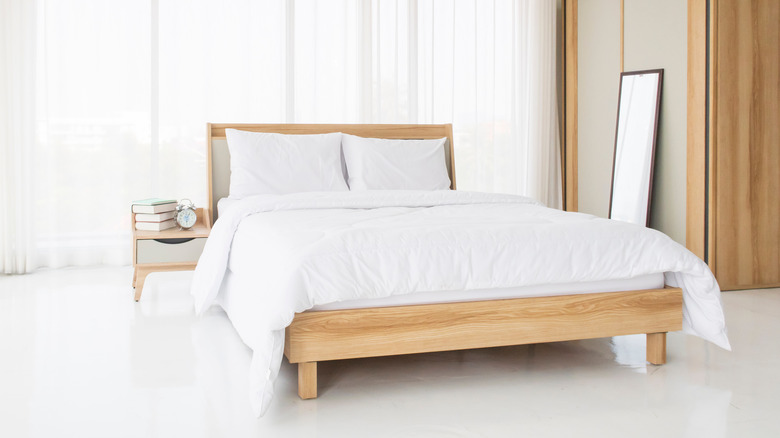 shop_py/Shutterstock
Wood headboard bed frames are one of the most popular DIY bed frames you can make. These simple but adaptable designs will cost you less than $100, and finishing this project will require a few days and just a few basic tools.
2. Reclaimed wood platform bed frame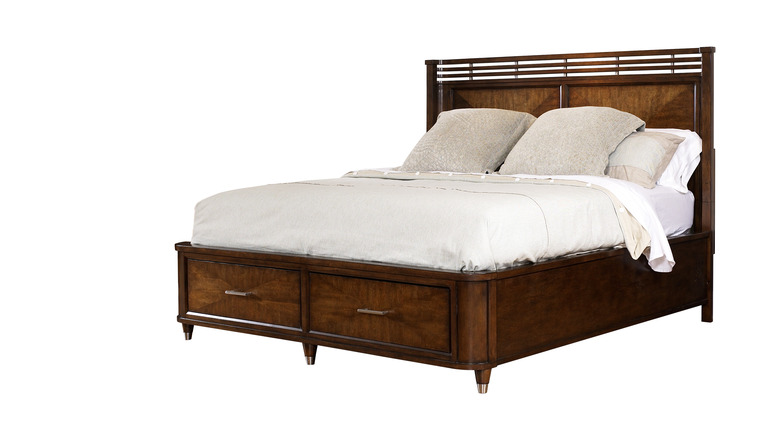 134lnstudio/Shutterstock
If you want your bed to have a rustic aesthetic, use reclaimed wood for the platform. You can simply make a lovely queen platform bed that has a rustic design and fits in with the rest of your decor.
3. Minimalist DIY bed frame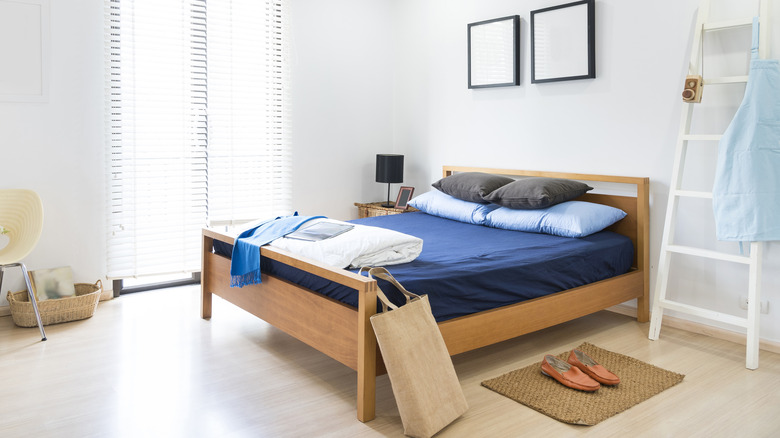 jamezsomwong/Shutterstock
If you want to build a sophisticated bed frame but are concerned that it will take up too much room, you might want to give this DIY bed frame a shot. Instead of constructing a sophisticated bed frame, you can make your bed frame out of flooring and place your mattress on it.
4. Custom king bed frame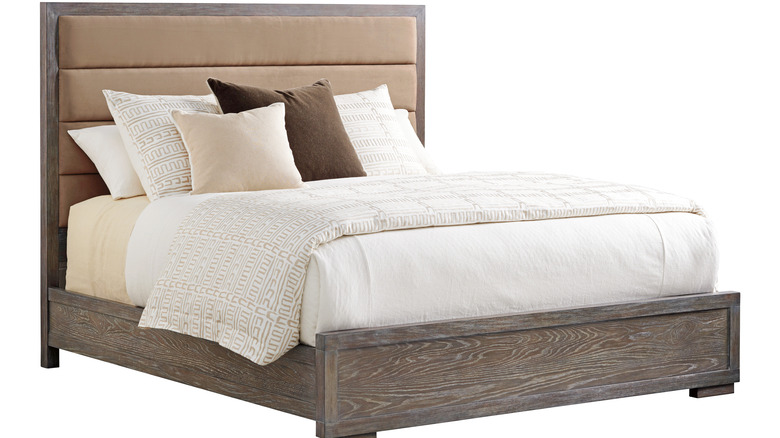 AmaPhoto/Shutterstock
This project is for you if you want to create a larger bed frame; it produces a king-sized bed. Just put together a few wood pallets just like you want them to look like and bind them together to create a custom frame.
5. Simple modern bed frame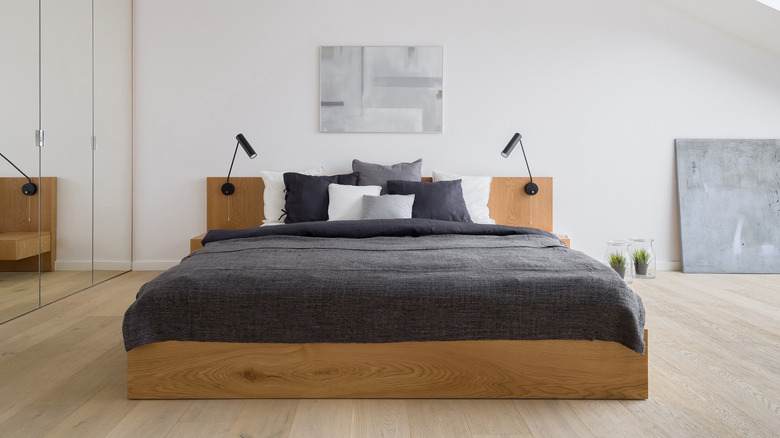 Dariusz Jarzabek/Shutterstock
This is a simple box-style bed frame with a contemporary look. If you want to complete the frame with a headboard, you can do it for a more complete or sophisticated look. Overall, this is a relatively straightforward design ideal for an advanced beginner.
6. Mid-century inspired bed frame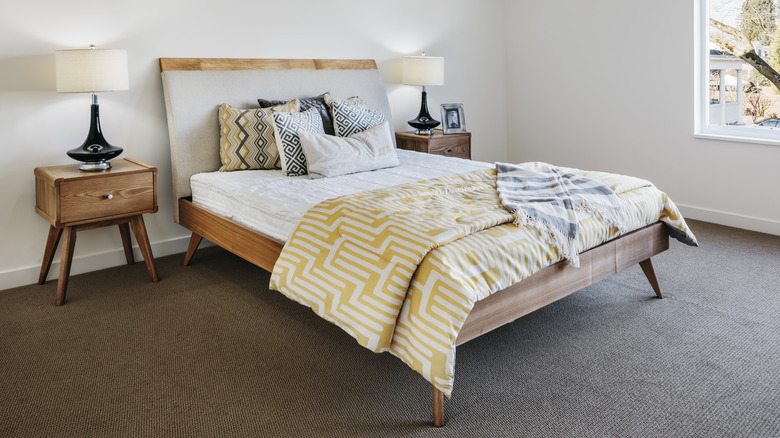 David Papazian/Shutterstock
This mid-century bed frame might save you a lot of money if you make it yourself instead of buying the expensive original. This frame goes well with a headboard but also goes well without one.
7. Poster bed frame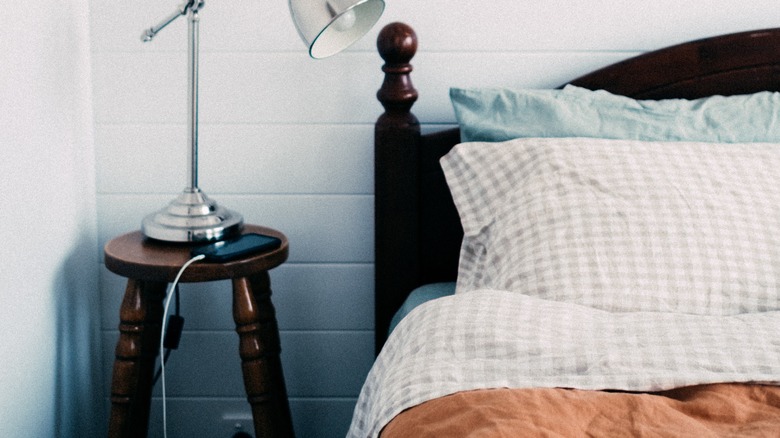 Rachel Claire/Pexels
If you're searching for an excellent statement bedframe to put in your room, this DIY poster bed fills the bill wonderfully. This robust wooden bed, made of wood and coated dark or light, is sure to last many years.
8. Modern platform bed frame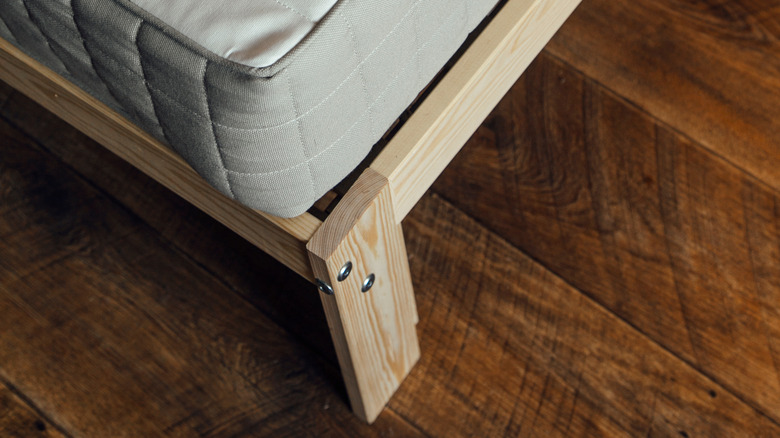 Isaeva Studio/Shutterstock
This beautiful bed frame is a great project for a beginner builder. It's designed in a Mid-Century style while still retaining a modern aspect in a platform design.
9. 9. Walnut plywood bed frame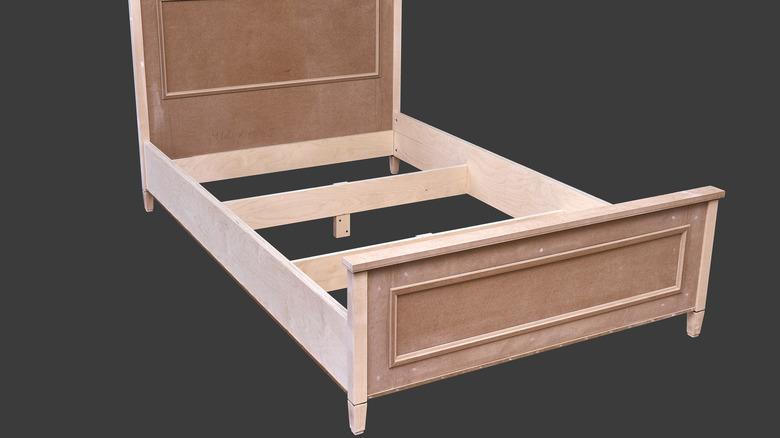 timltv/Shutterstock
Some of the most outstanding DIY bed frames include walnut plywood. For this particular project, you may need welding and more efficient equipment for the headboard finish. Furthermore, this outline is better suited to experienced builders rather than novices.
10. Clean and simple bed frame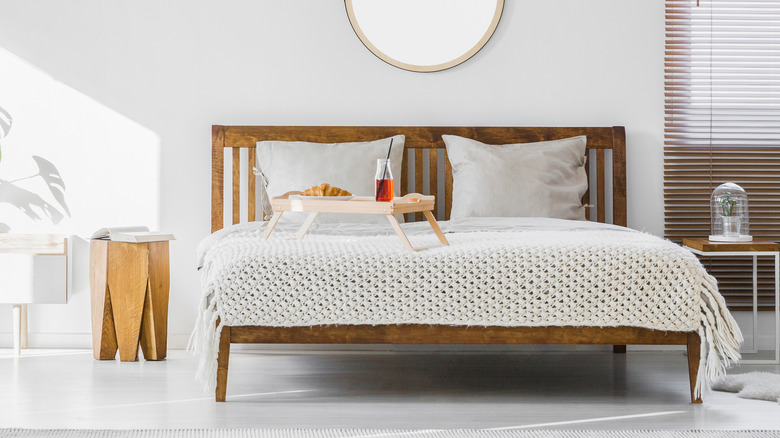 Photographee.eu/Shutterstock
To make a bed frame entertaining, you don't need to add many features. Instead, use different elements, such as slender legs, and perhaps some beautiful cut out spaces on the headboard.
11. Bed frame with wheels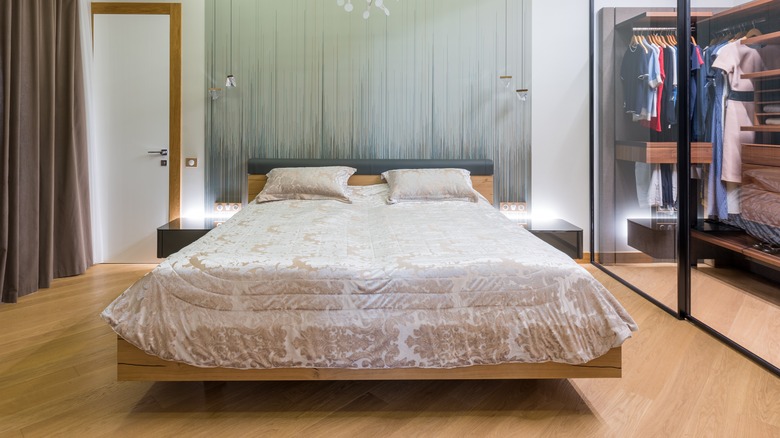 Max Vakhtbovych/Pexels
Don't want your bed to look ordinary? You can make a bed frame that looks like it's floating. However, because you'll need to be sure you have a balanced bed frame, it'll take a bit more work, so you likely need to put some effort into it.
12. Leather DIY bed frame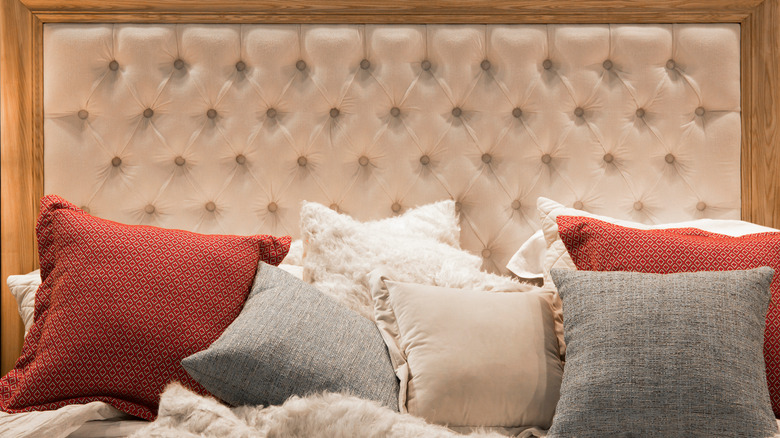 Ivanka Kunianska/Shutterstock
Leather bed frames are truly one-of-a-kind, and you can just imagine what one would look like along with this leather headboard. Every night, you can luxuriate in the comfort and smoothness of the leather.
13. Pallet bed frame with wheels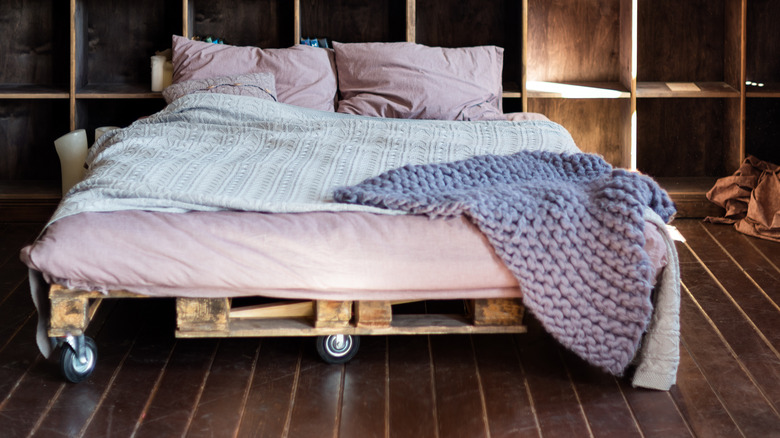 IMG Stock Studio/Shutterstock
Who says a cheap DIY pallet bed frame can't be stylish? Install wheels beneath your pallet bed frame for a stunning effect. You don't even need to polish or varnish your bed frame to look gorgeous. Just make sure the frame is broader than your mattress.
14. Upholster a metal bed frame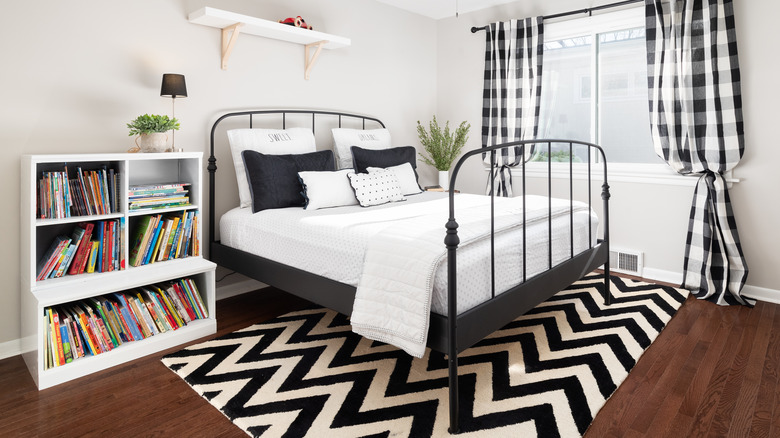 Hendrickson Photography/Shutterstock
This project is a little different from the others. Instead of creating a bed frame, you can repaint an existing metal bed frame to give it a new look. This could be a fantastic project if you already have a bed frame that you could repurpose.
15. Simple bed frame with attached box spring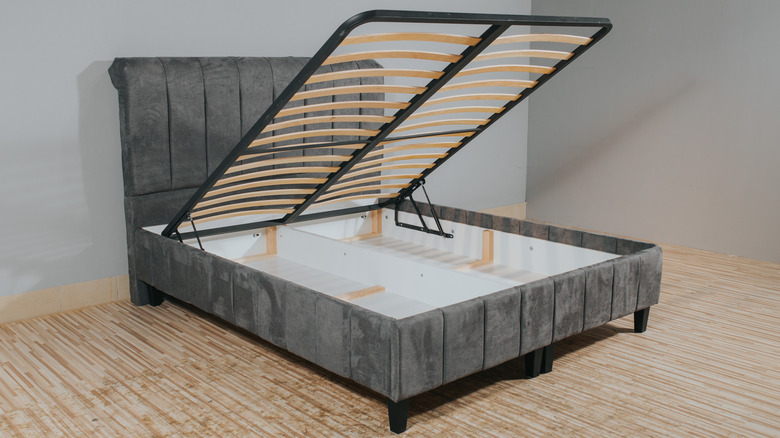 Wirestock Creators/Shutterstock
This bed frame can be built for less than $200, making it an excellent option if you want to save significant money on your project. This isn't a platform bed, and it has an attached box spring, so if you want something more traditional, this is a good option.
16. Hanging bed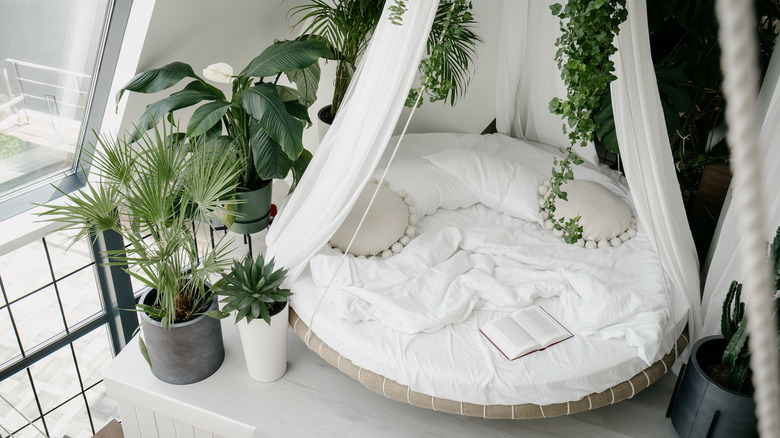 brizmaker/Shutterstock
A hanging bed is a great idea for any bedroom style. You can create it using palettes or other boards. Be sure to find a sturdy place to hang it from!
17. Hidden bed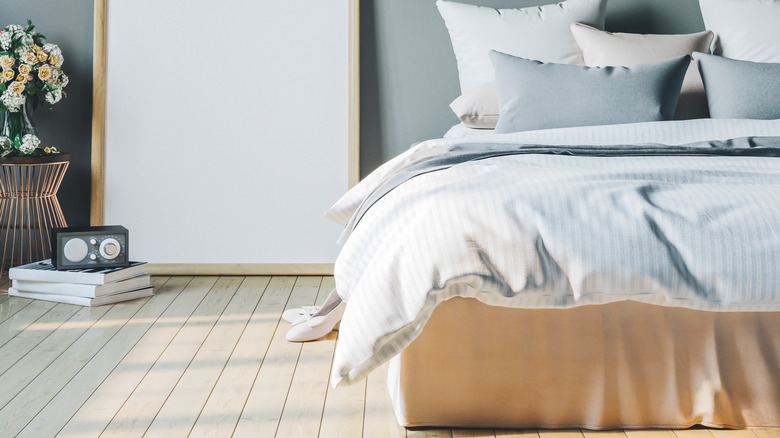 best pixels/Shutterstock
If traditional bed frames aren't your thing, and you like your bed low to the ground, consider putting a box spring right on the floor with a slender mattress on top. Make it look fashionable by covering both with fabric.
18. Elevated wood bed frame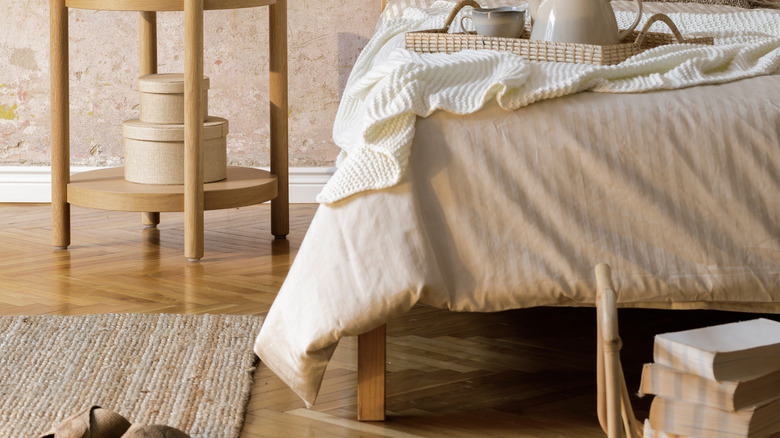 Followtheflow/Shutterstock
This simplistic bed frame has unusually sturdy long legs and a stunning headboard that will transform any bedroom. It's a simple build that appears to be more sophisticated than it is, and you can then pass it down through the generations.
19. Clever white pallet bed frame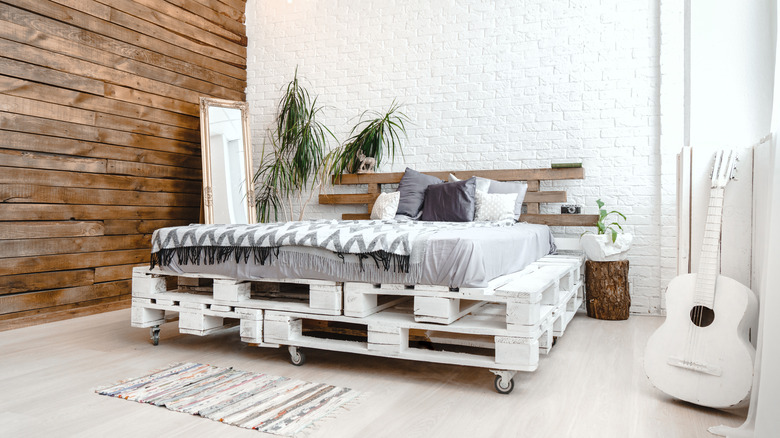 GotovyyStock/Shutterstock
A white pallet bed frame is a great option for those who want a classy yet modest bedroom; this time, there's no need to create a headboard. Instead, consider adding a statement wall in a dark color and a wood floor to complement all the elements for an enhanced room style.
20. Twin platform bed frame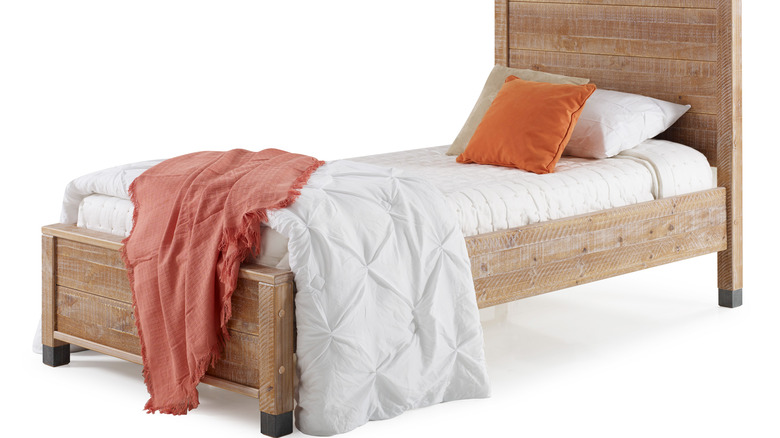 JeweBewe/Shutterstock
This twin platform bed is a fantastic project if you have a limited budget. There's no need to splurge on store-bought platforms.
21. Rustic modern platform bed frame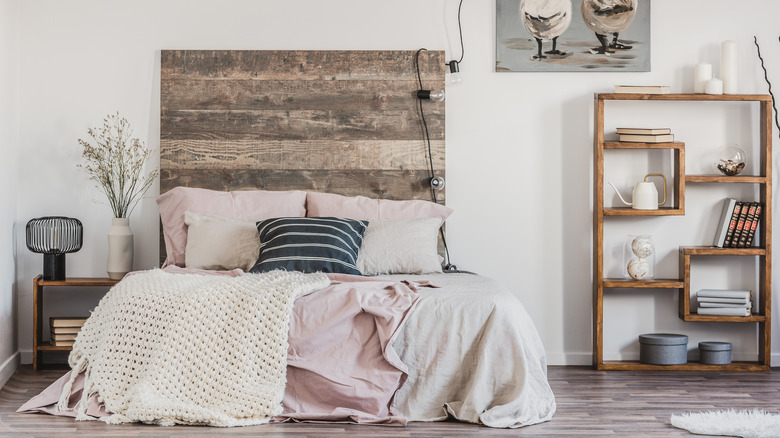 Photographee.eu/Shutterstock
This rustic modern style low bed frame that looks similar to Japanese design has a warm and opulent vibe to it. If your design mostly incorporates modern pieces, this bed frame project will fit just perfectly into your bedroom.
22. Romantic bed frame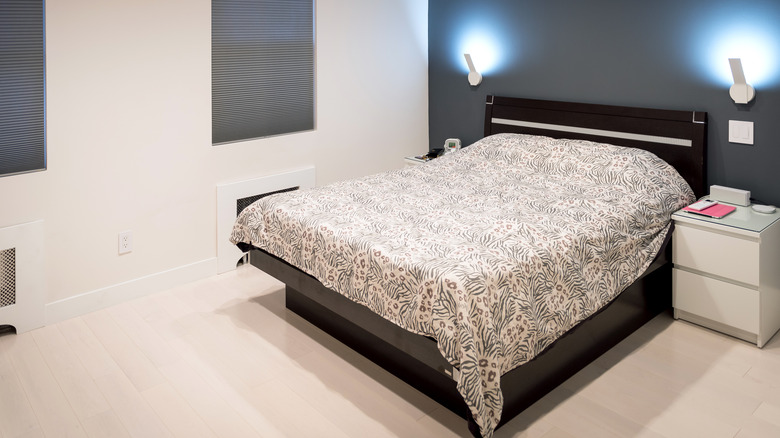 hollandog/Shutterstock
This lovely bed layout offers a magnificent headboard with intricate lines. No one will realize you made this bed — it's that fancy!
23. Painted metal railing bed frame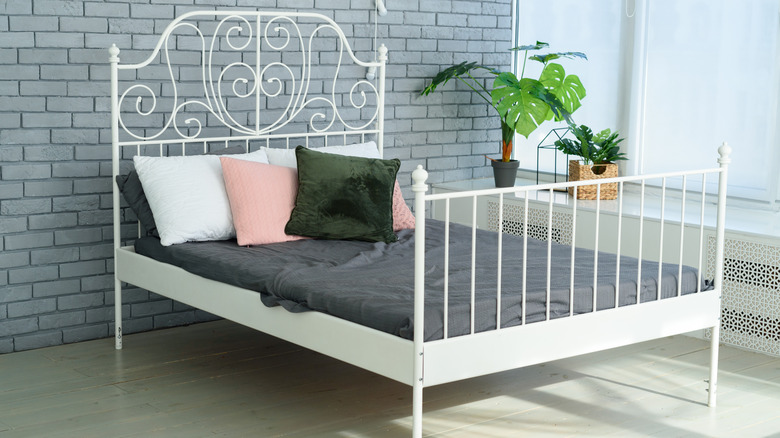 Mirage_studio/Shutterstock
If you love the industrial aesthetic of metal but want something brighter, you can create a metal bed frame. If you've found an old metal bed in rough shape, you can also give it a makeover with some fresh paint.
24. Upholstery bed frame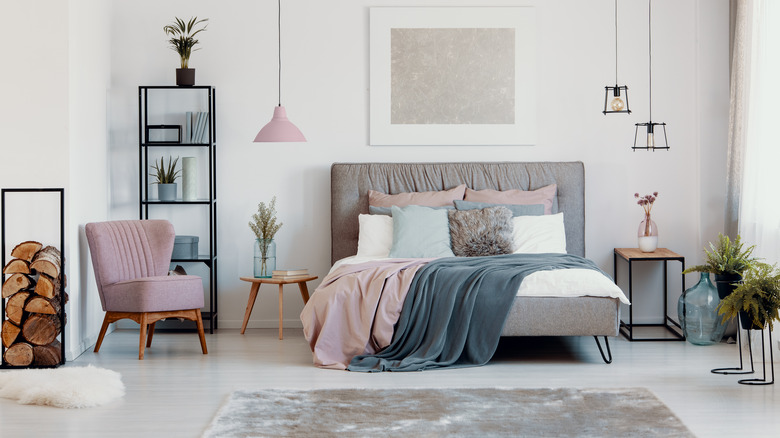 Photographee.eu/Shutterstock
This upholstery bed frame will make your resting place even comfier than the traditional metal bed frame. The project is a little different than others, but it provides a lot of warmth and a more delicate sleeping surface. The final look will be light and airy.
25. Platform bed frame with salvaged door headboard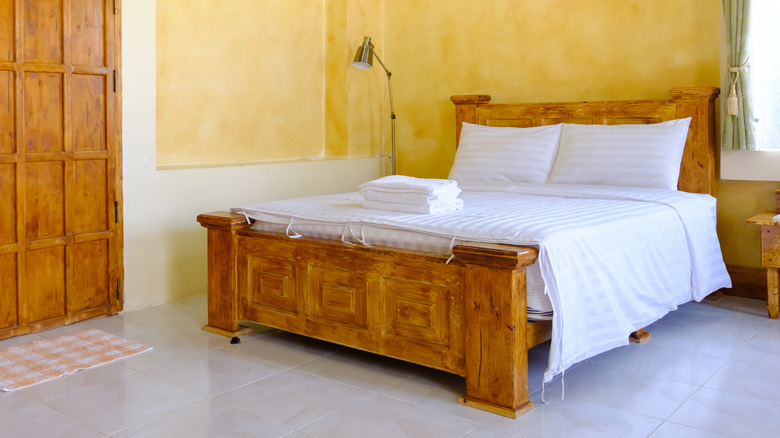 shutterstudio/Shutterstock
This project will simply introduce a bed frame as well as a headboard out of salvaged doors. This is a wonderful alternative if you only need a bed frame, as you can remove the headboard.
26. Storage bed frame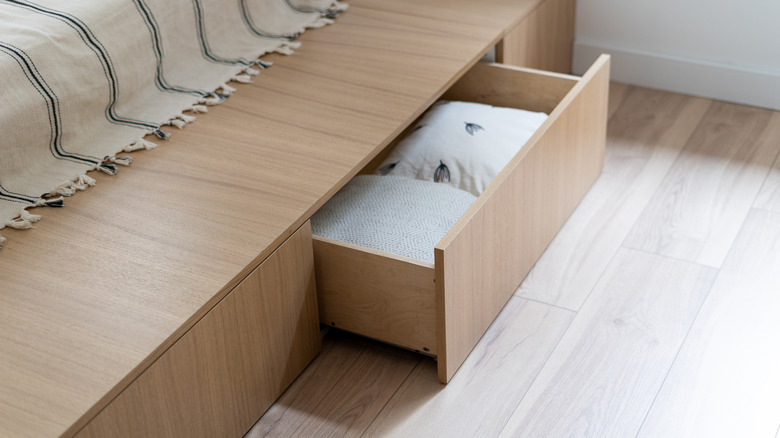 brizmaker/Shutterstock
This stylish bed frame would be ideal for your guest room. You won't need any additional furniture such as a drawer or a cupboard if you have this storage bed frame: Simply add a lovely table, and your guest's room is complete.
27. Cover-up bed frame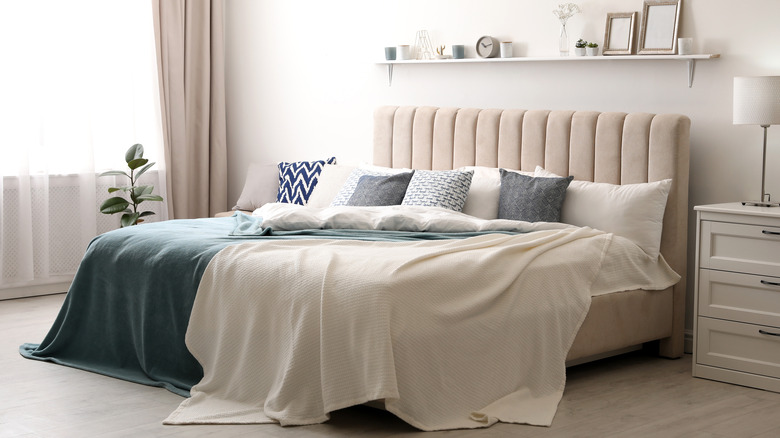 New Africa/Shutterstock
This fabric covered bed frame and headboard look cozy and cushiony, adding a bit of extra comfort to the room's aesthetic.
28. Cozy pallet bed frame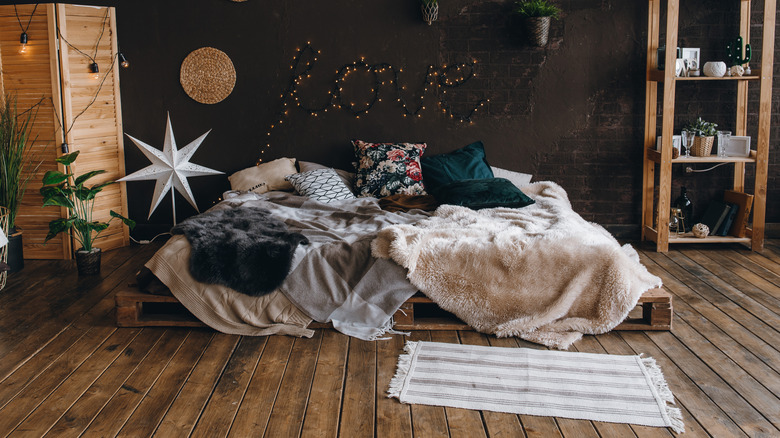 Radanasta/Shutterstock
This project proposes making your own pallet bed frame to give your room a more elegant look because this style is ideal for those who appreciate elegance in simplicity. Just toss a mattress on a pallet and you're done.
29. Floating bed frame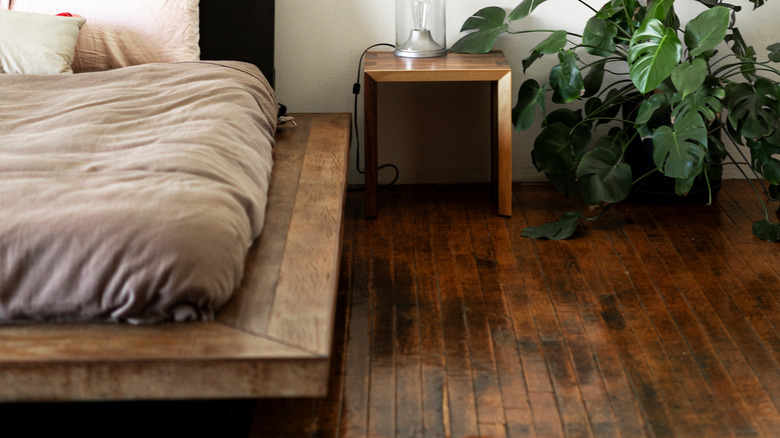 Rawpixel.com/Shutterstock
Consider creating a "floating" DIY bed frame if you want a more modern aesthetic in your bedroom. Place some light panels underneath the bed frame to further create the idea of it floating above the ground.
30. Modern Japanese hairpin bed frame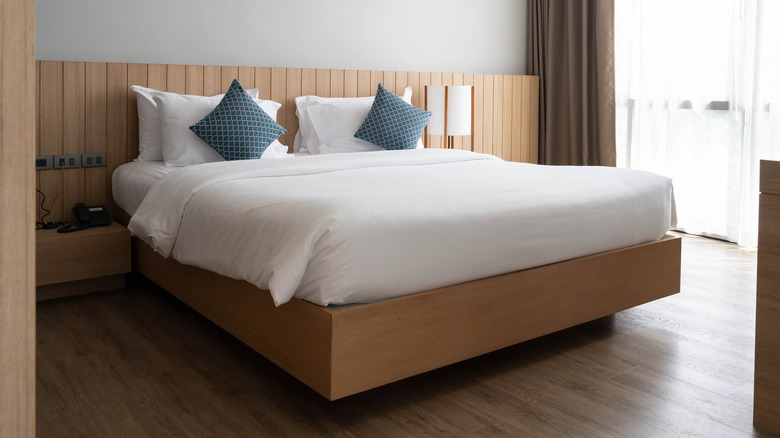 Magnetic Mcc/Shutterstock
Creating this fantastic Japanese/mid-century design bed frame isn't difficult at all: You only need a few pieces of wood, some gear, and four hairpins. The result will leave you speechless as it will look like bought straight from a magazine.