What Color Palettes To Use If You're Featuring Green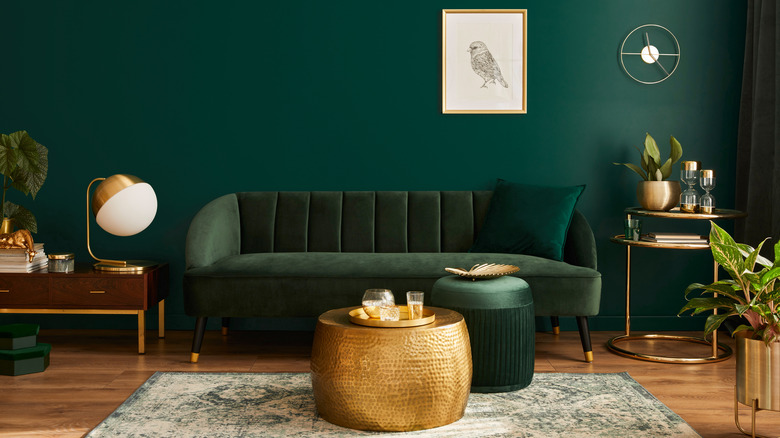 Followtheflow/Shutterstock
Green is an increasingly trendy color for people looking to revamp a space in their house. Whether it's wall paint, a stylish green couch, a feature furniture piece, throws and other accents, plants, or any other variety of the color, green is a great and easy color to feature in a room.
Green is also an incredibly beneficial color for the psyche. According to Dunne Edwards, the color green enhances moods of rejuvenation and freshness. It also creates a sense of revitalization and increased energy. Specific shades also accomplish different goals — lime green promotes playfulness and creativity, olive green creates a sense of peace, grass green fosters a sense of security, etc. Generally, green also enhances creative capabilities, per Psychology Today.
Green can also create different visual effects. Lighter green can create an airy, bright space, make a small space seem bigger, create a more zen atmosphere, and so on. Darker greens, however, can create a more intimate feeling, make a large room seem smaller and cozier, and have a more rich, luxurious effect. No matter the shade, the mood you wish to create won't be completed without pairing your preferred green with other similarly intended pallets.
Emerald green and rust orange
Emerald is a very rich shade of green, and goes well with burnt warm tones. Pair with a rust orange or burnt sienna, as well as gold accents, to enhance the potential of emerald green.
Dark green and gold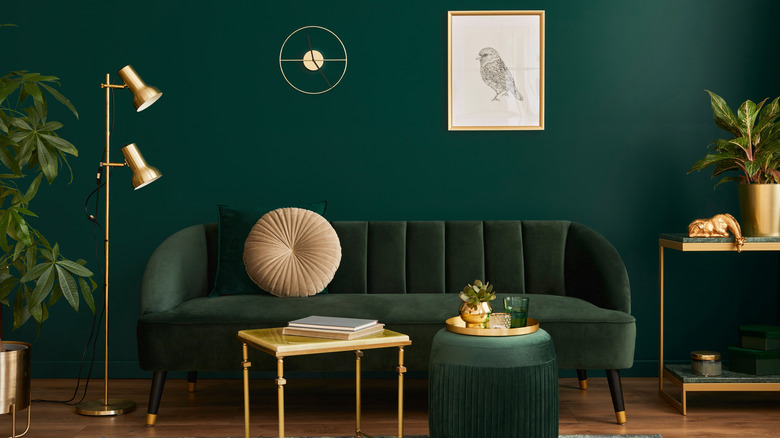 Followtheflow/Shutterstock
Dark shades of green can create a really moody, subdued feeling. Add some bright notes to break up the intensity of the color with gold accents.
White and emerald green
Emerald green is a very bold color — you only need a few accents to get the color to feature in a room. Pair with white for a softer approach while still featuring the bold shade.
Light sage and oak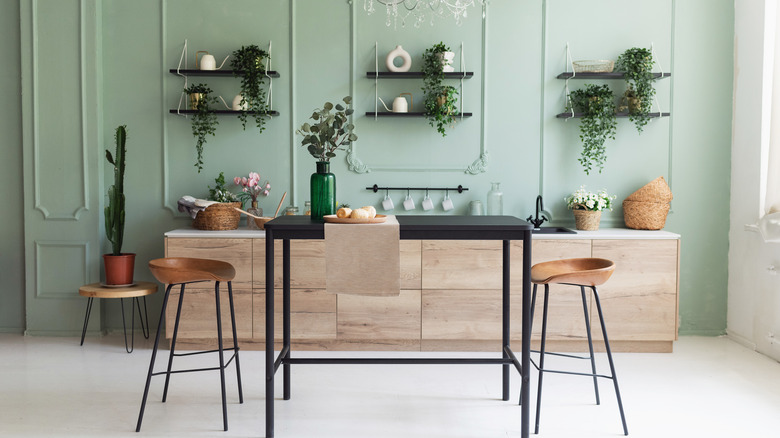 Lysikova Irina/Shutterstock
Sage is a very versatile, calming shade of green. Pair with light oak wooden furniture for a Scandinavian inspired feel.
Pine green and pink
Warmer shades of green pair excellently with true warm colors. Consider pairing a pine green with a rosy pink and rose gold accents to bring out the green's warm qualities while creating a nice visual contrast.
Dark jade, white, and black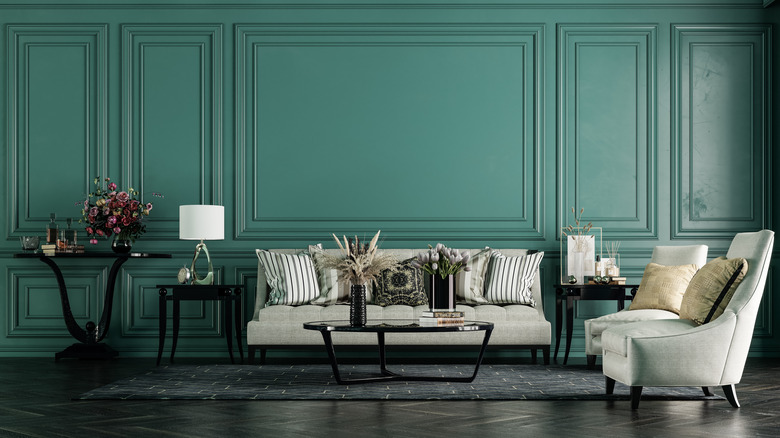 mixphotos/Shutterstock
Darker shades of jade have a very luxurious impact. Pair with black and white colors, and opt for furniture with more sophisticated silhouettes to enhance that quality.
Green and yellow
Green and yellow are an excellent color combination. In terms of color theory, green is a combination of yellow and blue, and as such will pair well with either of the two. Yellow also offers a refreshing, bright aspect among deeper and darker greens.
Green and blue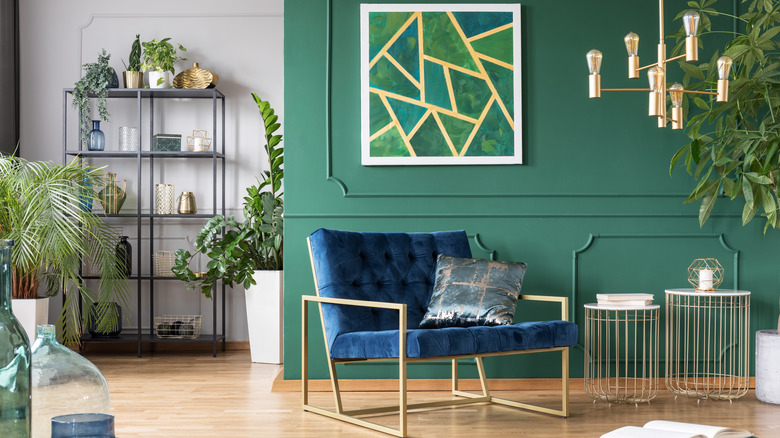 Photographee.eu/Shutterstock
For similar reasons, green and blue go excellently together. Opt for a richer, more blue toned shade of green for a better match. Add pops of gold to tie in the yellow aspects of green.
Green, yellow, and orange
Incorporate a basic warm color pallet of yellow, orange, and warm toned woods with accents of dark green, which will feature against the warm colors, and offer lots of dynamic visual difference.
Lime green and bamboo
Lime green is a brighter, punchier shade of green. Pair with a subdued, bamboo wood color pallet to let the lime shade pop without overwhelming.
Natural green and cream
You can't get a more natural or authentic shade of green than that from plants. Liven up a simple cream color pallet with lots and lots of plants — real or fake.
Green and dark salmon
Darker greens can have a soothing visual effect, and are great for children's rooms. However, it can have a bit of a mature tone — make the green more youthful by pairing it with a darker, salmon-y shade of pink.
Light olive and beige
Light olive is a lovely, neutral shade of green. Pair with beige and cream colors for a neutral, inviting feel.
Green and orange
Similar to green, orange is also a shade with heavy yellow influences. Pair the two together for a simultaneously warm and bright effect. Even when paired in darker shades, the yellow influence will make the pallet bright and cheery.