Days Before The Super Bowl, Snoop Dogg Bought A House In Walking Distance From The Stadium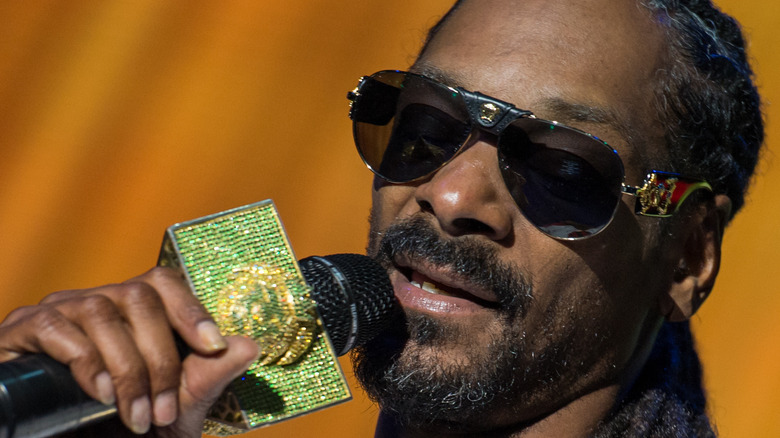 stedalle/Shutterstock
Calvin Cordozar Broadus, professionally known as Snoop Dogg, has been dominating the rap industry for years, starting in 1992 when he was featured on MC Dr. Dre's solo single "Deep Cover," and later his album "The Chronic," according to The Things. Beyond rapping, Snoop Dogg has also starred in several films, as well as explored the business field with both investments and products. Per Music Times, Snoop Dogg's current net worth is approximately $150 million. It's safe to say Snoop Dogg is reaping the benefits through the purchases of mansions and luxury homes.
For the 2022 Super Bowl halftime show, Snoop Dogg made an unforgettable appearance where he, along with Dr. Dre, Eminem, Mary J. Blige, Kendrick Lamar, and 50 Cent, took part in a west coast hip-hop performance (per Parade). Not long before the Super Bowl that took place on place on February 13, 2022, Snoop Dog made the new purchase of a simple home within walking distance to the SoFi stadium where the game took place (per NFL). American Post states that the house was bought out of preparation for the major halftime performance but is presumed to go up for rent now that the performance is complete.
About the home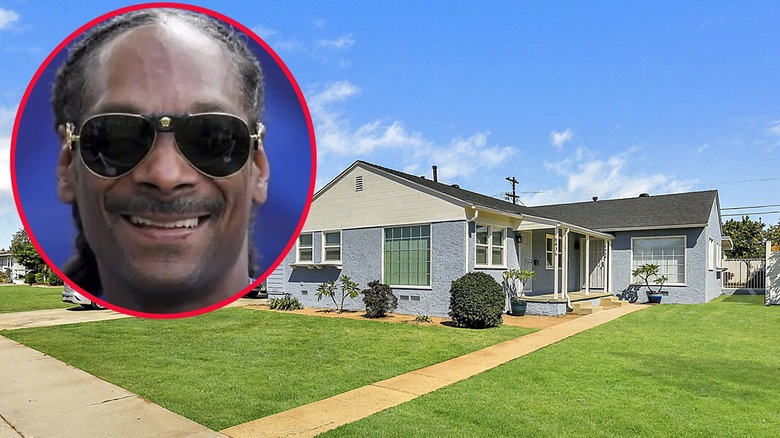 According to American Post, the property only cost Snoop Dogg $1.3 million, which is a minimal amount compared to the multi-million dollar mansions and luxury homes Snoop Dogg has purchased in the past. The house is complete with four bedrooms and two bathrooms, extending a total of 1,612 square feet across the property. Along with the bedrooms, there is also a living room, dining room, laundry room, kitchen, and a two-car garage. Although the property is much smaller than the luxury homes and mansions Snoop Dogg is accustomed to owning, it is a nice, remodeled space to live in.
Outside of the actual home, the location allows for easy access to the 405 and 105 freeway, two major California highways. There are also private schools, restaurants, and entertainment shops within close proximity to the home. Along with its walking distance location to the SoFi stadium, the site looks to have great potential for rental success.