How To Decorate Your Home Like An Italian Villa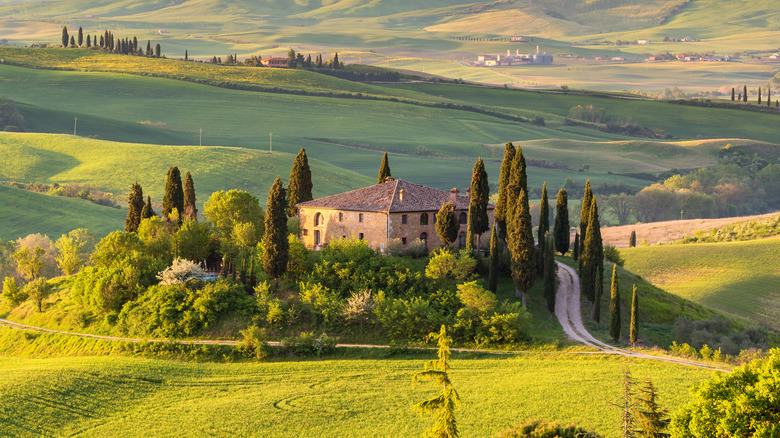 TTphoto/Shutterstock
Do you love the traditional yet cozy vibe that Italian design gives off? From the warm tones to the use of natural materials such as stone and wood, taking some inspiration from an Italian villa in Tuscany is the perfect way to spruce up your space and create an atmosphere that you look forward to spending time in every day. While modern Italian decor has a stricter style and attention to detail, old-school touches like antique paintings and ceramic tiles are totally timeless, per Viesso.
Though you might not want to curate a space that is quite as rustic as what you'll find in a traditional villa, there are several ways to add these iconic accents to your home. While sitting down with Elle Decor, Italian interior designer Elisabetta Rizzato said, "Adding an iconic piece from Italian design of the '60s and '70s could be a really good and everlasting choice." Keep reading for more tips on how to decorate your home like an Italian villa!
Stick to neutral colors throughout the space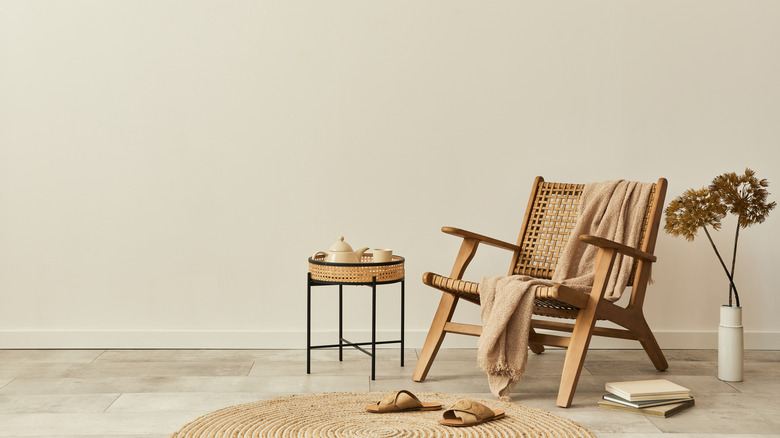 Followtheflow/Shutterstock
Italian architecture is known for its use of warm tones. These hues create a very inviting and somewhat traditional style, and since many Italian villas are very old, these tones look nice with the rustic accents that adorn these homes, per The Spruce. While beige and taupe are very commonly seen across Italian villas, you can also throw in some sage green or dark red accents if you prefer a pop of color. Also, keep in mind that these villas stand against rolling green hills and foliage in Tuscany and other parts of Italy, so you might want to add some greenery throughout your garden or patio for a more authentic look.
According to Allure Painting, using a neutral color palette also gives you more freedom when it comes to your home's decor. Italian villas have elegant paintings with vintage frames on the walls, so a more subtle and simple base color is a practical route to take. While some people like the feeling of a busy and full home, too much color plus decor can cause a space that feels stuffy or tacky. Most importantly, neutral colors like beige, ivory, and taupe will never go out of style, and they are very easy to work around.
Use antique wall art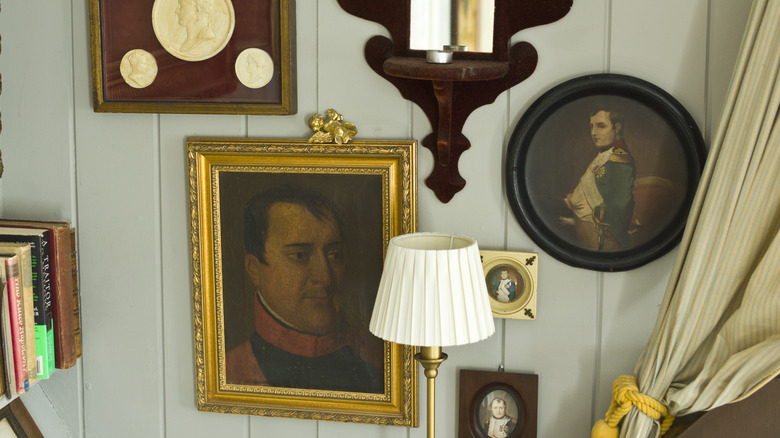 Tim Graham/Getty Images
Whether you like a cohesive gallery wall or you prefer larger statement pieces, antique wall art is an absolute must when attempting to convert your modern home into an Italian villa. During an interview with Stylist, interior designer Sonia Pash said, "Antique oil paintings are a great flourish, and they don't need to be crazy expensive. You can find lovely pieces by lesser-known artists in smaller auction houses or antique shops that should suit your budget."
Best of all, filling your walls with antique paintings and art means that you can get creative and let loose, rather than having to stress over everything matching or being the same color. Antique artwork looks best when it avoids being too matchy, so feel free to have fun and pick out the pieces you like the most rather than focusing on what might look best next to something else.
If possible, add some columns to really embody Italian architecture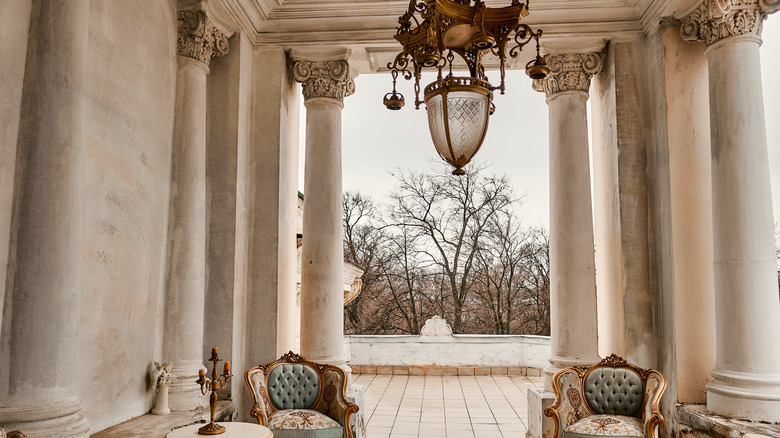 Ilyapfoto/Shutterstock
Though this is only possible in a larger home, adding columns to the structure of your property is the ultimate way to transport guests to the Italian countryside. In addition to elevating the stature and prestige of your home, Home Building Products states that columns are also great at dividing space and separating rooms. For example, if you don't have a door between your living room and dining room, columns are a great way to distinguish between these two rooms, especially if you have different color schemes or styles in each space.
While many columns are white or ivory and match the walls surrounding them, you can also elevate your columns by choosing marble ones. These architectural icons have been used for centuries, both for functional and superficial purposes. If you like the idea of columns but don't have the budget or means for larger ones, use miniature ones to jazz up your fireplace or mantle to add that classy European flair.
Place an emphasis on your dining area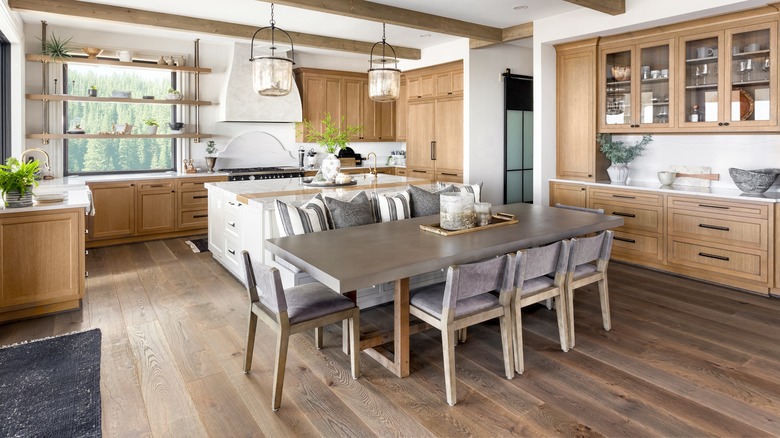 Breadmaker/Shutterstock
Since eating is a hallmark of Italian culture, it makes sense that the dining area would be a special spot within the house. While the kitchen has its own charm and importance, the dining area is where family and friends come together, making it worthy of extra attention. "In Italy, dining is at the heart of family living. It's where everyone gets together –- not only to eat but to also spend time discussing family matters, so comfort is important," interior designer Maurizio Pellizzoni said during an interview with Stylist.
In addition to having a state-of-the-art table and chairs, lighting is also an essential component when setting the scene in your dining room. If you have a rustic dining table with warm, dark tones, warm up the space with a nice pendant or chandelier hanging over the center of the table. Candles also do a great job setting the mood and creating an inviting area for everyone to gather.
Add ceramic tile throughout areas like the bathroom and kitchen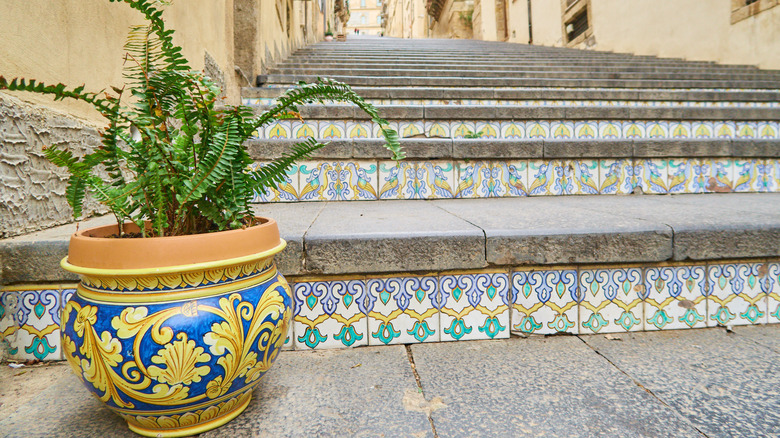 Eyeswideopen/Getty Images
Whether it be for a floor mosaic or bathroom wall embellishment, ceramic tiles are an iconic part of Italian design. While Tuscan-style homes and Italian villas stick with neutral color palettes and paint colors, ceramic tiles provide a perfect opportunity to add some color while maintaining a traditional and clean Mediterranean look. Though there are different tiles available to choose from, Italian tiles are some of the highest quality, according to Tile Space.
From vibrant blue tiles to warm orange tiles, ceramic tiles add an artistic touch to any home, no matter what color scheme you are going for. If you have a house with steps leading up to the front door, using ceramic tiles on the back of each step is a real game-changer and can spruce up your front yard without much effort. Also, if you prefer more neutral tiles that resemble marble or stone, Italian tiles do the best at replicating that authenticity.
Create a wine cellar or special wine rack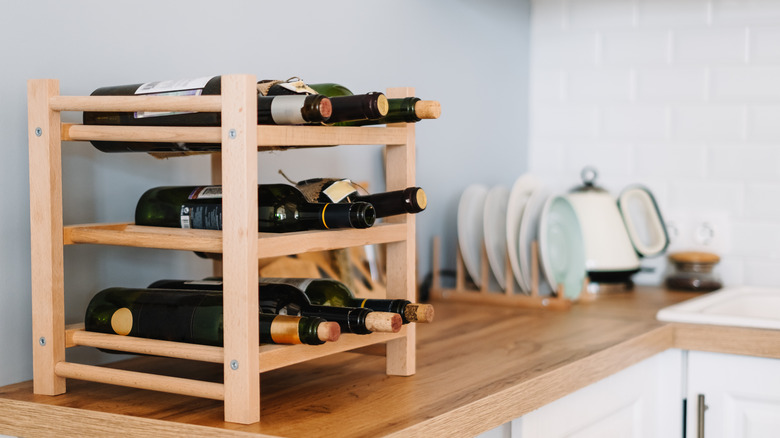 Nikkimeel/Shutterstock
If you want your home to have a true taste of Italy, don't forget to incorporate the Italian love for vino somewhere in your kitchen. Of course, if you have the space for an actual wine cellar, then great! If not, a simple wine rack on the counter or against a wall will suffice. While a stacked wine rack looks the most timeless, you can also get creative with your wine display. From leather hanging wine bottle holders to mounted wine racks that also have hooks for hanging a few glasses, the possibilities are endless, per The Proud Italian.
In addition to putting your wine bottles on display, you can also pay homage to the art of winemaking by using old wine barrels as tables or decor. If you can build an actual cellar in your home, make sure that you read up on the proper process of storing wine. For example, according to Wine Guardian, the ideal temperature for a wine cellar is between 55 and 57 degrees Fahrenheit. Humidity also plays a factor in keeping the wine fresh and avoiding compromise.
Use a lot of wood-finished furniture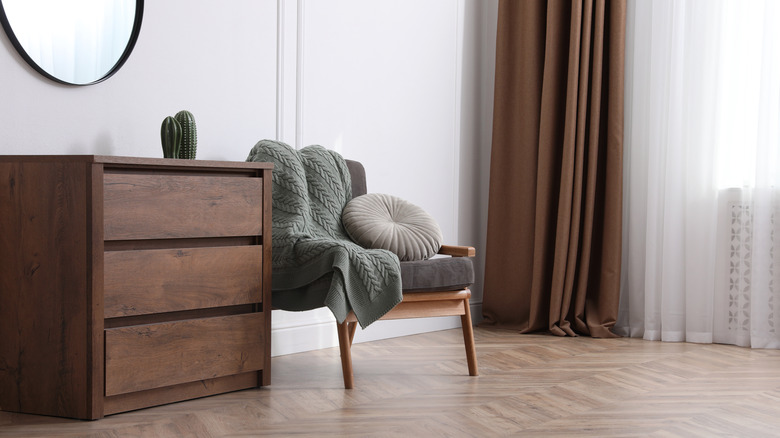 New Africa/Shutterstock
Wood-finished furniture has a very earthy and timeless look. There is something about wooden furniture that makes a space feel cozy and inviting. From barstools to dining tables, your kitchen should definitely house some wood-finished pieces if you want to embody that true Italian style. Though many modern stores create beautiful wood-finished furniture, vintage pieces are always a great option.
According to Touch of Class, the distressed appearance of many wood-finished items enhances the rustic appeal found in Italian-inspired interiors. Also, wood evokes a warmness that more modern materials such as acrylic or plastic do not naturally possess. While you don't have to have vintage furniture that displays the traditional scrollwork pattern found in many Italian homes, you want to avoid furniture that is too modern or cold. When pairing other materials with wood, go for options like stone or ceramic to create an earthy combination.
Stick to more rustic furniture but sprinkle in a few luxurious pieces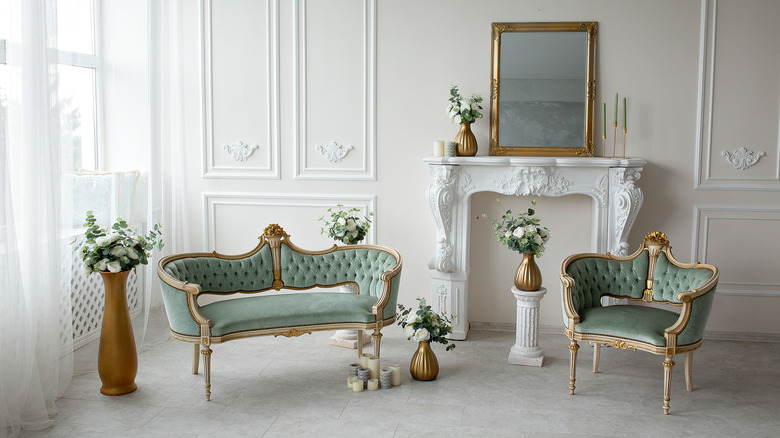 Legran/Shutterstock
While rustic furniture is a must when using Italian influences in your design, you can also branch out and go for some fancier pieces as well. Although lavish vintage couches and mirrors are often associated with French interiors, Italian fashion and style often call for eye-catching details and luxurious materials. According to Milan Design Agenda, adding a little glamour when putting together a room is on-brand. Even a velvet armchair can do the trick, and it will mix beautifully among the more rustic pieces. While sitting down with Stylist, interior designer Sonia Pash said, "A statement chair is the perfect device for introducing some beauty and creativity into your home ... It's like a sculpture you can sit on."
If you don't feel like replacing the furniture you already have, add something like a gold-framed mirror to your mantel. This accessory will contrast with the earthier pieces in the space yet avoid clashing or looking too modern. Vases are another great option for enhancing the richness of your decor in a subtle but meaningful way.
Add a traditional chandelier for an elevated look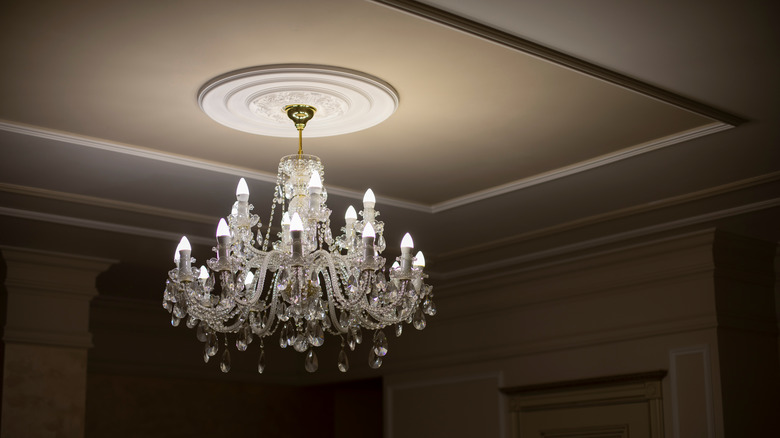 Oleg Kopyov/Shutterstock
Even if you think chandeliers are too outdated or traditional, there is nothing that screams elegance quite like one of these glistening light fixtures. According to Murano Glass, the most popular Italian chandelier is a Venetian glass fixture. These gorgeous light fixtures hang from the ceiling and immediately catch the eye, both due to their luxurious sparkle and their size. Venetian glass chandeliers tend to be on the larger side, and they often have elements of gold or silver included throughout the design for some extra flair.
However, while a Venetian glass chandelier is a stunning option, it might not work best for your space. Before choosing a chandelier for your home, it is imperative to get the dimensions of the chosen room (via Italian Concept USA). Everything from the width to the height of the room is important when shopping for a chandelier, and while you certainly don't want to buy a fixture that is too big for your space, you also don't want one that is too small. When it comes to the length of the chandelier chain, the taller your ceilings, the more dramatic you can be.
Avoid heavy curtains or window treatments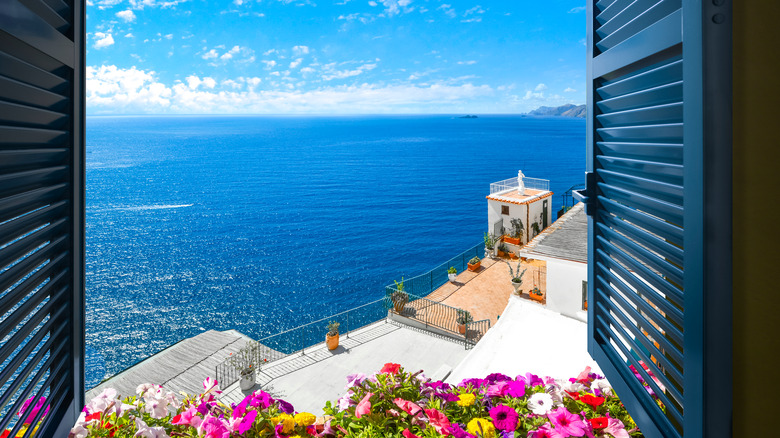 Kirk Fisher/Shutterstock
According to Esperiri, windows play a huge role in Italian-inspired architecture. Though some people prefer curtains or window treatments for sleeping or privacy purposes, leaving your windows bare creates that natural and minimalist look that Italian villas are known for. The actual shape and structure of the window also have a big impact, and there is no denying that arched windows are a traditional favorite.
Allowing natural light to flow into a space is very calming, and it is an easy way to add some serenity to your home. If you cannot bear to have nothing on your windows, go for shutters instead of curtains (via Houzz). In addition to being functional, shutters also have a quaint charm that is more reminiscent of an Italian villa. While you can go with a fun shade such as light blue for an added pop of color, ivory or white shutters look clean and simple against a neutral stone or stucco exterior.
Mix and match antiques and accessories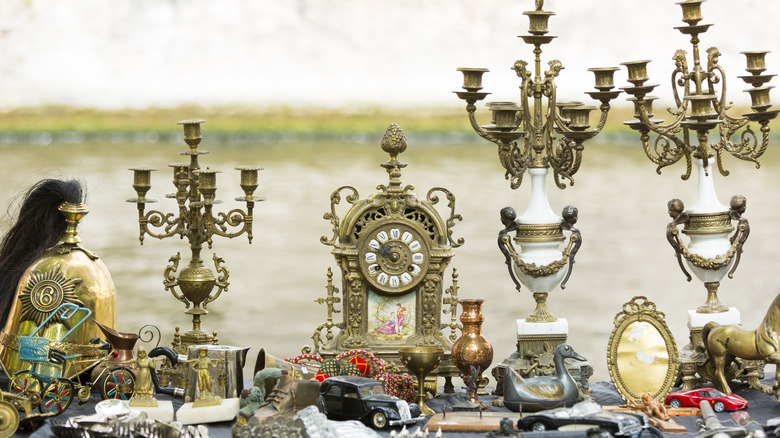 Tim Graham/Getty Images
While you want to avoid creating a cluttered space, traditional Italian homes are known for being filled with meaningful and unique antiques and trinkets. From wall art to figurines on bookshelves and mantels, mixing and matching various accessories is the perfect way to make your house feel like a home. Whether you have special items that you've inherited from family members or enjoy an occasional trip to an antique store, get creative with this process and don't get too particular about matching colors or styles.
According to The Spruce, Tuscan-style homes tend to have cabinets and dressers with clear doors so that various dishes, linens, and ceramics can be on display and seen clearly. Though you may be conditioned to feel as though you should hide these more functional items, these details can make a home feel more lived-in and comfortable. You can also display pasta, flour, or pickled vegetables in jars on your kitchen counter for a traditional touch.
Create an inviting and warm outdoor space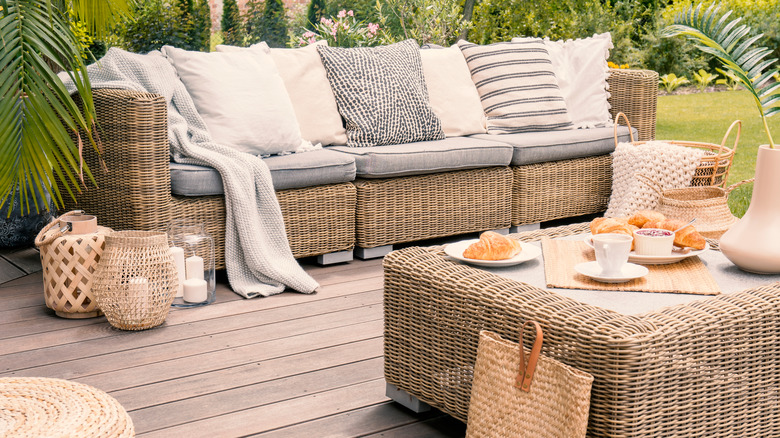 Photographee.eu/Shutterstock
Being that Italians encourage a balance between indoor and outdoor living, it is important to set yourself up with a cozy outdoor space where you can sip on red wine or snack on a fresh charcuterie board. According to The Spruce, many homes and villas throughout Tuscany were inspired by nature, which can be seen in the neutral tones and the use of stone and wood as their primary materials. One of the best parts about creating an Italian-inspired outdoor space is the fact that you can keep things simple while still managing to evoke a sense of luxury.
Regardless of where you live, you'll want to make sure you invest in some weather-resistant furniture. To prevent your patio from looking too contemporary, stick to wicker furniture if possible (per Touch of Class). If you don't have a garden or the ability to build one, adorn your patio or porch with hanging plants and other greenery. If you really want to add some Italian flair to your outdoor area, pot a lemon tree and add a vibrant hint of yellow to your space. Bougainvillea is another great Mediterranean-inspired option for adding some color to the exterior of your home.