15 Wall Painting Ideas To Spruce Up Your Home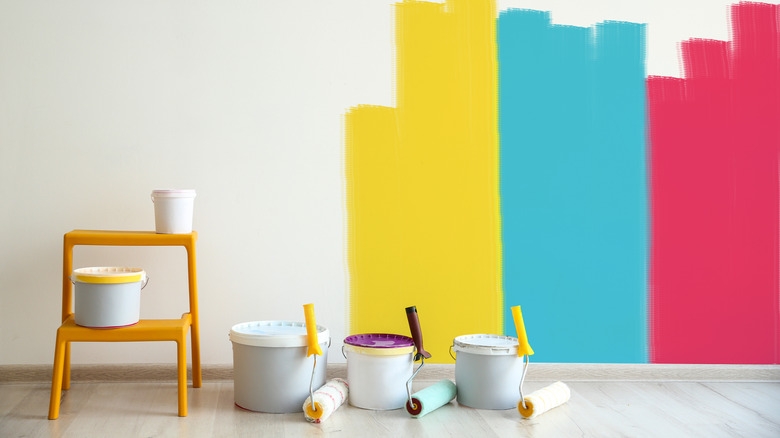 Africa Studio/Shutterstock
Your home is an area where you can express yourself and experiment with different styles. It represents your personality, which is why designing your home in your style is so important. Unfortunately, if you wish to renovate your walls, the home decor might be costly. Trying DIY wall painting ideas is the best and most enjoyable technique. With the aid of simple elements like stripes, color combinations, and quotations, you can entirely transform your house into a new, rich, and beautiful space without spending a fortune.
The wall decals, which have proven to be a great alternative to wallpapers, provide much-needed drama and flair to the walls. According to Apartment Therapy, now is the best time to take action as the spring ushers closer. So gather your supplies, paint, and other materials, and use these simple creative wall painting ideas to convert your bedroom, living room, kitchen, bathroom, or any other room into the space of your dreams.
Go bold with stripes
Dariusz Jarzabek/Shutterstock
Stripes are a classic and timeless design that will never go out of style. To create a feeling of perspective in the room, you can place them vertically or horizontally. And you can effortlessly match your furniture and other elements with these stripes on board.
Accent wall for a powerful statement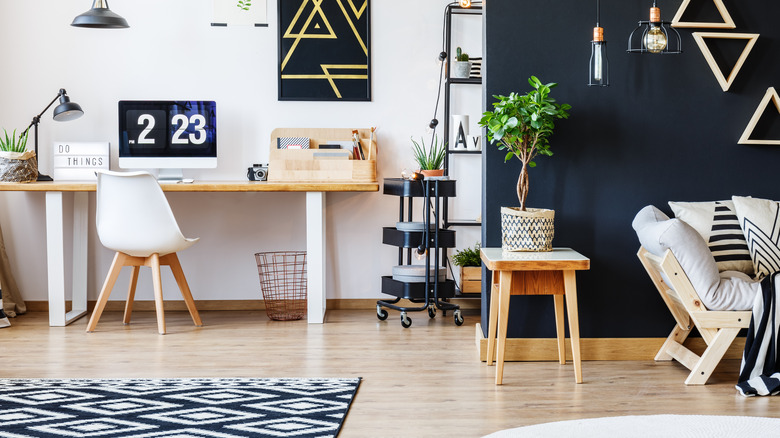 Photographee.eu/Shutterstock
Rather than hanging objects on the wall, you can turn the entire wall into an accent wall. To get the best results, use a vivid and strong paint hue.
Go for black dramatic luxury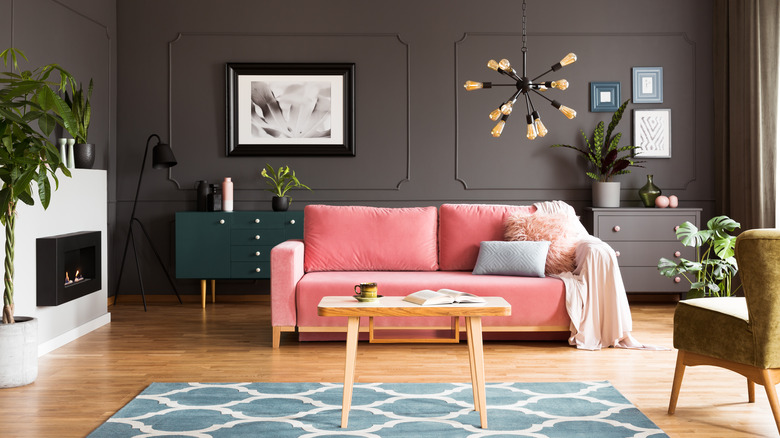 Photographee.eu/Shutterstock
A deep, inky wall hue will look lovely in a bathroom with a high ceiling and plenty of natural lighting. Painting bathrooms is an excellent time to try color blocking to make the space feel even loftier, with brighter hues railing upwards and a pale, reflective material for the flooring.
Stick to neutral light colors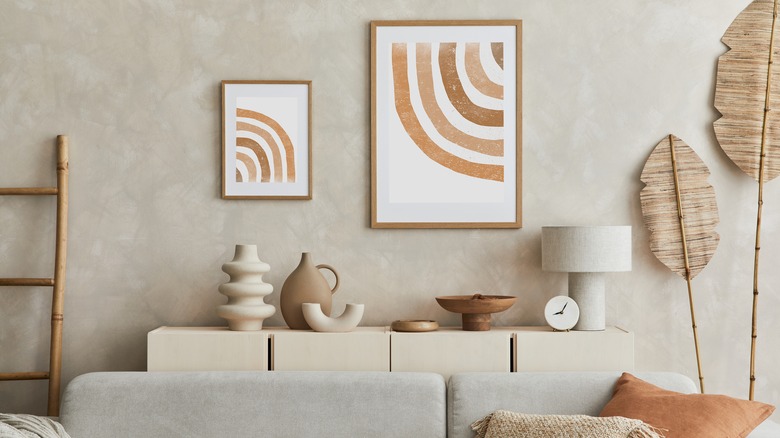 Followtheflow/Shutterstock
If you're tired of your bright wall colors, go with light or classic neutrals. Colors like beige, gray, and greige are always in style and give off a comfortable vibe. They also coordinate with most of the accessories, giving you more décor options and reducing contrasting transitions.
Mix color tones for cohesion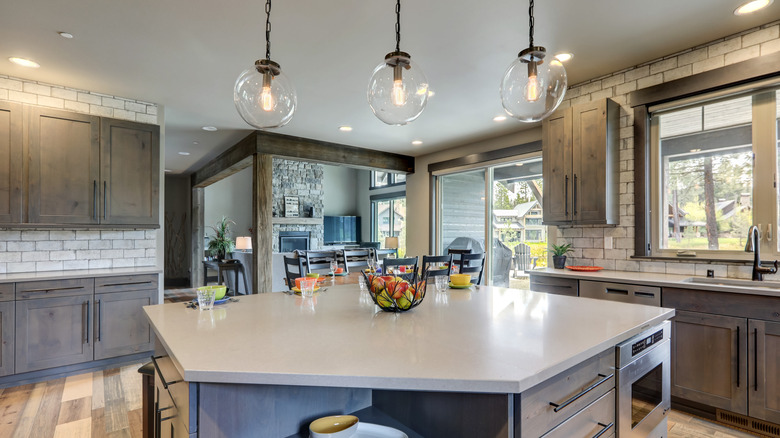 Artazum/Shutterstock
Because one bold hue all over can be boring, why not use a few tones of the same color in one room? For a new, bright look, use the darker hue on the cabinets and the lighter shade on the walls.
Follow the trend on inky shades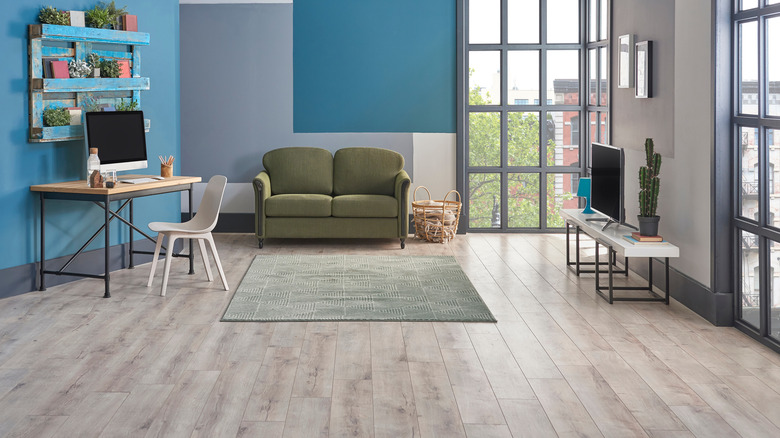 united photo studio/Shutterstock
Green, burgundy, and blue — deep, striking alternatives to gray — are popular paint colors for kitchens, producing an attractive appeal, which doubles if applied on both cabinetry and walls.
Warm hues are inviting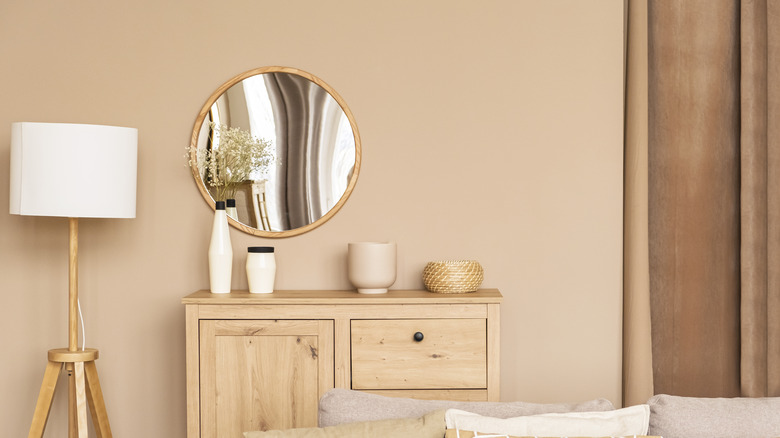 AliceCam/Shutterstock
A bathroom will look welcoming instantly with deep spicy colors softened by subdued naturals. For a style that oozes character, make sure the stronger colors have earthy hues instead of citrus tones and pair them with natural flooring and dark, finely grained wood furniture.
Quote your favorite saying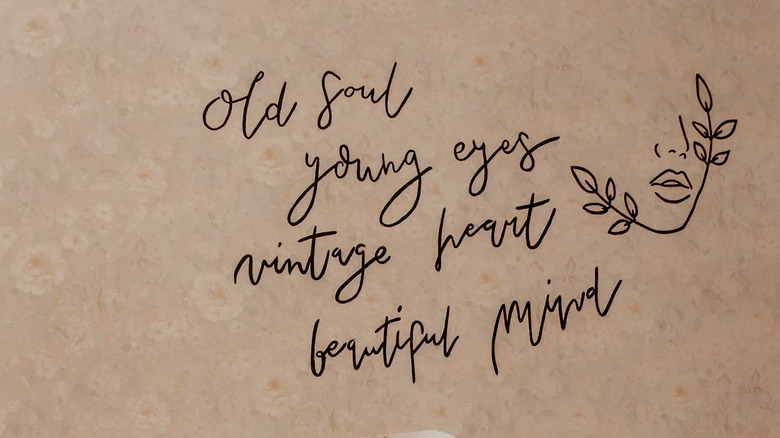 Camille Brodard/Unsplash
If you like the idea of DIY applications rather than a wall paint project, a quotation wall decal with a hand-painted finish is a must-have. The phrase and verse can differ depending on the style and function of your room, giving the walls a playful look without drawing too much attention.
Opt for a watercolor mural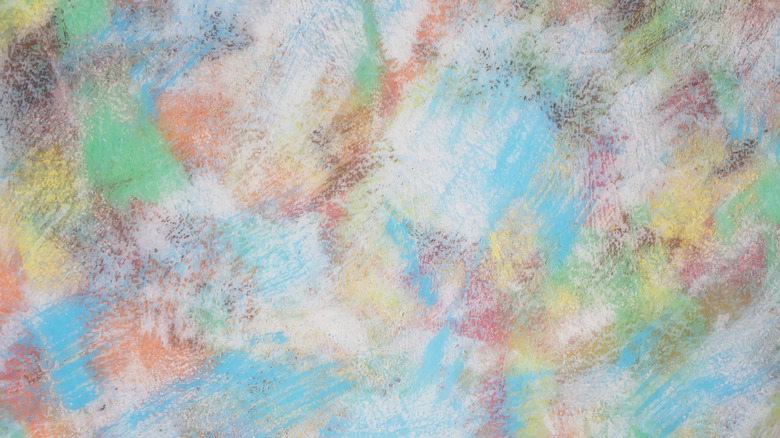 Liliya Linnik/Shutterstock
The smooth brush strokes and blended hues will give your room a new look. Choose a color scheme that's bright but relaxing: The entire space will be brought together by a single accent wall. Some fresh wall paint and colorful pillows will spruce up your home in ways you never thought possible.
Fake a brick wall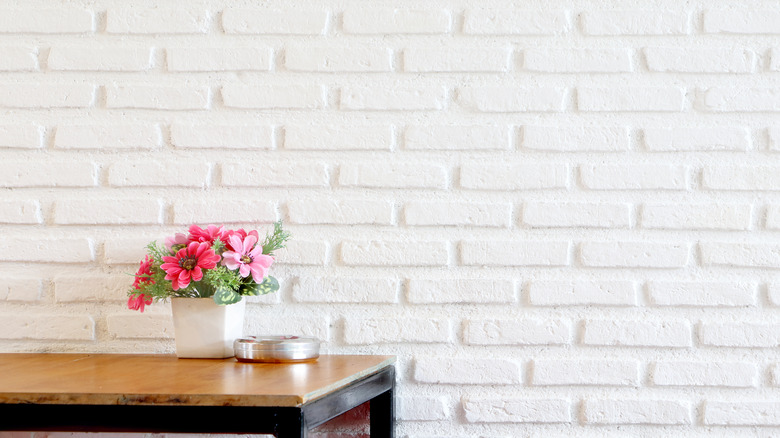 WHANJEED/Shutterstock
A brick wall is another popular interior painting idea you should try. You can use a single rectangular sponge to achieve this basic interior painting design. Make particular scales on a rectangle sponge to give it the appearance of a natural brick surface.
Keep it simply white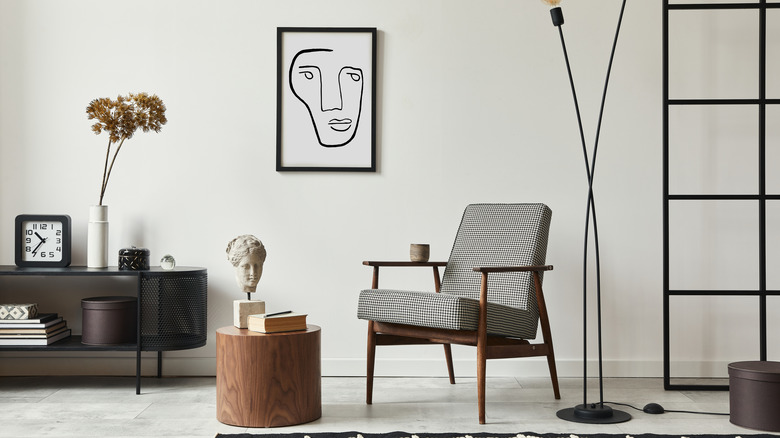 Followtheflow/Shutterstock
An all-white kitchen is unbearably bright and airy, and it serves as a blank canvas for the rest of the concept, allowing you to add and swap out accent colors with accessories swiftly. It also means that updating and matching new cutlery, appliances, or dinnerware will be easier.
Go airy with light green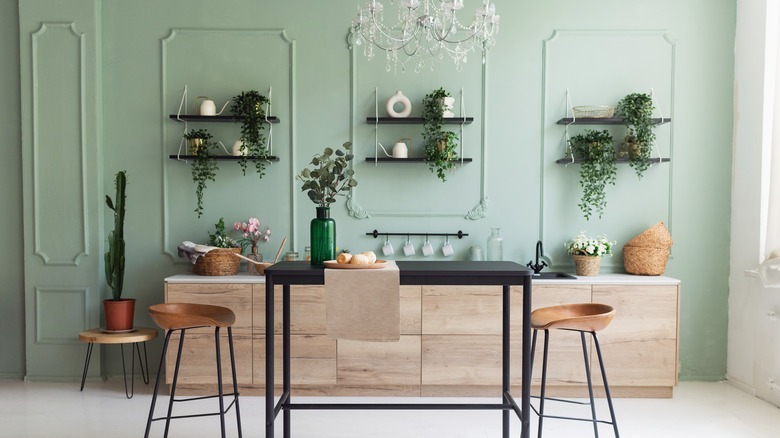 Lysikova Irina/Shutterstock
Picking a color palette in a natural hue and pairing it with wood and a soft, creamy white or beige can give you the desired impression in your kitchen if you're looking to achieve a country-style look.
Paint a simple geometric pattern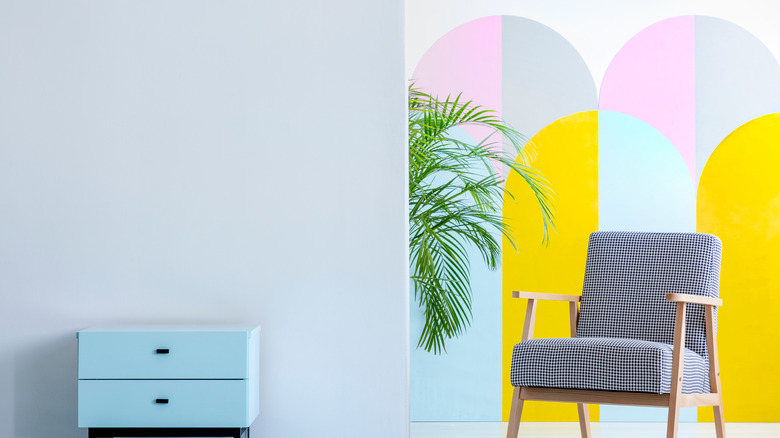 Photographee.eu/Shutterstock
Art is sometimes hung on bare walls, and sometimes the wall is the art. To produce something visually pleasing, a geometric pattern will give the impression that the space is larger than it actually is. To complement the ambiance of the area, experiment with different forms or colors.
Sponge for the rescue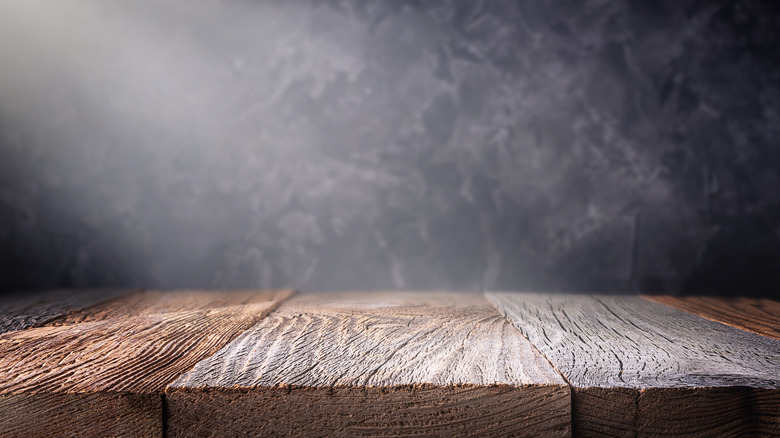 Olesia Bech/Shutterstock
If geometrical shapes aren't your thing, go for the asymmetrical route. Take a sponge and dab it in a color that contrasts your wall's base color. Then dab the sponge against the wall in such a manner that both colors are visible.
Canyon palette for eccentric touch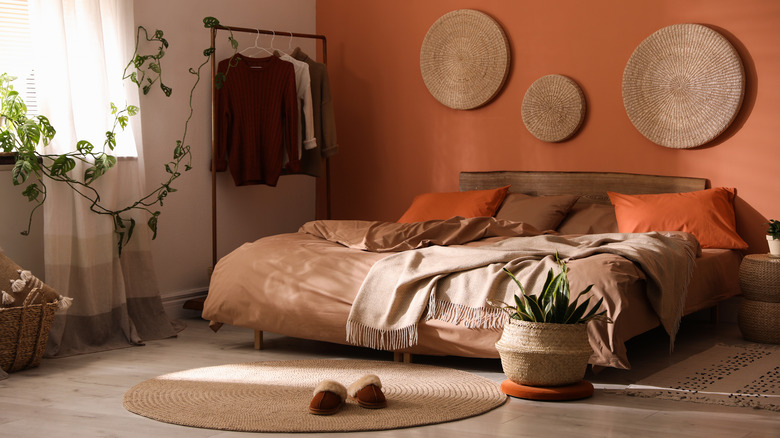 New Africa/Shutterstock
Paint your living room walls in the searing warm tones of the Grand Canyon as it adds a tremendous eccentric touch to the room, giving it a welcoming and lively vibe. You can also use your imagination to apply the decals in the most captivating ways possible.