30 Common House Styles To Inspire Your Next Home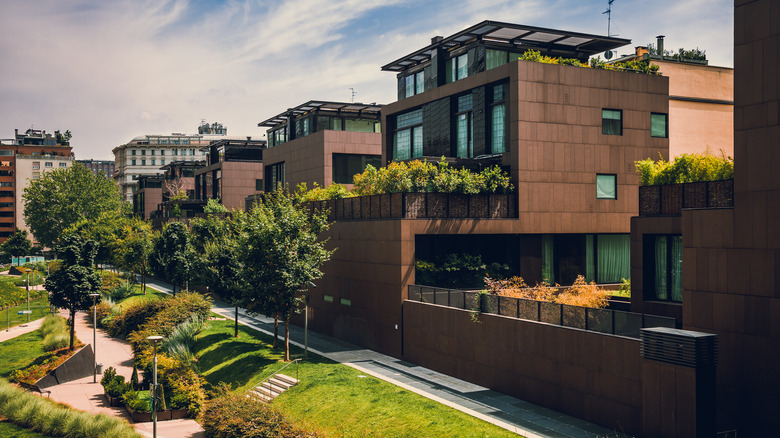 Goncharovaia/Shutterstock
You can find almost as many architectural house styles in cities and suburbs around the U.S. as there are houses. If you want to add custom house charm into a newer home, you'll need to understand some of the main qualities that distinguish each design. With so many architectural styles worldwide and in the U.S., just as How To Rhino noted, designing a home can be intimidating.
Architecture is defined as the art of creating designer architectures in the form of buildings and other structures. Still, it also includes the application of science and technical expertise to give creativity and imagination form and structure — this combination of science and art results in a design that is both useful and aesthetically beautiful. As the owner, you have the option of sticking to one technique or mixing and matching many styles. If you're unsure what architectural style you would like for your home, let these 30 common layouts inspire you.
1. Craftsman style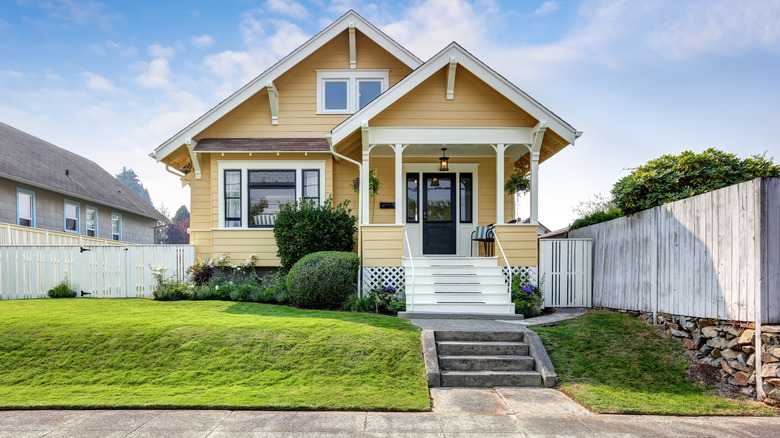 Artazum/Shutterstock
These residences emphasize natural-inspired materials and patterns, allowing natural-toned timber, geometric stained-glass windows, and many built-ins to shine. A craftsman-style home's color palette is usually earthy, with tones such as lime green, burnt orange, and natural browns.
2. Cape Cod style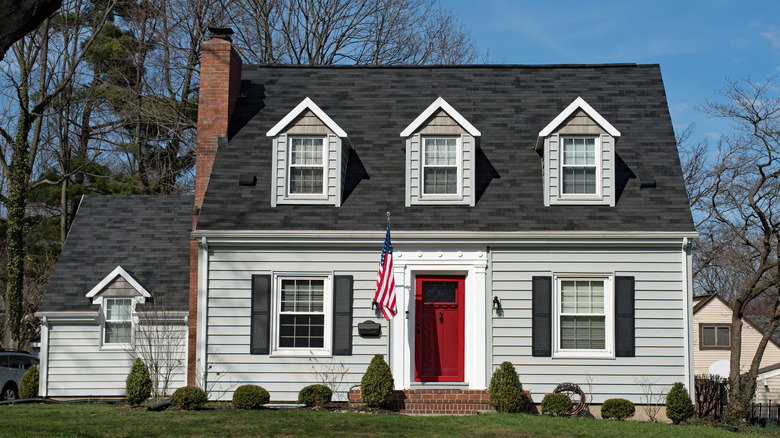 Susan Law Cain/Shutterstock
Cape Cod architecture is widely common in suburban areas, becoming popular during the 1950s. These houses are usually two stories tall with dormers and a main doorway. Centuries-old English half-timbered buildings influenced the initial design, but architects altered the frame to suit the New England environment.
3. Townhouse style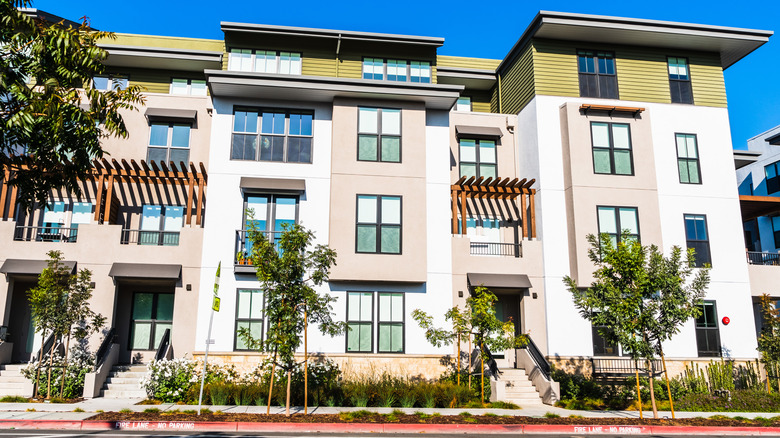 Sundry Photography/Shutterstock
The townhouse building style is widespread in metropolitan locations because of its vertical massing and long, compact footprint. The townhouse first appeared in New Orleans in its Creole form in the late colonial era. Still, the basic design remained popular for over a century and has recently experienced a resurgence in popularity.
4. Cottage style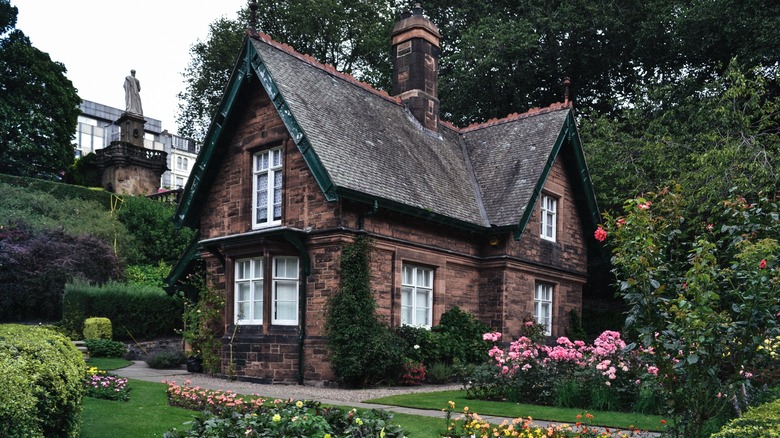 Abbilyn Zavgorodniaia/Unsplash
A cottage is a small house that first originated in European villages. They are usually built with wood or stone siding and have one and a half stories. Some common features include small porches, pleasant interiors, and curving entryways with a sand or brick front porch finished in lovely colors.
5. Center Hall cottage style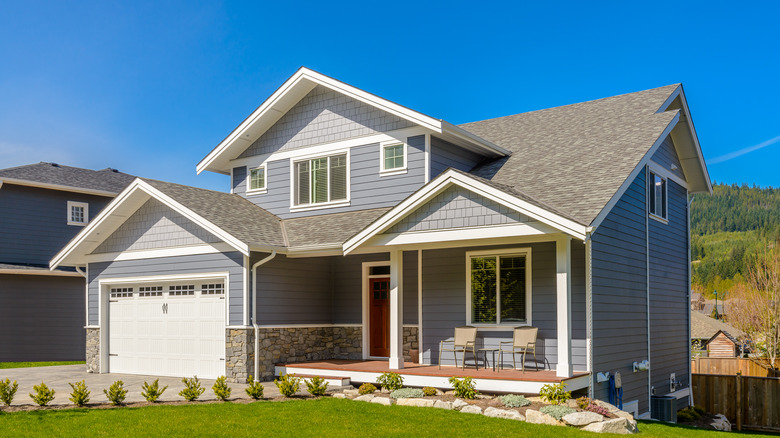 karamysh/Shutterstock
The Center Hall cottage is a vernacular structure typically found in the American South and the Caribbean. It has a rectangular shape, a central hallway extending from the front façade to the back, and two storage rooms on either side of a rear service porch. These architectural-style homes have gabled roofs and often dormer windows.
6. Colonial style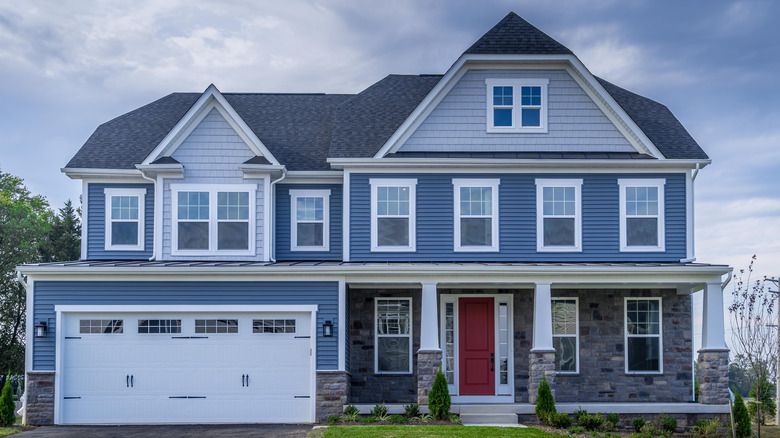 tokar/Shutterstock
Colonial-style houses date from the 17th century and come in various styles. These houses are usually symmetrical and have some form of a dormer. They're mainly prevalent on the East Coast, although they're found all around the country.
7. Bungalow style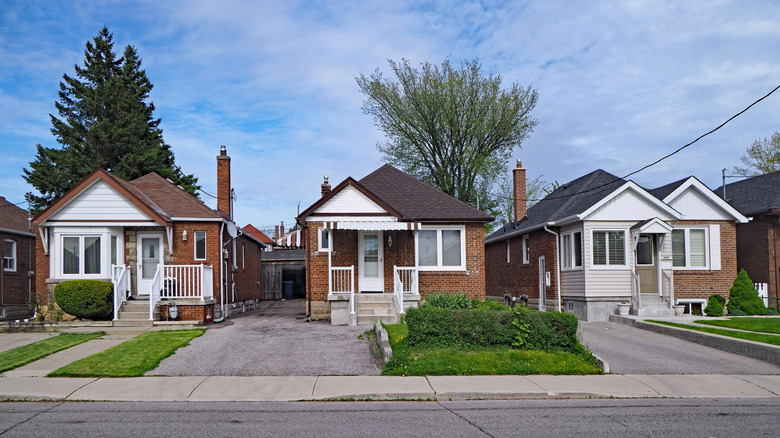 Spiroview Inc/Shutterstock
Bungalows originated in India, and are long, low structures with broad verandas and hanging attics. Previously, the roof was made of thatch, but architects later replaced it with fireproof tile fixed with an insulating air space to minimize heat.
8. Ranch style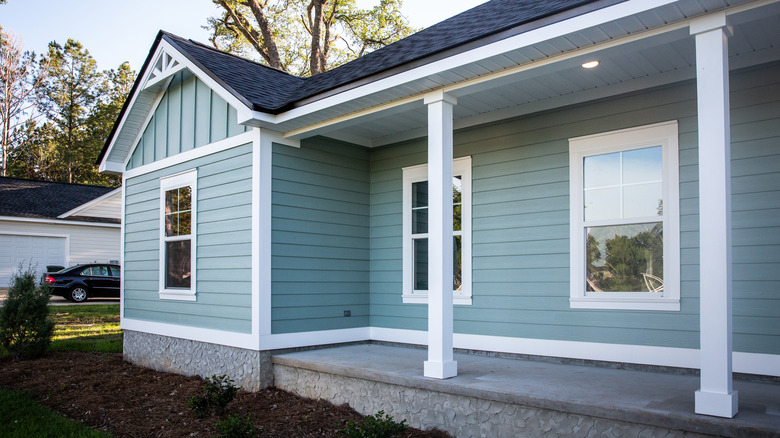 Ursula Page/Shutterstock
Ranch-style houses have a flat, usually single-story design that allows the house to expand outwards instead of upwards. These houses frequently have a basement level, but they rarely have a second or third floor. Building materials vary by architectural taste and geographic area, but the front facade of a home is usually defined by basic siding or brick.
9. Contemporary style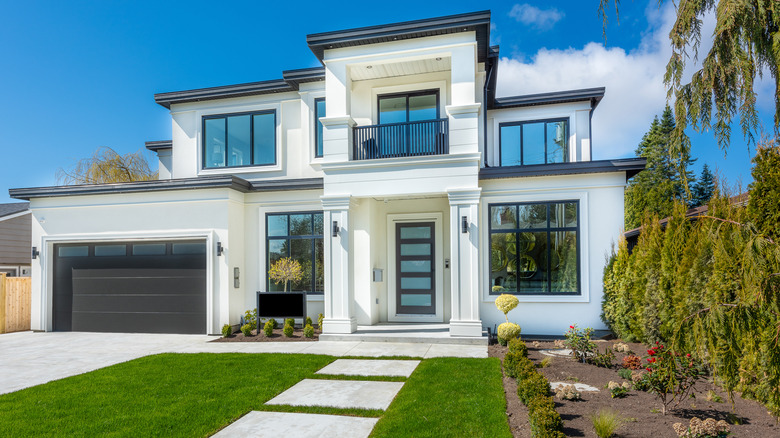 Sheila Say/Shutterstock
Contemporary-style residences were very chic between the 1960s and 1970s. This architectural style comes with large plate glass windows and metal or concrete. However, it can also be embellished with a natural appearance of wood or stones and geometrical shapes such as circles and rectangles, fusing them with other forms in a unique way.
10. Victorian style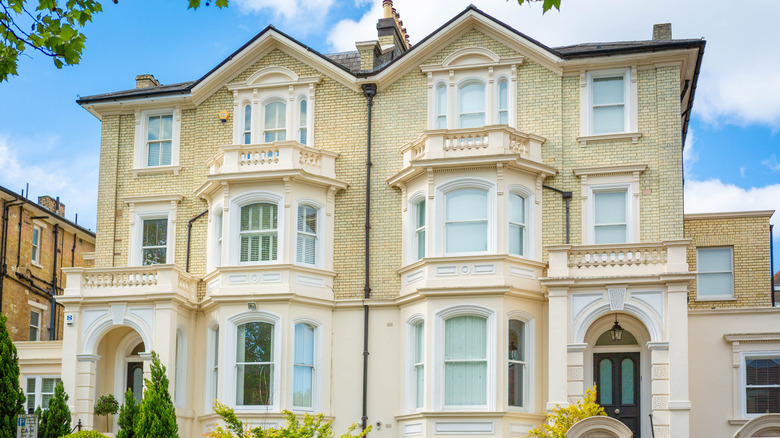 Maria Wan/Shutterstock
Victorian architecture is a classic English design style that continues to be popular in many designs today. These houses have lofty, gabled roofs and are frequently three stories tall. This architectural style is also distinguished by bay windows, surrounding porches, and colorful siding.
11. Modern style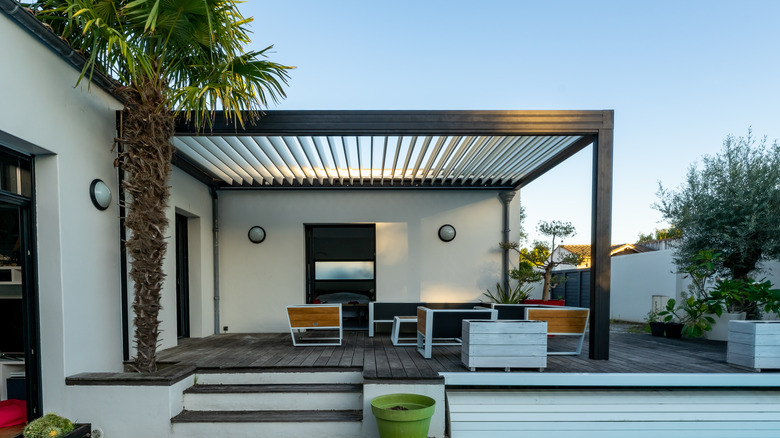 Mathilde.LR/Shutterstock
It's easy to mix up modern and contemporary residences, but the simplest method to discern the difference is to check the date of construction, with modern homes being built between the 1930s and the 1970s. Modern houses are typically minimalist in design with clean, sharp lines and few decorative elements. They're found mainly on the West Coast.
12. Shotgun style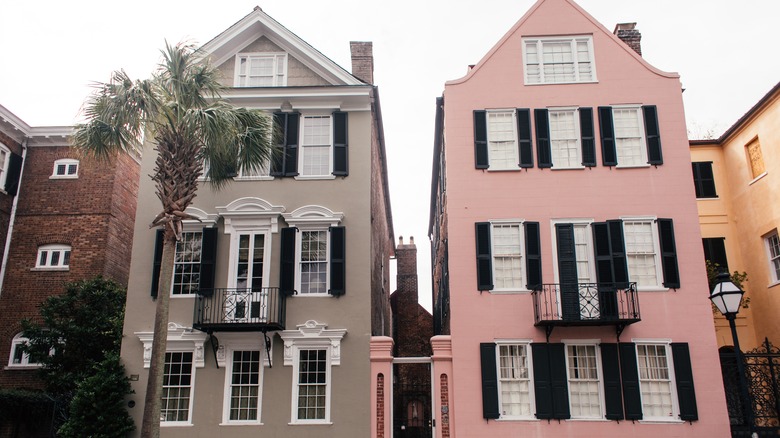 Rachel Claire/Pexels
The earliest known shotgun-style houses date back to the 1830s. The design includes a shuttered entrance and window, which may or may not have a veranda or deep overhang to provide weather protection. A front-gabled or slender roof is also typical of a Shotgun house. One room leads directly into another in these types of homes.
13. Log cabin style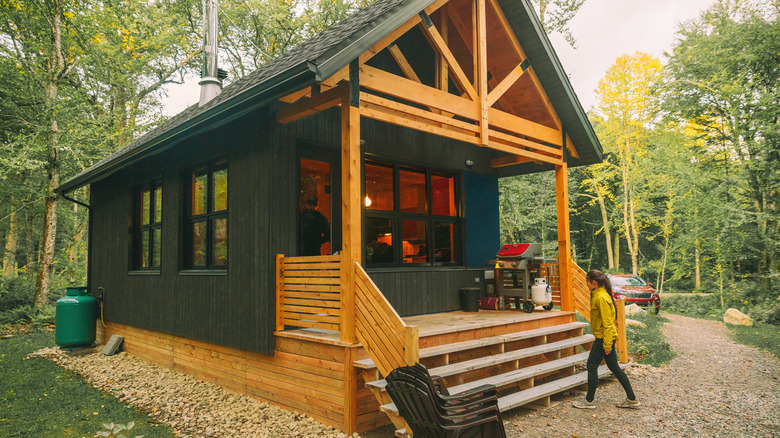 Maridav/Shutterstock
These rustic structures date back to the 1850s and come with log walls, up to three rooms, and a middle hallway in some instances. Log cabins are mainly made of wood and are widespread throughout the middle Atlantic.
14. Georgian style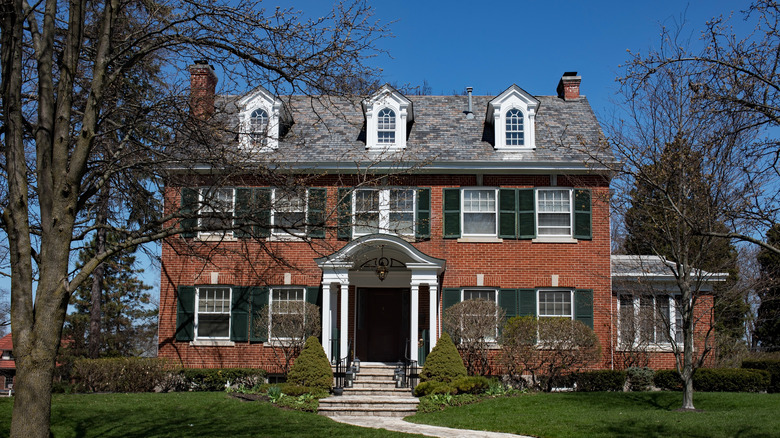 Susan Law Cain/Shutterstock
Georgian houses first appeared in the 1700s with a symmetrical façade, double-hung windows, paneled entrance with columns, transom lights, and often a pedimented crown. They are mainly crafted from bricks, clapboards, or cornices with dentil molding.
15. French country style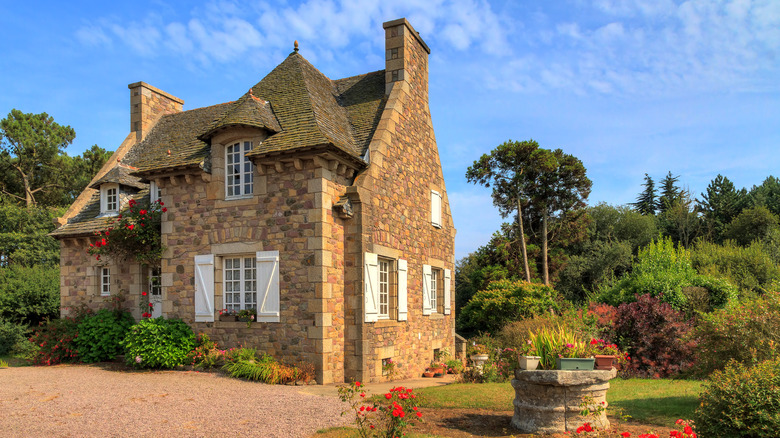 Dennis van de Water/Shutterstock
The inspiration for these country homes comes from centuries-old buildings in the French countryside. These residences offered more natural and lived-in aspects, with a natural stone façade, sloping roofs, two chimneys, and wood or marble flooring. These houses can be seen in a variety of residential areas around the U.S.
16. Barndominium style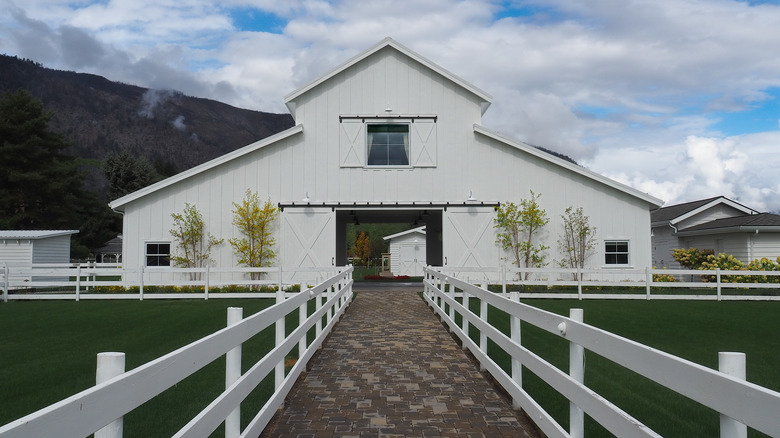 Dawn Umstot/Shutterstock
Barndominiums were structures with the layout of a barn. They take up space in the building while leaving enough room for the animals to roam freely. This architecture style appeared in Texas when owners sought to build their residences in their barns to save time running to the animals during storms.
17. English cottage style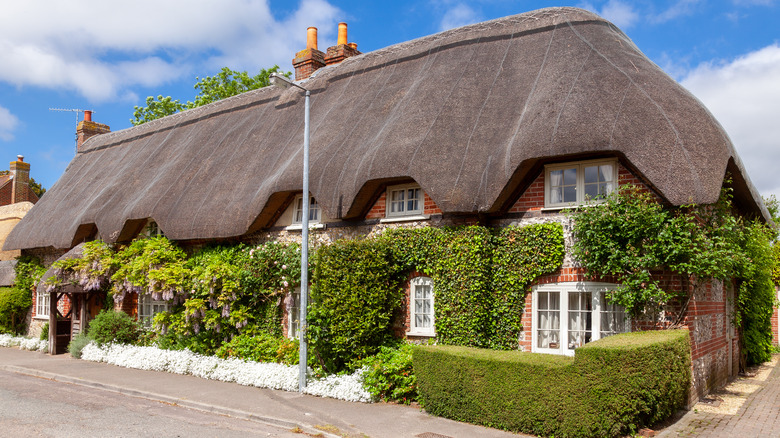 Dmitry Naumov/Shutterstock
This small dwelling is a basic house with a bottom floor and rooms that fit inside a roof space. In today's architectural era, a cottage refers to a small, cozy home that is generally constructed in rural or semi-rural settings.
18. Farmhouse style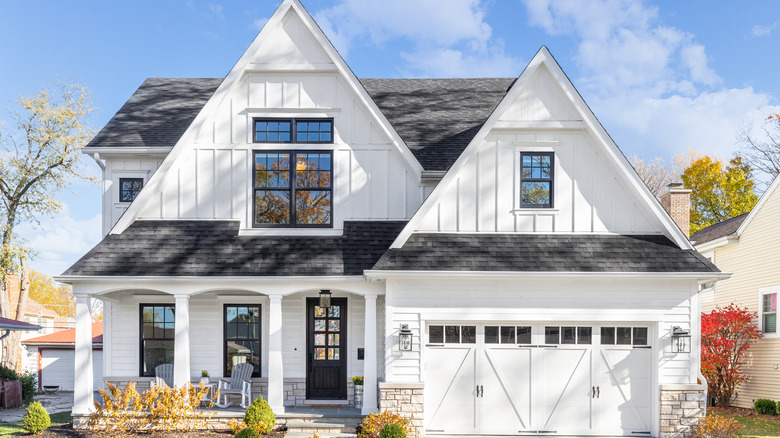 Hendrickson Photography/Shutterstock
Farmhouses are regaining popularity today. This porch, spanning over the front of the house and extending around either side or to the back, is the most popular feature of this house style. The home's roof usually is steeply pitched, extending the length of the house, and is sometimes embellished with rooflines and dormers.
19. Federal style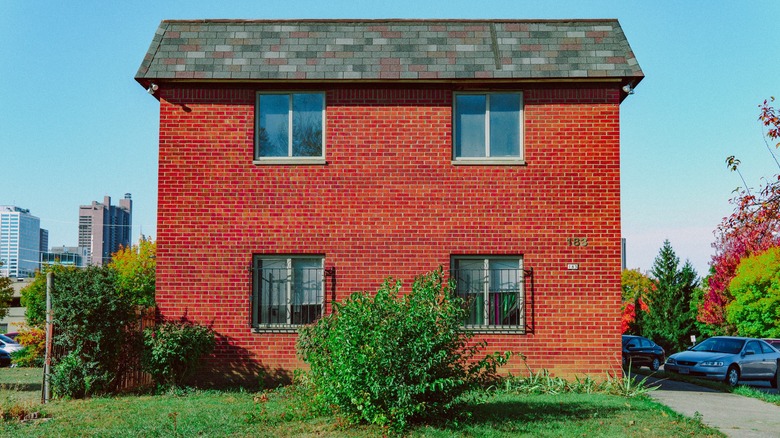 Morgan Vander Hart/Unsplash
The federal style first appeared from 1780 through 1820. It typically features a symmetrical façade, 6-over-6 double-hung windows with blinds, a paneled door with elaborate surround, a cornice with dentil molding, or other ornamentation. This style can be found in practically every region of the country.
20. Queen Anne style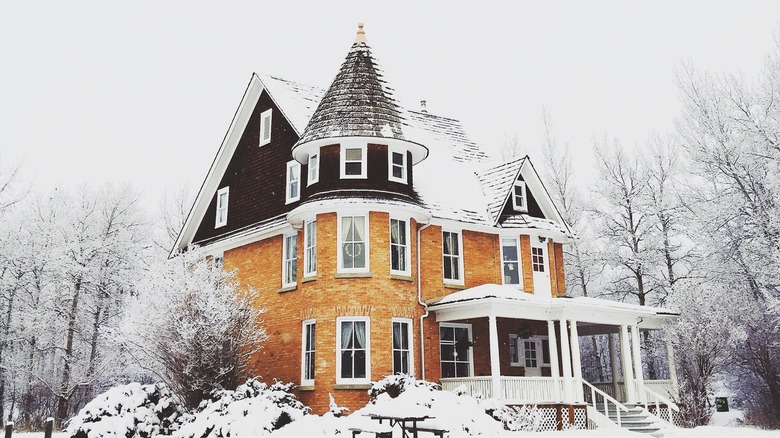 Nathan Walker/Unsplash
The Queen Anne style of architecture emerged after the Victorian era in the 1880s to the 1900s. Steep roofs, large bay windows, towers/turrets, gables, and ornate carving characterize this home style.
21. Greek revival style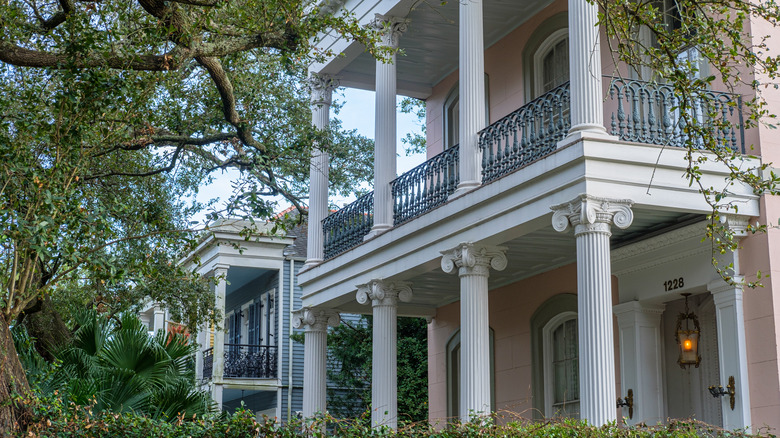 William A. Morgan/Shutterstock
The Greek revival style ranges from 1825 through 1860. Gable ends with pediments, portico or full-width veranda with classical columns, and 6-over-6 windows with ledges are distinctive features of this design type.
22. Prairie style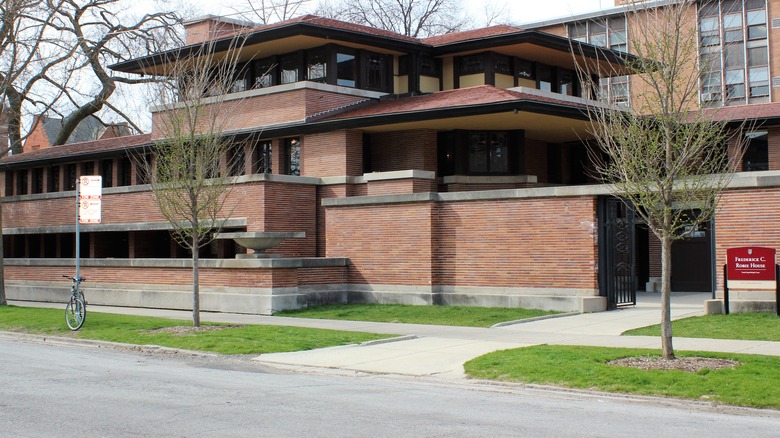 Pamela Brick/Shutterstock
Prairie-style homes are influenced by their surroundings, with an emphasize on horizontal lines instead of vertical lines. They have prominent geographical features, often with an exterior made of stucco or brick, and indoor and outdoor spaces that are well-married. The style is still recognized as a classic symbol of American architecture.
23. Tudor style
Gary Stearman/Unsplash
Tudor-style residences are easily identified by their light-colored stucco and timber features. They usually have beautiful brick detailing as well. Because the robust architecture is appropriate for cold weather, many Tudor residences can be found in northern regions.
24. Mediterranean style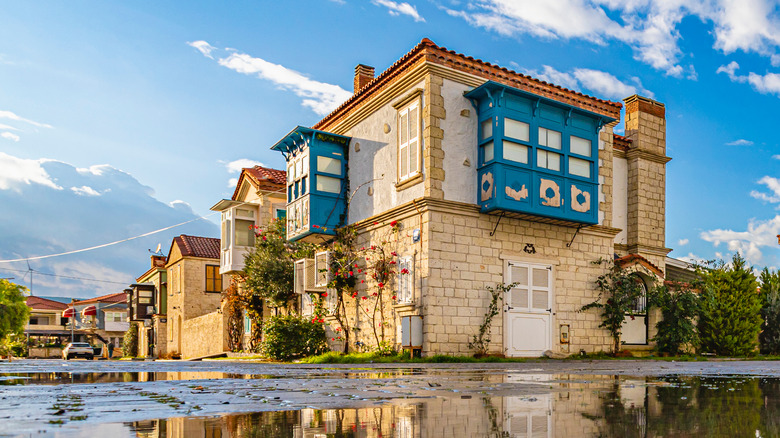 Kadagan/Shutterstock
Mediterranean homes influenced this popular American house style during the early 1900s. Warm tones, stucco facades, and stunning ornamental details blended into tile and woodwork are common features of this home style. In addition, stone, wood beams, and other natural elements are used to make the homes open and airy.
25. Florida home style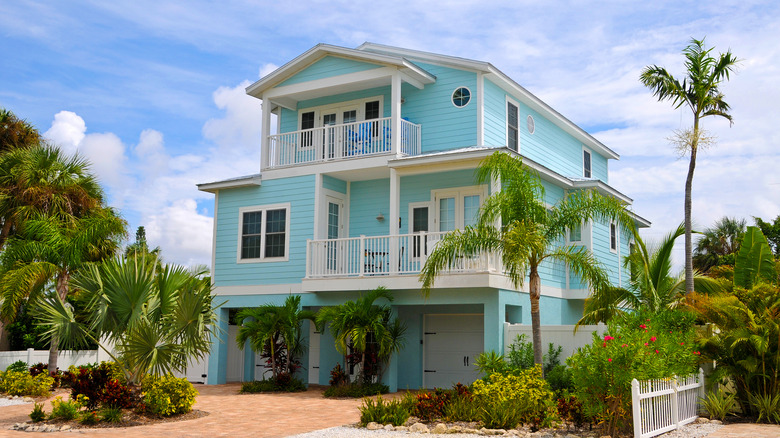 Mark Winfrey/Shutterstock
Florida architecture is a timber frame-style house popular in the sunny state throughout the 19th century and is still used as a theme reference by numerous architects today. Some typical features include metal roofs, extensive porch spaces that wrap around the house, elevated floors, and straight central passageways from the front to the back of the house.
26. Italianate style
Suzanne Tucker/Shutterstock
Italianate architecture was influenced by 16th-century Italian Renaissance architecture. A few distinctive features of this style include brick or wood clapboard exterior, two to four floors, roofs with very little pitch, and drooping eves.
27. Shingle style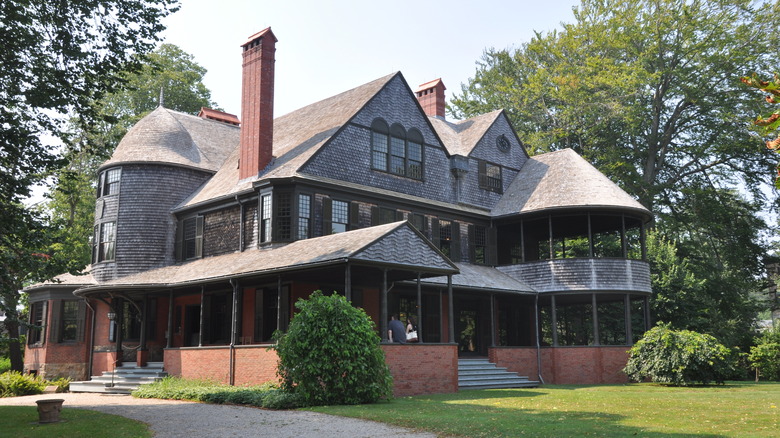 Ritu Manoj Jethani/Shutterstock
The shingle-style houses were first built in the 1880s through the 1900s. They feature wood shingles on the exterior walls and roofs, huge porches, and overlapping roofs of various shapes. Shingle houses were usually big architects' works, free-form mansions constructed into the rocks and hills of the coast, and are prevalent along the Northeast coast.
28. Antebellum style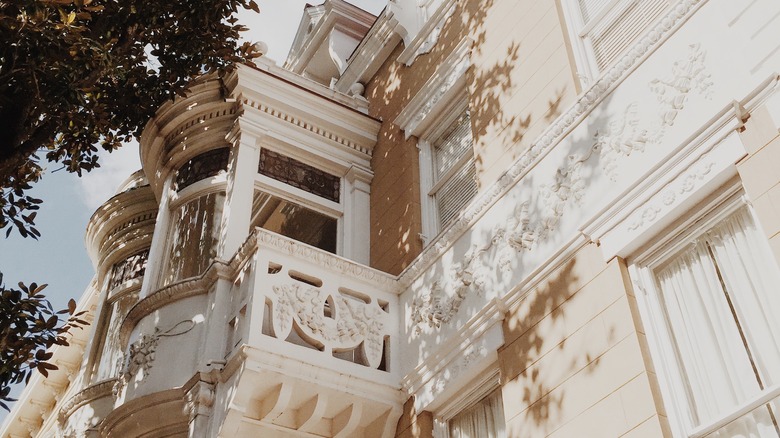 Southern architecture, often known as Antebellum architecture, features large windows and vaulted ceilings, which create a dramatic aspect while also allowing for improved air circulation. They also have enormous, covered porches that wrap around the house, staircases with twists and turns, and columns.
29. Traditional style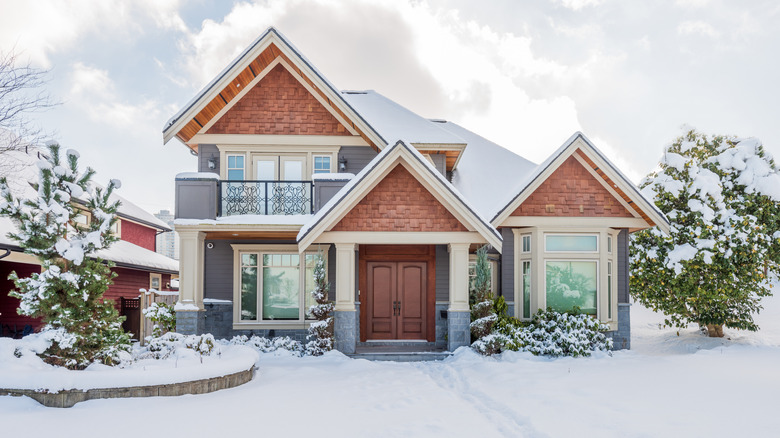 karamysh/Shutterstock
Traditional housing is often confused with the Tudor design. They have the same massive chimney and front gable. However, traditional homes are scaled back with lower roof slopes and more ornate decorations. Traditional homes are a mix of architectural types but have some characteristics all their own, such as the simplicity of a hipped roof and plaster exteriors.
30. Modernistic style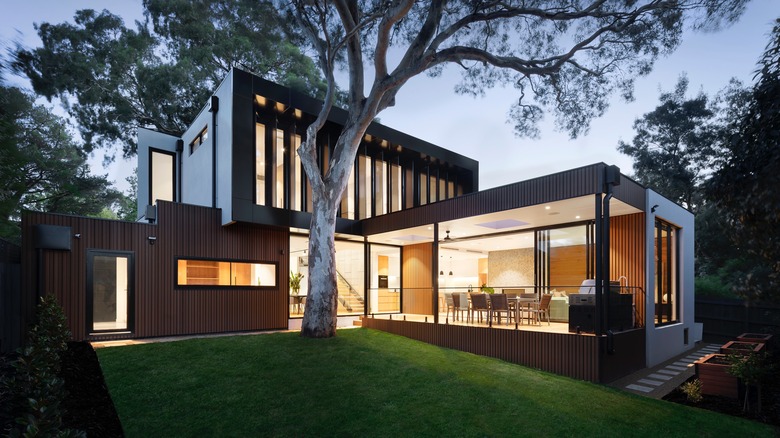 R architecture/Unsplash
These houses have flat roofs, smooth concrete façades with curved walls, horizontal lines as grooves or handrails, zigzag or geometric art deco accents, and plate-glass or glass-block windows.