30 Best Paint Colors For Small Bedrooms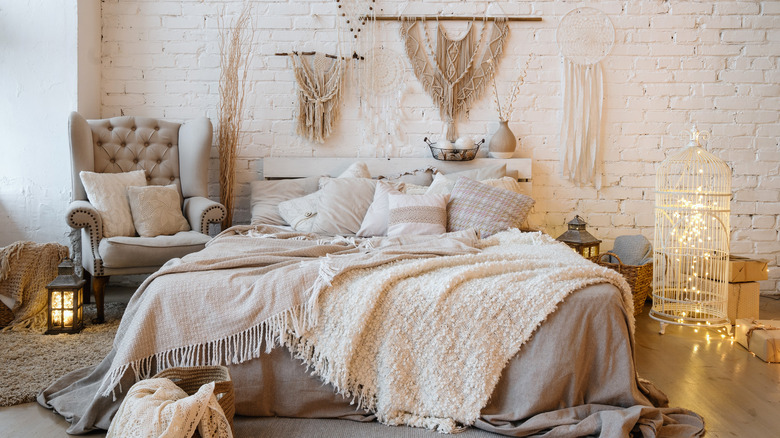 brizmaker/Shutterstock
Creating a serene bedroom environment is so important. There are plenty of ways to make the room feel so much bigger with just a few design tricks. Not only can specific paint colors affect your overall mood, but paint colors can also change how a room can look overall — even making rooms appear bigger than they actually are, which is excellent if you lack square footage.
According to Paintzen, making a room appear larger is a simple process. The company specializing in painting services suggested using the same hue on your walls and trim to make it look bigger, or consider using an accent wall. They also say not to be afraid of using color if, say, you live in a smaller city apartment and that using eye-popping colors on your bedroom walls can bring some excitement to the room. Keep scrolling to see the 30 best paint colors for small bedrooms and get inspired to make this room your favorite in your home.
1. White Paint is open and airy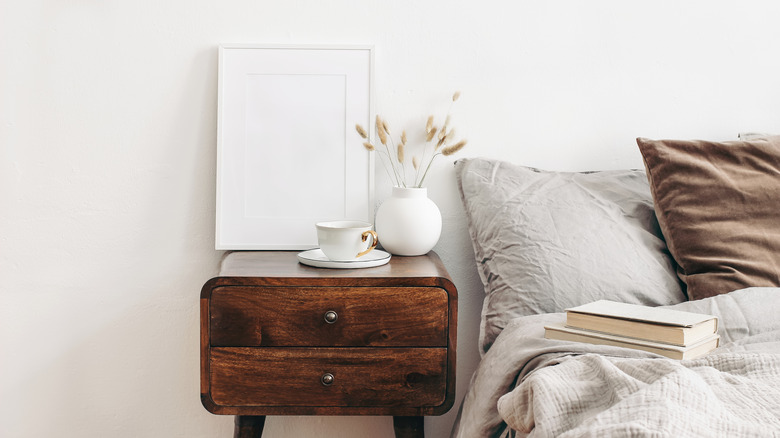 TabitaZn/Shutterstock
White paint is an excellent option for bohemian style because it can make a space feel more open and airy. Plus, the white paint can reflect and give a more open feeling if you have loads of natural light coming through your windows.
2. Blue and purple color-blocking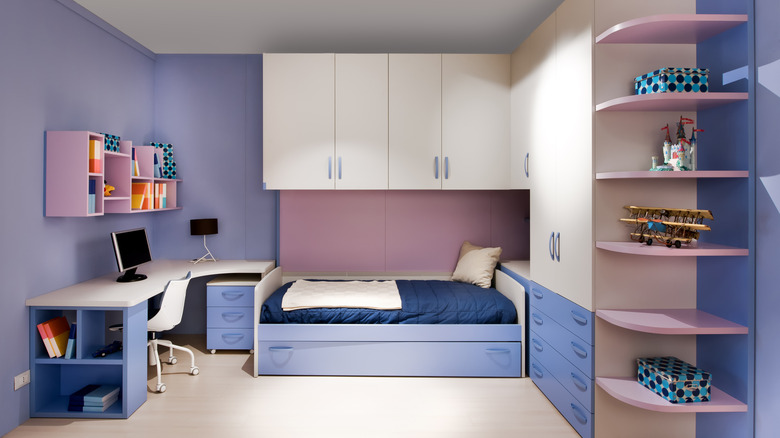 Photology1971/Shutterstock
This room may be compact, but it packs a ton of punch with color-blocking techniques using blue on the walls, desk, and bed with purple as an accent color.
3. Bright yellow is eye-popping
New Africa/Shutterstock
This kids' room is modern and cheery, with bright yellow walls that make the room appear larger.
4. Pretty in peachy pink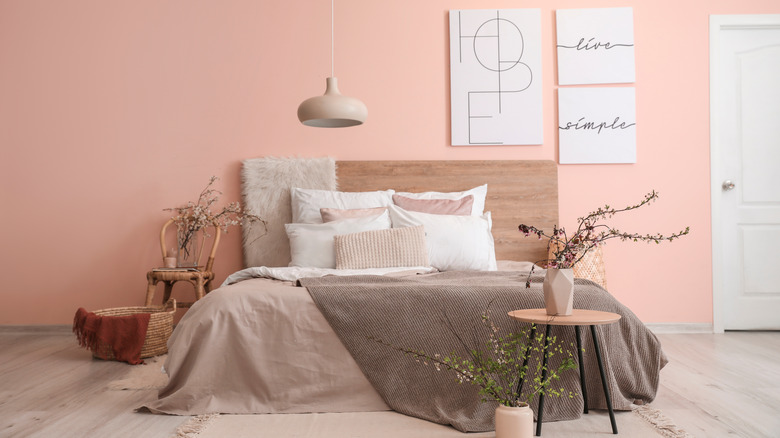 Pixel-Shot/Shutterstock
Create a calm and soothing environment for your bedroom; light peachy pink can be a great choice. It will make your room look clean, fresh, feminine, and playful.
5. A rust-orange hue is calming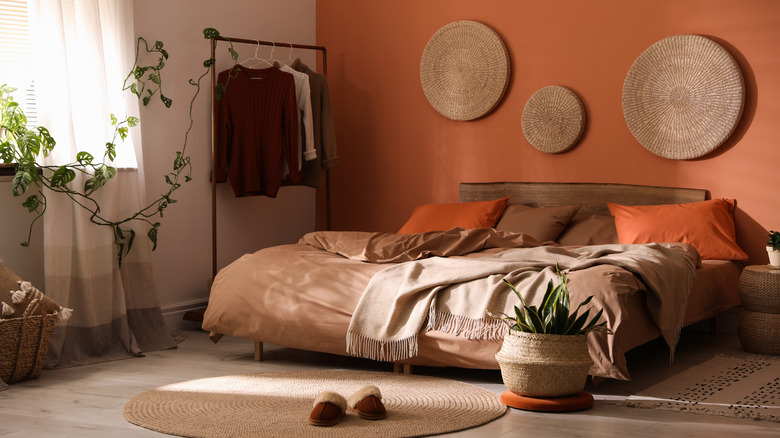 New Africa/Shutterstock
If you have a more low-key aesthetic, try a rust orange hue. This color will give your bedroom a calming vibe. It also can help you relax at night before bedtime.
6. Sage green stunner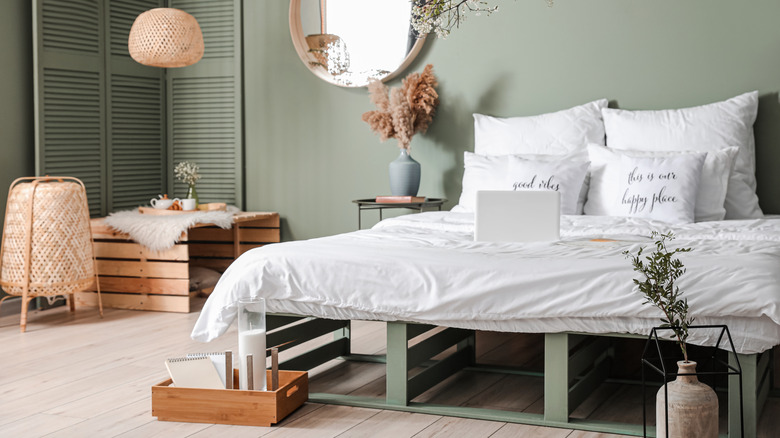 Pixel-Shot/Shutterstock
This humble-sized room is an absolute stunner with sage green walls and bed frame, mixed with plenty of natural materials from spring flowers to rattan lighting.
7. Deep greenish-blue for sophistication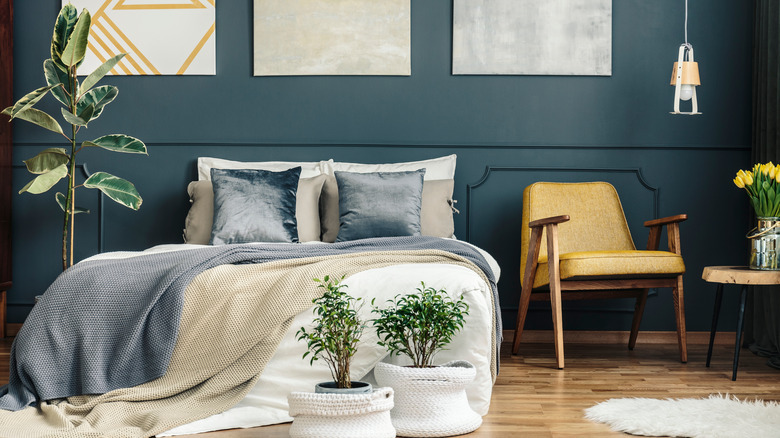 Photographee.eu/Shutterstock
Greenish-blue is a relaxing tone that creates a calm and harmonious ambiance. The color green promotes feelings of peace and relaxation and makes this small room an utter standout.
8. Dark gray boudoir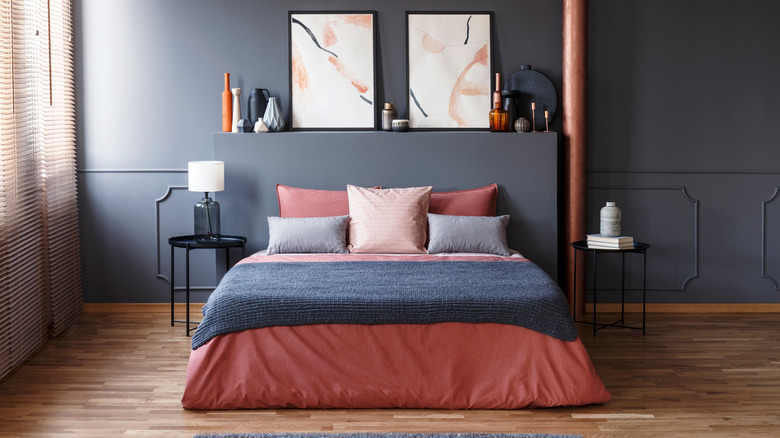 Photographee.eu/Shutterstock
One might think a darker gray color may make a room look smaller, but this deep slate hue is a sophisticated selection.
9. Serene mint green walls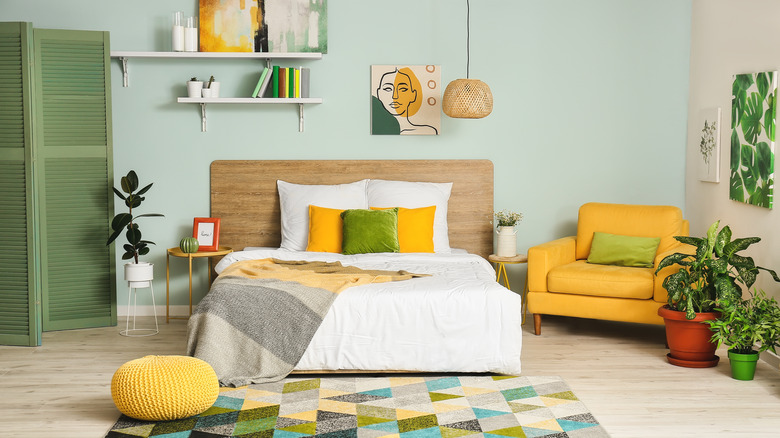 Pixel-Shot/Shutterstock
A room feels more welcoming and cheerful when painted a vibrant color, such as mint green. There's no doubt that this tiny bedroom comes alive with a bright yellow chair, pillows, and colorful artwork.
10. Lush green
Photographee.eu/Shutterstock
This beautiful green accent wall with ornate trim is totally stylish and elegant! It also reflects the leafy colors outside, which can be soothing in the evening when you're trying to wind down for bedtime.
11. A neutral retreat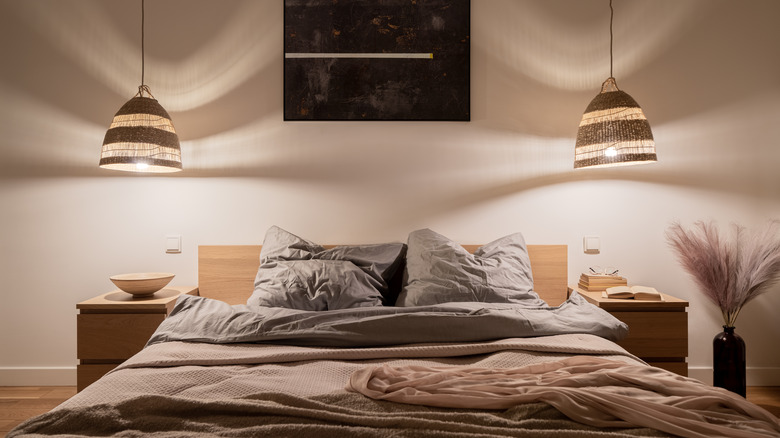 Dariusz Jarzabek/Shutterstock
This cozy bedroom design has all the comforts of home, and it looks like a place where you want to spend hours relaxing. A beautiful beige shade of paint covers the walls, and they create a lovely base for comfortable furniture such as the big bed, the rattan pendant lamps, and the wooden nightstands.
12. A classic blue accent color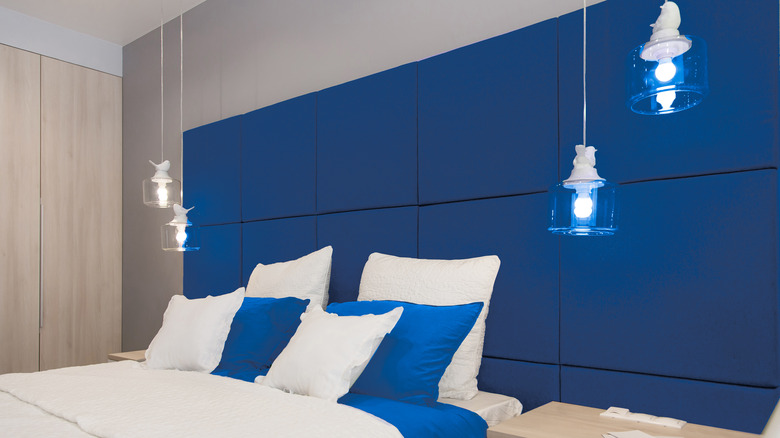 xalien/Shutterstock
This classic blue accent wall was Pantone's color of the year just a couple of years ago and is still an ideal choice today. This sophisticated and popular hue favors energy and innovation and evokes calm confidence in the space.
13. Elegant neutral bedroom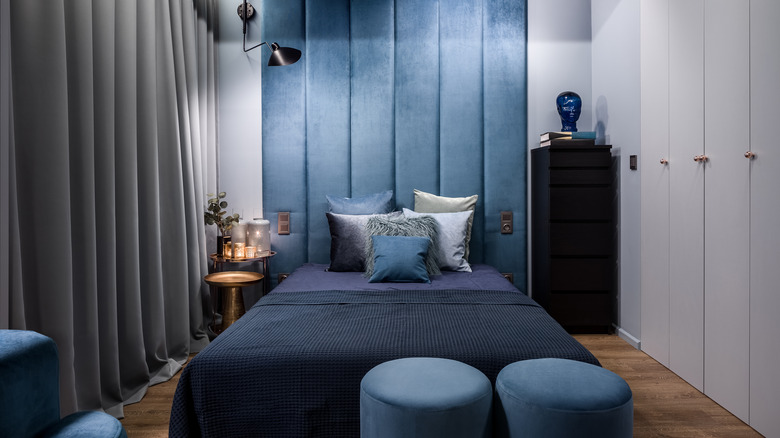 Dariusz Jarzabek/Shutterstock
This small bedroom has maximum style. The walls are painted a light neutral hue, and the light blue upholstered wall makes it a total stand-out!
14. Light teal is soothing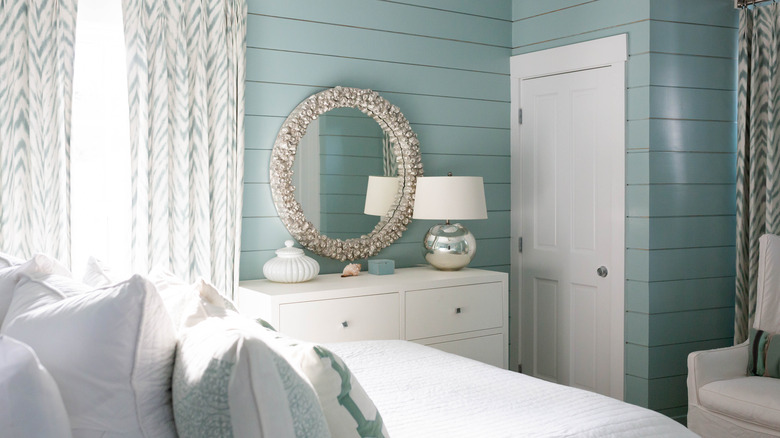 Karen Culp/Shutterstock
The bedroom in this beach house may not be massive, but it is thoroughly calming and just the right size. It has light teal walls which give the bedroom a cheerful and relaxing vibe.
15. Two-toned in blues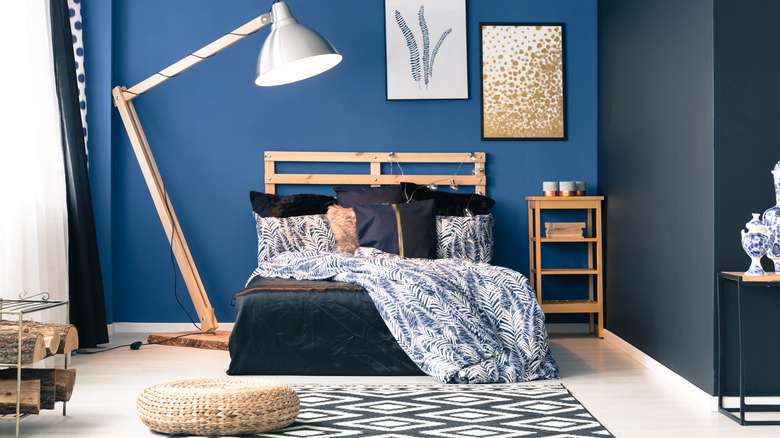 Photographee.eu/Shutterstock
This two-toned bedroom creates an exciting contrast between light and dark colors and is on-trend. The classic blue accent wall and a navy blue wall add plenty of interest to this small room.
16. Dusty pink is beautiful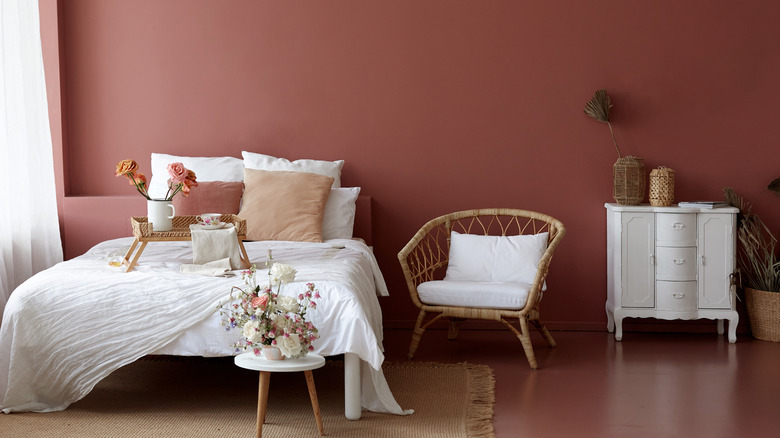 Reviaka Ina/Shutterstock
Not to fret, a small bedroom doesn't have to be boring because of the lack of space. There are many fresh colors, but dusty pink is always the winner when it comes to bedrooms – not too bright and not too dark. Adds a cozy vintage armchair and a comfy bed for the ideal sleeping space.
17. These walls are just peachy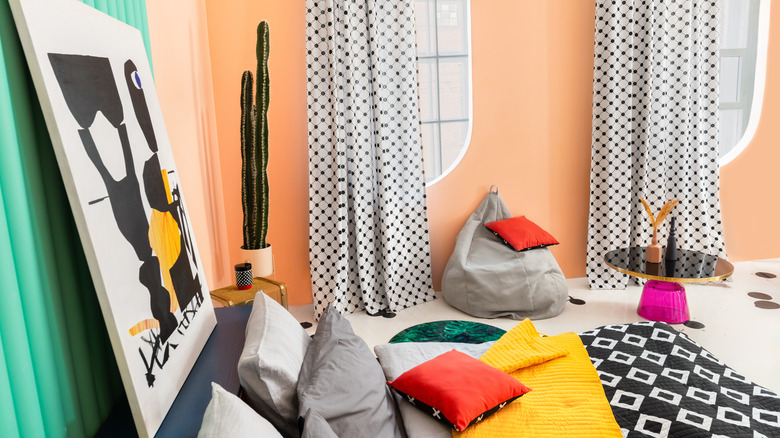 thelavrova/Shutterstock
These colorfully-painted walls are indeed a mood booster. Peach-colored walls are a perfect base for a small bedroom that is creative and full of unique patterns.
18. Two-toned pinks
Mike J. Wolfe/Shutterstock
This tiny bedroom is breathtaking, with two different colored pink paint colors used for the walls. The lower section features a brighter hue, while the top is a beautiful pale pink.
19. Let natural elements shine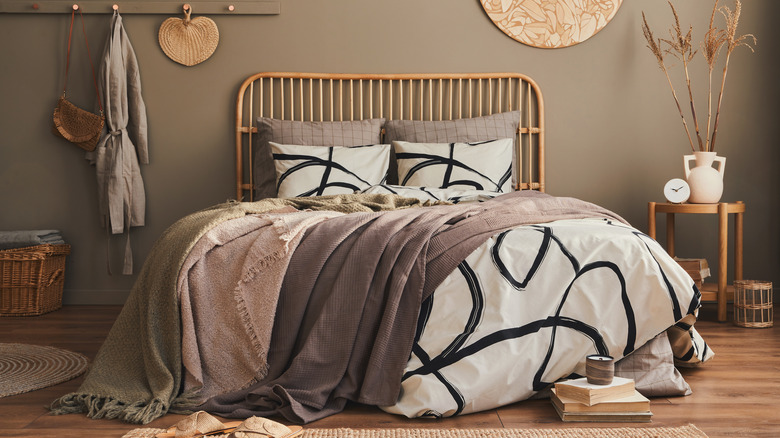 Followtheflow/Shutterstock
This bedroom interior is a perfect example of the neutral palette being balanced with natural elements. A natural wooden bed frame and unique art create the coziest atmosphere. The brown walls provide a perfect background for these elements, and there's a true sense of warmth in this space.
20. Black walls for a moodier vibe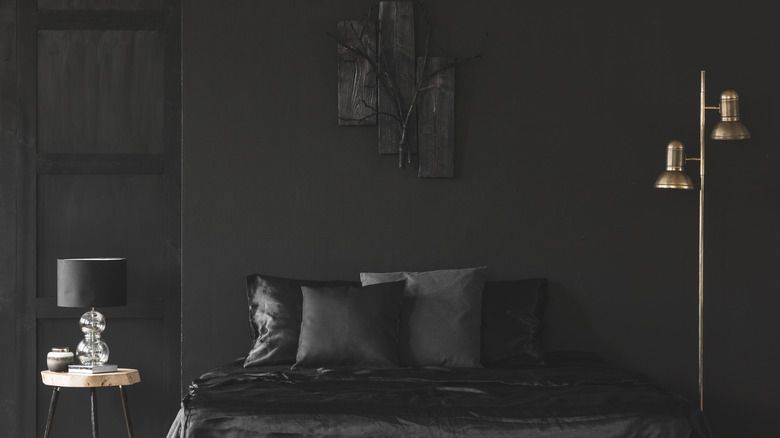 Photographee.eu/Shutterstock
Give a tiny bedroom a moodier feel by painting the walls black and adding black bedding and golden accessories.
21. Boost your accent wall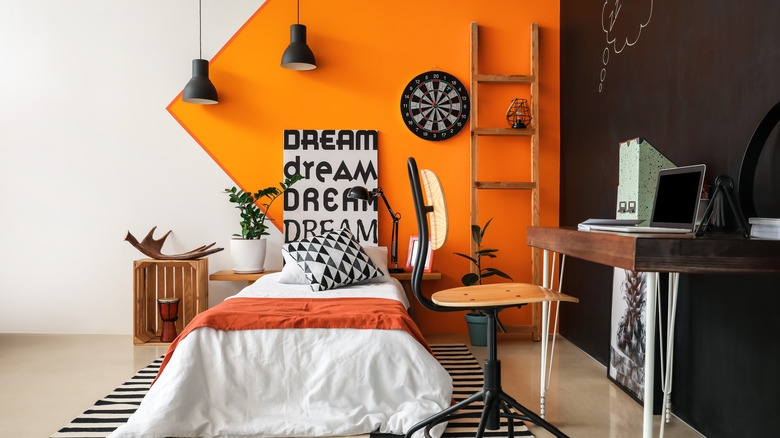 Pixel-Shot/Shutterstock
A bright orange accent wall can be the main focal point but consider a geometric shape. It pairs nicely with the black wall and unique accessories.
22. Burgundy walls and gold accents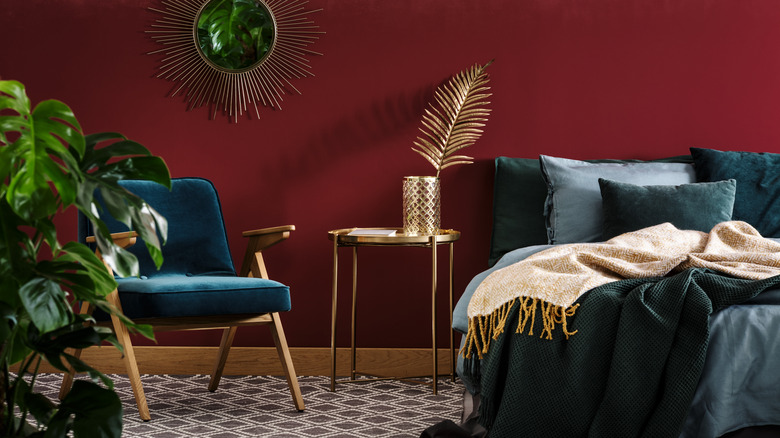 Photographee.eu/Shutterstock
This room's burgundy paint color complements the gorgeous gold accents in the best way possible. The luxurious soft green velvety bedding and a chair add an elegant touch to this sophisticated bedroom's interior design!
23. Light pink oasis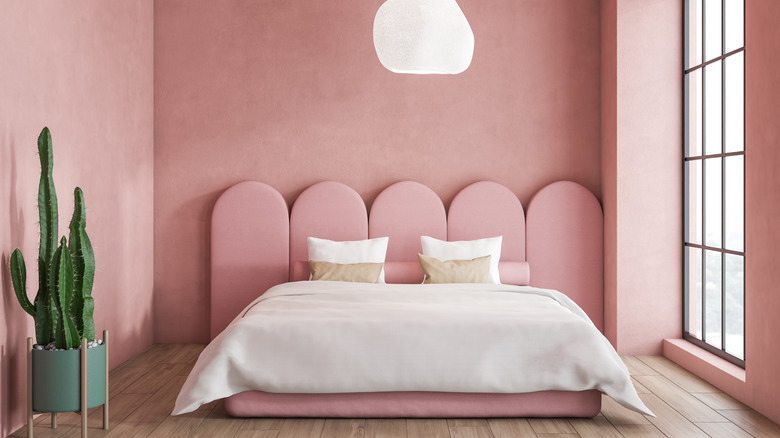 ImageFlow/Shutterstock
Painting the walls light pink is one of the best solutions to create a calming environment, especially in a smaller minimalist room. We can't get enough of that unique headboard in the same light pink hue!
24. Statement ombre blue walls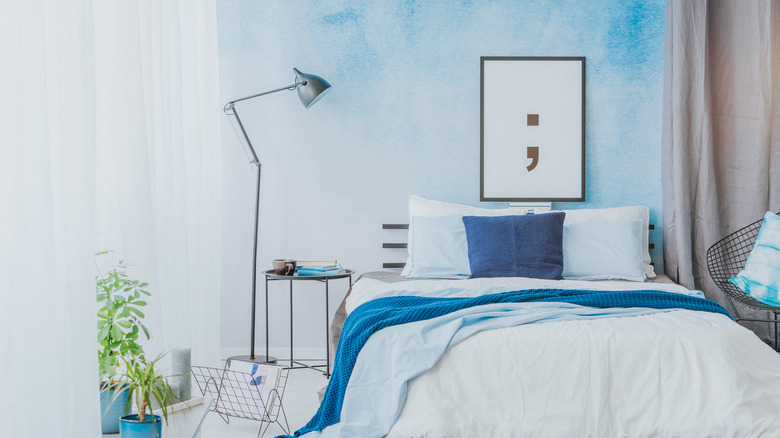 Photographee.eu/Shutterstock
To create a comfortable and romantic room, consider painting your walls with a blue ombre effect. Not to mention, it also happens to be highly creative!
25. Lime green attic bedroom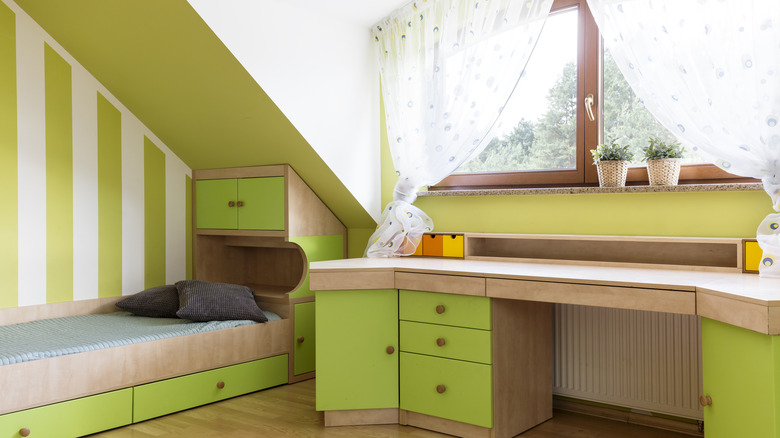 Photographee.eu/Shutterstock
This small attic bedroom uses every square nook of space and is brought to life with an eclectic lime green paint job we love!
26. Neutral tones are beautiful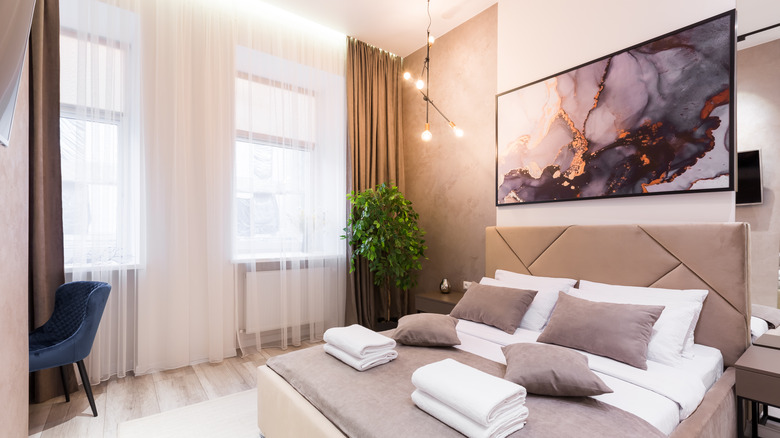 voronaman/Shutterstock
This modern retreat with stunning art makes us feel like a hotel room. Homeowners went for a crisp white paint color above the bed, while an accent wall in tan matches the headboard and ties the room together.
27. An amethyst-esque purple wall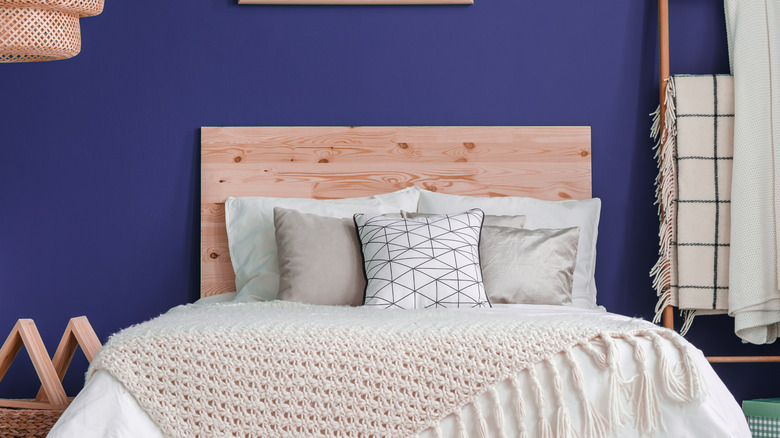 Photographee.eu/Shutterstock
This humble bedroom looks iconic in a purple hue that resembles amethyst. Geometric art in white and black and light bedding finishes off the look!
28. Emerald green walls that amaze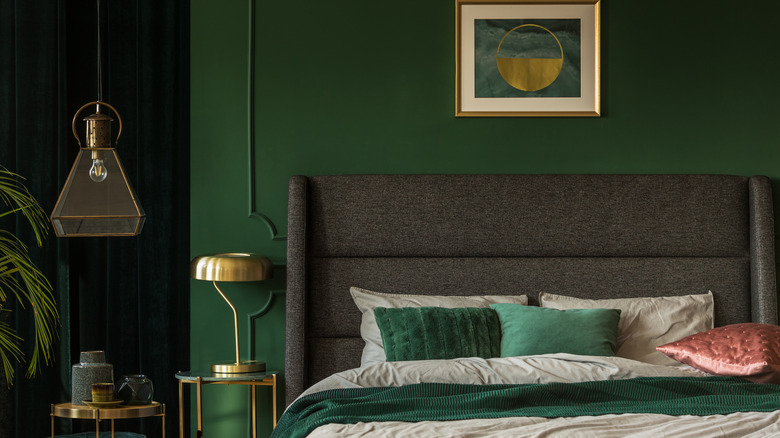 Photographee.eu/Shutterstock
These emerald green walls are simply stunning and make a smaller bedroom ultra-luxurious and definitely not dull!
29. Teal walls are delightful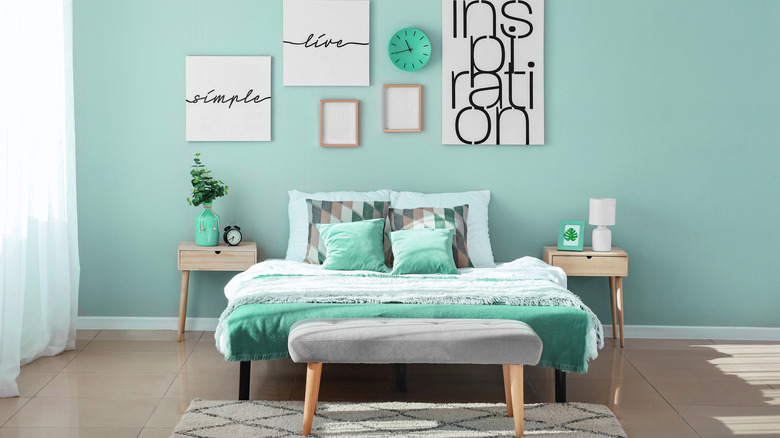 Pixel-Shot/Shutterstock
Teal walls are not just for living rooms – they work exceptionally well in bedrooms too! If you have a small bedroom, using teal on all or a part of your wall will make it look more spacious! This color choice will make your space feel cozy and warm on a chilly winter day.
30. A mountainous retreat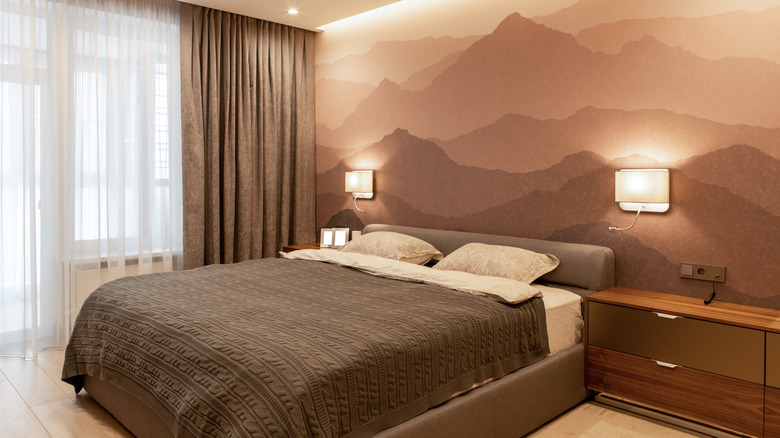 AllUneed/Shutterstock