20 Ways To Decorate With Millennial Pink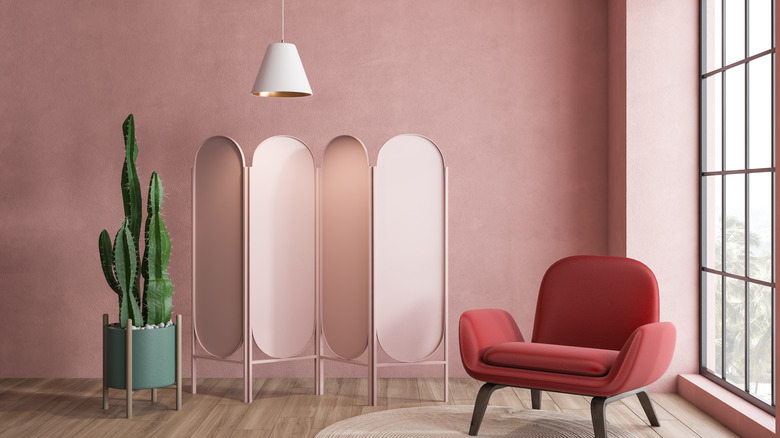 ImageFlow/Shutterstock
It's gentle and serene, and it's here to stay. "Millennial pink" is a blush-toned color that has captured the hearts of trendsetters and homebuyers all over the country. Since its debut as one of Pantone's Colors of the Year in 2016, millennial pink — also known as pastel pink, blush pink, or bubblegum pink — has reached peak levels of popularity, probably because of the calmness it emanates, Mental Floss writes. It's been dubbed the "new neutral" since it goes with every color, from navy to tan, black to white. Millennial pink can be used in large doses on walls or in small amounts in household goods and accessories.
While millennial pink goes well with a variety of other colors, gray is the most popular complementary hue for a really classy, sophisticated space. For a more vibrant and bright room, try matching it with sage greens, muted blues, or just additional shades of pink. The irresistible color isn't just for hip lofts with exposed brick walls; everyone can incorporate this soothing color into their home with the right combination. Here's how to use millennial pink in your home without making it seem like flowery '80s house décor.
1. Get it on the wall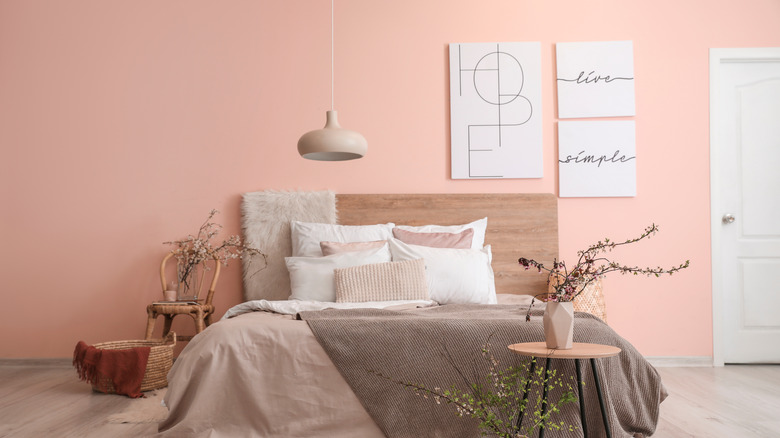 Pixel-Shot/Shutterstock
Millennial pink will give your space a base for your interior style. A softer color version with rusty-brown overtones will make a dark place feel cozier, but a soft millennial pink with gray undertones would make your space feel colder or lighter, depending on how much natural light gets into the room.
2. Embrace how opposites attract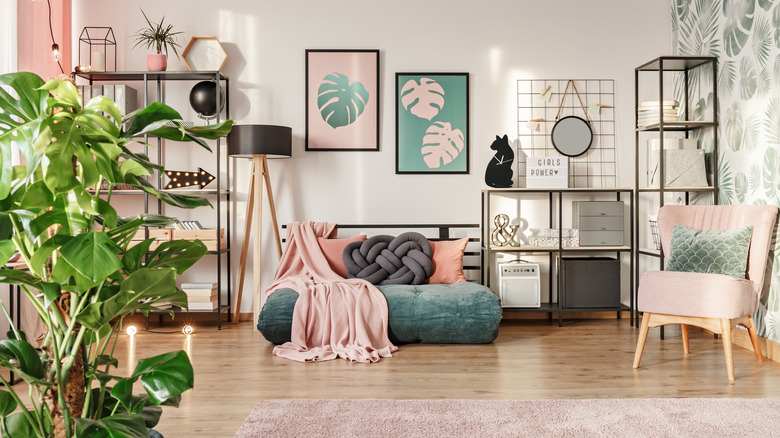 Photographee.eu/Shutterstock
If you want to make a statement with millennial pink, checking the color wheel is a brilliant idea. Green is directly opposite pink, and when these two colors are combined, it's a perfect match as it creates a lovely contrast that is exceptionally comfortable to live with.
3. Go for millennial pink bedding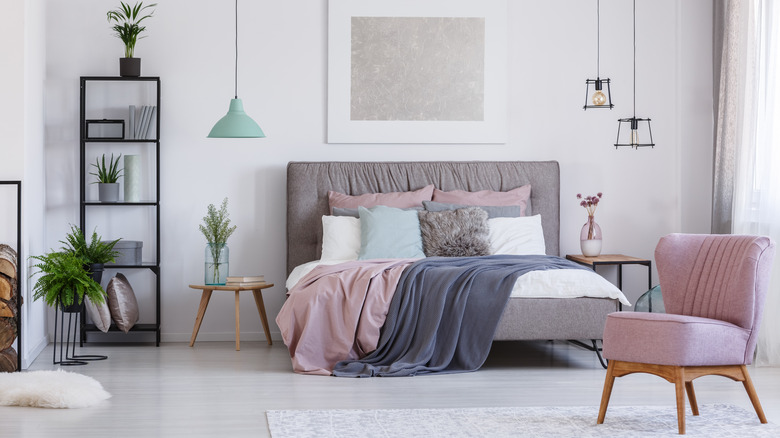 Photographee.eu/Shutterstock
If you're hesitant to include millennial pink into your home by painting or wallpapering a wall, try adding a few pink scatter cushions to your bed instead. Also, consider getting pink bedding to give a splash of color to the space.
4. Keep it calm with neutrals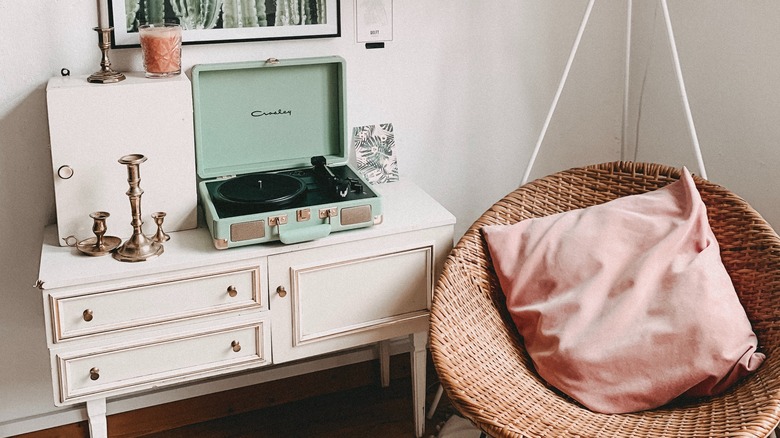 Alyssa Strohmann/Unsplash
If you want to create an even more relaxing atmosphere, use neutral hues as a backdrop and blush pink as an accent color, whether in the kitchen or the living room. Earthy, neutral tones combined with millennial pink create a calm, spa-like room.
5. A pink accent chair for a vibrant interior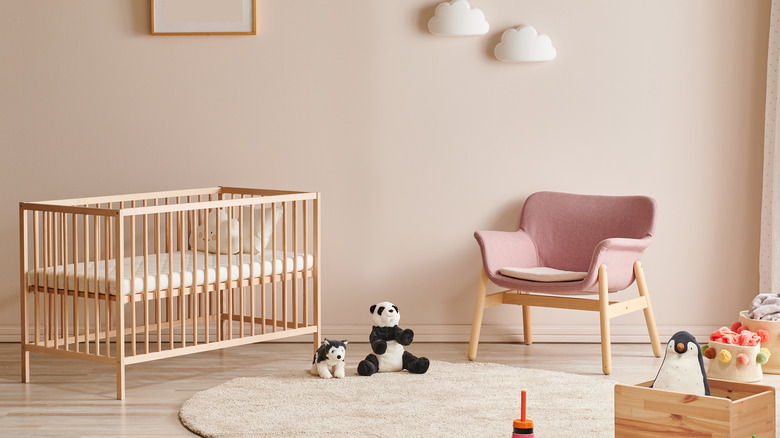 united photo studio/Shutterstock
A blush accent chair in your entryway or living room is a gentle way to bring some softness to your home. Choose a velvet chair to keep everything looking luxurious and classy, instead of, you know, preteen.
6. Pink fixtures are on trend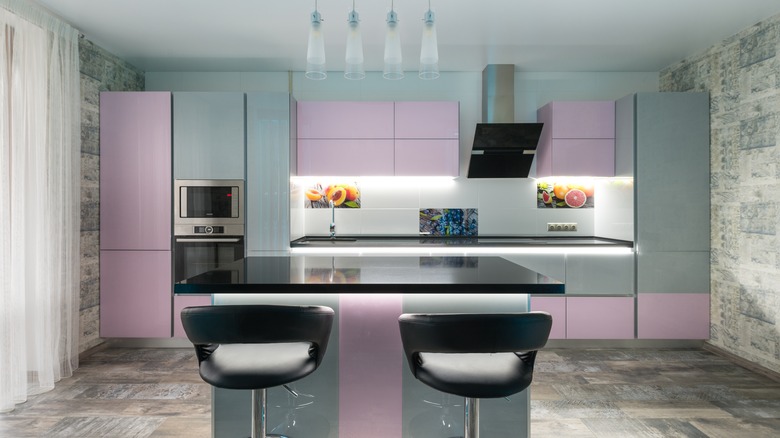 Max Vakhtbovych/Pexels
If you want to keep it discreet, a pop of pink is easy to incorporate. Consider a dramatic night lamp with a pinkish base or a velour bubblegum pink bedroom chair. Of course, this color splash will be much smoother if your room, walls, and overall décor are beige.
7. Turn up your textures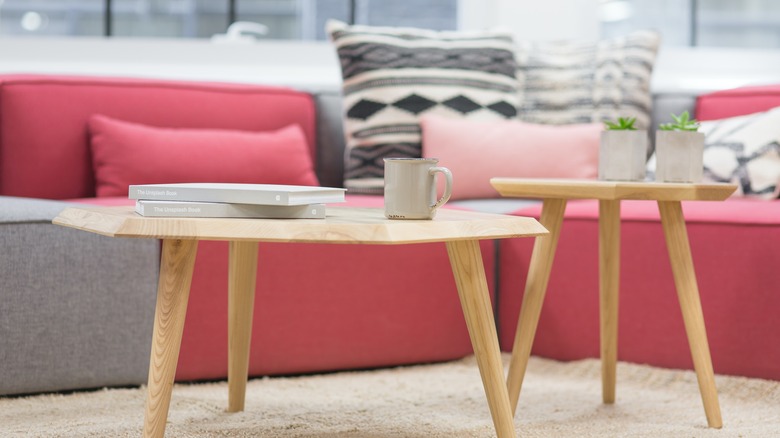 Sophia Baboolal/Unsplash
If you're worried that millennial pink is too childish for you, upping the ante with textures is a surefire method to get a more mature and luxurious look. Layered-up textures add depth and complexity to any home, from exposed timbers to wool throws, jute rugs, and boucle cushions.
8. Follow the sun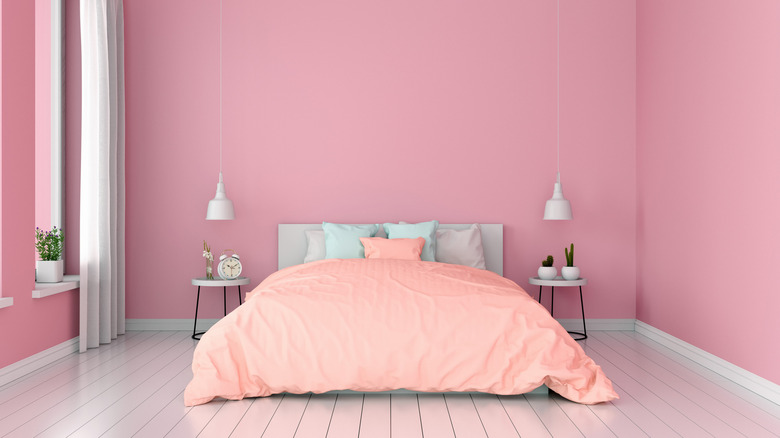 wuttichaijangrab/iStock
When picking specific colors, keep in mind where your room is located regarding the sun. For example, if it's facing the south, a millennial pink color will offer warmth while looking clean and elegant.
9. Go bold with a neon sign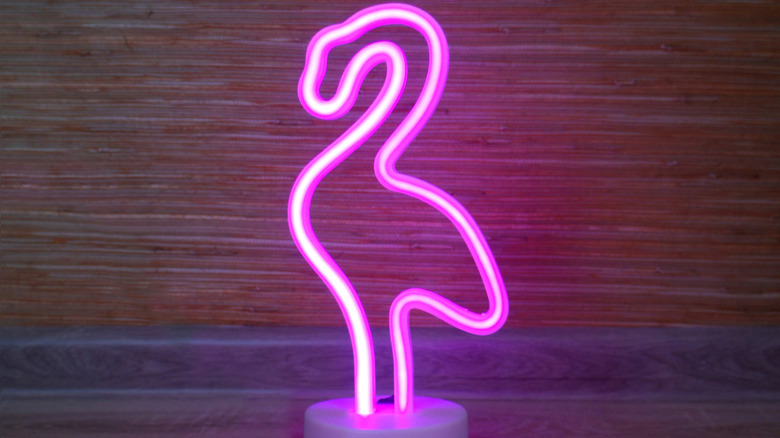 yuliash/iStock
Some may think it's a little overboard, but if you really want to go big, why not add a splash of drama by hanging a neon sign board above your bed, on the nightstand, or on one of the walls? This fad can act as a fantastic piece of art.
10. Decorate with pink accessories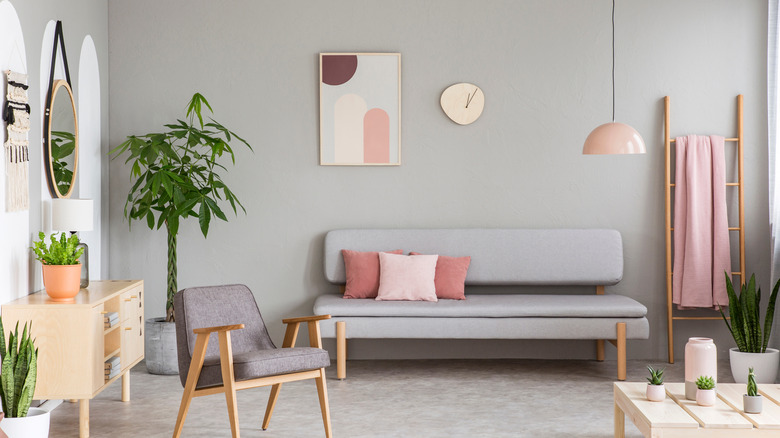 Photographee.eu/Shutterstock
Because millennial pink is so popular right now, you'll find it at almost every household and interiors store. However, if you don't want to go full out with millennial pink walls, add some pink-inspired flowers, vases, ornaments, or photo frames to get in on the trend.
11. Combine light and dark hues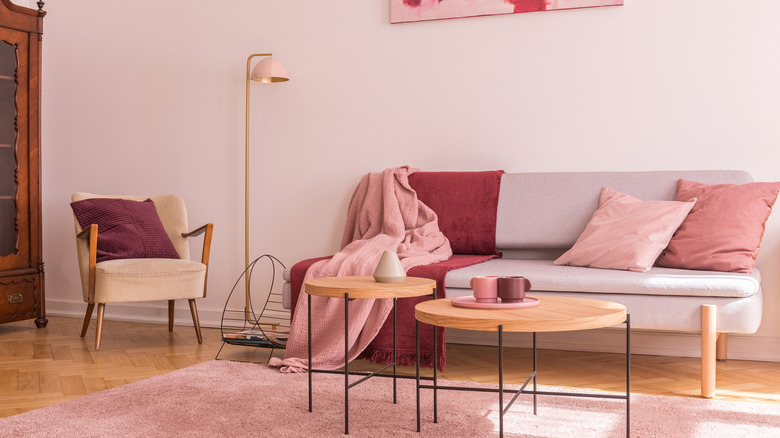 KatarzynaBialasiewicz/iStock
There's a narrow line between using millennial pink to decorate a home and using too-sweet pastels. Instead, incorporate accents of dark colors into your pink palette to make it elegant. A few pink throw pillows in lighter and darker hues or little bookshelf accents should suffice.
12. Get an art gallery going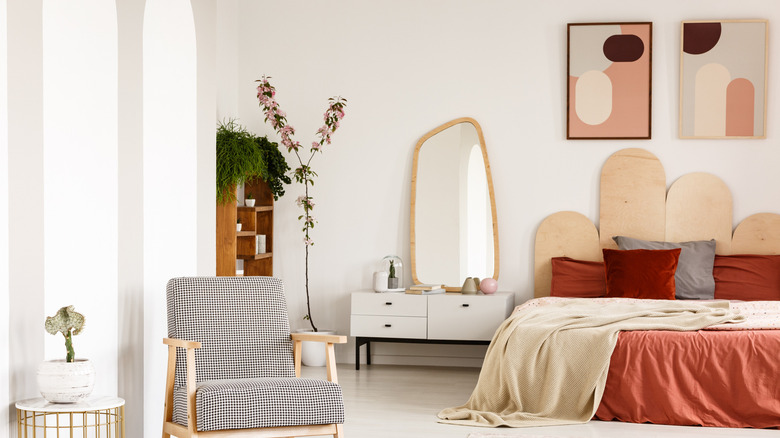 KatarzynaBialasiewicz/iStock
If you're all for creativity, why not try your hand at a pink watercolor painting? The correct color balance is achieved with sparks of blue and fuchsia. Then, remove the hammer and nails for a more modern look and lean the artwork against a wall.
13. Go luxurious with an deep emerald green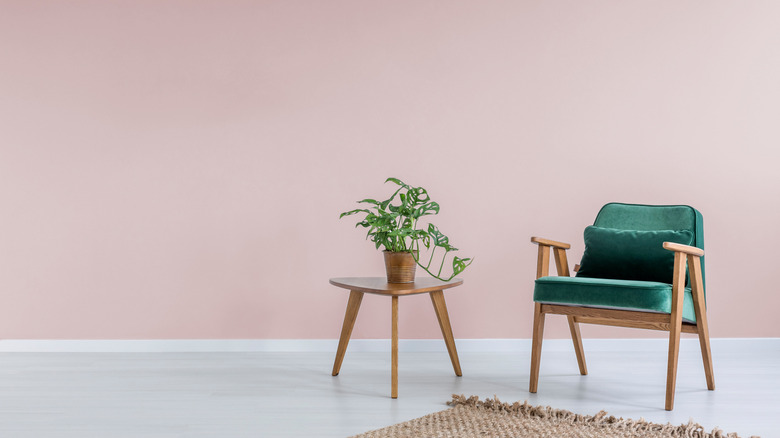 KatarzynaBialasiewicz/iStock
Again, green goes incredibly well with millennial pink. Whether you're into houseplants, tabletop cacti, or floral textiles, natural green shades suit a delicate pink palette. But if you are going for a stronger but sophisticated and luxurious aesthetic, get an emerald green chair or sofa.
14. Unique decorative pillows for the win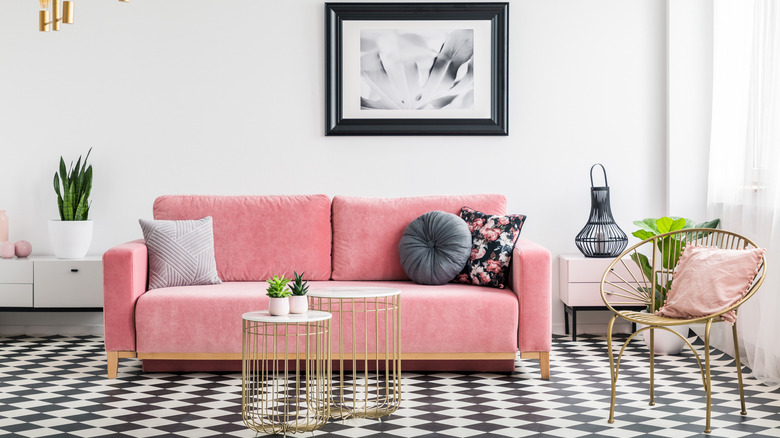 KatarzynaBialasiewicz/iStock
Decorative pillows are an example of an underappreciated home design item that has a significant impact on your room without costing you time or effort. For example, a rosy-hued fake fur pillow will bring a hint of millennial pink to your lounge room without forcing you to change your entire color palette.
15. Bring a splash of modern into the game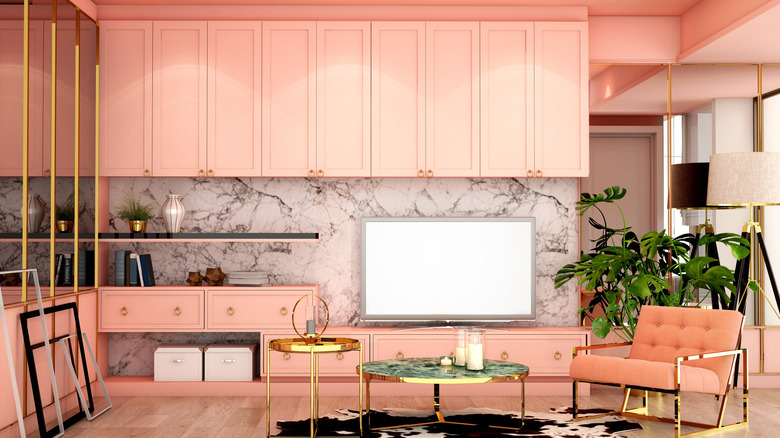 ume illus/iStock
Embrace a modern aesthetic by pairing millennial pink cabinets with brass furniture and marbled backsplash. Add a plant or two for that pleasing color contrast, and you have a modern masterpiece.
16. Go even pinker with blush curtains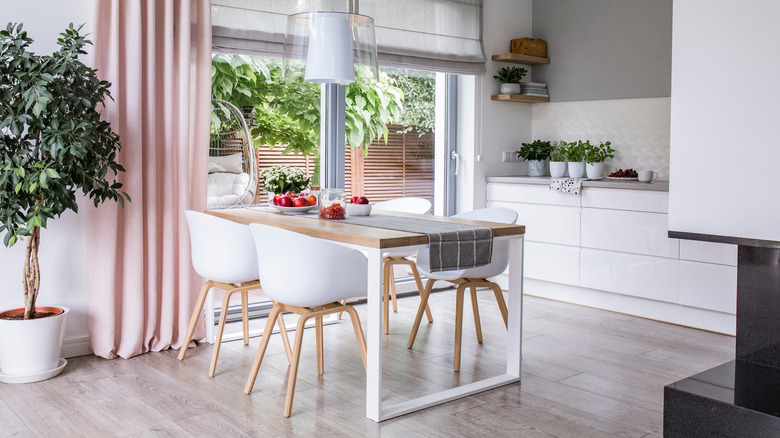 Photographee.eu/Shutterstock
If you have a neutral living room or bedroom that needs a little freshening up, some light pink window drapes are a great way to go. They will add an airy feel to the room without creating a suffocating atmosphere.
17. Pair with black for a more mature look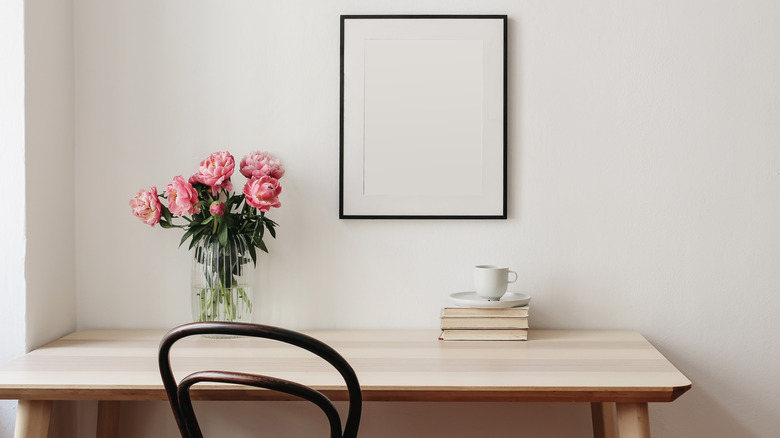 TabitaZn/Shutterstock
A simple way to make a pink room feel more mature is to balance out the sweetness with black. In this room, the black picture frame and chair contrast nicely with the millennial pink flowers.
18. Layer-up different pink shades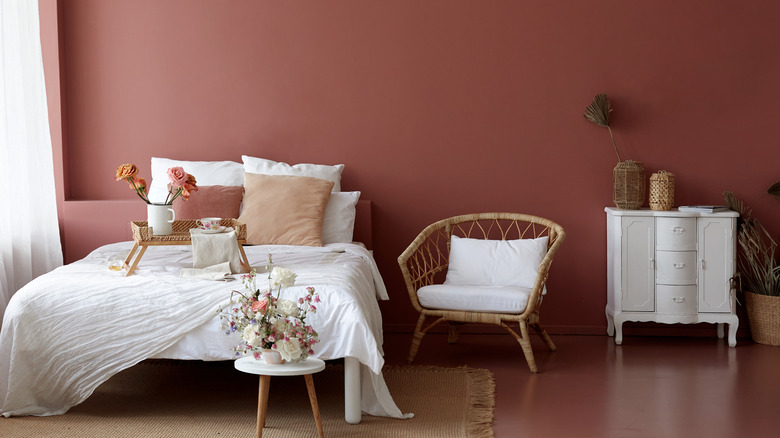 Reviaka Ina/Shutterstock
Pink on pink is a winning combination. A monotone pink bedroom scheme can produce an exquisite atmosphere that feels snug and inviting. And to create a subtle contrast, pair pink walls with a contrasting shade of pink on the woodwork.
19. Go soft with a boho style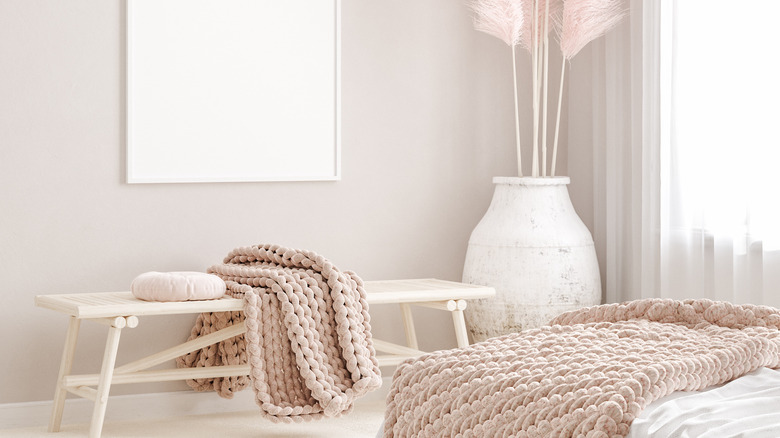 Artjafara/iStock
Earthier colors offer a mellow glow to all those faint pink hues when paired with whites and grays. Adding some pink to your present style is as simple as laying down an area rug and switching out a few cushions, and for a fashionable boho edge, bring in some rattan pieces and patterned bed linen.
20. Give it a rustic touch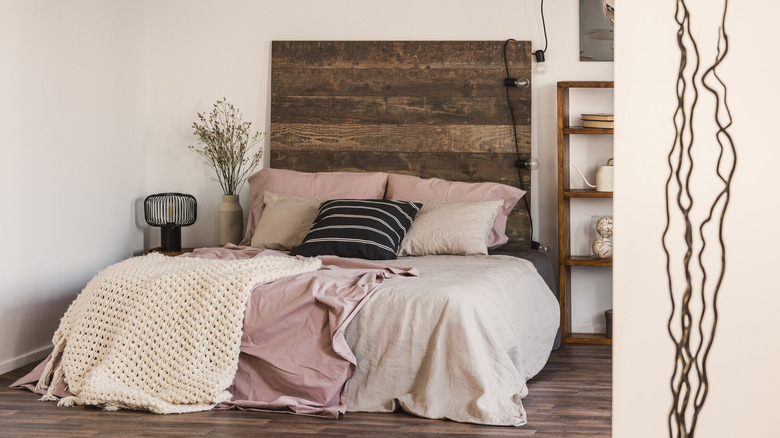 KatarzynaBialasiewicz/iStock
A wooden headboard will transform any bedroom, but it gives it a new kind of depth when paired with millennial pink. For a more casual, laid-back aesthetic, combine a pink bedroom color scheme with great natural textures and soft textiles.