30 Ideas For Your Patio Pavement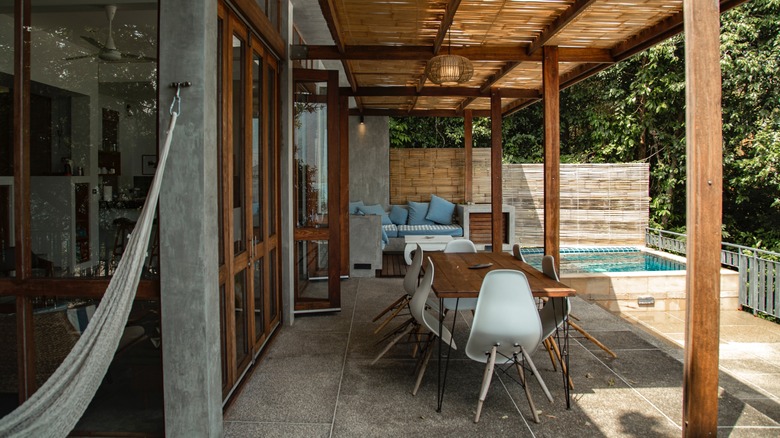 Milada Vigerova/Pexels
People are constantly looking for innovative methods to make their outside spaces more appealing; however, a patio pavement project is one of the most cost-effective and time-consuming revamps you can undertake. On the other hand, paver patio ideas can transform your yard into a work of art by increasing the visual value of your home, as Flooring Inc mentioned. This is because pavers make a lovely backdrop for gardening, grilling, or simply relaxing with the family while reading a book.
You may know you want a patio but aren't sure how you want it to look. Perhaps the only thing you do know is that you don't want it to be the same as everyone else's. Using different paver patterns is one method to create a one-of-a-kind patio design. Even a rather average paver can be made to look amazing by the way it's set out. You might be shocked to learn how many variants there are when it comes to patio layouts. Depending on your wishes and needs, you can create a patio design that is truly one-of-a-kind. To get you started, here are some various paver patio ideas.
1. Rugged natural rock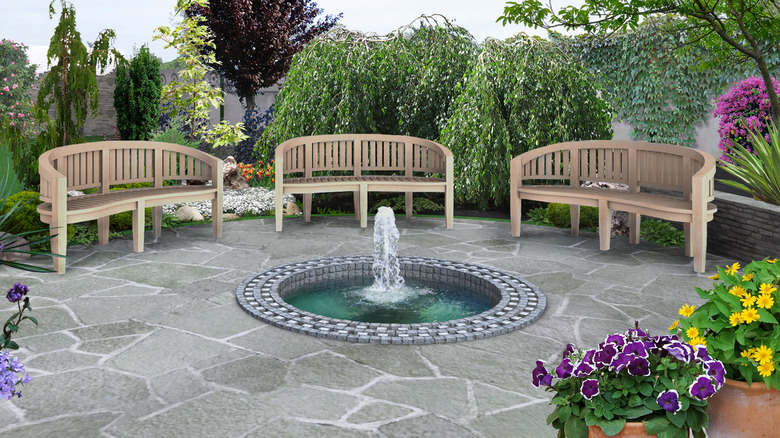 ThreeDiCube/iStock
A more natural stone, combined with some sand gap filler, can create a fantastic beach image. With various patterns and sizes, rough, natural-looking pavers create a distinct aesthetic.
2. Free flowing design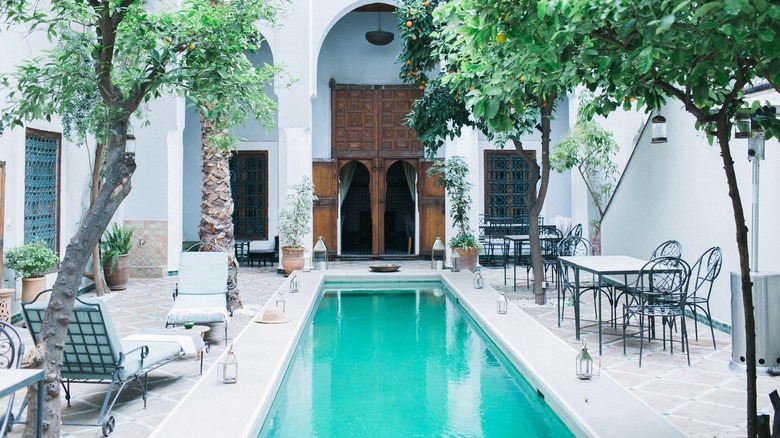 Evgenia Basyrova/Pexels
Flagstone, a natural stone, can be used to create a free-flowing aspect on a patio, breaking up the uniformity of an otherwise square-looking yard with all straight lines. Flagstone pavement can be found in distinctive color diversity besides a free-flowing layout and a natural appearance.
3. Large format pavers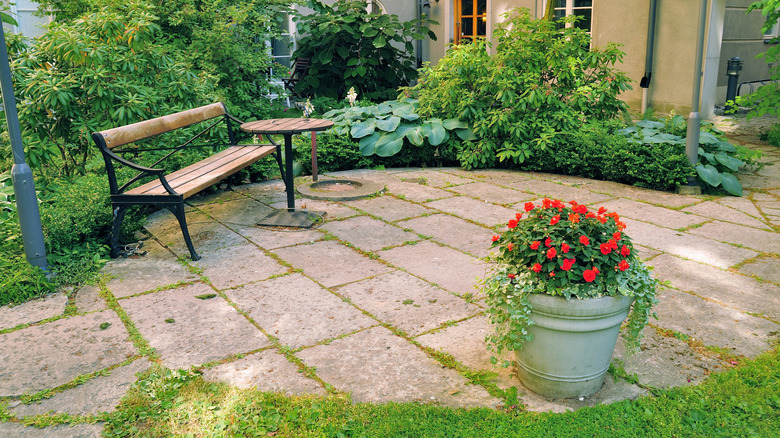 a40757/iStock
Large format pavers are used to create elegant and spacious patios free of visual clutter. Whether for a small or large patio, these large-format types allow you to enjoy the distinctive features of each paver while also making the room feel larger. The outcome will be stylish and timeless on a minimalist porch with minimum decoration.
4. Platform pavers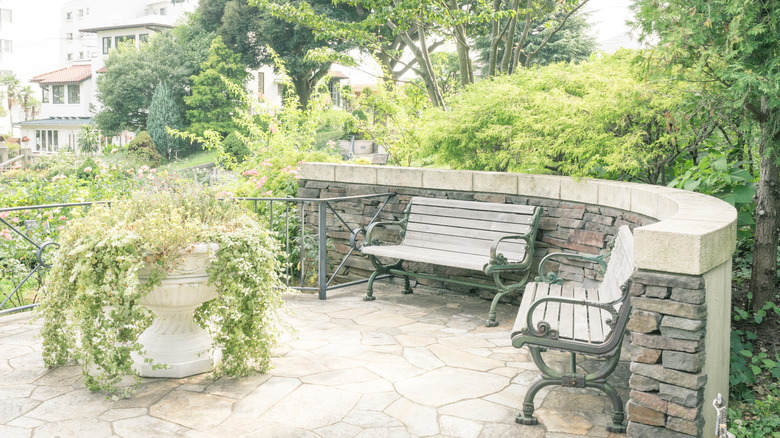 dar_st/Pexels
Adding a few platforms to your patio is a terrific way to make it look more exceptional. You can use the platforms to hold flower pots or place ornamental items on them. There are so many different types, designs, and colors to choose from that your platforms will look fantastic.
5. Mix of material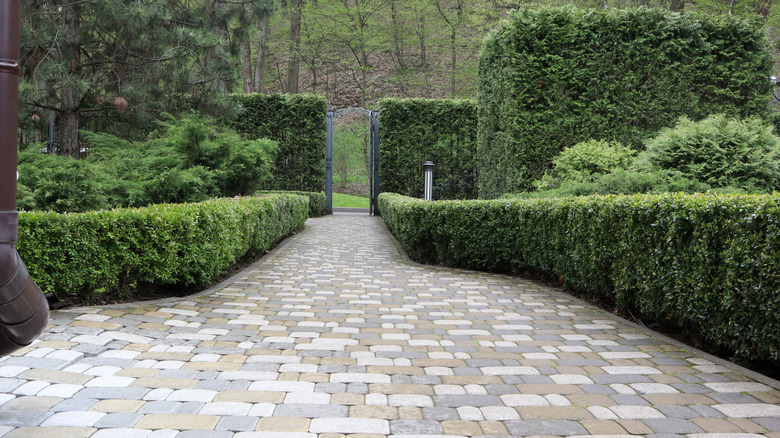 Yevhen Roshchyn/iStock
You can use various materials and still have a lovely paver pattern. If your property has several building elements, you can use the same material as the foundation and other materials within the property design to create a mix of paver designs that stands out but still merges well with the overall aesthetic.
6. Accent stones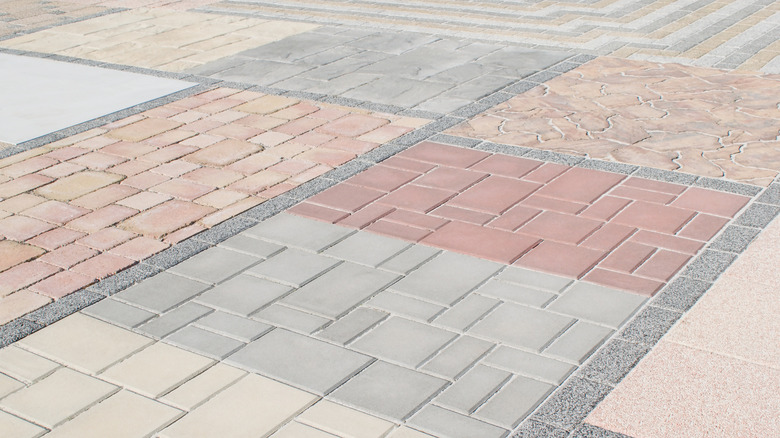 Tunatura/iStock
You can try out a variety of fresh designs by utilizing regular pavers and spacing them out a little. Filling in the spaces with accent rocks is the eye-catching idea here. You can use concrete to hold the accent stones in place or skip it entirely.
7. Herringbone pattern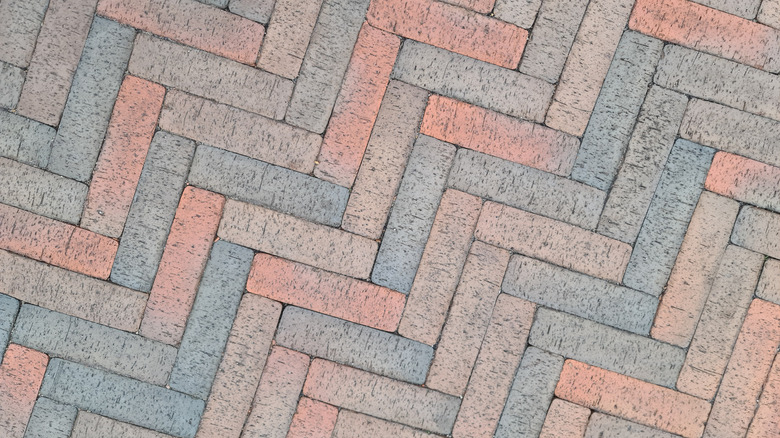 Using a herringbone design, where the pavers are put at a 45-degree angle, will come off in a beautiful style that adds intricacy to the walkway and patio patterns. This design has a lot more visual intrigue than the previous one, which seemed like one huge square.
8. Moss surroundings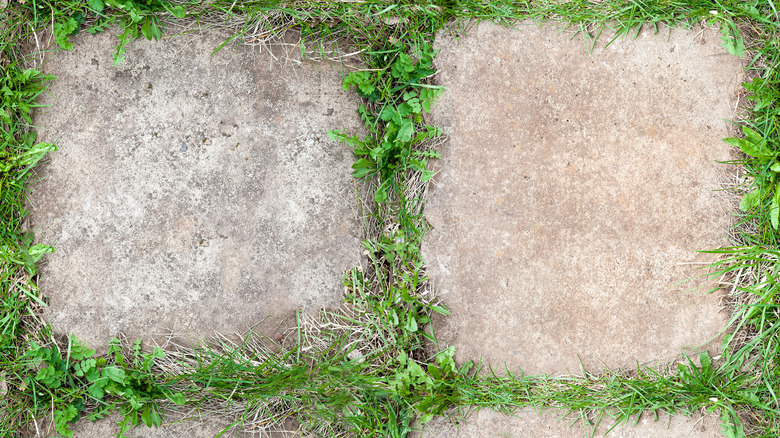 Kurteev Gennadii/Shutterstock
Moss is a wonderful plant: It has a nice and exciting surface to walk on, emits a lot of oxygen, and comes in brilliant colors to complement your patio. Growing a little moss between your paver rocks can give your patio a natural feel but also a surreal sense to it.
9. Unique flagstone paver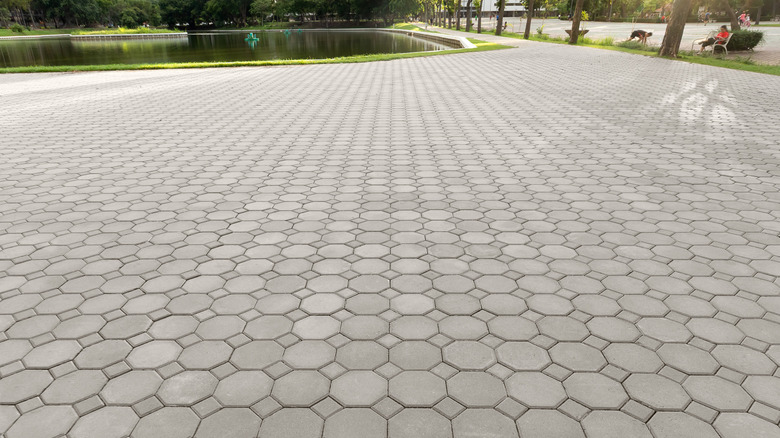 RonFullHD/iStock
Slate, travertine, limestone, and sandstone are flagstone types. Each stone has its own characteristics, texture, and color, so using unique pavers that come in different shapes, colors and textures will give your patio an unparalleled look.
10. Wood and stone inlays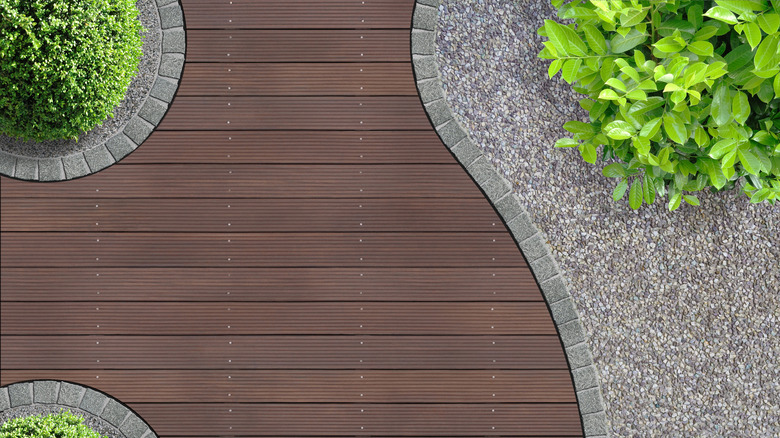 numismarty/iStock
The typical method of laying pavers is with stone; however, incorporating wood is not out of the question. A combination of stone and wood can create striking contrast in color and style.
11. Bluestone patio paver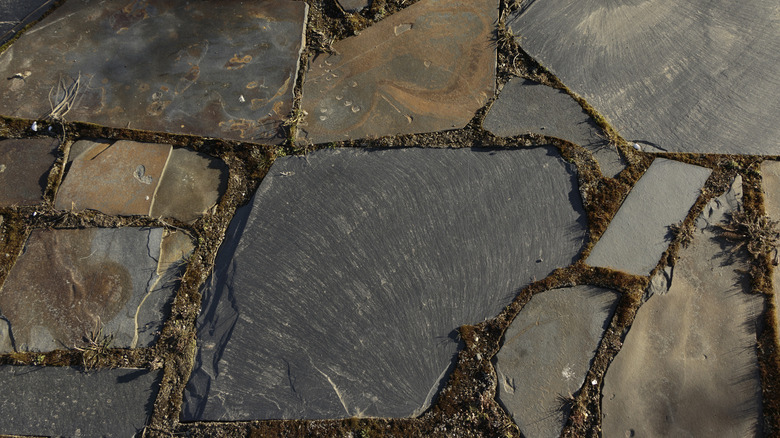 undefined undefined/iStock
A bluestone patio paver circle made of blue materials is a low-cost option to spruce up your backyard. A bluestone patio will bring elegance and a modernistic flair to your patio while also providing a peaceful ambiance.
12. Tucson Saltillo paver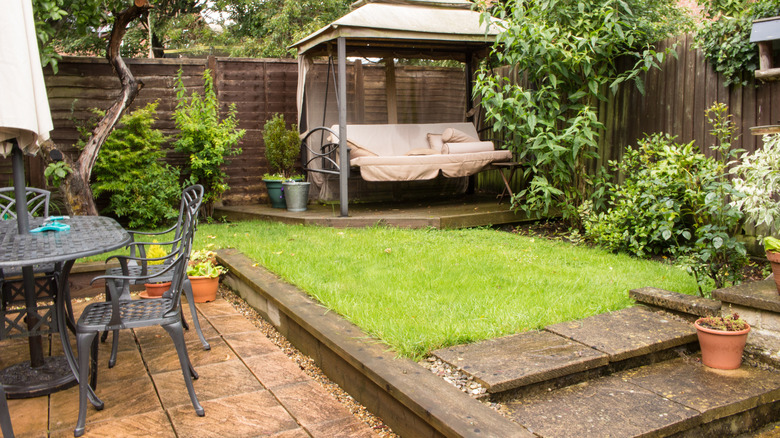 Deb Drury/iStock
Most young couples seek to get their patios designed in Tucson Saltillo pavers. This stone adds a little warmth to the property while still looking fresh and modern.
13. Gray bluestone paver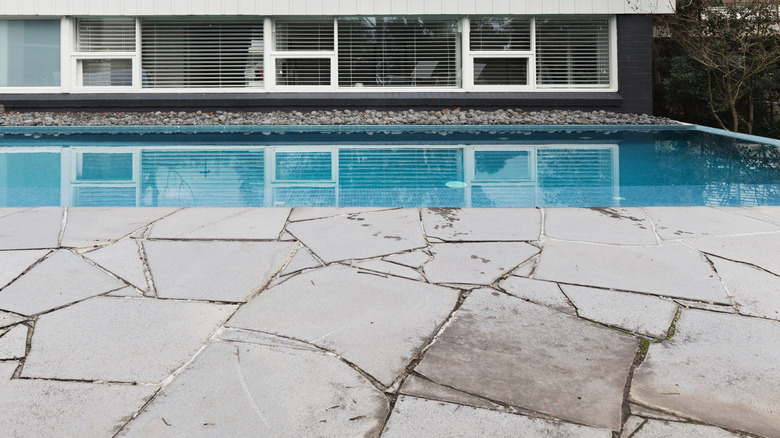 jodiejohnson/iStock
Bluestone is made up of several different types of stone and is a generic term for blue or gray-colored paving materials. Unlike the previous circular bluestone design, gray bluestone pavers will give your backyard patio a more stable feel.
14. Tight-knit patterned bricks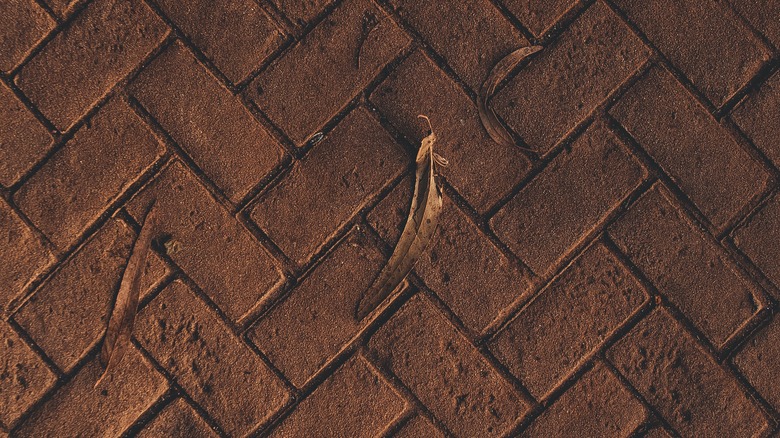 Ave Calvar Martinez/Pexels
Tight-knit brick paver designs are a terrific option if you're searching for something somewhat inexpensive and simple to obtain. Brick is simple to lay out and only requires a clear and smooth surface of dirt. It may be readily filled in with sand or soil and has a simple, rustic appearance that is easy to maintain.
15. Zen garden stone spirals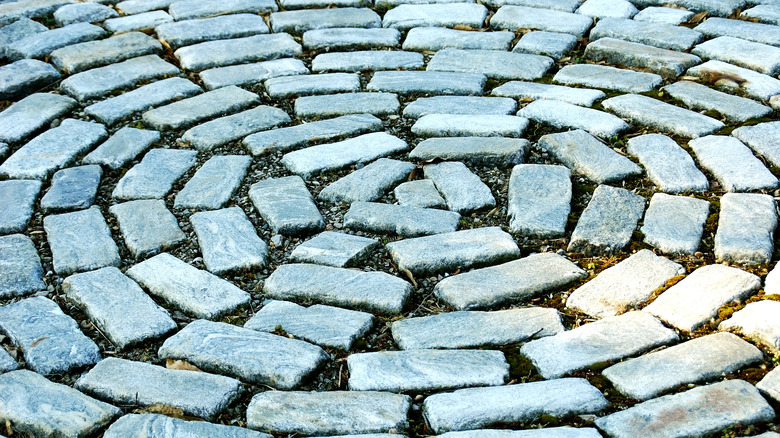 Anne Kitzman/Shutterstock
Zen garden pavement spirals are a popular addition to many backyards. The textured stones paired with the calm environment and variety of plants are ideal for relaxing evenings. With this configuration, use your creativity to come up with a pleasant design that fits your zen aesthetic.
16. Warm bricks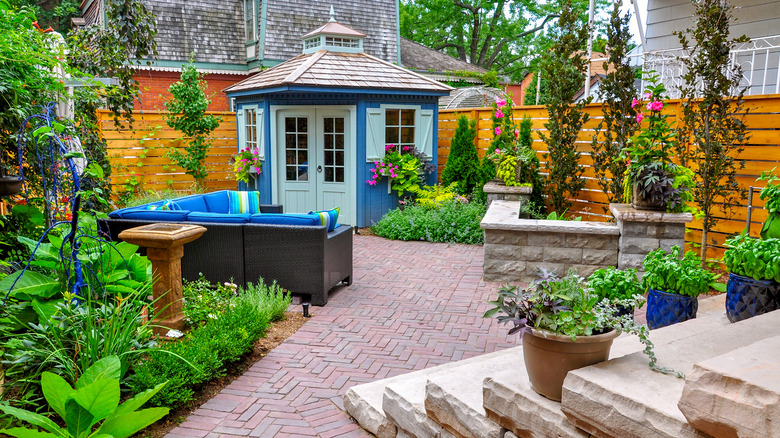 Joanne Dale/Shutterstock
Warm bricks as pavement are an excellent option for individuals with limited backyard space. Not expensive at all, brown or orangey bricks will add a sense of warmth and an inviting feel to your patio.
17. Concrete paver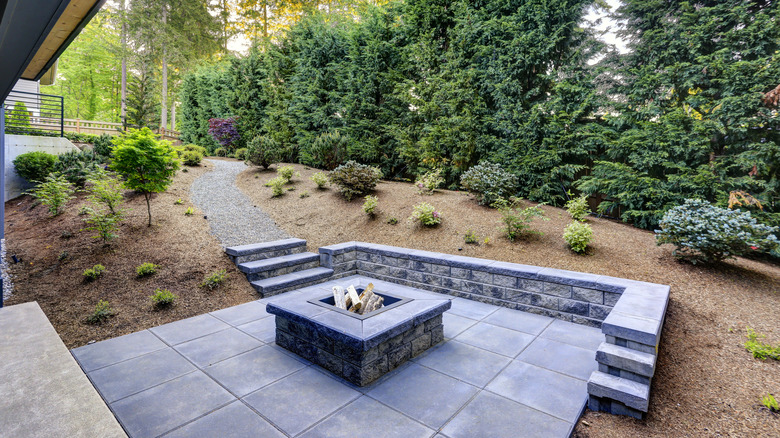 Artazum/Shutterstock
Concrete stones are similar to bricks but considerably more durable and offer a great uniform patio surface for your outdoor living needs. They come in a variety of shapes and sizes, allowing you to create detailed and unique patterns and motifs in your pavers.
18. Simple brick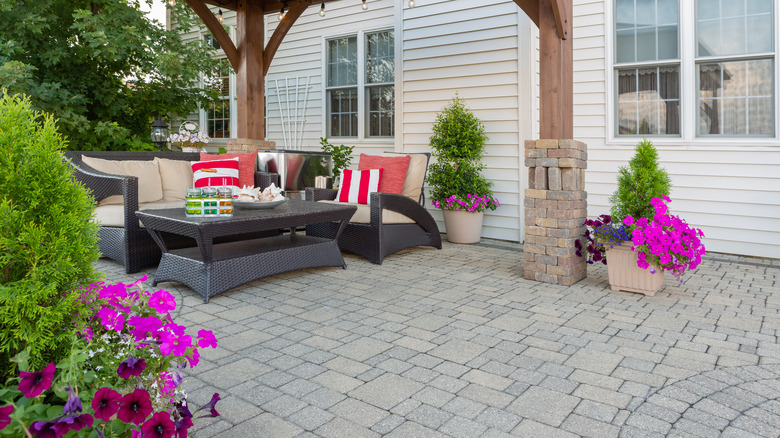 Ozgur Coskun/Shutterstock
Brick pavers are not only inexpensive, but they are also quite durable. They're also useful for a range of outdoor projects, like building a DIY fire pit in the patio for a cohesive look.
19. Imprinted concrete pavement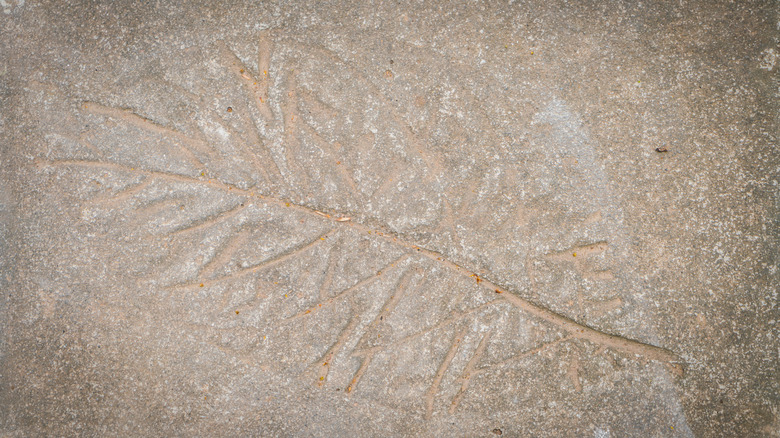 Jannoon028/iStock
Imprinting could be a way to create a customized look. Adding color to the concrete mixture before pouring it is one of the permanent ways to enhance your patio. Numerous color options are available — nevertheless, soft and natural colors are ideal for working with concrete beautifying patios.
20. Simple path-style design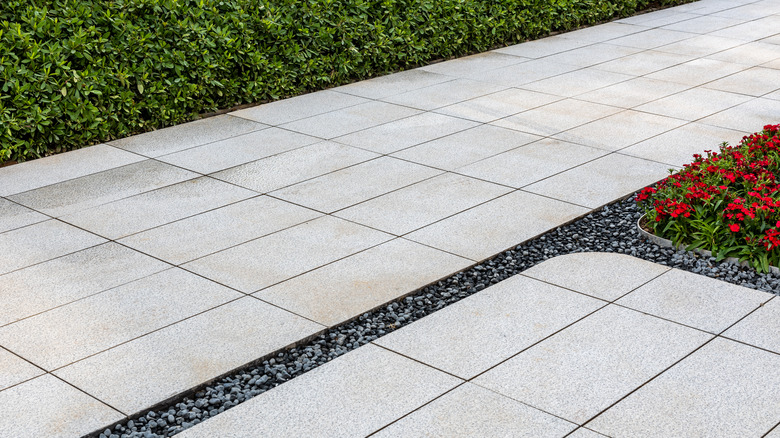 hrui/Shutterstock
This magnificent paver stone design takes some time to perfect, but the result is so polished that the extra effort is well worth it. A path-style pavement is a terrific choice if you want to spend a lot of time in your outdoor living area or intend to host many people because it is aesthetically beautiful.
21. Modern-style paver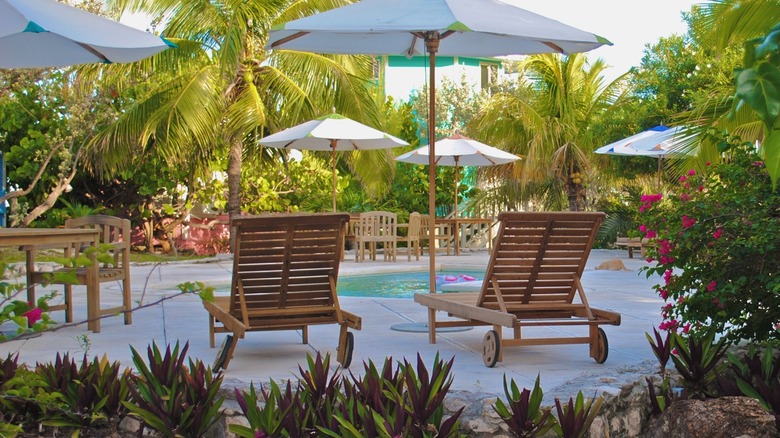 Pixabay/Pexels
You can use almost any material to create modern paver designs. However, the entire look and feel, as well as the shape, are significantly more crucial. Smooth pavers in typical geometric designs are a good choice.
22. Color pulling paver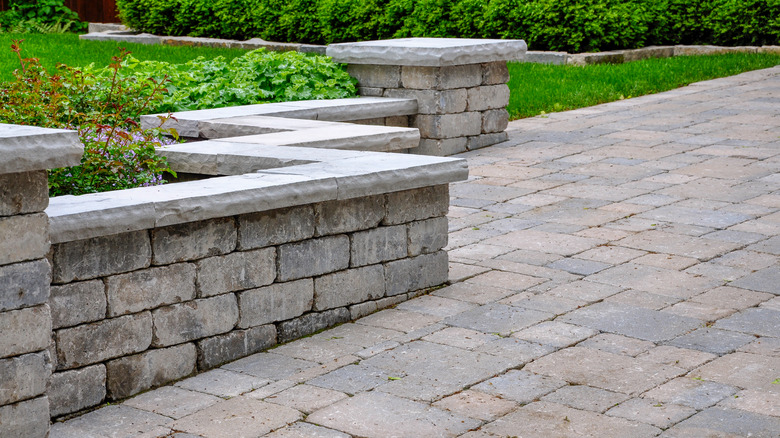 Joanne Dale/Shutterstock
If you want your pavers to match the color of your roof and trim, you can accomplish this by having all of your pavers be the same color or by using it as a splash of color here and there.
23. Interlocking bricks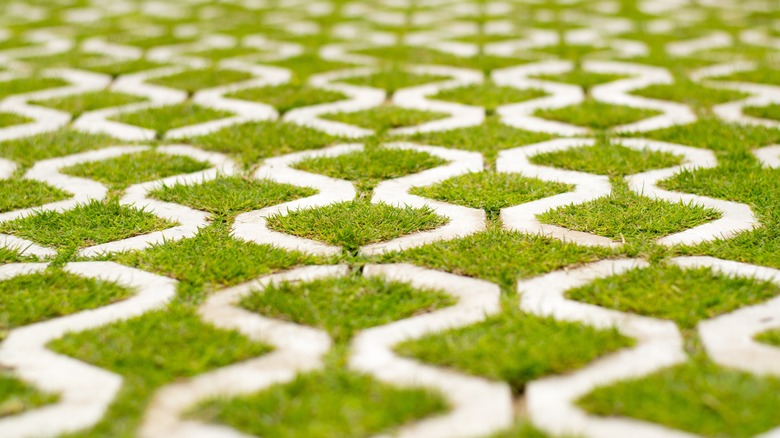 shafisgrafix/Shutterstock
These are popular among homeowners since they are simple to install and do not need any particular tools or knowledge. They're also available in a wide range of colors and sizes, so they'll fit into almost any budget.
24. Stepping stone paver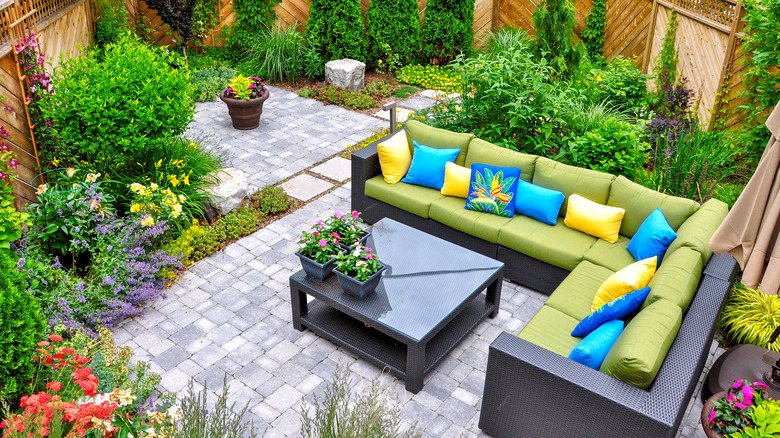 Joanne Dale/Shutterstock
Stepping stones provide more visual appeal than flat pavers, but they still give any property an exquisite aesthetic. Because they often sit both above grass or soil and then another sheet of paver material that acts as an 'insulator' to the ground, stepping stone patios are also very easy to walk on.
25. Square paver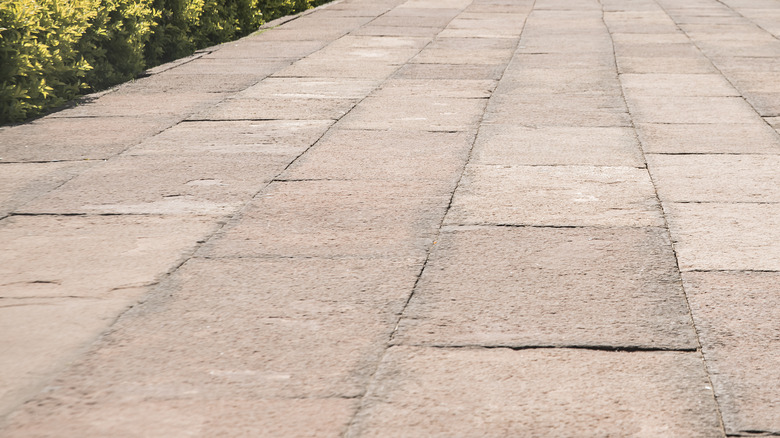 maradon 333/Shutterstock
Many homeowners prefer to keep their backyard's natural environment. On the other hand, clean, geometric shapes can contrast nicely with the rest of the area in your patio design.
26. Contrasting paver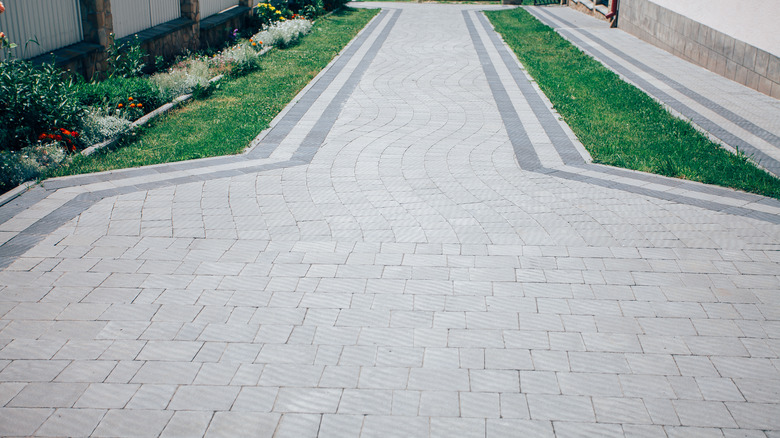 Vladimir Trynkalo/Shutterstock
Not only do pavers provide a level walking surface, but you can use different colors and shapes to give drama and class to this frequently ignored area.
27. Irregular shaped paver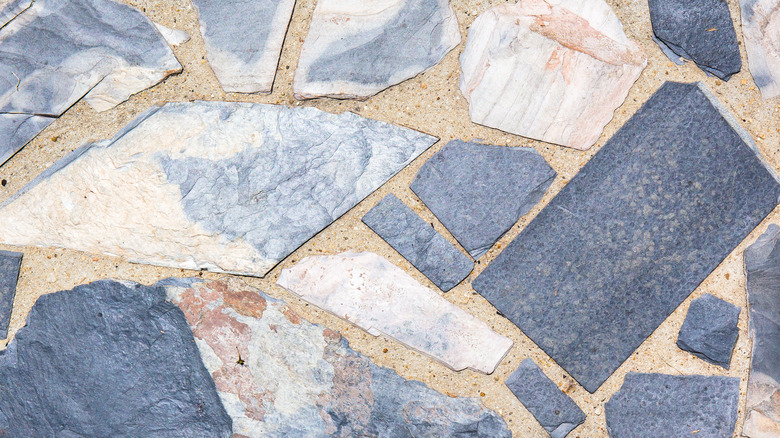 Patty Chan/Shutterstock
If you want your paver surface to have a more natural or rustic appearance, irregular forms are one way to go. You can choose natural colored stones or mix and match hues to match other items in the room.
28. Brightly colored paver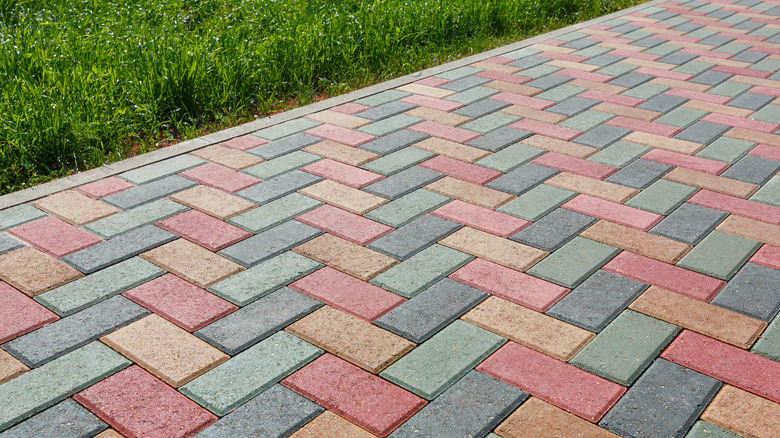 Afonkin_Yuriy/iStock
Regardless of the style or pattern of the pavers you choose, a splash of color can quickly brighten up a space. Colored pavers can complement both drab and colorful settings for a positive and modern spin on a traditional flooring option.
29. Paver mosaic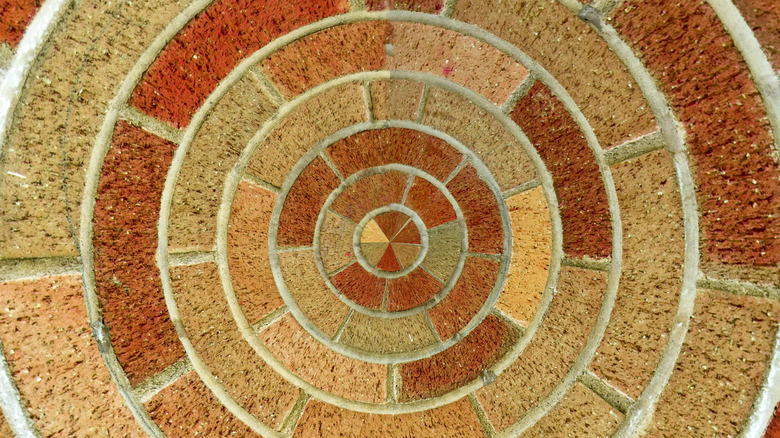 Vlue/Shutterstock
If you enjoy the idea of colored bricks but want something more unique, a paver mosaic that uses color to produce an image or pattern in an eye-catching design is a good option. Choose geometric shapes to go with any decor or letters or symbols that have special meaning for you.
30. Unique material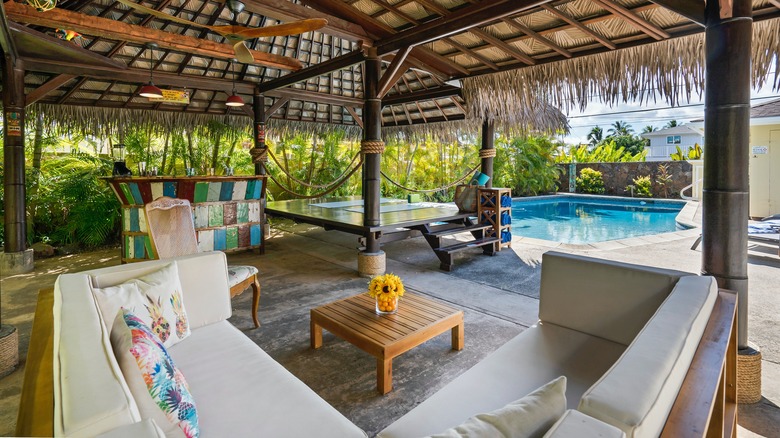 Jason Boyd/Pexels
The material is what distinguishes this patio from others. For instance, there are paver slabs that look like hardwood, but they are made of stone. You can go limitless with this option, so choose a material that creates whatever you want to achieve with the patio.