15 Colors To Decorate With For A Scandinavian Aesthetic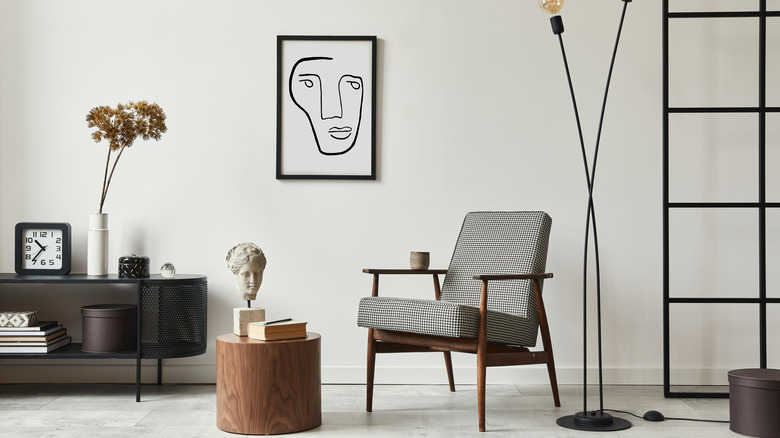 Followtheflow/Shutterstock
When you think of Scandinavian décor, odds are Ikea furniture or staging rooms are among the first images to pop up in your mind. The Scandinavian aesthetic, though, is not exclusive to oak wood dining tables; it's more of a specific cultural approach to interior design. Scandinavia comprises Denmark, Norway, and Sweden — three Northern European countries that don't receive lots of natural light and experience particularly brutal winters.
The Scandinavian aesthetic, in turn, is a response to their climate and focuses on clean, minimal designs, enhancing natural light and comfort, according to AOK Social. It often goes hand-in-hand with hygge, which is a Danish cultural practice that focuses heavily on comfort, relaxation, and coziness (via Country Living).
Specific elements of the Scandinavian aesthetic, per Apartment Therapy, include cleanliness, a lack of clutter, a focus on light wood tones, plants, cozy textures (knit, faux fur, etc.), and a neutral color pallet. Beiges, creams, and whites are the most popular colors for a Scandinavian aesthetic, but other colors can easily be incorporated (Apartment Therapy specifically mentioned gray-blue, blush pink, and sage green). Any colors can be incorporated into this aesthetic, but warm neutrals and muted tones will go best.
1. Shades of black and white
This living room utilizes common Scandinavian aesthetic colors, such as beige, cream, and light wood, as well as the green from plants. However, it also incorporates some more stark black and whites, creating a more modern feel.
2. Pops of yellow
This sitting area heavily leans into the traditional warm color pallets common to the Northern European look but adds in a rich, egg yolk yellow chair. This adds depth and variety to the warmth, as well as a bit of contrast.
3. Hints of sky blue
White and gray, two colors common in Scandinavian décor, can be varied slightly by introducing a very pale, gray-toned sky blue.
4. Classic Scandinavian
For a completely classic, dedicated Scandinavian aesthetic, stick to beiges, creams, whites, grays, wicker and light wood, and bright, green plants.
5. Monochromatic approach
For a very sleek, uniform approach, consider sticking with just white and light creams, which will still have the Scandinavian effect in a more polished, stark way.
6. Warm tones
For those who like a bit more color, consider amping up the warmth of the aesthetic's palette. Introduce deep, muted pinks, apricot oranges, and brick reds.
7. Mustard yellow
Alternatively, heavily lean into the warm tones with the aggressive addition of mustard yellow. It will pair wonderfully with light woods and wicker, creams, and whites.
8. Rust orange
Keeping up with the warm tones, subtly amp up the warmth in a Scandinavian room with the addition of rust orange.
9. Gray-blue
Gray-blue, as mentioned earlier, is a color that goes well with the Scandinavian aesthetic. It is quite subtle, too, and you can go more heavy-handed with this one.
10. Light blue
If you want to make the blue a bit more obvious, though, look instead for a blue that is gray-tinted — not the earlier featured gray-blue.
11. Focus on black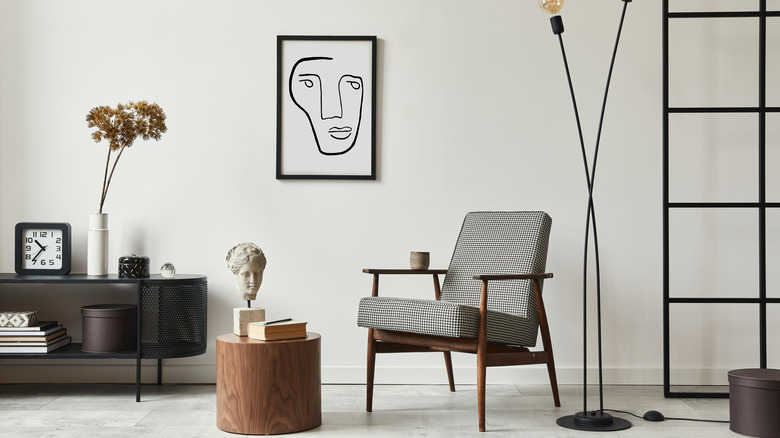 Followtheflow/Shutterstock
Incorporate lots of black hardware and accents for an edgier, modern Scandinavian aesthetic. Keep the rest simple and uncluttered so as to not lose focus.
12. Baby blush pink
Another color also previously mentioned was blush pink. Opt for a lighter, even baby, variation of the color. It is quite creamy in nature and can be more assertively utilized.
13. Flat gray
If blue-grays and gray-blues aren't your style, consider a flatter, more medium-toned gray. This color pallet can also lend itself to both minimalism and mid-century modern, so have fun and explore that if it interests you!
14. Baby blue
The above shade of blue is slightly out of bounds for a traditional Scandinavian aesthetic. However, if you strictly adhere to the other colors, it will create a nice variation.
15. Emerald green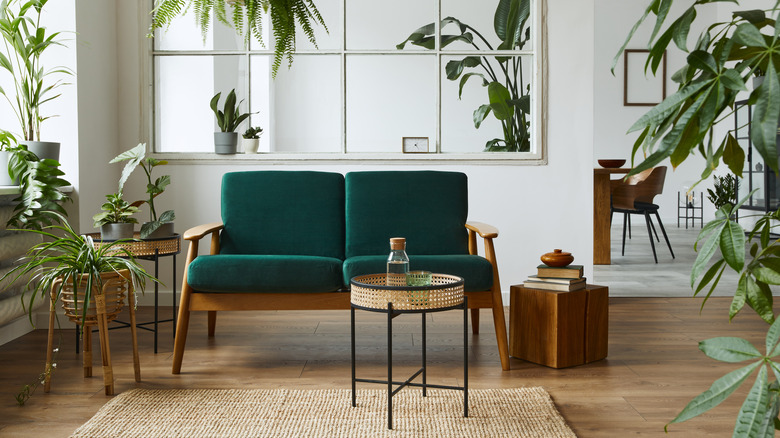 Followtheflow/Shutterstock
Similarly, emerald green is a bit more assertive than the Scandinavian aesthetic permits but can be incorporated by firmly adhering to the other elements.