The Real Reason Luxury Hotels Are Replacing Animal Products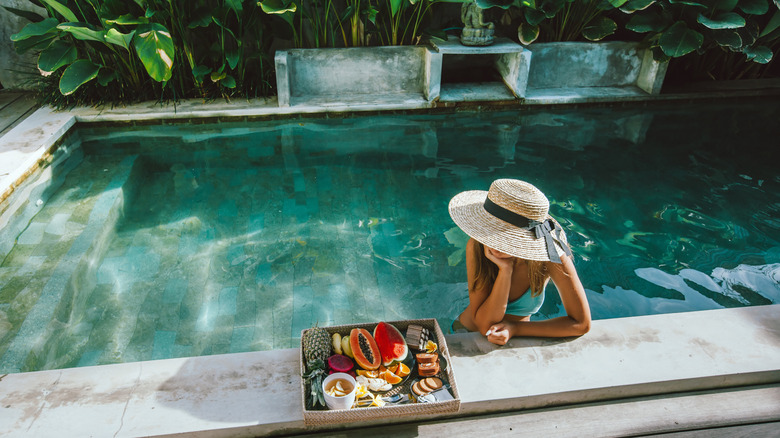 Alena Ozerova/Shutterstock
Luxury vegan hotels are popping up around the globe. This month two vegan guest rooms are debuting in the Mandarin Oriental Hotel Group's Emirates Palace in Abu Dhabi. Although, offering vegan options opens the door to more than only vegan customers. It also benefits guests who are hyper allergenic and in need of special health requirements, as explained by Michael Koth, the Emirates Palace's general manager, to New York Post. These vegan rooms use no leather, wool, or silk. Instead, the beds are made with vegan linens that exclude feathers in the pillows and duvets. The minibar is stocked with only vegan products, and there is a vegan in-room dining menu. Even the bathroom toiletries are vegan.
The Hilton London Bankside Hotel opened its first vegan suit in England in 2019. This suit was made with bamboo flooring. The rugs are made of soft bamboo, the bedding has no feathers, and the headboard coverings are hand embroidered and made of pineapple fiber to mimic leather. The toiletries are vegan, and even the cleaning products the housekeepers use are vegan.
Not just vegan, sustainable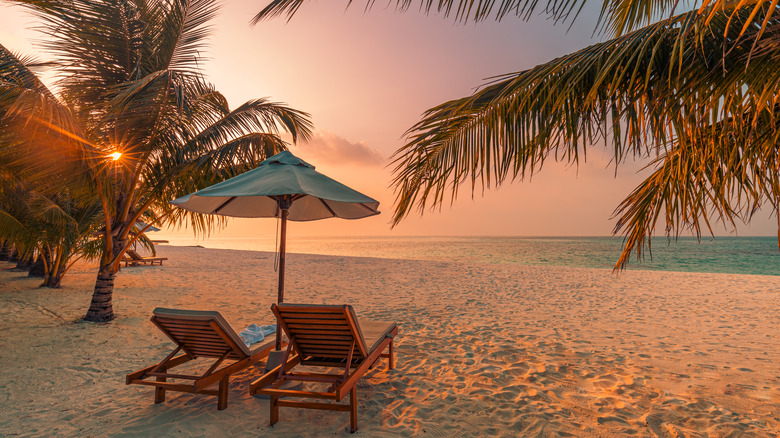 icemanphotos/Shutterstock
Creating these rooms is not just about offering vegan options. For Alex Ferri, the CEO and founder of PalmaÏa – The House of AÏA, it's about creating a sustainable hotel. This beachfront resort on Riviera Maya in Mexico is full of vegan rooms, all furnished without feathers or leather. However, Ferri strives to be sustainable as well, so aside from creating plant-based rooms, their vegan menu includes local plants, and there are no plastic bottles available throughout the resort. They are also working to become carbon neutral.
Vegan hotels are also opening in the U.S. In 2019, the Gray Barn opened in High Falls, New York. This inn is also about more than providing a vegan environment for their guests. According to Lizz Truitt, the marketing and communications director for Woodstock Farm Sanctuary, which opened Gray Barn, proceeds from the hotel go toward helping fun animal rescue work, so when you stay there you're giving back.