The Most In-Demand Real Estate Market In NYC Right Now Isn't What You Expect
C. Taylor Crothers/Getty Images
East Midtown Manhattan is striking back at the effects of the pandemic, making it one of the most in-demand areas for real estate in New York City. This 2.25 square mile section of NYC has been the city's largest business district, hosting over 250,000 jobs and some of the best-known commercial real estate and tourist attractions in the world, including the Empire State Building, Rockefeller Center, Broadway, Fifth Avenue, and Times Square. However, the COVID-19 pandemic left a record 47.4 million square feet of vacant office space, according to data from CNBC. As of last summer, approximately 30% of storefronts were unoccupied, per the Real Estate Board of NY (REBNY). Major tourist areas closed, and the lights were turned off on Broadway and in Times Square. 
The Commercial Observer reported a REBNY executive as saying, "Because lower Manhattan is more of a live-work-play neighborhood, you don't see the same adverse impact on retail ... as you do in Midtown." There's a push to attract the same type of mixed use space in East Midtown but this requires easing restrictions on converting office space to residential zoning, per The City. Multi-use properties could combine corporate and entertainment centers with residential opportunities, creating a 24/7 neighborhood that doesn't empty out at the end of the day. Transportation is expected to be upgraded, with plans for widening sidewalks and adding public parks. 
Fifth Avenue and Broadway are two popular tourist areas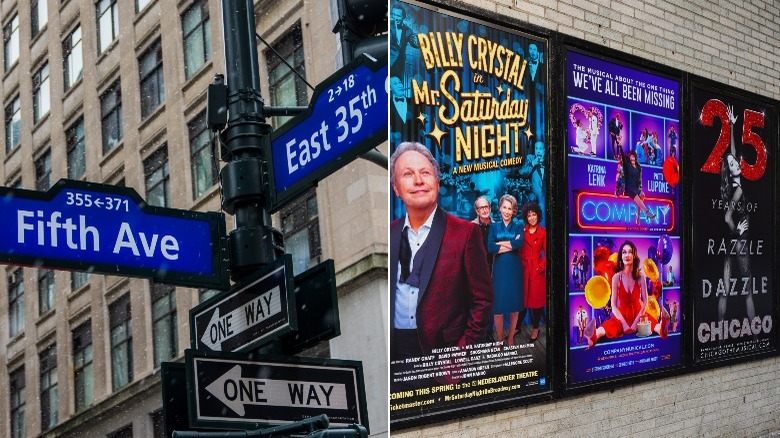 EQRoy & Miguel MMV/Shutterstock
East Midtown usually refers to the area of New York City between 59th and 42nd Streets (north to south) and the East River and Fifth Avenue (east to west), and is comprised of several smaller neighborhoods such as Turtle Bay, Tudor City, Beekman Place, and Sutton Place, per Compass. The hub of East Midtown is around Grand Central Terminal, where a new terminal for the Long Island Rail Road is expected to open this year, helping to ease congestion. In addition to attracting new businesses, the hope is that tourism will increase in 2022 now that mask restrictions have been lifted and people no longer need to show proof of vaccination, reports The New York Times. Broadway shows have also reopened and new restaurants and clubs are opening gradually. 
Renting a studio apartment in East Midtown costs around $2,600 per month, and you can find a 1-bedroom apartment for around $4,000 per month. If you live in the same neighborhood where you work, you could save quite a bit on transportations costs. According to Apartment List, commuting into the city by car costs about $4,300 or more per year, and using public transportation costs $1,500. Walking is still free.