Tory Lanez's Miami Penthouse May Be Facing Foreclosure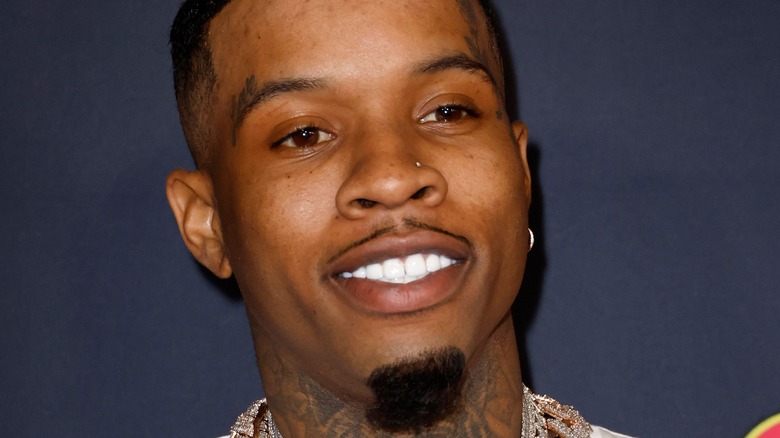 Frazer Harrison/Getty Images
Tory Lanez, also known as Daystar Peterson, is a popular Canadian rapper, most commonly known for the mixtape, "Lost Cause." He was born in Montreal, Canada on July 27, 1992, and lived there for several years before his family eventually moved down to Florida, where his fascination with rap began. At 11 years old, Lanez faced the loss of his mother. This was a tragic experience for Lanez as he was forced to fend for himself at a young age, especially as his father continued his work as a preacher and missionary. At 15 years old, when his father made the decision to remarry, Lanez went off on his own. He dropped out of school and devoted all his time into music (per The Famous People).
By the age of 16, Lanez was already preforming at outdoor music concerts and was said to have a natural talent for music. From there, he only gained more attention. In 2016, Lanez created his most popular tracks, "Say It" and "Luv," which made it to the top of the charts. But despite his growing success in his career, Lanez has reportedly been as violent towards other rappers. He was specifically said to have allegedly shot Megan Thee Stallion and has a long history of criminal records (via Vulture). Accompanying his menacing history regarding the law, Lanez now also may be facing foreclosure on his Miami penthouse. Here's what we know about the place.
Details about Tory Lanez's Miami penthouse
According to Realtor, Tory Lanez's penthouse is located on top of the Brickell Heights East building in Miami, Florida. The condo has three bedrooms, three bathrooms, and a powder room, all in a total of 2,182 square feet of living space. The penthouse includes luxury elements, like contemporary Italian cabinets, imported stone countertops, large bathroom areas, high-end appliances, and spacious 12-foot-high ceilings. The penthouse also provides a stunning skyline and Biscayne Bay view from the oversized balcony and floor-to-ceiling tinted glass windows. Other luxurious with in the building that residents have access to is the Equinox Gym, an outdoor fitness area, and a heated pool (per Realtor).
In 2018, Lanez purchased the penthouse for $1.26 million, under the agreement of paying monthly interest payments of $11,057.50 in addition to the $1,237,456.06 balloon payment due in December of 2021. Recently, the court stated that Lanez only made the monthly interest payments, and he failed to make the balloon payment within the allotted time and is now facing the risk of foreclosure. Will Lanez be able to pay the $1.23 million he owes, or will he be forced to leave his Miami home?