10 Ways To Create Your Own Room Divider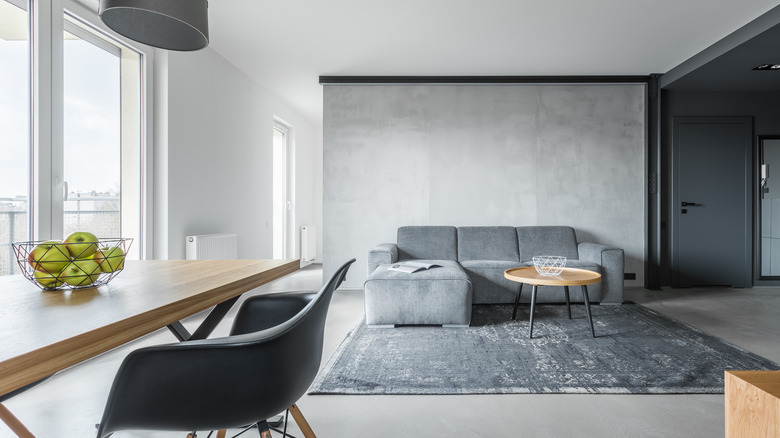 Dariusz Jarzabek/Shutterstock
In home renovation and in the housing market, one of the most common design requests over the last 30 years has been open concept living. A bonus of the open floor plan is great light; it disperses throughout the space without many walls to contain or block it. And while these homes are usually calming and minimal — they have to be — there are few opportunities to hide messes or hang busy décor. These types of residences highlight the casual luxury of disguised storage and outward simplicity. But according to Veranda, since we've all been spending more time at home, and together, we may be seeing the end of this trend.
Enhanced flow and modern layouts have become increasingly wall-less and more expansive, providing little privacy, opportunity for decorating, or the intimacy and coziness that enclosures provide. It's difficult to create a home when rooms move seamlessly into one another. How do you carve out separate areas for separate functions? How do you complement furniture and color schemes? How do you sleep with sunlight streaming through every window? And how do you find a comforting spot of your own to retreat after a long day? It's time to put some walls up — emotionally and physically. We're sharing 10 temporary and easy-ish ideas to help you reclaim your space, but you don't have to stop there!
1. Rely on books and bookcases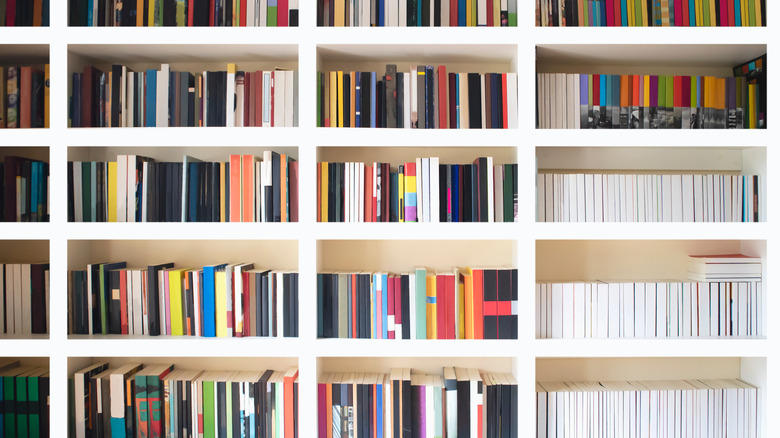 Carla Nichiata/Shutterstock
There are many ways to display books: color-blocked, random rainbow, spines inward, lined up, or stacked. A side-effect of using books as a divider is their sound absorbing density; you won't have to whisper in this library. If shelving isn't open, treat the back like a wall, or cover it with an option described below.
2. Add architectural interest with interior windows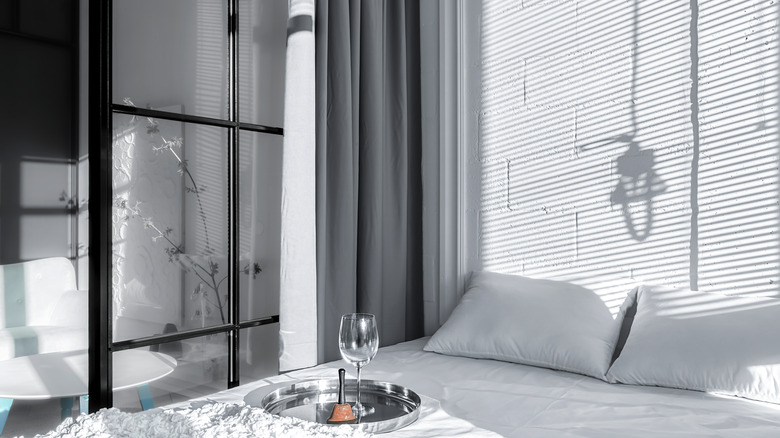 solkafa/Shutterstock
Nothing creates historical charm like interior windows. They impose a layer of design while allowing light to pass through, and provide sound obstruction. Sashes can be metal or wood in any color, graphic black, or classic ivory. Painted glass increases privacy; it will affect light flow but impart a similar characteristic.
3. Close it off with sliding doors
Sheila Say/Shutterstock
Large passages are spanned easily with doors hung from a track system, and can be open or closed depending on mood and situation. Shop home super stores for standard fare, custom order online, or search architectural salvage yards for something unique; style options are pretty limitless.
4. Customize furniture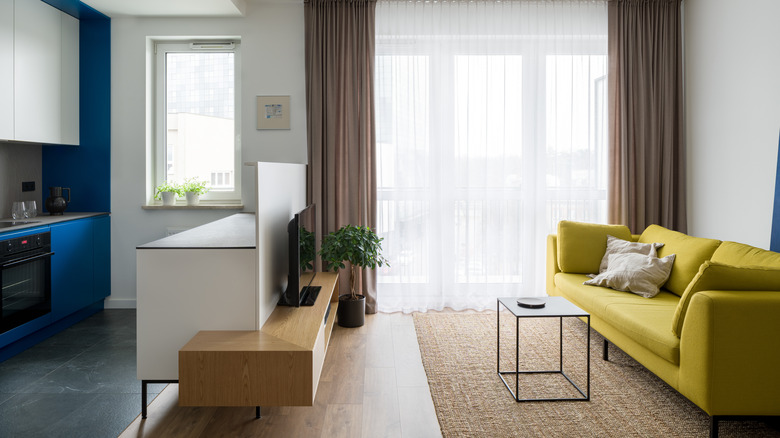 Dariusz Jarzabek/Shutterstock
Consider custom-made furniture. In this open living room and kitchen, a console and cabinet are married in design and purpose — separating the two rooms. They offer storage, while the short wall covers the back of the TV and becomes a backsplash. Though not inexpensive, custom pieces may be a worthwhile investment in quality and function.
5. Wall it off with a tall headboard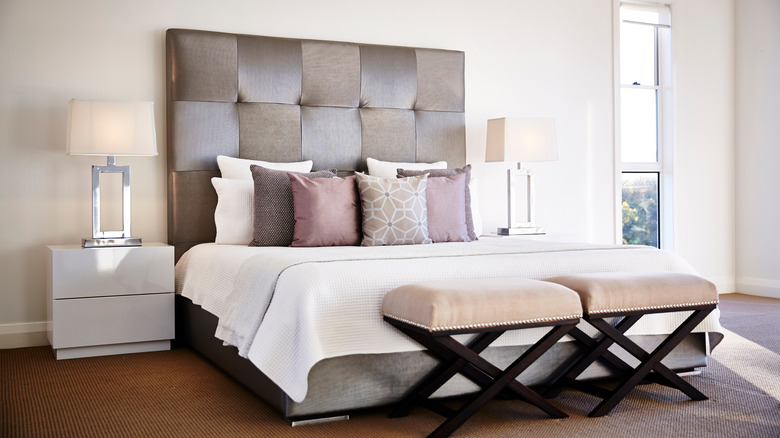 PhotoMavenStock/Shutterstock
Create a boutique closet area behind a tall headboard with a full length mirror and hanging or freestanding clothing racks. If there is enough space, a narrow table or chest against the bed provides stability, storage, and a place to lean artwork. Add an occasional chair and a lamp to gild the lily.
6. A folding screen is the flexible answer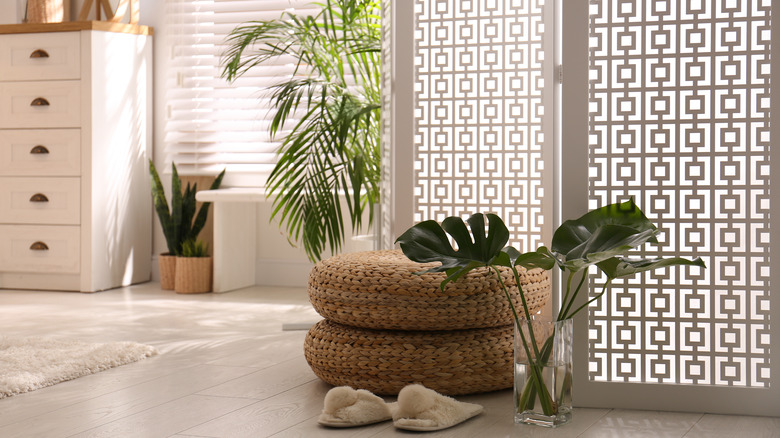 New Africa/Shutterstock
Folding screens make perfect room dividers — it's why they exist! Carve out a corner for yoga and meditation, or create an entryway. They're great for concealing the backsides of furniture, too. Hang small artwork, mini succulents, or a pretty throw blanket from them — just make sure the weight is evenly distributed.
7. Create a fashionable division with clothing racks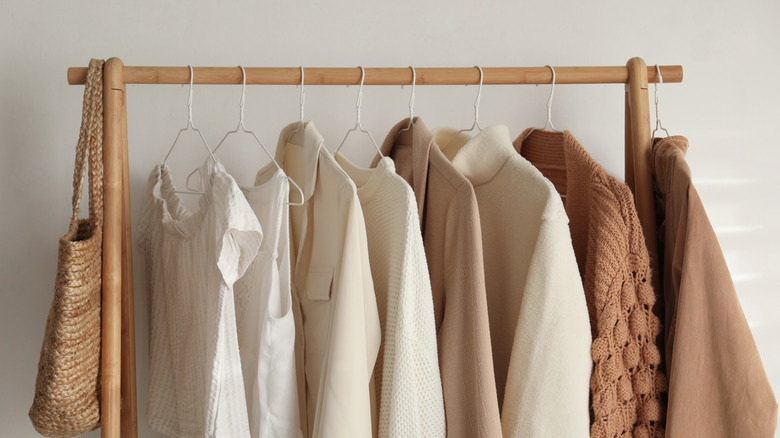 New Africa/Shutterstock
Delineate an entry or bedroom from the living area with a free standing clothing rack or two. A convenient place to hang coats and bags also serves as a way to highlight seasonal favorites. Various textiles can introduce color, print, and softness in a space, while countering the minimalism of the hardware they hang from.
8. Put up a tent inside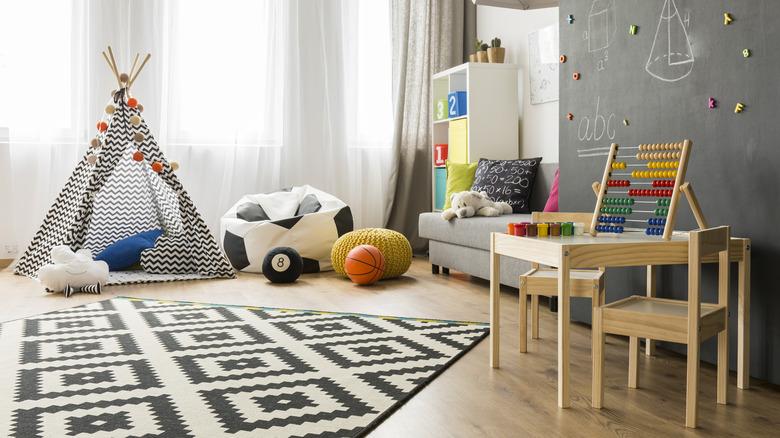 Photographee.eu/Shutterstock
Children crave their own space to explore or decompress. Open expanses can be overwhelming, while enclosures and forts soothe; it's a reason wee ones often hide. Options include a small structure for reading and playtime, a canopy encircling the bed, or a room sized canvas tent set up inside.
9. Add curtains for softness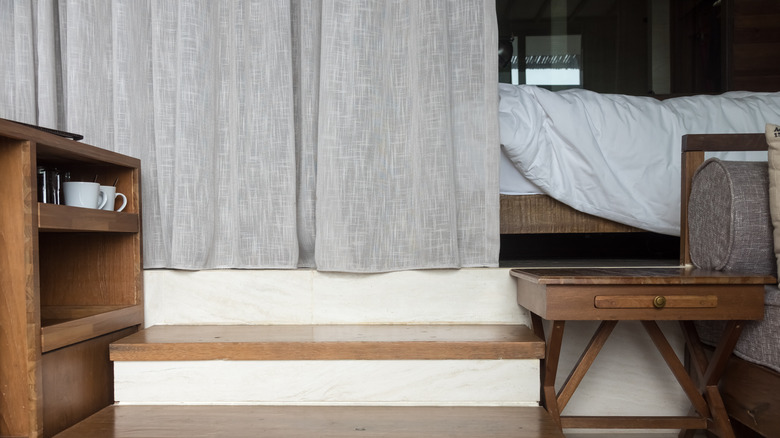 Jirat Teparaksa/Shutterstock
A curtain is the ultimate way to infuse softness in interiors. Budget, luxury, sheer, or black-out versions are available, or they can be made with little to no sewing from bolts of finished fabric or canvas and muslin. Different materials, prints, and colors, as well as how they are installed, convey specific style; pooling is extravagance, neatness is simplicity.
10. Fool the eye with open shelving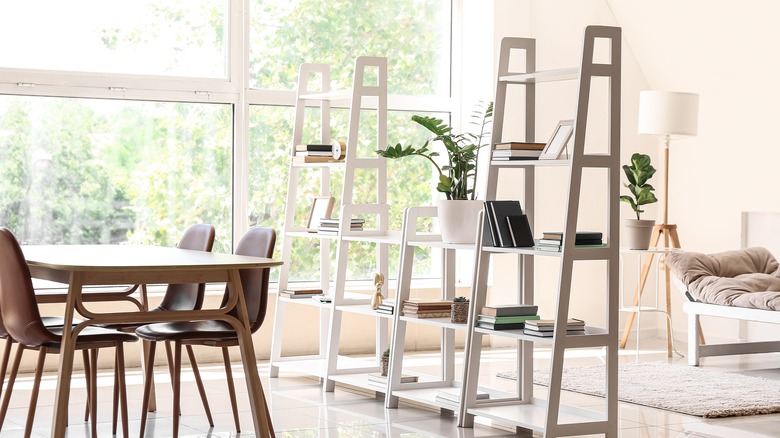 Pixel-Shot/Shutterstock
Purely an illusory divider, this shelving unit stops the eye, in effect creating a wall. Any open shelves, if not packed, will maintain sight lines to the space beyond, and allow air and light flow. Place large, heavier items at the bottom, and to avoid busyness, be selective in what is displayed.