10 Furniture Ideas For A Victorian-Inspired Home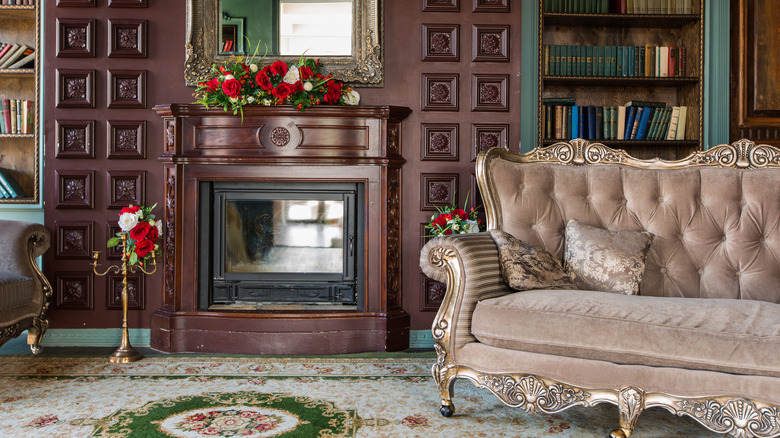 PinkyWinky/Shutterstock
Those who prefer a more antique, old-fashioned style of interior design will likely resonate with Victorian décor, or at least a Victorian inspired design. The Victorian era refers to a time period between the 1830s and 1900s, according to MasterClass, under Queen Victoria's rule in the United Kingdom. Victorian design itself takes inspiration from a few other historical styles, such as Gothic revival and Queen Anne, as well trends from other regions such as Asia and North Africa.
Some of the main elements of Victorian design include parquet wood floors, dramatic candle lighting, Tiffany lamps, heavy drapes, floral embossed wallpaper, and rich and dark colors (such as dark brown, burgundy, crimson, ruby, and navy blue). Furniture, though, is one of the most important elements of Victorian décor. Victorian furniture is identified as being ornate, excessive, and dramatic, with decorative wood carvings, overstuffed furniture, and a focus on wingback armchairs, chaises, and ottomans. For more Victorian style furniture inspiration, keep reading.
1. Short chaise lounge
Chaise lounges were very popular in Victorian-era design, and are a great way to bring in some of the period's influence. Look for dramatic and long lounges, or shorter ones, as shown in the picture above to fit your space.
2. Dressing table
Dressing tables, similar to vanities, are a major staple of the 19th-century style, and are a quick and surefire way to bring in Victorian influence. Desk-like tables with drawers and a mirror paired with an ottoman are not only gorgeous and reminiscent of the era, but also functional and convenient.
3. Side table
A simple Victorian side table can bring a lot of antique character to a room, and can easily found at antique stores, thrift shops, and online. Pair with modern furniture for an updated feel, or other period pieces to commit to the aesthetic.
4. Victorian sofa
While there weren't many major unique furniture silhouettes from the Victorian era, the Victorian couch is the exception. They will often be made of wood and upholstered with a delicate floral patterned fabric, with a dramatic curve at the top, and perhaps engraved wood.
5. Iron bed frame
To bring some Victorian inspiration to your bedroom, consider swapping out your current bed frame for an iron one. Pair with delicate floral patterns and other antique furniture for the complete effect.
6. Rugs and bookshelves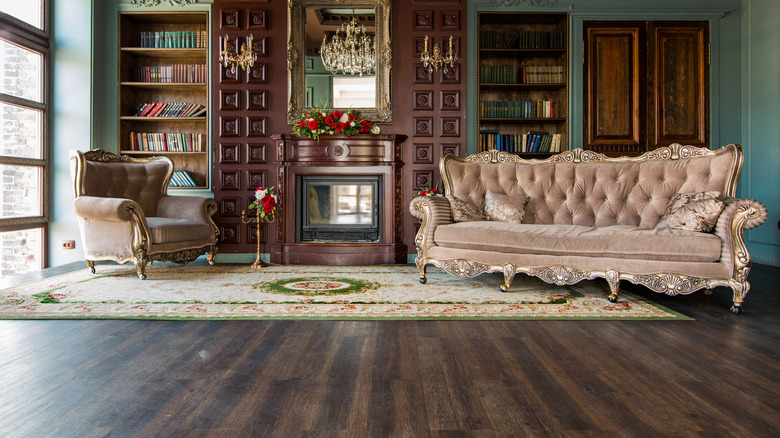 PinkyWinky/Shutterstock
A large part of creating a full Victorian feel is the decorations and accessories. Look for dramatic Persian rugs or large wooden bookcases to create a demure and antique look.
7. Glass top coffee table
There are many routes to go when looking for a Victorian coffee table. Some are large, dramatic, and ornate, and some are smaller with intricate and dainty carvings. Glass top Victorian coffee tables offer a great blend of old and new.
8. Chandeliers and drapes
For a further and perhaps more dramatic way to decorate like Victorians, swap out your ceiling light for a large chandelier. Heavy, tasseled drapes will also help enhance the effect.
9. Ornate desk
When decorating an office or study in the Victorian style, look for an antique, wooden desk. As with coffee tables, the desk can be large and heavy with dramatic carvings, or slimmer with simple, delicate engravings — whatever suits your taste.
10. Cabinets and mirrors
Large, gold, engraved mirrors are another staple of Victorian décor. Large cabinets, filled with either books, trinkets, or fine china will help create an antique, historical feel as well.