35 Ideas For Creating The Perfect Boys Bedroom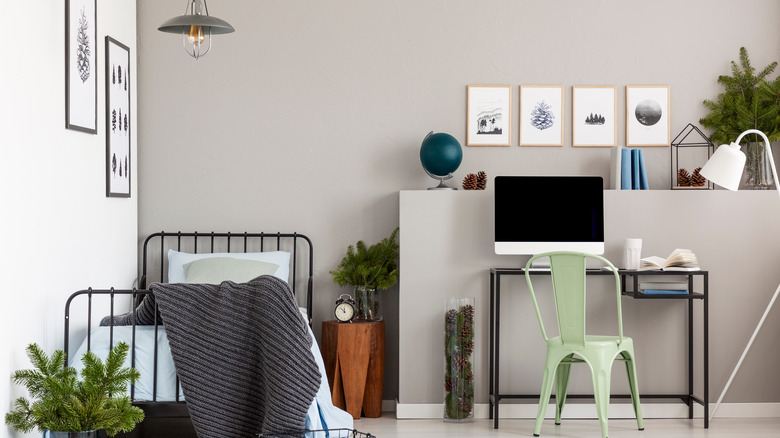 Photographee.eu/Shutterstock
Creating a perfect bedroom space doesn't have to be a difficult task if you have a son. The difficult task is figuring out where to start. If you've already browsed Pinterest and scrolled through catalogs and interior design magazines for inspiration, we suggest taking a good hard look at a few considerations. Keep these things in mind — the perfect boy's bedroom should be inviting, comfortable, and above all, showcase your child's interests, whether they are into science, sports, or something else.
House Beautiful said it's essential to first decide on the most important aspects of the room, which are the style and a color scheme. Homes & Gardens had a few more suggestions, such as keeping furniture timeless, creating an inspiring theme, and buying items that can grow as your son does. So, to create the ideal boy's bedroom, you're going to want your son to be able to display the things that he loves in a dynamic and fun way and have furniture and accessories that he can grow with as he gets older. Here are 35 ideas to get the ball rolling in the design department to create the perfect boy's bedroom in your own home.
A taupe oasis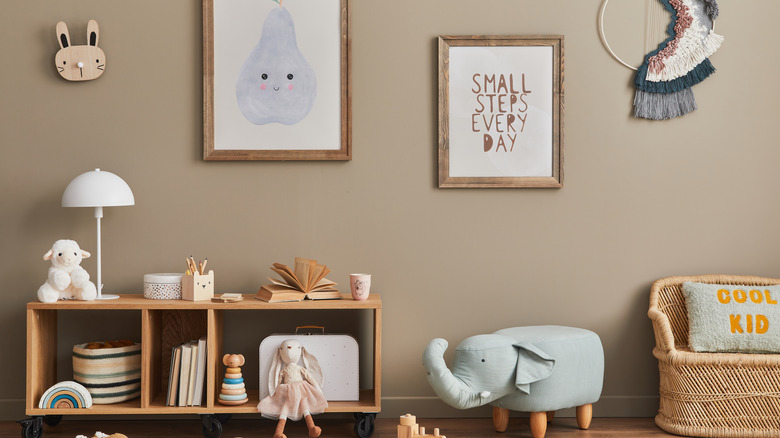 Followtheflow/Shutterstock
This taupe bedroom gives off a serene vibe that is ideal for any age group. The framed art posters, wood furniture, and toys finish off the room's look.
A simple boy's nursery
brizmaker/Shutterstock
This room has plain white walls but is anything but boring. The statement-making piece in this room is undoubtedly the Vintage Radio Flyer car, but we can't help but notice the classic furniture that can be used throughout the years as the child grows up.
The sophisticated space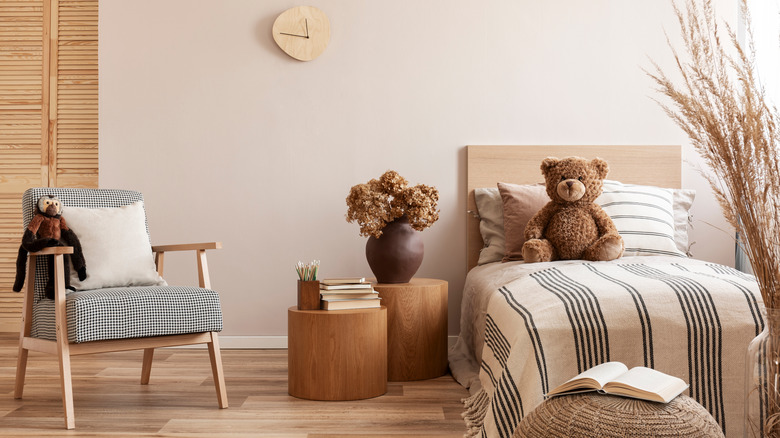 Photographee.eu/Shutterstock
The only thing that tells us this is a kid's room is the teddy bear on the bed. Otherwise, the twin bed with a wood frame, the chic circular bedside tables, and the modern chair make it a unique, sophisticated space.
A light-filled dream room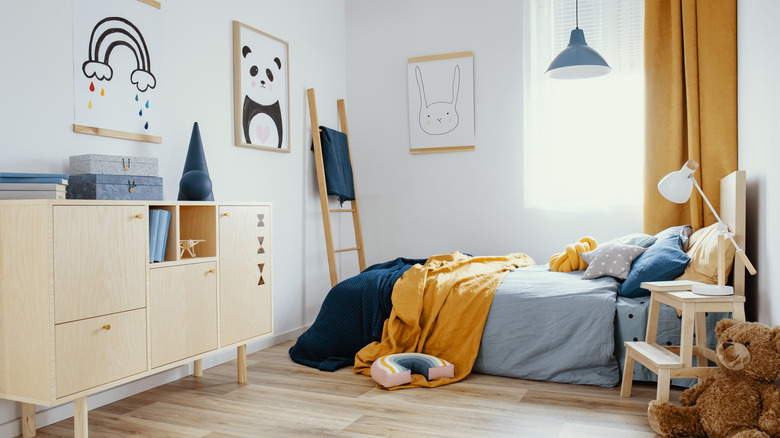 Photographee.eu/Shutterstock
The room's best feature may be the ample light pouring in from the large windows, but we also love the color scheme of navy and mustard yellow with adorable artwork that can easily be switched out as your child gets older.
Climbing to the top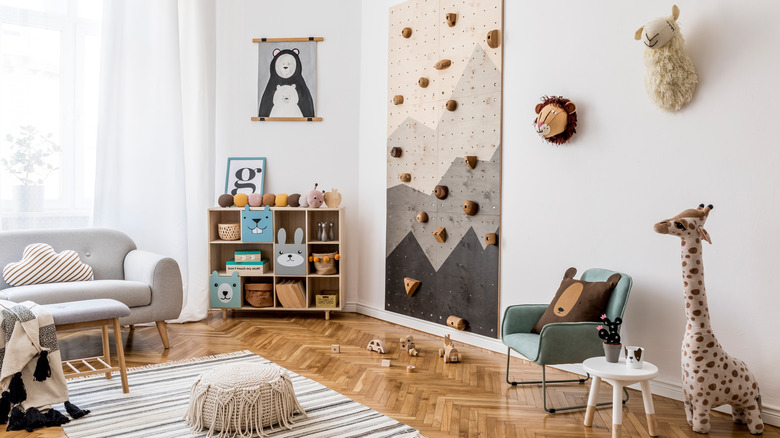 Followtheflow/Shutterstock
How cool is this climbing accent wall that looks so artistic it could almost be mistaken for artwork!
Just plain cool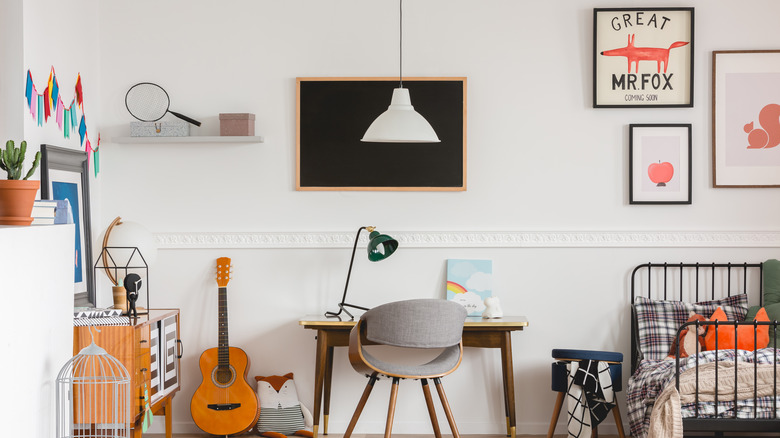 Photographee.eu/Shutterstock
The center focus of this boy's room is the desk paired with a modern chair, cool accessories (like the guitar), and unique artwork with pops of red.
A relaxing retreat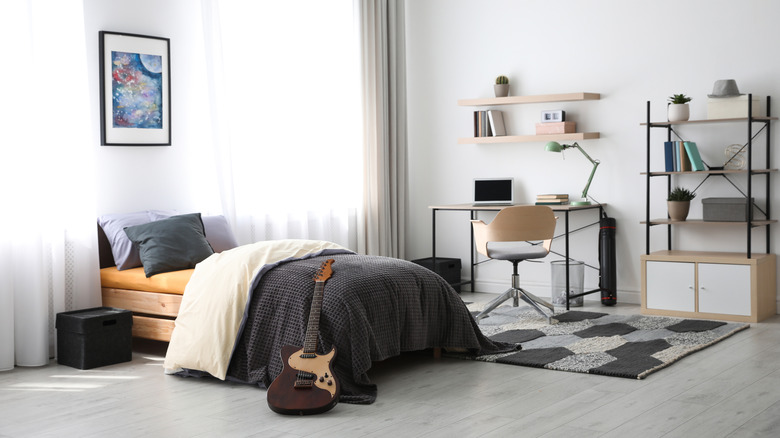 New Africa/Shutterstock
This boy's room would be ideal for an older child with a perfect workspace; it's a place we can really see them spending a great deal of time in. Dark gray bedding, a patterned rug, and plenty of shelving make this room a winner in our book!
Add string lights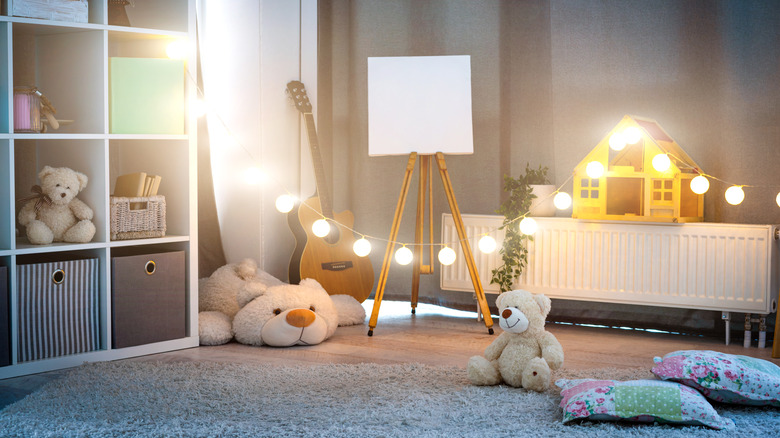 In Green/Shutterstock
Don't string lights put you in a better mood? Something about the sparkle of the lights just makes us so happy. Consider adding string lights to your child's room to add a little magic.
Into the blue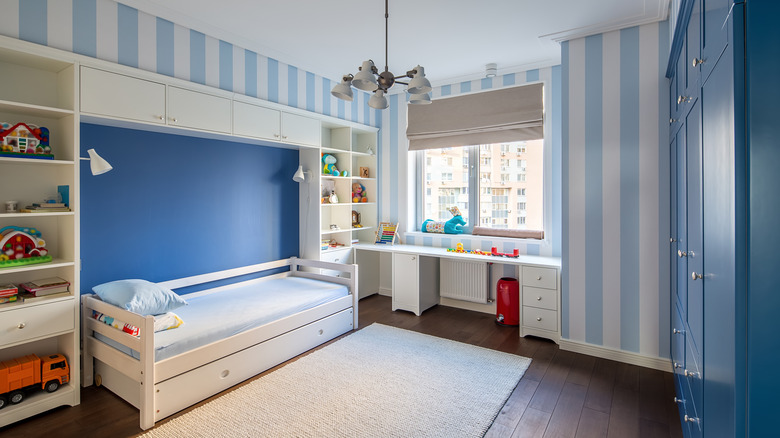 bezikus/Shutterstock
Blue and white striped walls are all you need to create a unique room for your little boy, but if it were us, we would add a giant bean bag for an extra place to lounge with all of that extra space.
Seeing stars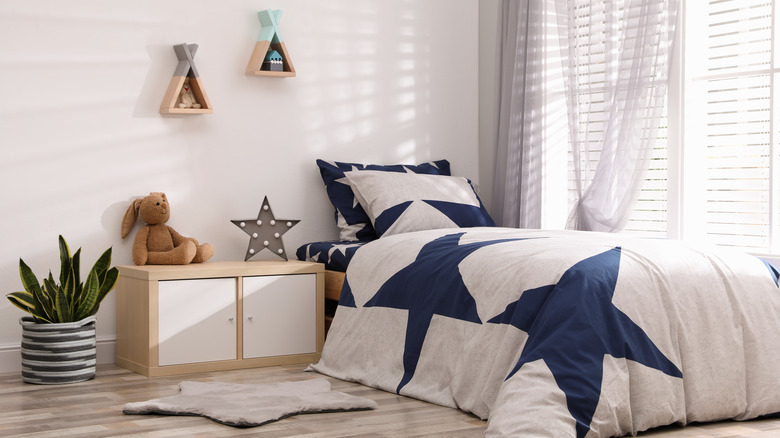 New Africa/Shutterstock
We love this star-themed bedroom with massive blue stars on the bedding and an accessory on the table, and if you look closely, a small starry rug!
All white everything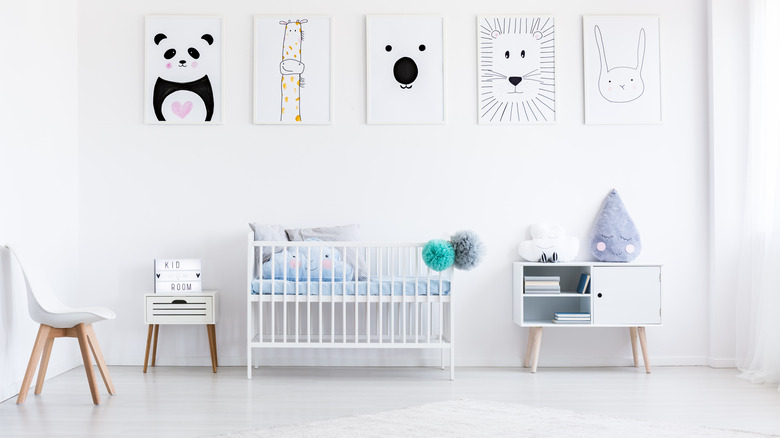 Photographee.eu/Shutterstock
There is no need to paint your walls an eye-popping color because this white room looks divine painted crisp white with white flooring and furniture. The only added color is seen in the accessories, toys, and black-and-white artwork.
Too cool for school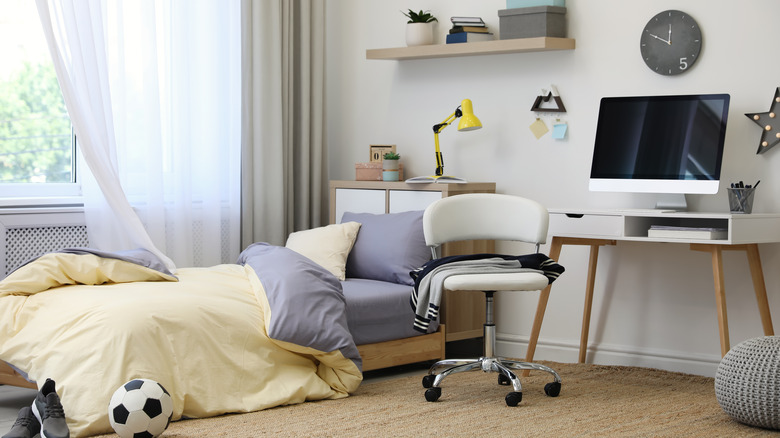 New Africa/Shutterstock
A modern workstation with a massive computer, stylish wood furniture, and light yellow bedding make this room too cool and a total hang-out for the kids.
Neutral tones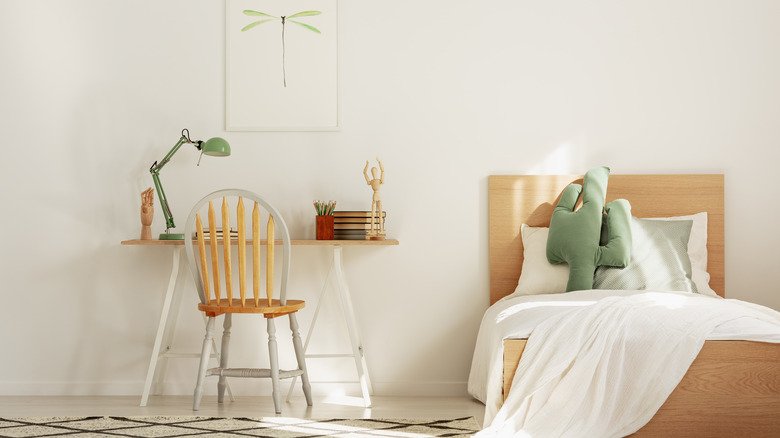 Photographee.eu/Shutterstock
Light wood furniture looks dreamy with white walls and light green accents from the light to the cactus pillow.
Emerald touches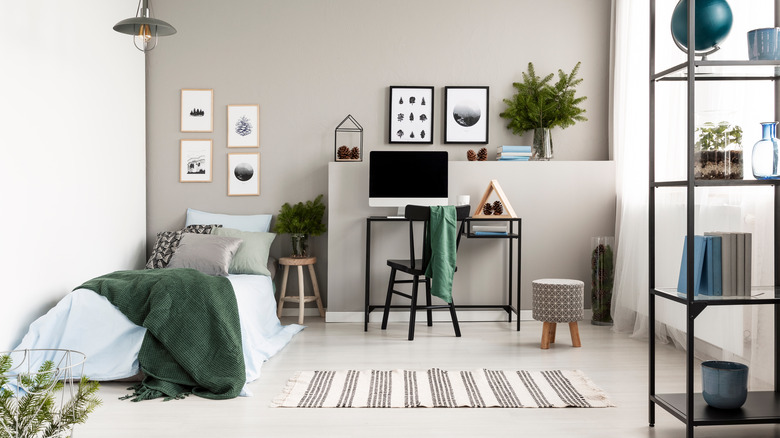 Photographee.eu/Shutterstock
A neutral accent wall really pops with emerald touches throughout, from the throw blanket to the lush greenery.
Head to the mountains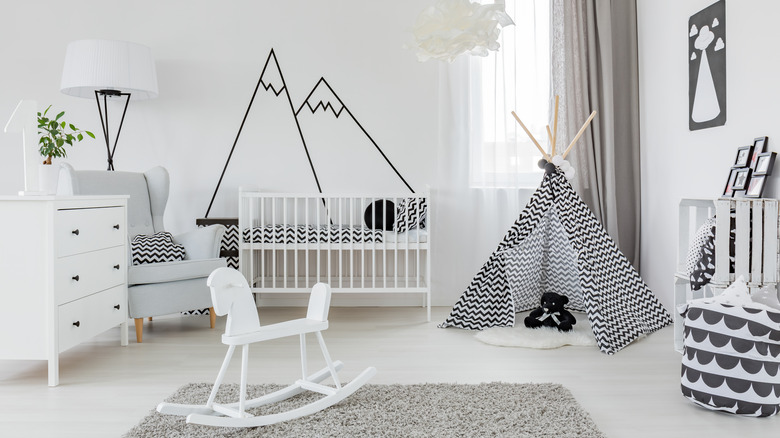 Photographee.eu/Shutterstock
Create a mountain retreat for your son's black and white bedroom by making a stunning backdrop above the bed with a simple drawing that truly inspires.
Black and white stunner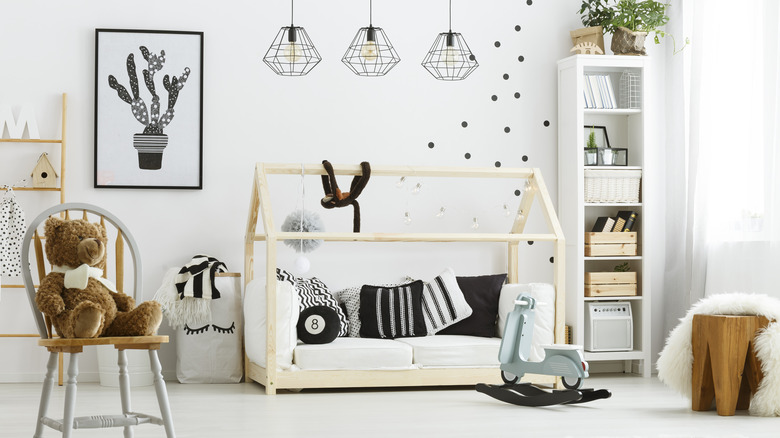 Photographee.eu/Shutterstock
This room features one of our favorite color combinations of black and white for a major stylish statement. Just add luxe lighting, pillows in the color scheme, punchy graphic artwork, and a polka dot pattern on the wall.
Pops of yellow
Photographee.eu/Shutterstock
A simple room comes alive by bringing in bright pops of yellow with the accessories, from the bright chair to the moon and stars wall art.
An artistic chalkboard wall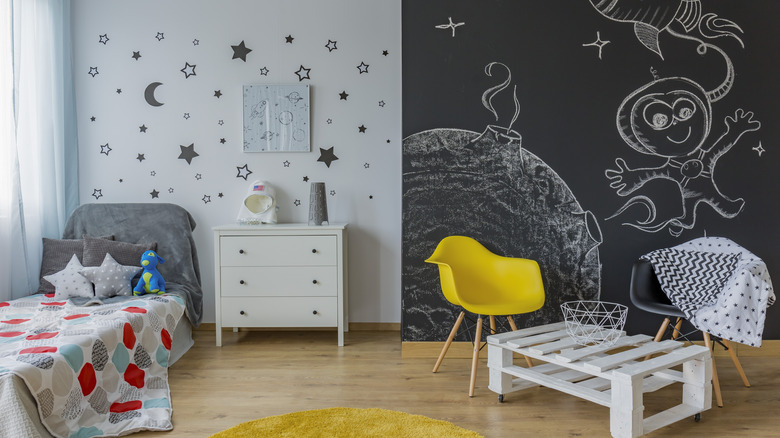 Photographee.eu/Shutterstock
If you have a little artist, consider painting the wall with chalkboard paint so that your child can create their own masterpieces.
Your little sunshine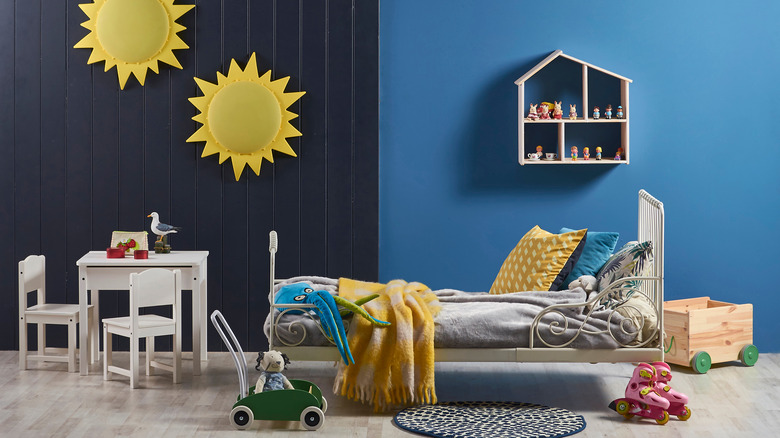 united photo studio/Shutterstock
A navy wall panel looks incredible, featuring two bright suns to bring some bright light into your child's room!
A retro-Inspired bedroom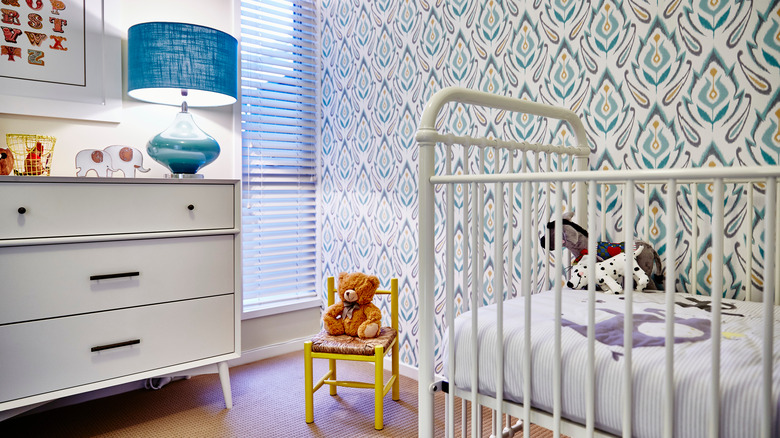 PhotoMavenStock/Shutterstock
The retro, patterned wallpaper is a unique touch for this incredibly stylish nursery with the right amount of low-lit lighting.
An ethereal sun-filled room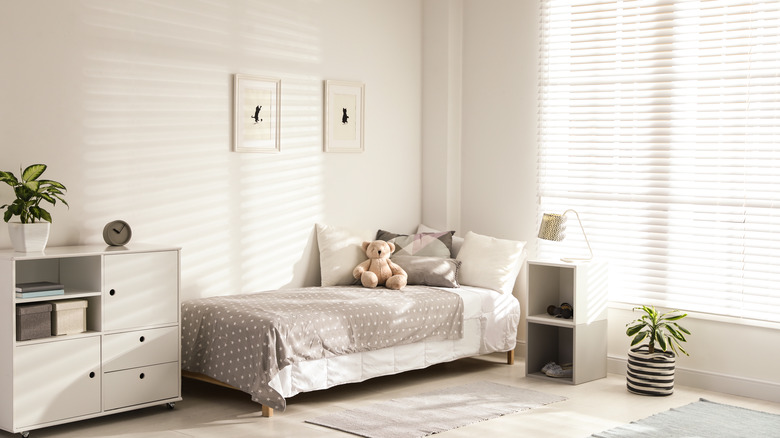 New Africa/Shutterstock
This sunny, all-white room is bathed in natural light for a truly relaxing aesthetic that would be a truly calming retreat.
A '70s aesthetic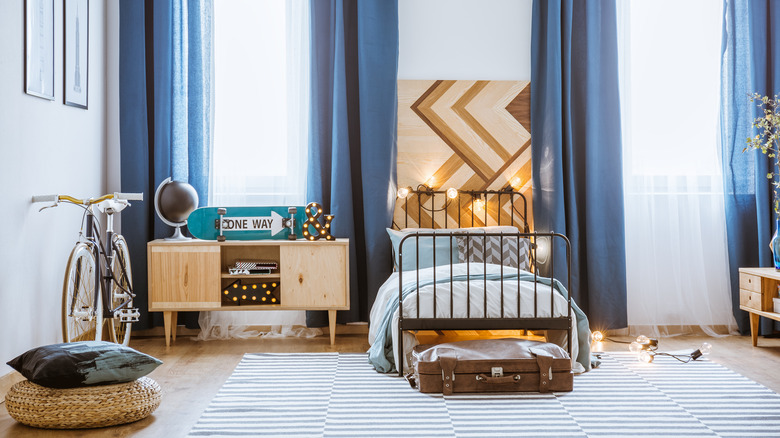 Photographee.eu/Shutterstock
We can't help but feel a '70s vibe with this boy's room featuring a unique graphic art painting in different shades of brown. The blue drapes, a wooden cupboard, and cool accents complete the room.
A creative bed frame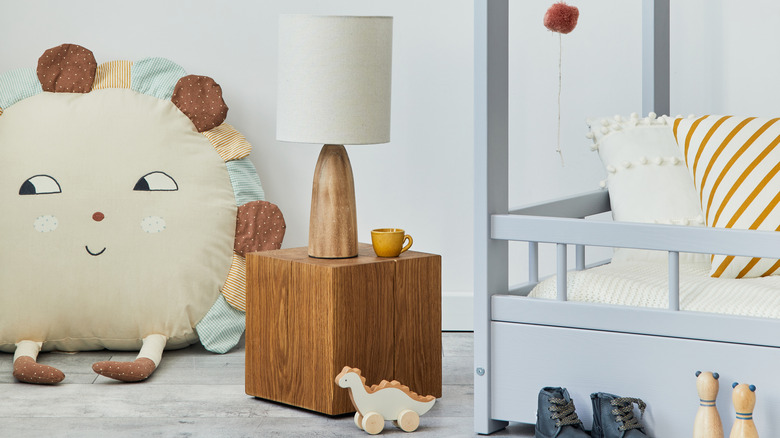 Followtheflow/Shutterstock
A light blue, unique bed frame may actually make your child want to hit the hay. Pair it with a fantastic bear poster and wood table accents, and you have yourself a total upgrade.
A creative work area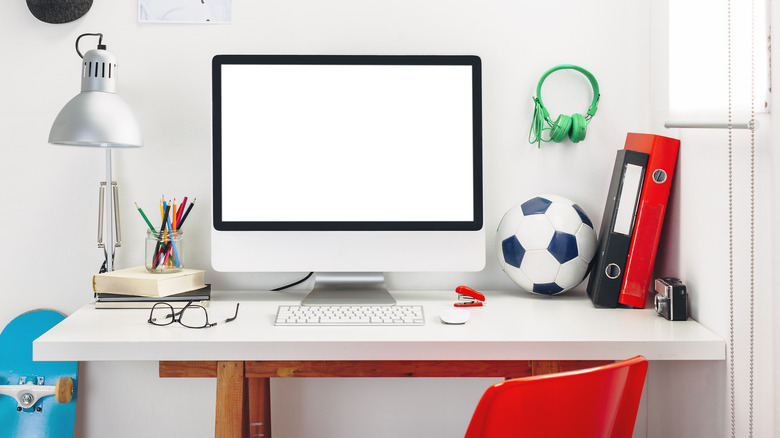 BONNINSTUDIO/Shutterstock
Set up a space where your child will want to actually do their homework with a place for everything, from the headphones to colored pencils.
A world traveler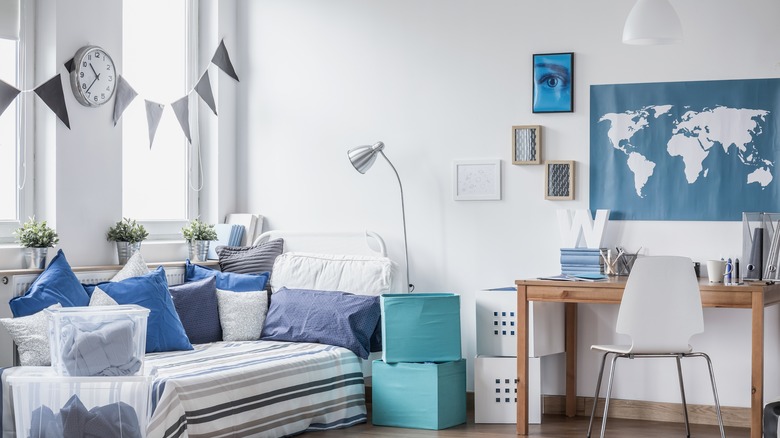 Photographee.eu/Shutterstock
Inspire everyone who comes into your son's room to travel the world by putting up a massive world map wall hanging.
Electrifying bright blue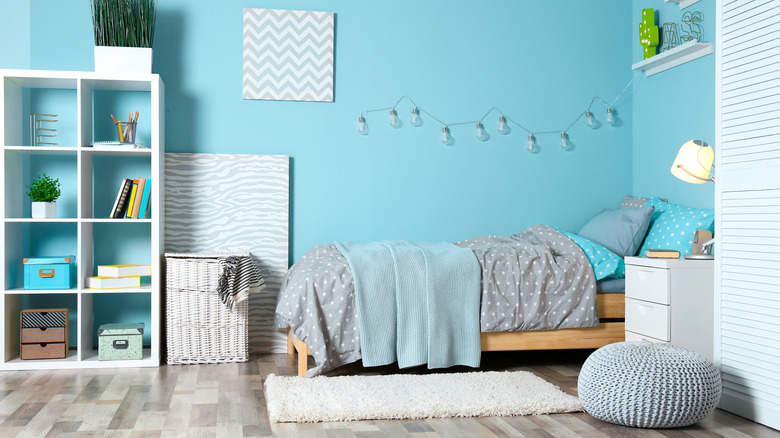 New Africa/Shutterstock
A teal and gray color combination can be such an inspiring color scheme for a boy's room.
Blue moon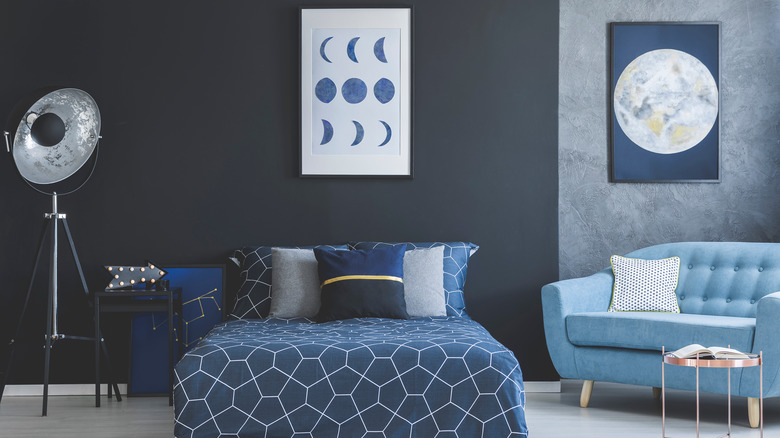 Photographee.eu/Shutterstock
Dark gray walls, modern furniture, and moon-inspired accessories throughout tie this room together. The darker colors keep it relaxing.
A spectacular shared space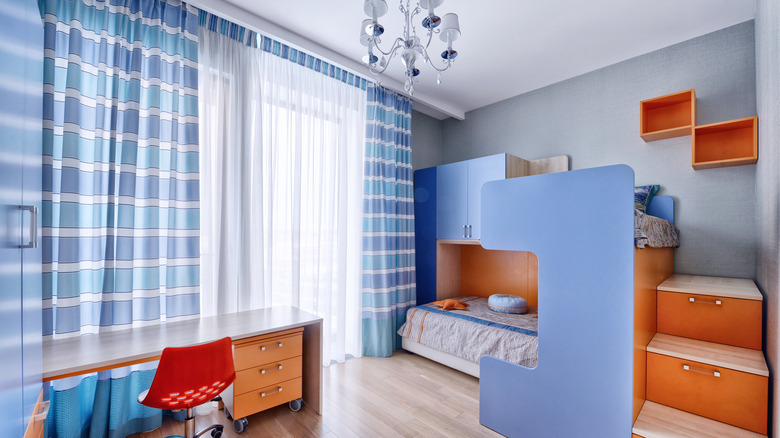 Vadim Ovchinnikov/Shutterstock
This bedroom has incredible blue boxy bunk beds with orange accents throughout. The colors look fabulous together.
A large attic retreat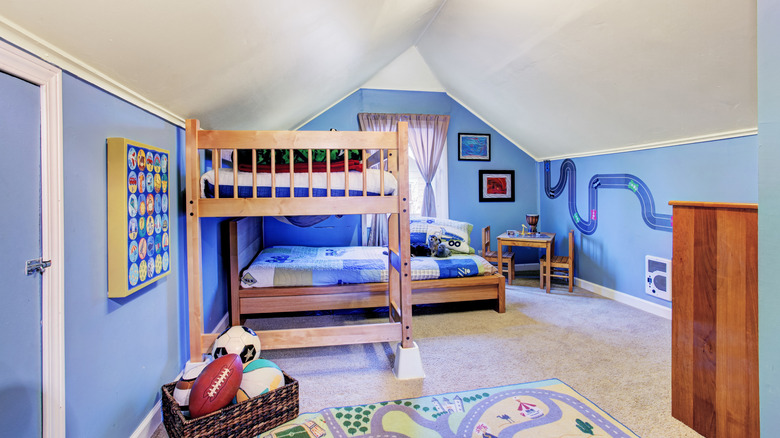 Artazum/Shutterstock
This massive space is painted in a fun blue hue with a racetrack along an entire wall, perfect for the car lover in your life.
Bright yellow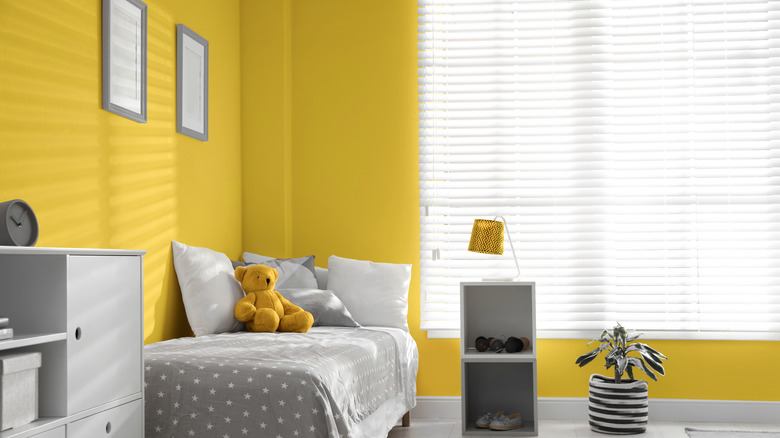 New Africa/Shutterstock
Painting your child's room a bright yellow is a great way to add excitement and inspiration to the space.
Painted crosses wall art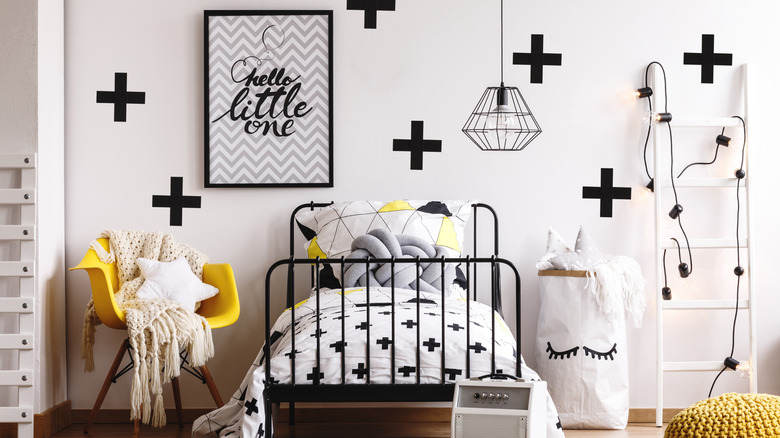 Photographee.eu/Shutterstock
You don't need to have a large budget to make a splash. All you need is a bit of creativity to create a unique room with an accent wall that pops with just a bit of paint.
A deep green retreat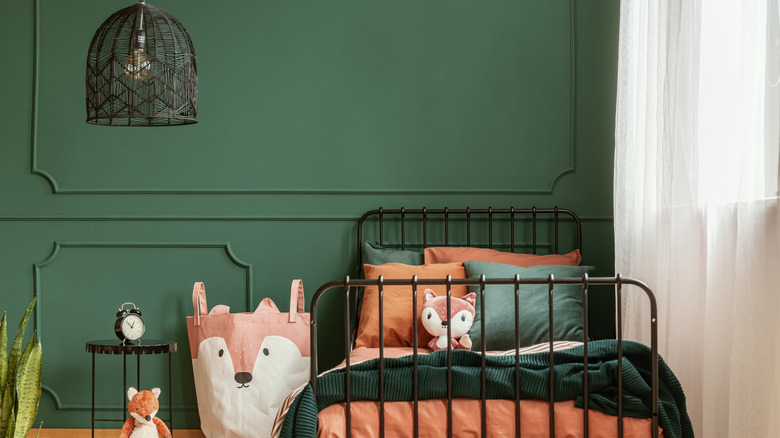 Photographee.eu/Shutterstock
This boy's room looks unbelievably cool with deep green walls and peachy accessories, like the stuffed animals.
To the moon and back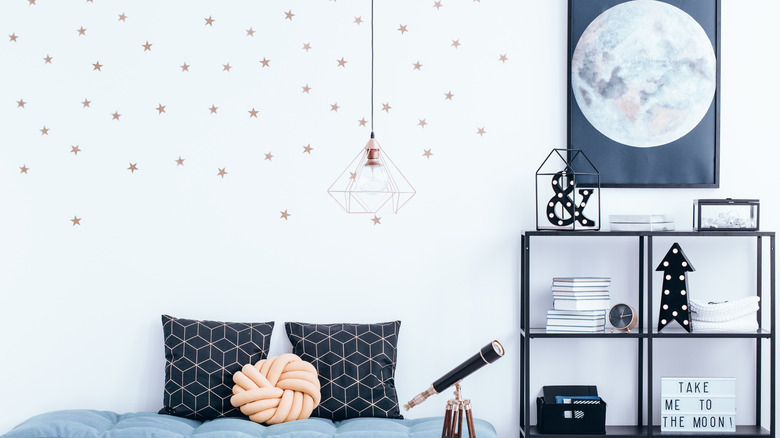 Photographee.eu/Shutterstock
Have your little shooting star sleep under the glowing moon with just a few space-inspired touches.
Art lover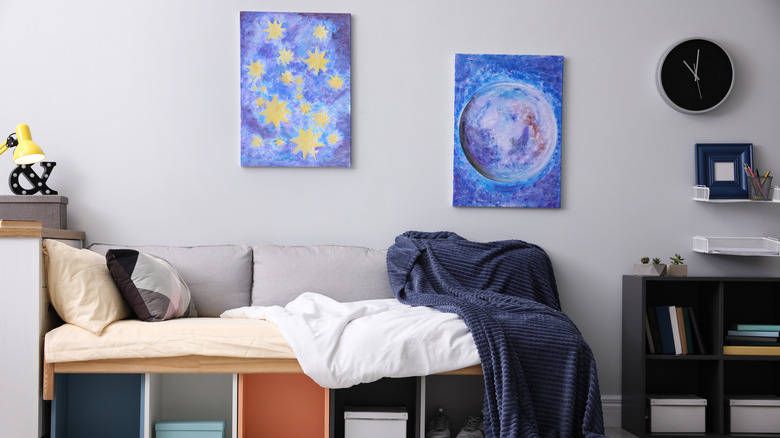 New Africa/Shutterstock
Ignite a love of the arts by hanging unique artwork by up-and-coming artists on the walls, adding room accents in matching tones.
Textured grays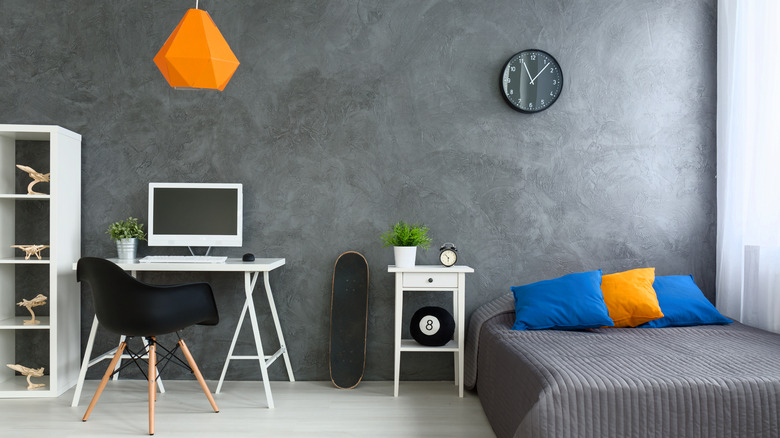 Photographee.eu/Shutterstock
Add a gray textured wall to your son's room to add a little depth to the space. Pops of orange and blue make the room pop.