15 Colors To Decorate With For A Soft Girl Aesthetic
Painting your room can be one of many stressful situations when decorating your home, especially trying to figure out what theme to go for. There are tons of ways to decorate and mix up colors to give your space a cozy yet idiosyncratic aesthetic. The soft girl trend was made for girls with a more feminine personality who love everything pink and yellow, according to Aesthetic Roomcore. The important part about putting your room together is picking out different decor pieces such as furniture, wall art, accent pieces, and lighting options. You can have a lot of fun with patterns that involve hearts or floral, basically anything that will make your room bright and dreamy.
There are a plethora of decor items that can be featured in your room other than the color you decide to paint your wall. Bed Threads claimed that incorporating any '90s trends will fit perfectly such as fluffy rugs and plushies, fairy lights hung on your walls or around your windows, cute vintage lamps, etc. Anything pink or pastel will make a great addition to your soft girl room goals.
Blush Pink
Blush pink is the ultimate color for a soft girl aesthetic, especially being paired with green plants and gold accents such as the gold table. The beige walls create a mundane background, but when it's accompanied by soft pink hues and gold accents, it makes everything else stand out. 
Soft Plum
Any shade of purple is super playful and creates focus on the item in that color. Adding some gold accent, such as light fixtures or having a white side table, will brighten up the room. You could incorporate lighter shades of purple such as lilac; finding other furniture pieces like plush pillows or a fluffy rug in purple will also create a softer look to the room. 
Beige
Pixel-Shot/Shutterstock
Beige is a great staple color that can be used in any room as a main focus or accent piece in furniture or decor. When it's decorated with green and white, it creates a fairy garden feel with the number of plants you can use. To make it into more of a soft girl aesthetic, you can hang string lights on the wall or around the plants. Also, adding some yellow pastel-colored pillows on the bed will create a softer effect. 
Pastel yellow
Yellow is a versatile color that's bright and fun, which can be used as small accent pieces or be the main focus. Integrating yellow with a white interior and some green plants will make the space look clean. Instead of white furniture, you could put in one yellow loveseat sofa to make your room fit the soft girl aesthetic. 
Periwinkle Blue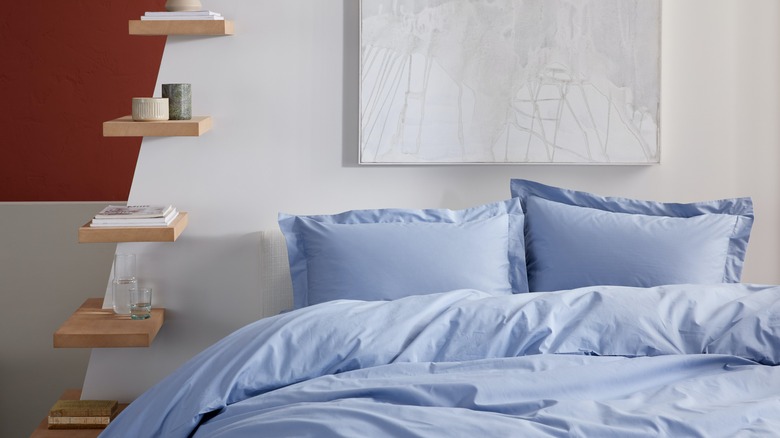 Unsplash
Adding some pastel blue colors such as periwinkle for your bedding while it rests against a white background will make it feel as though you're up in the clouds. The single wood shelves make the perfect minimalistic storage area to keep your favorite things; you can put up a few books, makeup or skincare items, or small plants to add more color. 
Matcha Green
Green is the perfect color to add to any room to reach the soft girl aesthetic since it feels comforting and calming while also embellishing a modern look. Pairing a mix of dark and lighter colors with the green, such as pinks and deep blues, makes the room cute and girly. 
Fiery Red
You could definitely do without the fairy girl if you're not into that, but incorporating any shade of red to a pink room gives it a soft, edgy look. Red is a bold color, but when it's paired with softer pastel colors like pink, it balances out. It can make the assumption that you love Valentine's Day, which is what a soft girl is all about; the love, happiness, and sweetness of it all. 
White
White is another versatile color that can be used to mix and match other colors such as lavender and turquoise in order to create that soft girl look. The string lights add the perfect touch. Having some sheer curtains makes the room feel princess-like and dreamy. You can make the curtains different colors if you don't want the room to be overpowered by a white interior, so having some sheer lavender curtains or light blue would go great. 
Pastel Orange
Anything pastel orange will make your room stand out, especially if you follow more of a monochromatic style. Peach-colored walls with a darker shade of orange can be paired along with green or white accents in furniture or decor brightens up the space. 
Gray and orange
Gray is a subtle color that can be matched with almost everything, so if you add a few plants and some gold fixtures, you'll create a cozy environment. As for a pop of color, incorporating some orange pillows into your bedding, depending on what color it is, can make it fun and girly. Any pastel base will do the trick to your bed or bedside table. 
Mint blue
Mint blue is the epitome of having a soft girl aesthetic space because it's light and warm, making any room different from others. You can play around with different shades of blue to mix it up with mint blue, or cross-matching it with other colors such as yellow will brighten up the space too. Instead of having an iPad stand, you can put a funky blue and green lava lamp or a fluffy white lamp to make it trendier. 
Neon purple
Neon colors such as purple, pink, and green create the best soft girl aesthetic, making the energy in any room higher and vibrant. Adding hints of neon throughout the room, using things such as lava lamps, neon signs that light up on the wall, or smaller plug-in neon lights, will spice it up more than sticking to just the softer pastel colors. You can add your own touch to it to make it your own. Neon doesn't have to only be used on your bedding or walls, you can use it on your desk or side tables, too. 
Gold accents
Gold is one of those colors you can add to any room to make it look expensive but also clean and girly. When you think of soft girl aesthetic, you think of pastels, hair clips, crop tops, and gold jewelry. Wearing gold on your body gives the same effect as it does in your living area, making it feel put together and feminine. 
Peach
If you're not a fan of brighter orange colors, you can go for more of a softer peach tone that can still create a focus in your space. Peach colored furniture such as the couch brightens up the space best when it's paired with some white pillows, a nice patterned rug, and plants. It's everything sweet and cozy anyone could ever need. 
Floral pattern
The ultimate soft girl color is all the colors that create beautiful patterns from florals to simple circles that will make anything feel like you're in a dream. The floral wallpaper can be used in your room, living room, or bathroom. When it's decorate with gold decor and simple colors such as white or tan, it makes you feel like you're in your own world.