10 Furniture Ideas For A Scandinavian-Inspired Home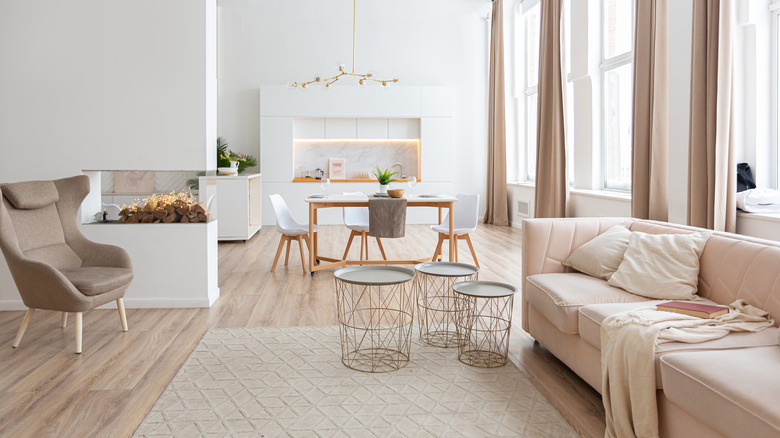 PinkyWinky/Shutterstock
Scandinavian style interior design emphasizes clean and calming spaces, so it is no surprise that this design style has risen in popularity around the world. Scandinavia Standard explains that the goal of this design approach is to create a home environment perfectly suited to meet the occupants' needs. In addition, the style emphasizes creating a simple environment using furniture that is made to last a long time.
Scandinavian-inspired homes tend to feature colors based on nature, such as greens, blues, and browns, or neutral colors such as whites, tans, creams, and grays. Natural materials are also frequently used, such as light wood, cotton, and wool. This design style often uses houseplants as design elements to bring life into a room. Lighting is another essential element of Scandinavian design since winters in Nordic countries are dark and long; having plenty of warm light sources helps create a cozy atmosphere. If you're looking to create a more peaceful and minimal home environment, these furniture ideas for a Scandinavian-inspired space are perfect for you.
1. Gray-toned chair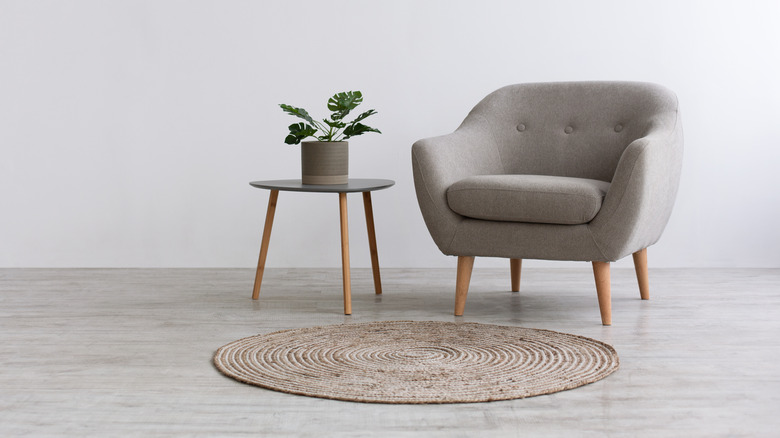 Prostock-studio/Shutterstock
Adding neutral furniture elements to your home, such as gray-toned chairs, is a great way to incorporate Scandinavian design. These furniture pieces are understated and will help create a neutral pallet for your place. 
2. Light wood table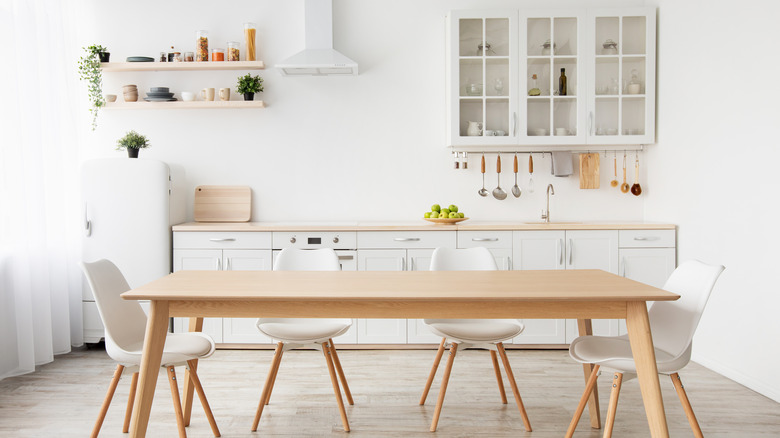 Prostock-studio/Shutterstock
Wood, specifically light wood, is an essential element of Scandinavian design that is often featured in homes. Bringing a practical dining table into your residence in a light wood tone is a perfect way to incorporate this minimalist style. 
3. Floating shelves
jenhde/Shutterstock
Floating bookshelves are a simple and clean element of design that you can include in your home. Because they don't have any visible hardware, these bookshelves create that appealing minimalistic feel.
4. Textured area rug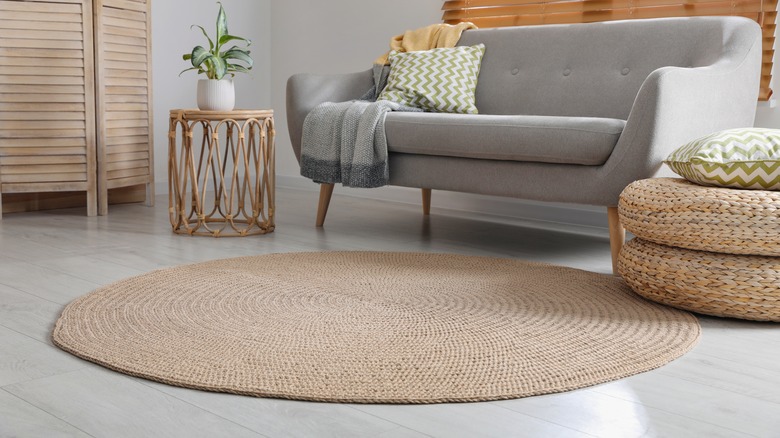 New Africa/Shutterstock
Going for a textured area rug for your living space helps create a sense of coziness, especially when the carpet has a natural texture, such as jute. A naturally textured rug is the perfect way to add a minimalistic design element to your room.
5. Neutral cozy bed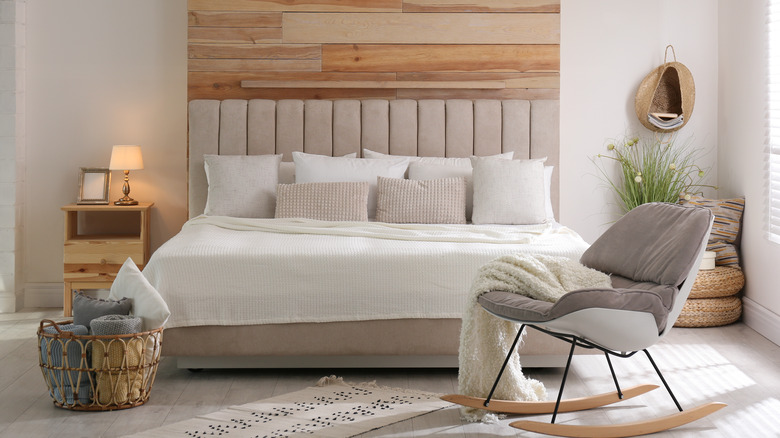 New Africa/Shutterstock
The bedroom is the space in your home where you most likely spend the most time, so it should be calming and peaceful. Having a neutral-toned bed will help create that sense of tranquility in the room. 
6. Earth-toned couch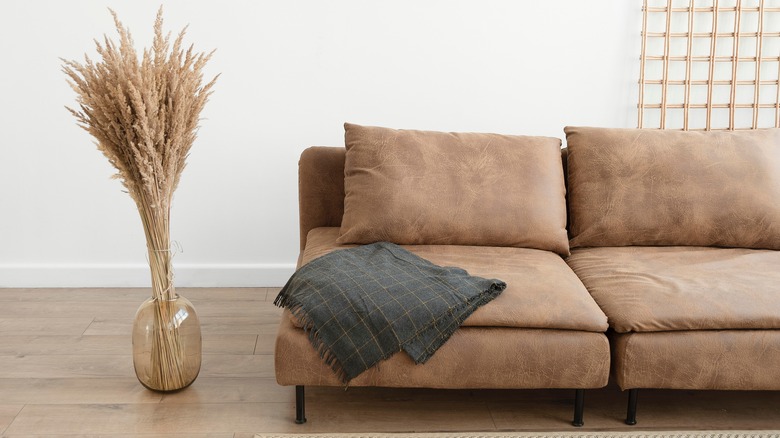 Katsia Jazwinska/Upsplash
Earth tones are important design elements for Scandinavian-styled spaces, so bringing in shades of green, brown, and blue helps emulate this design style. For example, a brown leather couch would bring a sense of warmth into a room.
7. Simple dresser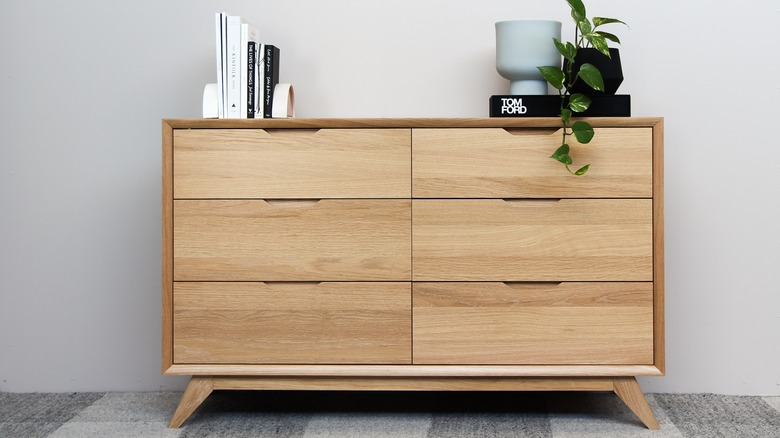 Nathan Oaklay/Unsplash
A dresser is a wonderful furniture piece that helps you embrace the Scandinavian style. A simple dresser can create a minimalistic feel in your space while also adding practical storage space
8. Warm lamps
TG23/Shutterstock
Nordic countries experience dark winters, and therefore, the Scandinavian design emphasizes lighting. Having multiple warm light sources in a room in the form of lamps helps create that cozy feeling in your home. 
9. Practical desk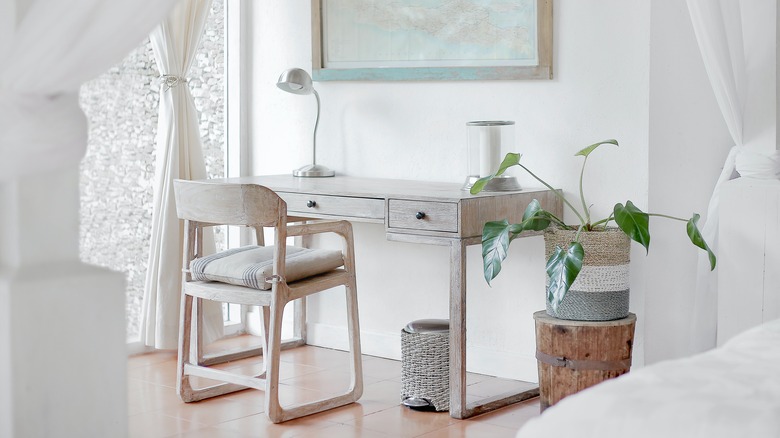 Hutomo Abrianto/Unsplash
Having a desk is essential for many people, especially those working from home. Choosing a lighter-colored and sleek desk and keeping it clutter-free helps incorporate that Scandinavian design element into your office space. 
10. Earth-toned plant pots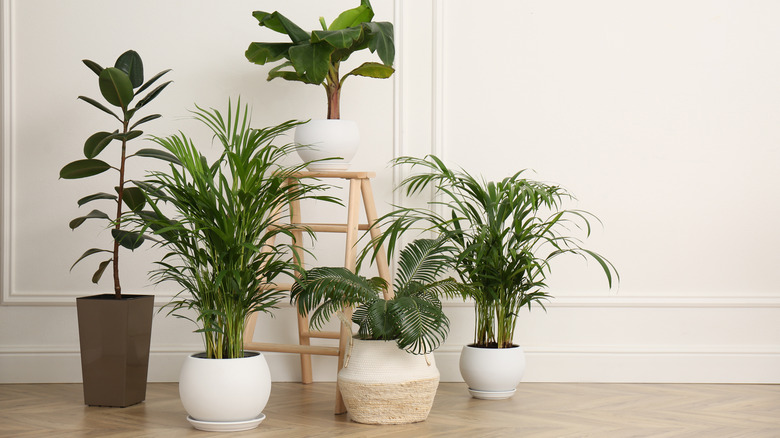 New Africa/Shutterstock
Having plants in your home, whether real or fake, helps to bring the outside inside and create more of a connection with nature. By adding earth-toned plant containers and different textured pots, you will be able to emulate a Scandinavian style in your space.