Owners Of Floating Mansion In Miami Are Trying To Evade Taxes On This Technicality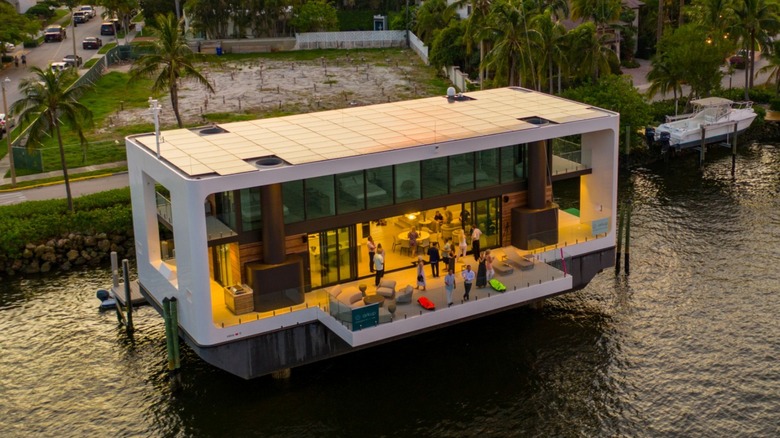 Felix Mizioznikov/Shutterstock
Is it a house? Is it a boat? Is it both? These are the questions that are hanging in the air that many legal experts and other boat and homeowners alike would like the answer to. Owners of a floating mansion located in Miami say that they should not have to pay annual property taxes as their home is actually a boat. Per New York Post, they are actually suing the county of Miami due to being served a $120,000 property tax bill as there is a law prohibiting annual property taxes against boats.
An attorney for the couple spoke to Miami Herald, stating that the taxes all come down to the appearance of the structure. Attorney Ivan Abrams said that it is because the boat looks more like a house than a yacht that got the boat owners stuck with "an unconstitutional tax assessment." He went on to add that if the floating home looked more like other yachts, this wouldn't be happening. Abrams and his spokesperson also wonder what this could mean for other large boat owners and annual taxes.
Houseboat interior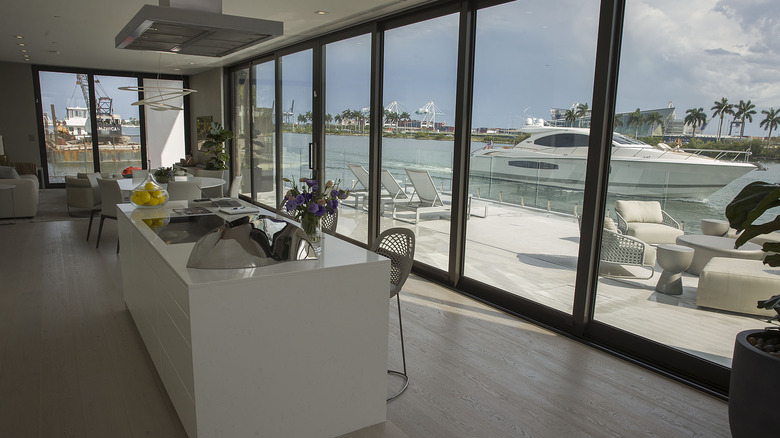 Joe Raedle/Getty Images
Enough with the legal stuff. Let's talk about the design of this spectacular architect. The houseboat, known as the Arkup, is about 4,350 square feet in total space, per New York Post. About 1,750 square feet of that is outdoor space, while 2,600 square feet is indoor space. This one-of-a-kind yacht was built to be a greener and more environmentally friendlier alternative to other models and designs. Complete with solar panels, there is no electricity needed to power this houseboat. A large outdoor patio resides on one side of the boat, perfect for suntanning or having a nice meal outdoors.
Seeing how eye-catching the exterior is, it should come as no surprise that the interior is just as appealing. For starters, Miami Harold states that the rooms inside of this two-story structure consist of a large-sized living room, a grandeur kitchen, two bedrooms, a personal gym, and a decent-sized patio. Furthermore, there are floor-to-ceiling windows that are installed throughout the boat that can be opened completely for an indoor and outdoor feel. Complete with bright white or lightly wooden furniture, the rooms of this boat give a warm earth tone feel.