10 Furniture Ideas For A Mediterranean-Inspired Home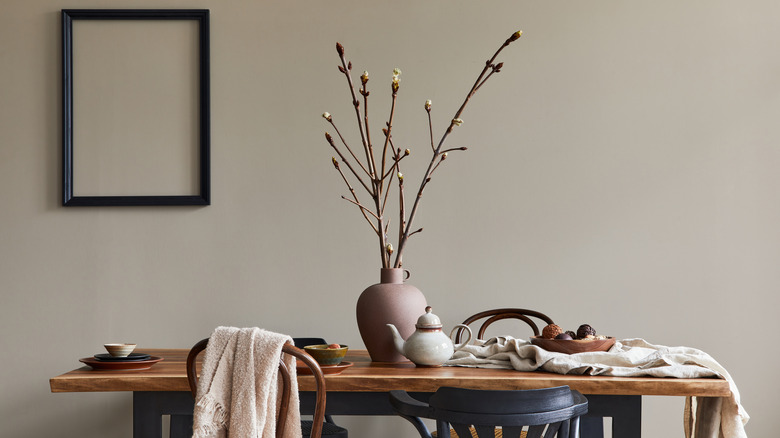 Followtheflow/Shutterstock
Whether you've traveled to the Mediterranean and experienced its distinctive interior style firsthand, or only ogled photographs, the rich layers and sumptuous colors, or sparse furnishings and muted walls are wonderfully in contrast with each other and vastly appealing. Villa Oasis, the Marrakech home of legendary courtier Yves Saint Laurent, is one of the most remarkable renditions of a lush and maximalist approach. The villa and verdantly curated garden, featured in Elle Decor, exist in stark juxtaposition to the predictable and pleasure-inducing simplicity of spare, white-washed rooms surrounded by an infinity of blue.
Coastal sojourners are tantalized and revitalized by different things: intense heat and cool breezes, sunlight or sultry nights, crystalline beaches and shaded interiors, resort fashion or days in a bathing suit, and last but certainly not least, that particular redolence and feeling of sea air. Lucky for us, there is more than one way to vacation, and many ways to carry the very atmospheric milieu of the Mediterranean back home. This style fits the warm locales of California and Florida beautifully, where indoor and outdoor living merge, bare tile and wood flooring are comfortable for bare feet most of the year, and the natural, sun-kissed materials used throughout the region make sense. Accessories, like metal lanterns, terracotta urns, and woven rattan baskets work anywhere. And there are subtle design choices, even in colder climates, that will convey the sense of sunny leisure and luxurious ease prevalent in Mediterranean décor; we share 10 of them here.
1. Painted pieces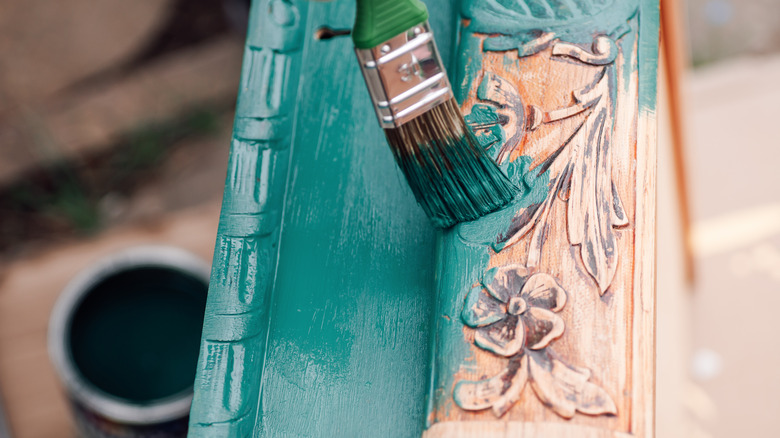 Lia_Russy/Shutterstock
In certain regions, saturated color is used plentifully and jubilantly — it can be chaotic to the uninitiated. Consoles, dressers, and accent chests are painted boldly, and sometimes decorated with pattern or metallics. This is a great way to refresh an old piece and add personality to a neutral space. Try teal, emerald green, red, or fuchsia.
2. Fade and stain resistant fabrics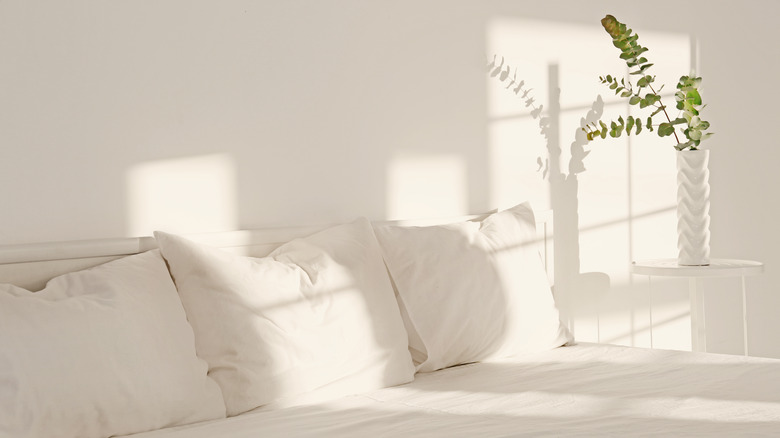 Africa Studio/Shutterstock
You'll want let in allll the light if you're conjuring the Mediterranean, which could mean sun fading and blemishes that are more noticeable. Easy care upholstery fabrics are affordable, and include color-fast and stain resistant options for keeping colors their boldest, and whites their brightest.
3. Caning, rattan and bamboo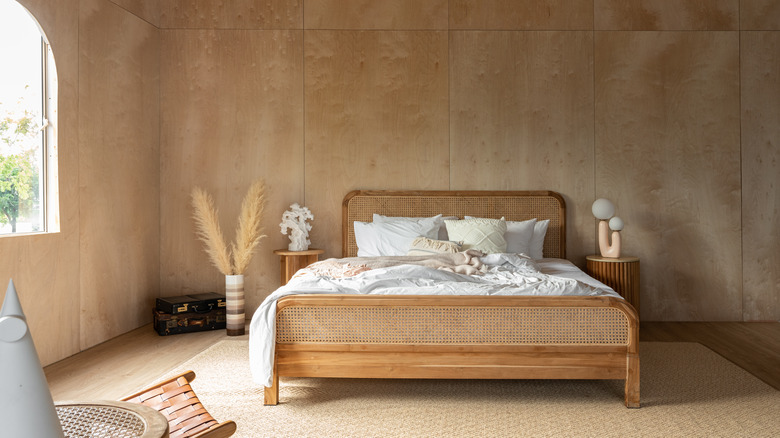 NMC2S/Shutterstock
These light and delicate materials were widely available and traveled easily to new markets. They still remind us of exoticism and adventure, whether as furniture, pendant lighting, or table top accessories.
4. Bold finishes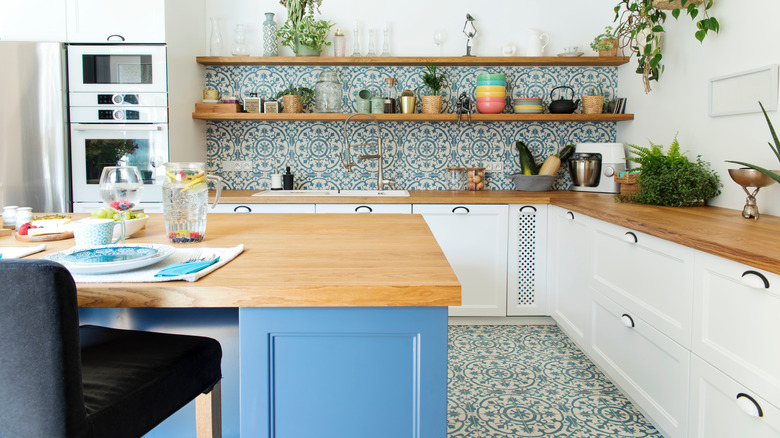 Followtheflow/Shutterstock
A colorful finish, particularly on bottom cabinets, and a decoratively tiled backsplash brings a Mediterranean mood to the kitchen. Choose from sea shades, or go fruity with lime, papaya, or persimmon. Open shelving furthers this breezy style by allowing the room to feel open and bright.
5. Kilim textiles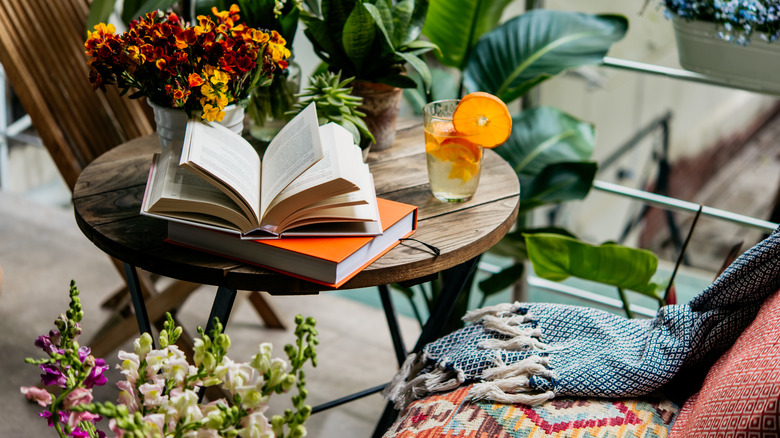 Shutterstock
Kilims, traditional, flat woven rugs, are an effective means for adding color, comfort, and pattern to any space. They're available as throw pillows, carpets in any size, and chair and ottoman upholstery; a kilim covered cocktail ottoman flanked by two neutral sofas is chic and playful.
6. Low-profile sofas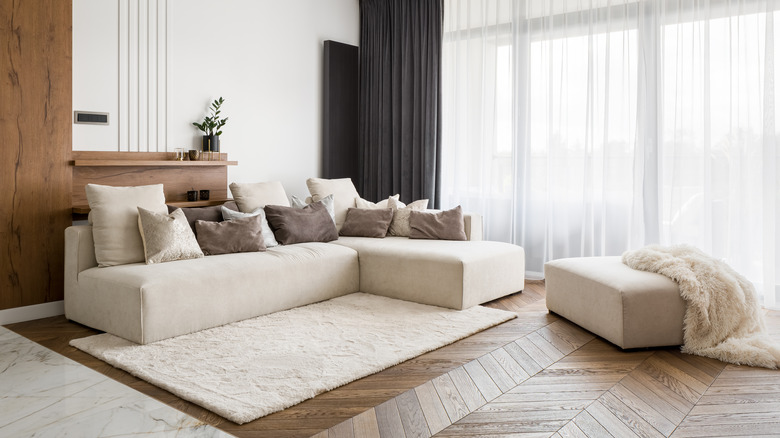 Dariusz Jarzabek/Shutterstock
Low-profile sofas and sectionals, especially those with a scatter-back pillow design, mimic the banquette seating of Moroccan riads and seaside patios. Paired with high ceilings, spaces are extra airy; if used in low-ceilinged rooms, they'll feel less constricting. 
7. Arches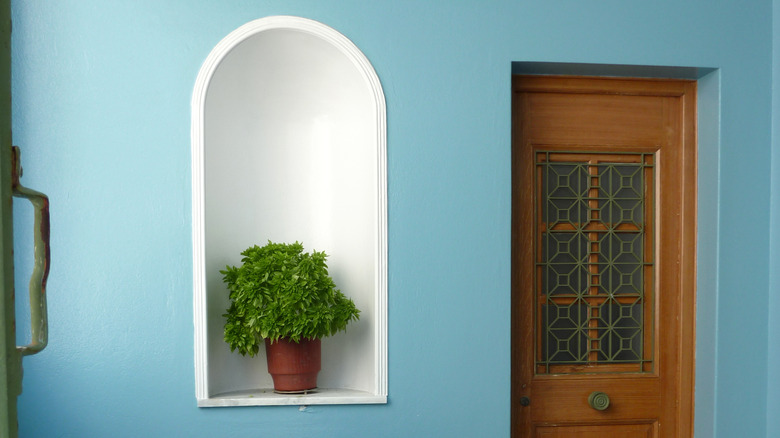 Dimitrios P/Shutterstock
Arched doorways and alcoves are a staple in Mediterranean architecture. Painting one around a standard doorway can imitate, and soften, a more permanent feature. Arched room screens, cupboards, and mirrors will also lend a similar effect.
8. Accent and tray tables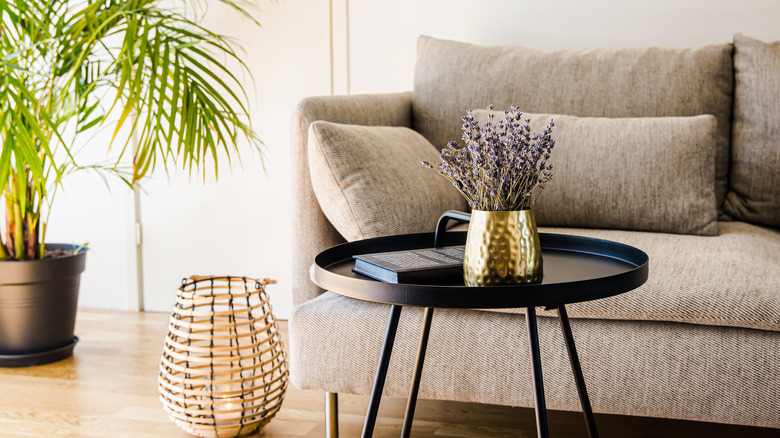 FotoHelin/Shutterstock
Channel the hospitality and social aspect of the style by creating intimate seating areas throughout a room. Center a drinks table between two chairs, inviting conversation, balance a tea platter on an ottoman, or pair an upholstered bench with a removable tray table.
9. Natural materials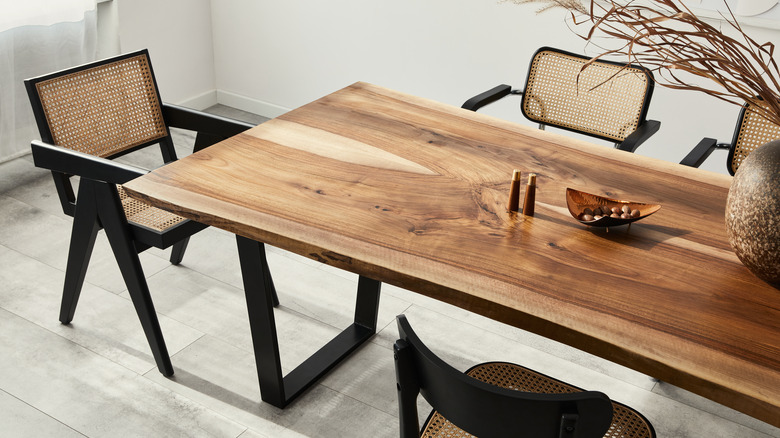 Followtheflow/Shutterstock
Wood, stone, linen, plaster, terracotta ... simple and organic materials are highlighted in Mediterranean decor. When the natural world is so abundantly glorious, why obstruct or distract from its attributes? The sheen of starlight and sea salt are the only glitter one needs.
10. Sumptuous color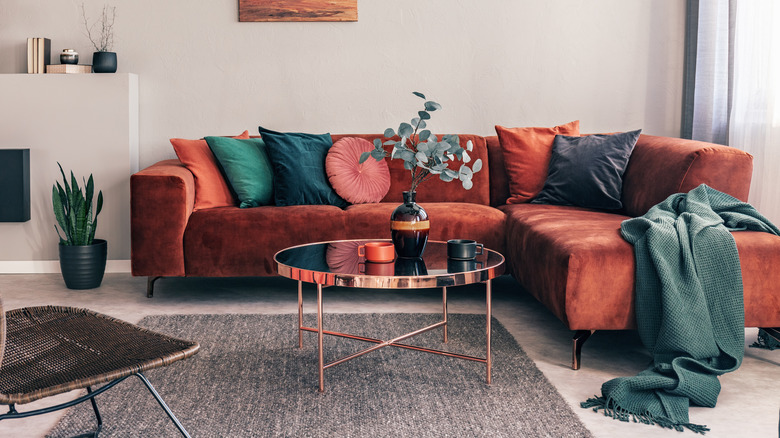 Photographee.eu/Shutterstock
From vivid flora to potent flavor to fragrant heat — rich color tells this regional story. Tell it at home by treating yourself with touchable fabrics and gorgeous shades.