Erin And Ben Napier Reveal How To Design Your Home For Multigenerational Use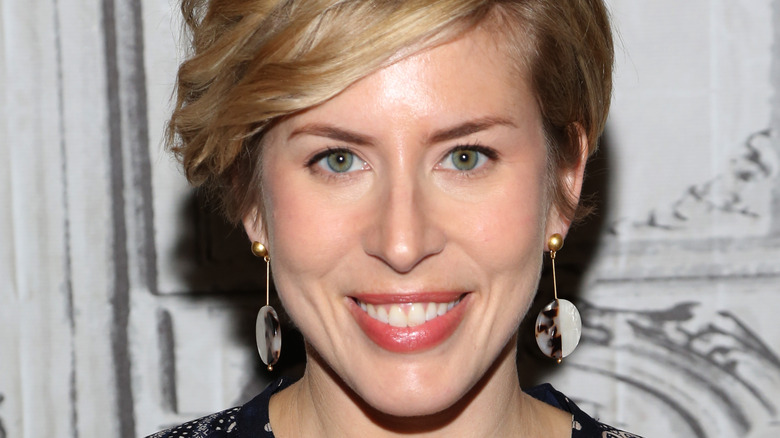 Manny Carabel/Getty Images
Erin and Ben Napier from HGTV's show "Home Town" renovated a home for a multi-generational family in Season 6, episode 11, as noted by Realtor. Their clients wanted to surprise the wife's elderly parents and grandmother with a home in Laurel, Mississippi. The residence would let them move closer to their daughter and son-in-law and their two young children. Here are some of the features that Erin and Ben incorporated to make the home meet the needs of their clients' older parents and grandmother. 
This particular family wanted a low maintenance house with one level of living space and a bedroom suite, including a full bathroom for the parents and one for the grandmother. They bought an 1,800-square-foot ranch-style house with three bedrooms and one bathroom for $100,000. Then, they spent an additional $95,000 to convert it into two primary suites. The low maintenance features start with the front door, which was replaced with a composite door that won't rot and won't require painting. 
Private living space for each family member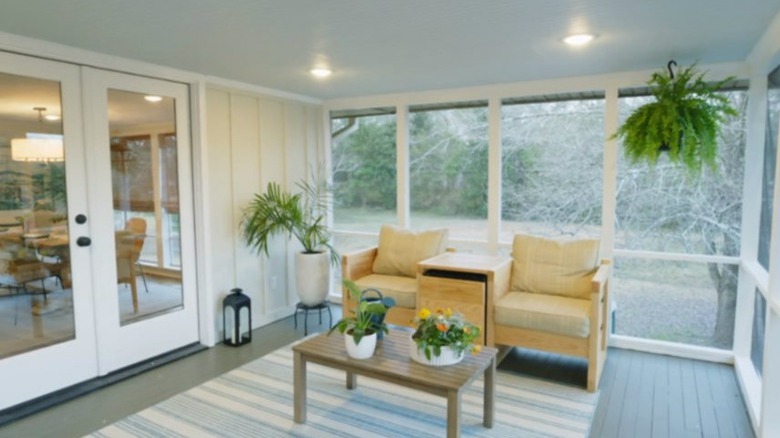 Discovery+
Erin and Ben Napier also wanted to give each person separate living areas that would meet their interests and provide them with some private space, per Realtor. The father loves sitting outside, so they created a screened-in porch with a custom-built double arm chair that includes a mini-refrigerator in between so he can share cold drinks with his son-in-law when he stops over for a visit. 
The 91-year old grandmother spends a lot of her time watching TV, so she needed her own sitting room where the volume wouldn't bother anyone else. Adding extra soundproofing to the walls and having the space share a wall with the dining room means that the noise won't impact the other bedroom. Additionally, Erin thought that the kitchen layout worked the way it was, so she just changed the cabinet fronts and painted the cabinets a combination of soft white and light blue. To assist with a low vision issue, she added dark knobs and pulls to provide a high contrast with the cabinets.
Erin and Ben Napier added a bathroom to create a master suite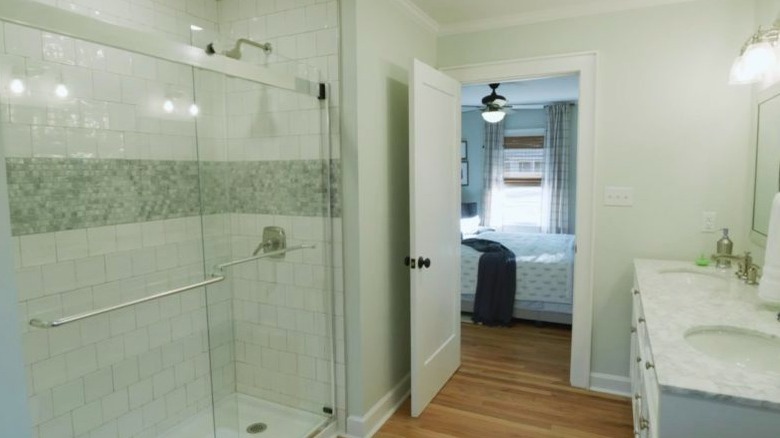 Discovery+
The client's parents on "Home Town" season 6, episode 11 had owned a small grocery store and worked long hours all of their lives. To that end, she wanted to give her parents special touches to enjoy that they never had. Her mother had always wanted a beautiful bathroom, so Erin and Ben Napier created a gorgeous bathroom, master closet, and laundry room from the extra third bedroom. 
In the bathroom, the Napiers added a marble-topped double vanity and a separate dressing table as well as a double-wide walk-in shower, as shown in a photo from "Home Town" on Realtor. The shower has a textured mosaic tile border with the silvers, grays, and iridescent colors that reminded Erin of oyster shells. Erin chose a silver grout to tie in with the rest of the tiles. The walk-in shower makes it easier and safer for people who may have difficulty stepping over the rim of a tub. According to Erin, it's smart to start thinking about how we build houses that are made for multi-generational living because of issues like this.