This Millennial Home Buying Trend Is Taking Over The Real Estate Market
Song_about_summer/Shutterstock
Just like everything else in the world, the real estate market is changing every day. As we've seen since the very beginning of the pandemic and even during a time before, we live in a digital era, and technology has made it possible to take that a step further, even in the housing market. According to Business Insider, more and more people, specifically millennials, are purchasing homes they've never seen in person before on the internet. Now with just a simple click, you have access to a virtual tour of your potential dream house from the comfort of your home. Some people might think this is crazy, but it's proven to be working effectively as this has become a popular experience for many homebuyers recently.
Since even before the pandemic, technology was taking over from QR codes for businesses, online ordering for takeout to working from home and remote meetings — and this has only grown in popularity. The days of having to commute anywhere are over. Even online shopping has become more popular than it was pre-pandemic, and house hunting isn't any different. People are more than comfortable purchasing homes online, strangely enough.
Millennials are taking over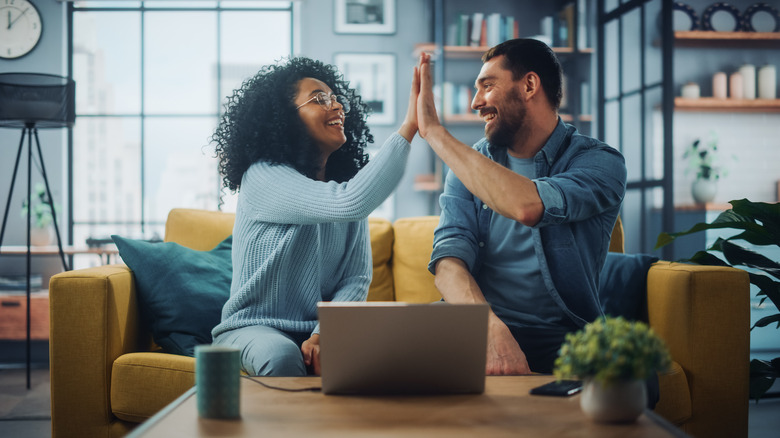 Gorodenkoff/Shutterstock
With the increase in house prices, this home buying trend is one that the market didn't see coming, but they are definitely not complaining as millennials are taking charge. Even with prices on the rise, more millennials are becoming homeowners and the new, effective way to buy a home doesn't seem to be dying down any time soon. According to Business Insider, 63% of people purchasing new homes in 2020 made an offer on a house they didn't see in person, although virtual tours were a mandatory part of the package for most millennials. Business Insider cited a survey done by Zillow that found that 40% of millennials were okay with buying a home online, but nearly 60% considered it after a virtual tour of the home. This shouldn't be too much of a shock as millennials are the first generation of homebuyers who were raised during the digital era of the internet.
Millennials buying homes virtually seems to be working very well in the long run. According to Business Insider, millennials have become the biggest share of homeowners, and they shared a survey done by ServiceLink that showed that 89% of them used technology during their home buying search. Sometimes it comes down to taking risks when it comes to securing your dream home. This might not be the best experience to buy a home for everyone, but it's definitely changing the real estate game.