Here's Where You Can Visit The House From Poltergeist
Since today's film and TV super-fans choose to continue their personal journeys of imagination and experience, some such fans do so by stopping by the physical locations where their preferred TV and film classics were filmed. And since film and TV fans of many genres participate in these entertainment-inspired excursions, it is understandable that horror film enthusiasts may also want to experience these inspired trips. To this point, the "Poltergeist" house is a famous location that people visit, as noted by House Beautiful. 
"Poltergeist," a 1982 horror film, centers around the young Freeling family. The family experiences supernatural visits (ghosts) at home, according to the storyline. Co-produced by Steven Spielberg, Tobe Hooper directed the film. Spielberg's story forms the basis of the film. In 1982, New York Times film critic Vincent Chanby described this film as tantamount to a tween's frightening campfire story. In the criticism, Chanby described ghosts from the film as unkind and mischievous. The film features a 30-something-year-old married couple of comfortable means, with their three children who range in age up to the mid-teens. 
The state of the Simi Valley residence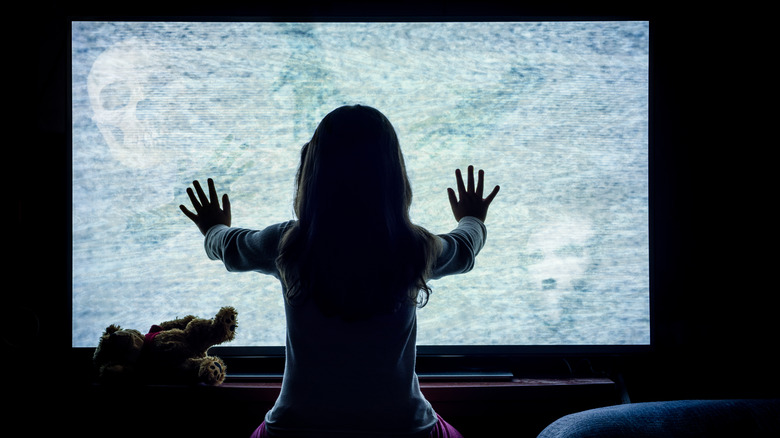 Alba Foto/Shutterstock
With the 40th anniversary of the film "Poltergeist" happening in 2022, certain fans will probably choose to visit the location where the vision was brought to life decades ago. For the people who do want to scope out the property of interest, they will make their way to Simi Valley, California. Located at 4267 Roxbury St, House Beautiful reported that the home where "Poltergeist" was filmed is well-maintained (and that the area itself is quiet). The spook-inspiring house reportedly looks almost the same as it did in the movie. 
Though a road trip or flight to California will probably satisfy the curiosities of certain fans of "Poltergeist," another option also exists. As Cinemark Theatres reported, in select movie theatres across the United States, "Poltergeist" showings will happen on September 25, 26 and 28, 2022. As per Cinemark, these "Poltergeist" showings will also include exclusive TCM content.