20 Ideas For Decorating Your Kid's Bedroom With A Space Theme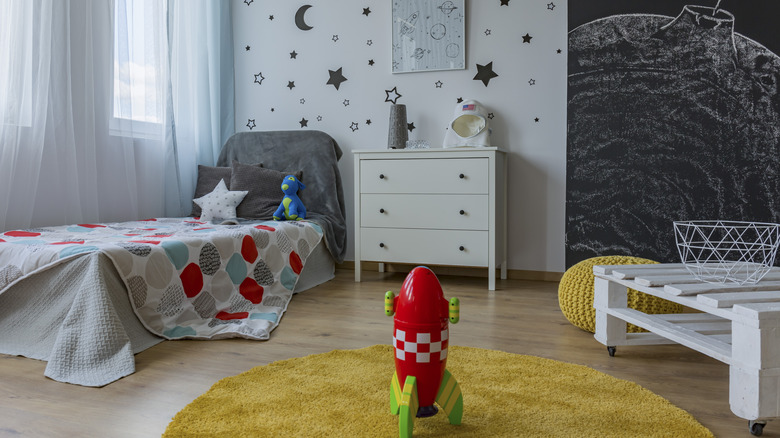 Photographee.eu/Shutterstock
Creating a unique bedroom for your children can be a fun planning experience for both parents and kids, but first, deciding on a theme can be a daunting task. If you have a space lover on your hands, this theme will give your child the opportunity to explore their curiosity about the galaxy without leaving their room, so we're guessing any parent will love that! For a child that loves outer space, creating an extraordinary bedroom can make them the center of their own universe (as if they aren't already!).
Whether or not your child is obsessed with astronomy, a space-themed room can make them excited to learn about math, science, or even the pattern of the stars, as The Spruce points out. Plus, this theme can work beautifully whether you are designing a room for a baby or an older child, per Motherly. If you are planning on this theme, keep scrolling for inspiration.
A space-inspired chalkboard wall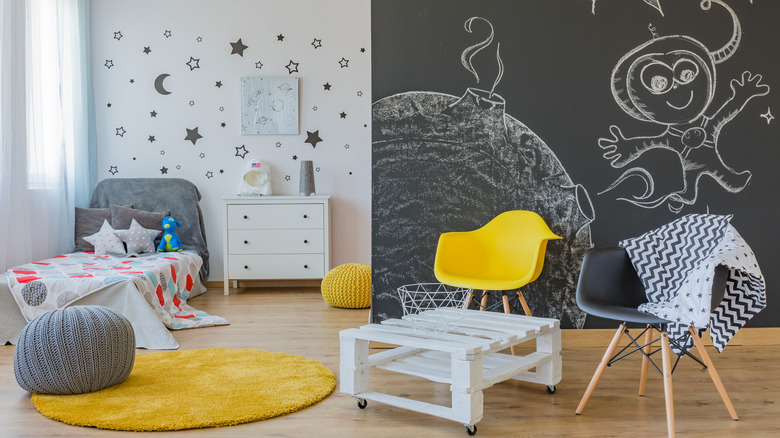 Photographee.eu/Shutterstock
If your child loves to draw, consider prominently featuring a chalkboard wall so they can create space-inspired artwork.
In the details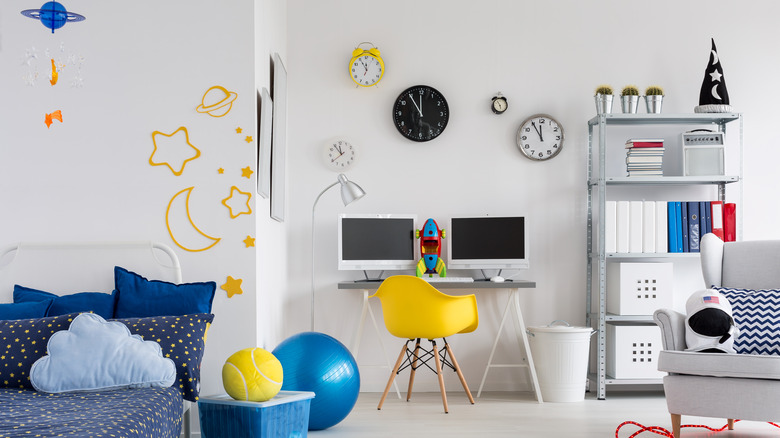 Photographee.eu/Shutterstock
This room has all of the details that would inspire any aspiring astronaut, from the rocket on the desk to the space helmet.
Starry-eyed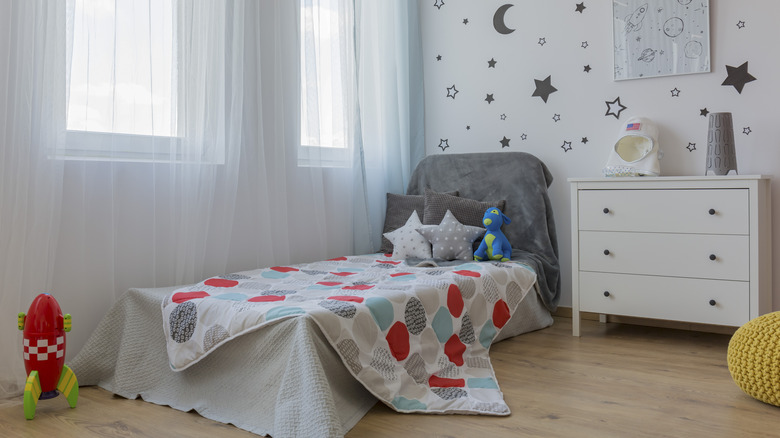 Photographee.eu/Shutterstock
This cozy child's bedroom features an accent wall full of stars that will be perfect for the light of your universe.
Add stars to the ceiling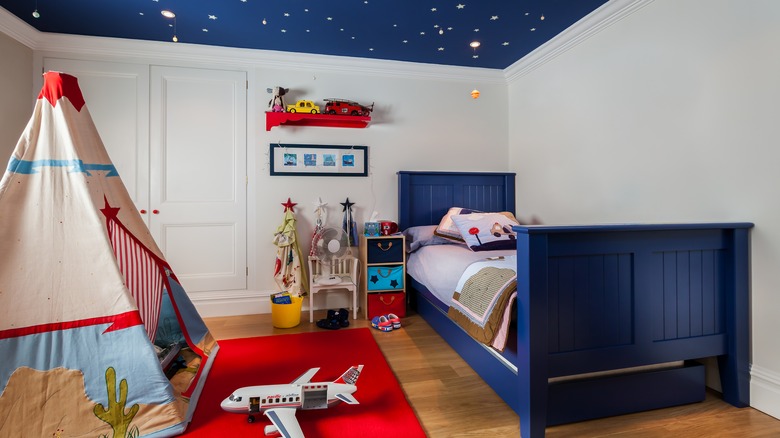 Mike Higginson/Shutterstock
You'll want to constantly look up in this room. Simply paint the ceiling a deep blue and add stars that glow for a recreation of the night sky.
Dreaming under the stars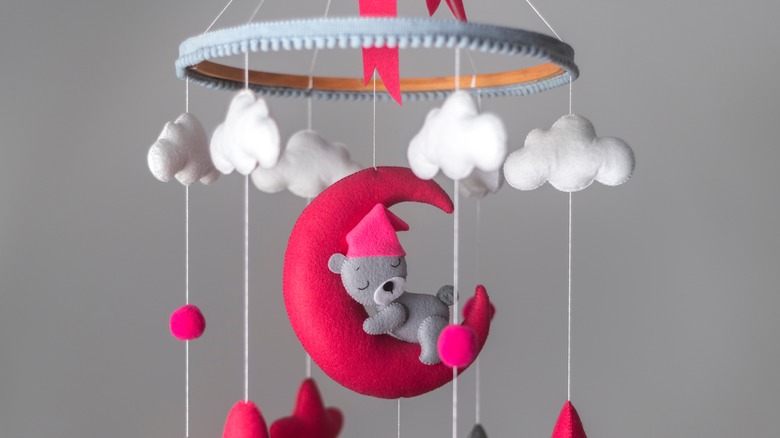 Nilanka Sampath/Shutterstock
If you're designing a space-themed nursery, this mobile would definitely keep your baby entertained after they wake up from a much-needed nap.
The center of your solar system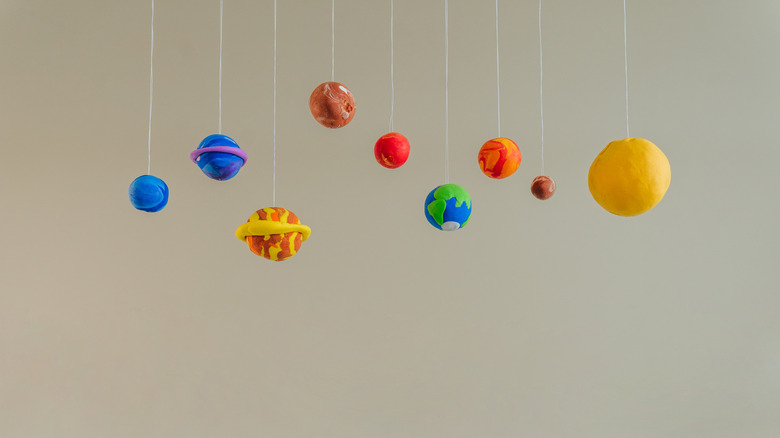 Lithiumphoto/Shutterstock
Your child will love to see the solar system hanging from the ceiling; plus, since the planets are made out of clay, it could be a fun and creative activity for the entire family.
Bright as the sun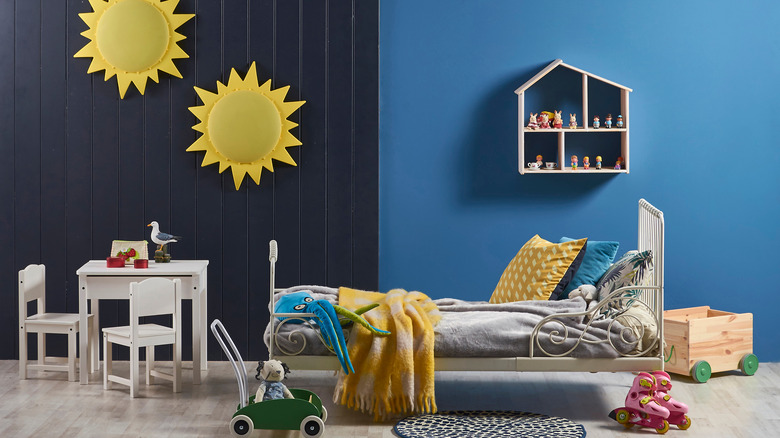 united photo studio/Shutterstock
These bright suns are the perfect choice for wall art to remind your child that they are as bright as the sun.
A colorful orbit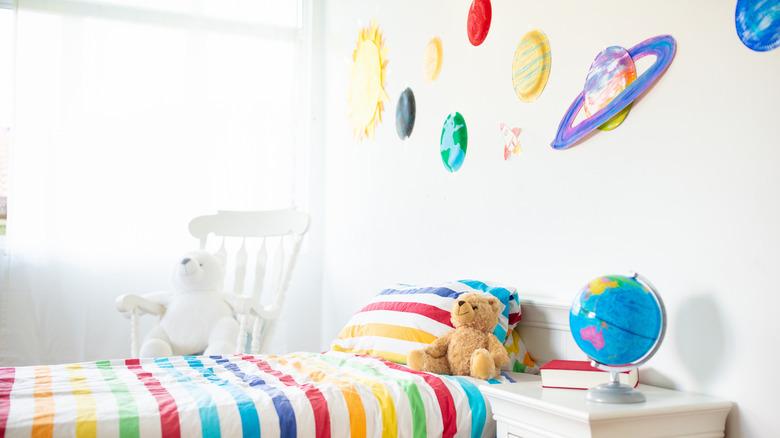 FamVeld/Shutterstock
No need to stick to dark blues for a space-themed room. You can also go for bold colors for your orbiting accent wall.
Venturing into deep space
Cassanas Photography/Shutterstock
This space-inspired bedroom looks stunning with themed star bedding and a TV that showcases the planets for a screen saver taking the space theme to another dimension.
The glow of the moon
Sunny studio/Shutterstock
Add a few space-themed pictures on the wall, but the focal point of the room has to be the glow of the moonlight on the table.
Space-age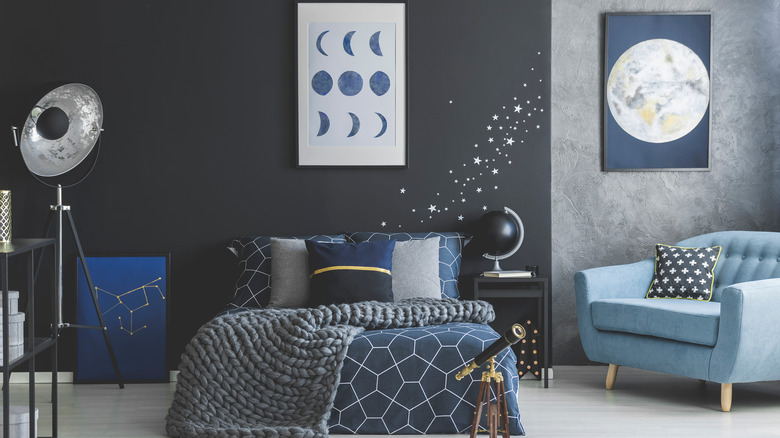 Photographee.eu/Shutterstock
Any lover of the galaxy would be obsessed with this room that features moons and stars. The themed framed art can move from a childhood bedroom to a college dorm.
Go light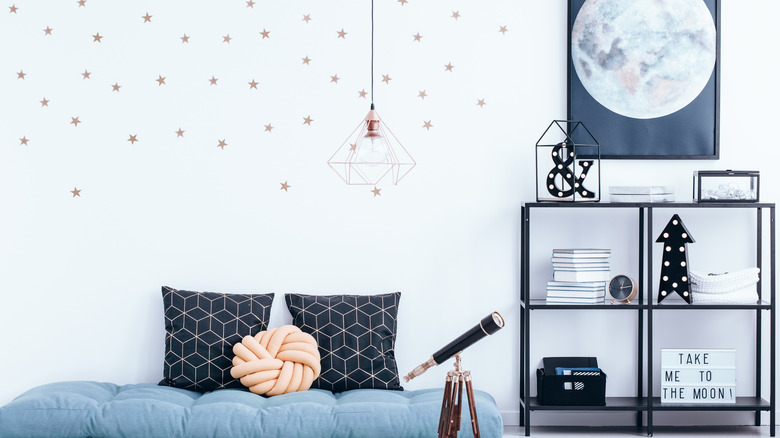 Photographee.eu/Shutterstock
If you prefer lighter colors, an brighter space theme looks just as beautiful. This room glows like the light of the full moon.
A simple solution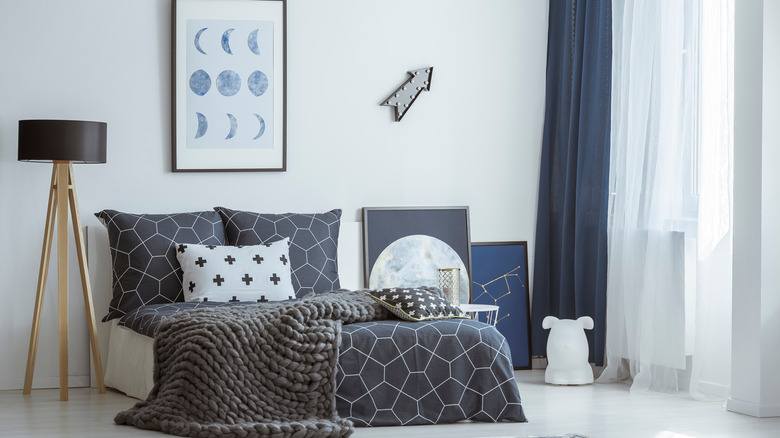 Photographee.eu/Shutterstock
If you want to add a couple of artistic moon-inspired artworks, it's a simple idea to create a space-themed room.
Stars on the wall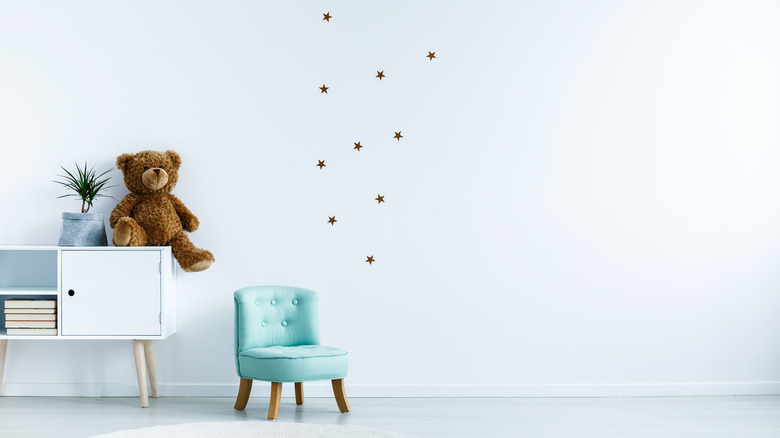 Photographee.eu/Shutterstock
Add a sprinkling of stars to an otherwise simple white wall, and feel free to try different patterns, or let your little star decide on the design!
An easy starry idea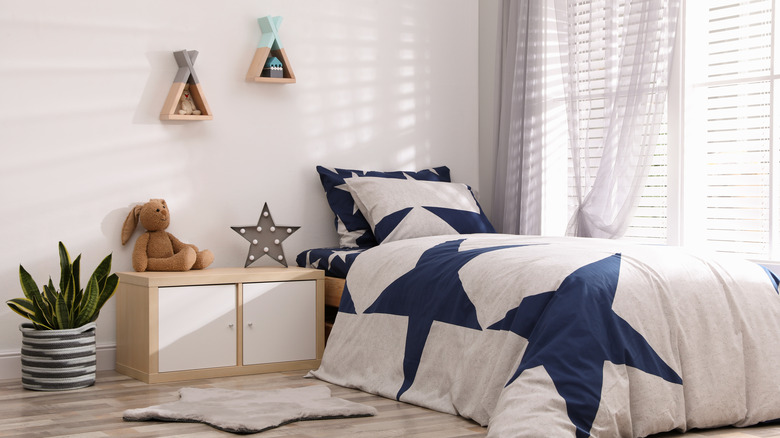 false/Shutterstock
If your child loves stars, consider swapping out their basic comforter with one that features them.
A nursery with bright stars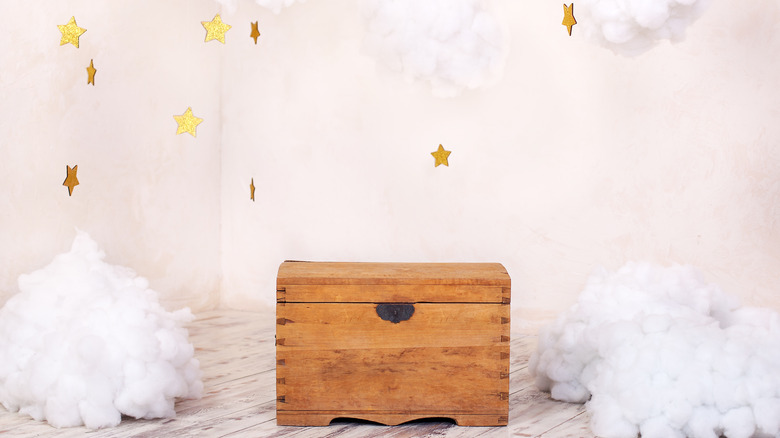 stock_studio/Shutterstock
This nursery would take only a weekend to assemble and could be a fun day of creativity with just a few star cutouts to display hanging from the ceiling. 
Seeing stars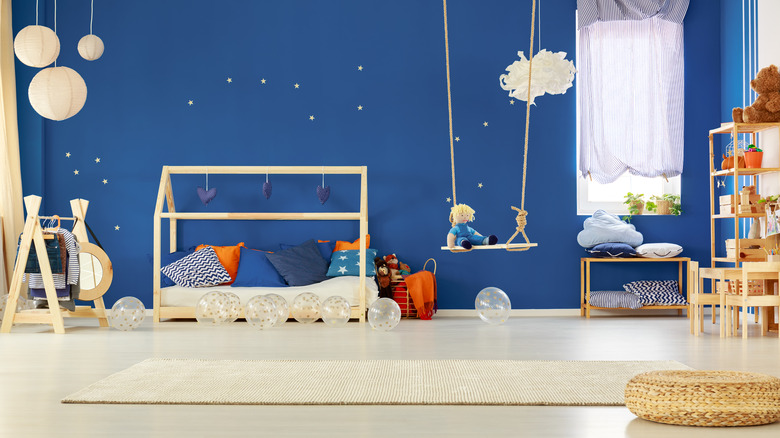 Photographee.eu/Shutterstock
Give your child sweet dreams with this adorable star-themed bedroom featuring a blue wall of stars and a lovely swing that is pure magic.
Observe the stars and planets
Rido/Shutterstock
Not only does a telescope look cool, but celestial bodies can be clearly in view by buying one for your child. Then, we suggest painting the wall a deep blue and working on oversized cutouts of the sun, Earth, and a rocket to round out the theme.
Yellow and orange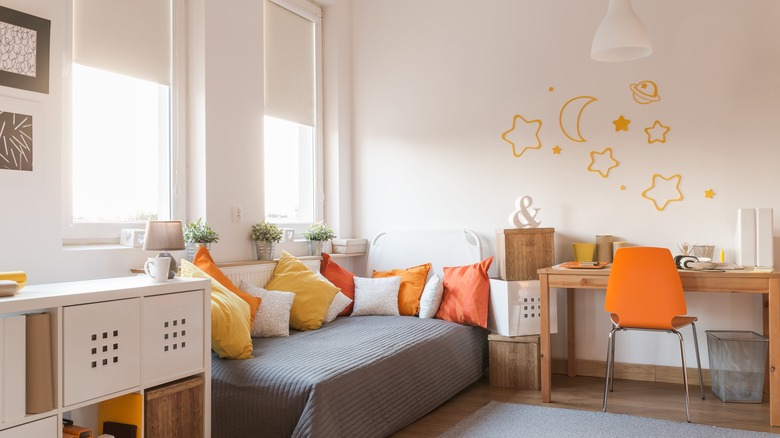 Photographee.eu/Shutterstock
We love the pops of orange color in this bedroom and moons and stars on an otherwise bare wall.
Shiny stars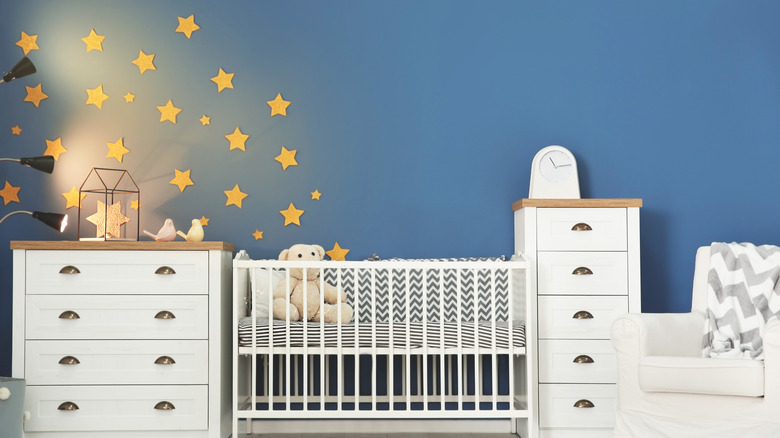 false/Shutterstock
A blue wall and yellow star cutouts might sound simple, but if you place accent lighting in the right area, the stars shine bright.